Malaga airport is a busy hub for travellers visiting Costa del Sol, and Fuengirola is a popular destination for those looking for a beach holiday or to explore the local area. Getting from Malaga airport to Fuengirola is a straightforward journey, but it's important to know your options to ensure you choose the best one suited to your needs. In this article, we'll explore the different ways to get from Malaga airport to Fuengirola, including public transportation, private transfer, and rental cars. We'll also cover key information such as prices, journey times, and pros and cons of each method, to help you make the best decision for your trip.
How Far is Fuengirola from Malaga Airport
Fuengirola is approximately 25km (15 miles) southwest of Malaga airport. The journey between the two destinations typically takes around 30 minutes by car, depending on traffic conditions, and 50 minutes by direct train.
Fuengirola is a very popular beach destination, and the proximity to the airport only encourages more people to choose this Spanish town for their summer holiday. Fuengirola is also a great place to mingle with the locals, as it's a town and not just a beach resort. If this is your first time in Fuengirola, make sure to read my article about the best things to do in the city by clicking here.
Whether you choose to take a taxi, private transfer or a rental car, getting from Malaga airport to Fuengirola is a convenient and hassle-free journey.
Ways of Transport from Malaga Airport to Fuengirola:
By Taxi
Travelling by taxi from Malaga airport to Fuengirola is a convenient and relatively quick option. Taxis are readily available outside the arrivals terminal and the journey takes approximately 30 minutes.  The cost of the taxi ride can vary, but it is typically around €30-€50 for a one-way trip. It's important to note that there are additional fees for luggage and for trips made at night or at weekends.
Taxis are a good option for those who want a stress-free and comfortable journey without the hassle of public transportation or the expense of a private transfer.
Taxis at Malaga Airport are regulated and licensed, ensuring that you have a safe and insured journey. To avoid potential scams, it is recommended to use the official taxi rank at the airport in front of the T3 Arrivals,. The two companies allowed to operate at the airport are Taxi Union and Unitaxi. The taxis in Malaga are white, with a blue strip on them.
By Private Transfer
Travelling by private transfer from Malaga airport to Fuengirola is a comfortable option if you are travelling with family or a larger group, especially if you have plenty of luggage. With a private transfer, you will have a dedicated vehicle and driver waiting for you at the airport, ready to take you directly to your destination in Fuengirola. The journey takes approximately 30 minutes, depending on traffic.
The cost of a private transfer can vary, but it is generally more expensive than a taxi, starting at around €60 for a private minivan, €40 for a private car, and €30 for a shared shuttle. However, the added comfort, convenience, and peace of mind of having a private transfer are worth the extra cost, especially if your flight arrives late at night. You can book a private transfer in advance, ensuring that your transportation is taken care of and giving you one less thing to worry about during your trip.
Click here to compare prices and options for private transfers.
By C1 Train
The Renfe C1 is a direct train service that connects Malaga to Fuengirola, passing by the airport. The train operates regularly and takes approximately 50 minutes to complete the journey, stopping at several stations along the way.
The C1 train is a cost-effective option, especially if you are travelling hand luggage only, or if you are staying in one of the nearby towns rather than in the centre of Fuengirola.
The cost of a train ticket is very affordable, starting at around €3, making it a popular option for budget-conscious travellers. The train offers comfortable seating and air conditioning, and it is not only a great connection to the airport but also a fantastic way to explore the coastal towns between Malaga and Fuengirola.
It's important to note that the train does not run 24 hours a day, so it's always best to check in advance. You can click here for the up to date schedule.
To get to the train station you have to exit the airport and walk straight, under the bridge, until you reach the station. You can buy a ticket from the machines by choosing your destination and paying by either euros or bank cards. Make sure you keep the ticket as you will need it to exit at the barriers in Fuengirola. More recently, you can also tap in and tap off, if you are using a contactless card.
Hiring a Car?
Hiring a car at Malaga airport is a convenient option for travellers who want to explore the local area and beyond at their own pace. There are several car rental companies located at the airport, including well-known international brands and local providers.
To hire a car, you will need a valid driving license and a credit card in your name. The cost of car rental can vary, depending on the type of vehicle, rental period, and other factors, but it typically starts from around €20 per day. You can book a car rental in advance, either online or through a travel agent, to secure the best rate and ensure that you have a vehicle ready and waiting for you when you arrive at the airport. Don't be fooled by the 2 euros a day offers you see online, those are not real. If I need to hire a car at Malaga Airport, I would usually use Holiday Extras because they show me all the extra costs. I usually book the extra insurance through them as well, as it's a fraction of the cost I will be offered when I pick-up the car.
Once you have collected your luggage and cleared customs, simply follow the signs to the car rental desks in the arrivals terminal, where you will be able to complete the paperwork and pick up your keys. Some rental companies require you to call them when you land, as they have their car parks outside of the airport premises.
Click here to compare different prices for car hire at Malaga Airport.
You can read more information about hiring a car at Malaga Airport in my dedicated article, by clicking here.
For more information about Fuengirola, check out the articles below:
Liked it? Pin it!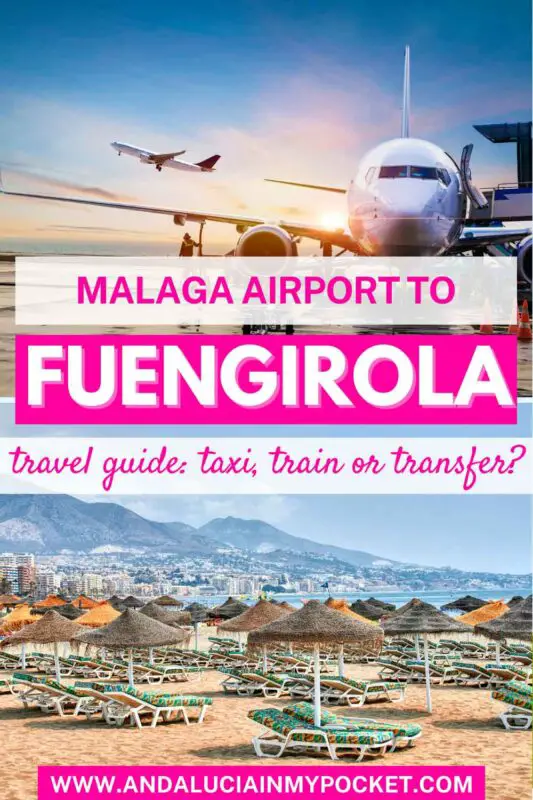 Disclaimer: Some of the links on this website are "affiliate links." This means that if you click on the link and do a purchase, I will receive an affiliate commission at no extra cost to you. This helps me keep my website running and continue to share my travelling knowledge with you. I thank you for booking your flights or hotels using the links on my website. Regardless, I only recommend products or services I use personally and believe will add value to my readers.