Granada is a fantastic city, one of my favourite places to go to when I just want to wander around and have some good food. Granada is famous for the free tapas which you receive with every drink you order.
Because Granada has its own airport, getting here is very easy. There are flights that run year-round, from all over Europe. The airport is small, which means that navigating it is fast and it doesn't take too long to get into the city and start exploring. Getting from Granada Airport to Granada is pretty straightforward and in this article we will discuss all the transfer options.
How Far is Granada from Granada Airport?
Granada Airport is located 15 kilometres outside of the city centre. It takes around 20-30 minutes to travel the distance between the two, depending on traffic.
There are plenty of options when it comes to how to get from Granada Airport to Granada city centre. The airport is well connected to the city centre by both public transport and private transfers.
How to Get from Granada Airport to Granada?
By Taxi
The easiest way to get to the city centre from Granada airport is by taxi. This is a very convenient option if you are travelling with luggage and need to get to the city fast. It may not be the cheapest option, but taxis are definitely convenient too. You will find the taxi rank just outside the arrivals halls, at Granada Airport.
The taxis at the airport are regulated by the airport and the Granada council, and they use a meter. A trip by taxi from the Granada Airport to the city centre costs between 25-30 euros, and 28-32 euros if you want to go further up, to Albayzin or the Alhambra. There is an additional charge if you travel by night, have extra luggage, or if you have pets with you.
The authorised taxis in Granada are white, with a diagonal green stripe on the front doors. They also have a taxi sign on the roof.
By Private Transfer
A private transfer is another great way to travel from Granada Airport to Granada city centre. This is a more convenient option if you are travelling with a larger family and you have plenty of bags. You will have to book the transfer ahead of time, and the driver will wait for you with a name tag in the arrivals hall.
Prices for a private transfer start at 40 euros and go up depending on the type of car you are booking. Transfers by estate cars are always cheaper than by minivans. Compared to taxis, this is a better alternative as there are no extra costs for more people or for extra luggage.
You can click here to compare prices and options for private transfers.
By Bus
The bus connecting Granada Airport to Granada is a convenient, affordable option to travel with if you don't want to spend a lot of money on a taxi or on a private transfer.
The 245 bus, run by Alsa, leaves from in front of the Arrivals Hall, and stops at different points around Granada. A one way journey costs 3 euros, and you can purchase the ticket online or directly from the driver. The schedule of the bus varies, and it usually leaves 30 minutes after each flight arrives. You can check the timetable closer to your departure day and also book your ticket on the Alsa website by clicking here.
The journey from Granada Airport to the last stop in Granada city centre takes around 45 minutes. The bus stops at various places around the city, starting with the Granada station, Gran Via de Colon (for the Cathedral) or Acera del Darro (for Puerta Real and the Corte Ingles).
Hiring a Car?
Many people travelling to Granada will hire a car to explore the surrounding areas, which is a great thing to do. I would recommend first seeing Granada, and then hiring a car, once you move on. This is because part of the city centre is closed to traffic, except for residents, taxis or buses. You can enter by car within the city limits if you are staying at one of the hotels located inside, which has a car park and who will register your car to avoid a fine. However, these hotels charge 20 to 25 euros per day for parking, which is more than you would pay to hire a car.
When you book a car online, avoid those 2 euros per day offers – they are not real and when you arrive to pick up the car you will be hit with extra fees that will raise the price to over 20 euros a day. Because you have already paid online, you won't be able to get out of it. I highly recommend using a provider that shows you all these fees before you book the car. I use Holiday Extras because they are transparent and offer the same extra insurance (which I highly recommend taking) for a fraction of the price. 
You can click here to check the car hire offers for Granada.
For more Airport travel guides, check out the articles below:
– How to get from Malaga Airport to Fuengirola
– How to get from Malaga Airport to Malaga
– How to get from Sevilla Airport to Sevilla
Liked it? Pin it!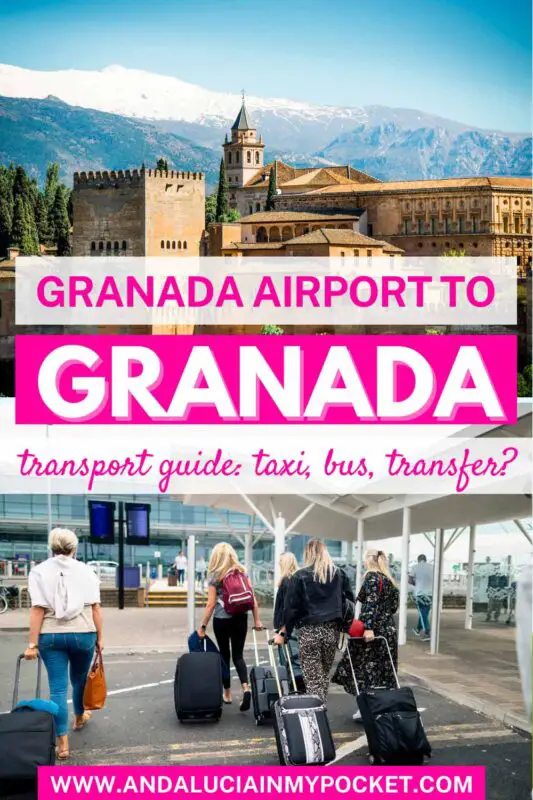 Disclaimer: Some of the links on this website are "affiliate links." This means that if you click on the link and do a purchase, I will receive an affiliate commission at no extra cost to you. This helps me keep my website running and continue to share my travelling knowledge with you. I thank you for booking your flights or hotels using the links on my website. Regardless, I only recommend products or services I use personally and believe will add value to my readers.