When you travel to Spain, you can't skip Granada. But how many days in Granada are enough to see all the sites and get a taste of what the city has to offer? It's one of the most culturally rich cities in Andalucia, and because it was the center of Islamic rule in Spain for 8 centuries, it's a marvel to witness. Visitors to this beloved location can experience three UNESCO World Heritage sites, eat amazing food and tapas, and behold magnificent views of the Sierra Nevada Mountain range looming over the city. Trips to Spain usually involve lots of exciting memories, and Granada is the perfect place to have them.    
Why Granada?
Granada is one of the most picturesque cities in Spain. The historical architecture is pretty much untouched by modern buildings, giving the city an ambience that feels lost in time. It's also a place where you can truly see how Europe's three major monotheistic religions interacted with each other. From the hilly and quaint Muslim-influenced Albayzín to the Christian Granada Cathedral and the Jewish Quarter, Granada was Spain's melting pot of medieval times. History junkies will love its architecture; music and dance-lovers will love its flamenco; and food and drink-lovers will appreciate its famous market, the Alcaicería, its diverse cuisine, and Moroccan tea houses scattered throughout the city.
Granada is also a great city for hiking hills and seeing magnificent views of its landscape. There are many viewpoints in the city, particularly in the Albayzín, that are must-sees for outdoorsy travelers. Plus, with Granada being so close to the Sierra Nevada Mountain range, more advanced hikers will be happy too. There are over 150 trails in the Sierra Nevada National Park that adventurers can choose to do, so clearly there's something for everyone. Don't be afraid to explore the city and its surroundings to experience all that it has to offer.
How Many Days in Granada?
My first visit to Granada was a quick three-day trip, but I wish I had more time. Since I am an outdoorsy traveller, I would have loved to have had the chance to explore one, or even two, of the numerous hiking trails in the Sierra Nevada National Park. If you would like to camp there, it would be best to stay in Granada for at least a week to fully experience the surrounding nature. However, three days in Granada was definitely enough time to visit the famous Alhambra, the Albayzín, the Alcaicería, the Granada Cathedral, and visit various tapas bars.
Nevertheless, I must note that when I visited Granada, I was 26-years old and very much consumed by the fast-moving backpacking travel lifestyle. If you are a slower traveller, who prefers to have more breaks to eat, drink and take in the scenery around you without hopping to the next destination so quickly, you may need more than three days in the city. Assess what type of traveller you are and whether or not you want to take day trips before you firmly decide on the length of your trip.
My Personal Experience in Granada
I had my first trip to Granada when I was teaching English as a Foreign language in Spain. During the last year of my program, I taught in Málaga, Andalucia while my best friend taught in Granada. Since the cities are only an hour and a half away from each other, it was a quick bus ride. The route into the city immediately showed me that this place was special. With snowcapped mountains towering over the old-world landscape, I instantly felt like I was in a fairytale. Throughout my time in Granada, I ate lots of tapas, wandered aimlessly through markets, appreciated the blanched-white houses of the Albayzín, and found myself awestruck at the beauty of the Alhambra. There are so many must-see sites in this city, but four really caught my eye. Here's what you should prioritize during your holiday.
The Best Things To Do in Granada
Alhambra
The Alhambra is a Muslim castle with some of the most gorgeous architectural designs and gardens that you'll ever see. When architects were designing it, they were instructed to cover every single space of the fortress with decoration, no matter the size of it. Therefore, the Alhambra is teeming with extremely rich ceramics and plasterwork, and everything in it has been exquisitely carved to represent the Islamic culture of the time it was built. If you only have a few days in Granada, this site is the main thing that you should plan to see. You'll come back from a visit feeling awestruck and inspired by intricate forms of medieval art.
Granada Cathedral
The Granada Cathedral is considered a masterpiece of the Spanish Renaissance, and is also one of the largest in Europe. The side naves are teeming with chapels of different periods and styles. Plus, there is also a plethora of exceptional artwork, including the Virgen de la Antigua, the first patron saint of Granada. History-lovers will also enjoy seeing a royal chapel filled with the tombs of Catholic monarchs. Overall, this site is a must-see for those interested in the legacy of Christian Spain.
Alcaicería (Market)
The name Alcaicería has Roman origins. It means 'al-Kaysar-ia, or 'Ceasar's place' in Arabic to honor the Byzantian emperor, Justinianus. After he had granted the Muslims in Spain the exclusive rights to produce and sell silk in the sixth century, this neighborhood in Granada thrived as an Arab marketplace. However, during the 19th century, an unfortunate fire burned it down. Luckily, visitors to Granada can now visit a replica. Less than half the size of the original, the Alcaicería marketplace offers a modern Moorish style with affordable prices for tourists.
Albayzín
The lily-white medieval Moorish quarter, called the Albayzín, is a picturesque place to see during the day and a center of vibrance at night. Its winding, cobbled streets lead to the Mirador de San Nicolás, for an amazing view of the Alhambra, as well as to tapas bars, cafés, restaurants, market stalls, and tea houses that cater to the city's tourists and residents. This makes the Albayzín one of the best medieval sites to spend a relaxing afternoon or evening in Granada.
Tips for Traveling to Granada
If you're already in Spain, the United Kingdom, or France, getting to Granada can be fairly easy and cheap. Vueling, the Spanish budget airline, runs highly affordable flights to the city from Paris, London, Barcelona, Madrid, the Canary Islands, and Bilbao. However, if you're not near these cities, but still residing in Europe, I would recommend booking a flight to Málaga or Sevilla. Their airports house two popular budget airlines, Ryanair and EasyJet, which are linked to several destinations within the EU and UK. You can stay in one of the cities for a few days and then take a one to two-hour train/bus to Granada towards the middle or end of your trip in Spain.
If you fly internationally to the Iberian Peninsula, taking a plane directly into Granada or Málaga is probably the best bet to get to Granada easily and see other Spanish cities during your trip as well. The Madrid Barajas airport and the Barcelona El-Prat airport are the biggest airports in Spain with many connections to countries outside of Europe. These are the two airports that most people visiting Spain fly into. However, getting to Granada from Madrid or Barcelona is a lot more of a hassle than commuting from Sevilla or Málaga. If you choose to fly to Madrid or Barcelona, you may find yourself waiting for hours to board your connecting flight during a layover. When flying from an international destination, this can be exhausting, especially when traveling through different time zones.
Sometimes, to save money on a flight, international travelers who travel to Spain may take a bus or train from Madrid to Granada. Since Madrid is about a four-hour bus/train ride from Granada, this is also a feasible option to get to the city within a day.
Food in Granada: Restaurants and Bars
When my friend took me out the night I arrived in Granada, I found myself instantly drawn to the city's tapas scene. Tapas are free small plates of food that are served to you when you order a drink at a Spanish bar. There are tapas bars all over Spain, but Granada's are known for their large portions, enabling you to practically eat a full free meal while only paying a small price for a drink.
Popular Andalusian tapas in Granada are usually paella, savory Spanish rice with seafood or meat; albondigas, yummy saucy meatballs; and boquerones, which are fresh anchovies marinated in vinegar. You can check out these facts about food in Spain to learn more about Andalucian cuisine before your trip. Once you know what to look for at tapas bars, you may want to order as many drinks as you can to try them all!
Nevertheless, the food that really stood out to me in the Granada were dishes inspired by Middle Eastern and North African cuisine. Since Andalucia was under Muslim occupation for so long, you can definitely witness how these cultures have shaped much of the region through the city's food. I recommend La Puerta de Syria for Syrian-inspired cuisine, Palestina for general Middle Eastern cuisine, and Samarcanda for Lebanese cuisine if you want to try some great bites!
Cost of Living in Granada
Granada is one of the cheapest places to live in Spain, much more affordable than other major Spanish cities like Madrid, Barcelona, or Valencia where studio apartments and two bedroom properties can cost over €700 EUR per month. Studio apartments in Granada cost about €400 EUR ($435 USD) per month and two-bedroom properties are generally €580 EUR ($630 USD). This is such a steal compared to renting properties in the U.S. or places in Northern Europe, which can cost much more.
Málaga and Sevilla, Andalusia's other popular cities, have a higher cost of living as well, especially when it comes to leisure activities like eating, drinking and nightlife. Granada's tapas scene also makes it very affordable to go out compared to Málaga and Sevilla. For example, when I lived in Málaga, it was rare to get tapas that entailed full plates of food with a drink. Most of the time, the free ones would just be peanuts or olives. So, if you wanted something like paella, albondigas, or boquerones, you would have to pay for them. Therefore, if you want to live in Andalusia, have a good quality of life, cheap food, and be surrounded by beautiful architecture and nature, Granada is definitely the best city for expats.
Day Trips from Granada
Don't just stay in Granada! Explore Andalusia by venturing to its other major cities. Málaga, Sevilla, and Córdoba, for example, are easy day trips that can give you a deeper dive into the land of sunshine and siestas. Since I lived in the city of Málaga for a year, I'm partially biased with my recommendation to visit it during your trip. If your visiting Granada in the late spring or summer, the temperature can definitely get hot, and because there are no natural bodies of water around the city, it can definitely be hard to cool off. Therefore, that's where Málaga comes in! The city has its own beach, La Malagueta, and a bohemian vibe to go with it.
Being only an hour and a half away from Granada, it's easy to take the train or bus in the morning to spend one day in Málaga. In addition to the beach, you can also visit the Picasso Museum, the Roman Amphitheatre, and a ruined Muslim fortress called the Alcazaba. There are also beautiful turquoise beaches near Málaga with direct connections from the city. These include the popular Andalucian party towns, Marbella, Fuengirola, Torremolinos and Benalmadena, which are all close together. This makes beach hopping very feasible during a day trip to the city.
For more articles about Granada, check out my recommendations below:
Liked it? Pin it!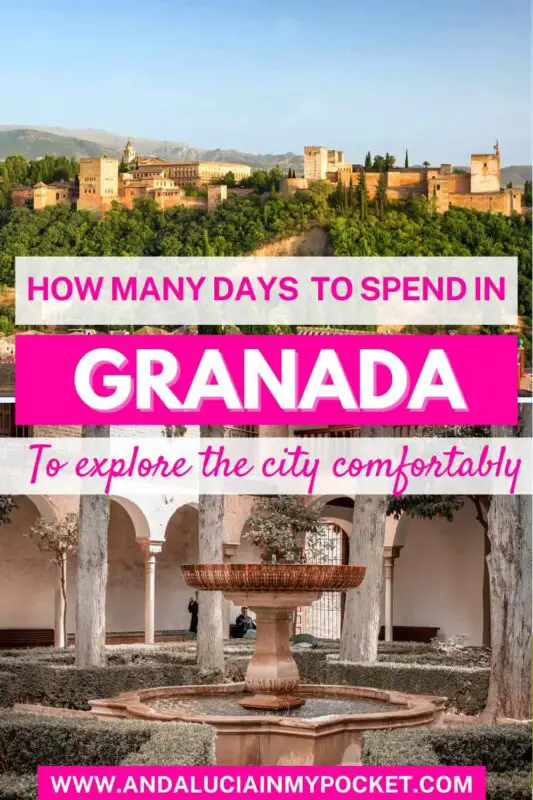 Disclaimer: Some of the links on this website are "affiliate links." This means that if you click on the link and do a purchase, I will receive an affiliate commission at no extra cost to you. This helps me keep my website running and continue to share my travelling knowledge with you. I thank you for booking your flights or hotels using the links on my website. Regardless, I only recommend products or services I use personally and believe will add value to my readers.