Granada is one of the most visited cities in Andalucia, and one of the most beautiful. With a rich history and deep roots in the Moorish culture, you can experience so many different things during a weekend in Granada. In 2 days in Granada you can get a taste of what this fantastic city has to offer: history, culture, fun and good food.
Located at the foothills of the mighty Sierra Nevada mountains, Granada is famous for the mighty Alhambra, the intricate palace built by the Nasrid kings in the 13th century. But Granada has so much more to offer than just the Alhambra. During 2 days in Granada you can get a taste of the city's atmosphere: young crowds enjoying drinks and tapas outdoors, hidden gardens, narrow streets filled with pink flowers climbing on white walls, impromptu flamenco performances in the middle of the street. Granada is a charming city that will steal your heart! 
How to Get to Granada
By plane: Getting to Granada couldn't be easier, the city having its own airport which operates flights from all over Europe.
Whilst it is cheaper to fly to Malaga, there are buses connecting the airport, as well as the main bus station in town, to Granada. A one-way ticket from Malaga to Granada usually costs around 12-15 euros. You can book a ticket on the Alsa website.
By train: Granada is also on the high-speed train route, connecting the city to Madrid and Barcelona. The cheapest ticket from Madrid costs 35 euros, from Barcelona it costs 60 euros. You can book tickets directly on the Renfe website.
By bus: Being such a popular destination, Granada is also connected by bus to all other major destinations in Spain. The ticket prices are much cheaper than the train, but the travel times are considerably longer.
By car: If you are touring Andalucia, renting a car is a good idea for moving around. Keep in mind though, that driving in the historic centre of Granada is forbidden, and you are only allowed enter by by car if you stay at one of the hotels inside the restricted area. Many of the hotels offer underground parking, but at a high price of at least 15 euros extra a day.
How to Get Around Granada
Even if it's quite a big city and the touristic attractions are spread all around it, Granada is still a walkable city. Keep in mind that the city is quite hilly.
Visitors with reduced mobility should know that the city has an excellent public transport system, with buses going all the way up to the Alhambra. Remember to buy your ticket before you board the bus, as not all of them allow making payments to the driver. There are ticket machines at each bus stop. 
Taxis are very cheap in Granada and I do recommend using them if you have luggage, or if you need to go to a different part of town fast. I have never paid more than 10 euros for a taxi in Granada.
Highlights of a perfect 2 days in Granada:
Visit the Alhambra
Explore the Arabic roots of the city
Enjoy the tapas culture
Discover what flamenco is all about
Map of the Best Things to Do in Granada in 2 Days:
Day 1:
Breakfast at Mummo
Mummo is one of those tiny, local cafes, where the staff seems to know half of the clientele. The interior of the café is very small, with seats at the bar and a couple of tables in the back. They also have a few tables outside, which get occupied quickly after they open.
Mummo doesn't have a menu, they serve the classic Spanish breakfast in any combination you want. I highly recommend the tostada with cheese and jamon, together with a cup of freshly made coffee. You can't get a better start to the day than this.
Visit the Alhambra
I highly recommend booking the first available slot to visit the Alhambra, which is 08:30AM. That is when you will encounter the least amount of tourists, and you can enjoy a more peaceful visit to this outstanding palace. Alhambra is Spain's most visited monument, with 8,500 people from all over the world coming here every day. As a general rule, you must book your ticket to the Alhambra at least 4 months in advance, that's how popular it is. Click here to book your ticket ahead of time.
Visiting the Alhambra will take at least half a day, so be prepared with comfy shoes and a spare battery for your camera. Booking a guide is highly recommended because the interior of the palace was destroyed during the times the Alhambra was left in ruins, in the 18th century, and it would be much easier for you to understand the surroundings.
Stroll Along the Stunning Generalife Gardens
Generalife is part of the Alhambra and it's much easier to visit. Whilst the ticket to the Alhambra also gives you access to Generalife, you can always buy a pass for the day even if you don't manage to book a visit to the Alhambra beforehand.
Generalife, connected to the Alhambra, used to be the summer palace residence of the Nasrid rules of the Emirate of Granada, back in the 13th century. Whilst the palace has been renovated over and over, the layout and the gardens still remain in their original form, which makes Generalife one of the oldest surviving Moorish gardens in Andalucia. You can see some other amazing similar gardens in the small towns on Costa Tropical, such as Velez de Benaudalla, which is the home of the "Little Generalife".
Generalife is divided into two courtyards. The Water Garden Courtyard has a long pool framed by flower beds, columns covered with plants, fountains, and pavilions. The Courtyard of the Cypress is the best-preserved style of a medieval Persian garden.
Have Lunch at One of the Arabic Restaurants in Albayzín
On the streets beyond Plaza Nueva you will find plenty of Arabic restaurants which offer delicious exotic menus, for as little as 10 euros/3 courses. You will find here delicious Moroccan tagines, Lebanese falafels with hummus, or Syrian maqluba, all to wash down with hot mint tea.
Explore Albayzín on a Free Walking Tour
Albayzín is the oldest centre of Muslim culture in Granada, a World Heritage Site since 1984. It maintains its traditional medieval narrow cobbled streets among white "carmen" houses hiding lush gardens behind their tall walls.
Joining one of the free walking tours leaving from Plaza Nueva every afternoon, you will learn more about the history of the neighbourhood and discover its hidden corners, that you probably won't find on your own. Albayzín is like a labyrinth going uphill, with a maze of tiny streets opening up in plazas shaded by orange trees.
A free walking tour is a fantastic way to explore the city and its history. Plus, the guides are always happy to give you free tips on where to find the best tapas or authentic flamenco performances. The free walking tours are actually based on tips, which is why the guides are going above and beyond to offer a great experience. I can recommend Walk in Granada tours, which have taken me on a fantastic tour of Albayzín.
Enjoy the View of Alhambra from Mirador San Nicolas
Mirador San Nicolas is probably one of the most touristy places in Granada, but it's worth visiting because of it's never ending buzz. Besides the tourists who are eager to take that perfect Instagram shot with the Alhambra in the background, you will find here flamenco performances and local artists selling their crafts. The view is breathtaking: Alhambra, the city of Granada and the Sierra Nevada mountains with their snowy peaks.
What is interesting about this square as well, is that next to each other you will find the San Nicolas church and the Grand Mosque of Granada.
For a quieter but more expensive experience, just below the viewpoint you will find Restaurante Huerto de Juan Ranas, which has the same amazing view. Beware though that the prices here are much more expensive than downtown Granada, with a beer and a coke costing almost 10 euros. For a cheaper experience, try the restaurants behind the San Nicolas square, El Mirador and Kiki, they both have outdoor terraces, but much reasonable prices. 
Go for Tapas at La Fontana
La Fontana is a popular tapas bar among the locals, with a fresh and innovative menu. Their tapas are served on slices of bread and are bursting with flavour. I highly recommend the artichoke hearts with garlic, and the cheese with sundried tomatoes, some fantastic vegetarian Spanish tapas.
The outdoors terrace overlooks river Darro and it's a great place to people-watch in the evening.
If you want to learn more about the local cuisine, consider joining the food tour in Granada which I reviewed here.
Enjoy an Authentic Flamenco Show
One of the must to do things during your two days in Granada trip is to attend a flamenco show. There are plenty of options that you can book, some more touristy than others. The most popular flamenco shows in Granada are in the Sacromonte neighbourhoods, inside caves. A ticket usually also includes transport from the centre of Granada.
One of the most popular choices is Jardines de Zoraya, which combines dinner with a flamenco show. They have two shows daily, with five artists performing traditional flamenco styles for one hour. The further you book in advance, the more chances you get for a front row table.  
Cueva de la Rocio is run by a family which has deep roots in the flamenco art. The shows are held inside a cave, with the attendees sitting on each side of the stage. You can't get a closer experience than this. The show starts with a representation of a "Gitano wedding", whilst the second embraces a more modern interpretation of the art of flamenco.
For an off the beaten track experience, try the flamenco performance from the Palacio de los Olvidados, in the heart of Albayzín. Palacio de los Olvidados is a 16th century building: museum during the day, which transforms into an intimate performance area by night.
You can check below some options for different types of flamenco experiences in Granada:
End Your Night with Rooftop Drinks at BHeaven
BHeaven is a rooftop bar located on top of the Barcelo Carmen hotel, offering beautiful views over the city and the Alhambra. They have an extensive cocktail menu based mostly on fruits and botanical flavours, as well as local beer and wine. During the evening the place becomes very lively, with live music and special happy hour offers.  
Day 2:
Breakfast at Café Lisboa
Café Lisboa is a small coffee shop with an outdoors terrace, serving traditional Spanish breakfast, lunch, and tapas. They specialise in speciality Arabica coffee sourced from all over the world and is roasted in house. They have a large selection of breakfasts available, from eggs benedict to tostadas, from pastries to pancakes, from bacon and eggs to sausages and hash browns.
Visit the Cathedral
The Cathedral of Granada was built on the site of an old mosque on Queen Isabella's orders in 1523, after conquering the Emirate of Granada, ending the Nasrid dynasty.
It is the 4th largest Cathedral in the world and a masterpiece of the Spanish Renaissance architecture. The entrance ticket to visit the Cathedral costs 5 euros and includes an audio guide. 
Shop for Spices and Tea in the Old Silk Market of Granada
The Alcaicería of Granada is an Arabic style bazaar with narrow alleys filled with shops presenting their merchandise outside. Besides tea and spices, you will find plenty of scarfs, dresses, shoes, purses, jewellery, Moroccan lamps, and souvenirs.
Some of the spices that you can buy here are Spanish saffron, spicy or sweet pimentón (Spanish paprika), the traditional pinchitos marinade containing over 20 different herbs, paella mix, turmeric and cumin. You will know when you are near a spice shop because of the alluring aromas filling the air. 
Enjoy an Authentic Kessa Treatment at Hammam Al Andalus
After all that walking around the city, you deserve a relaxing experience at the end of your two days in Granada. Hammam Al Andalus is a traditional Moorish bath offering a luxurious relaxation experience in an authentic environment. The baths were built following the Arabic architecture, designed to resemble the old public baths of the Alhambra Palace.
A session at Hammam Al Andalus lasts for two hours and, depending on which package you choose, includes a kessa treatment: a delicate foam scrub and a relaxing massage on a hot stone bed. You can book a session at Hammam Al Andalus by clicking here.
Have Lunch at an Outdoor Café
Granada is such an open, beautiful city, with so many outdoor cafes where locals love to have lunch, tapas or drinks in the evening. As a general rule, for a local experience avoid the cafes and restaurants in the main squares. Remember that in Granada, every time you order a drink, you will receive a free tapa. The more drinks you order, the better the tapas are. 
Join a Tour of Sacromonte Neighbourhood
Sacromote is a very special part of Granada because the houses here have been built inside caves. You can visit this neighbourhood on your own, or join a tour to find out more information about how this place was born, back in the 16th century, when the Spanish Inquisition had forced some of Granada's inhabitants out of the city walls.
There are many people who still choose to live inside the caves rather than an apartment block in the city. For a 1-euro fee you can visit some of these caves. It's interesting to see how people here are living a normal life, have electricity and don't need to worry about heating or air conditioning, because the temperature inside the caves is constant year-round.
Walk in Granada organises tours in Sacromote but not every day, so if you want to join, you'll need to check their schedule here.
Watch the Panorama of the City from Mirador San Miguel
When returning to Granada on the upper streets of Sacromonte, you must stop by Mirador San Miguel. This is a very popular spot among the young adults of Granada, who come here to watch the sunset with their loved ones. The panorama of the city is so much better than the one from Mirador San Nicolas, without the crowds.
There are no shops here, just a church, so if you want a drink you must bring it with you. 
Enjoy a Gourmet Dinner at Faralá
Faralá is one of those must go to restaurants for an exquisite gourmet experience. This is a place where you go for a special occasion, as the prices are on the higher side, but the quality of the food and the experience is outstanding. Faralá takes the classic dishes from Granada and reinvents them in a unique way, using only local ingredients. I recommend the tasting menu with the wine pairing.
Have a Night Cap at Mirador de Morayma
A nice way to end the evening is at the wonderful Mirador de Morayma restaurant, located in Albayzín. The restaurant has a gorgeous garden covered in grapevines, with breathtaking views over the Alhambra, especially at night when it's lit.
They have quite a large selection of wines, including their own, produced at their own finca in the Alpujarra region. I have only been here for wine, but visitors rave on Tripadvisor about their fantastic food too. 
Where to Stay in Granada
Granada is not an expensive city, not even when it comes to accommodation. You can enjoy a four star hotel for less than 100 euros a night, even in high season. I have been to Granada many times and I have stayed in different types of hotels, from Airbnbs shared with friends to five stars hotels. Here are some personal recommendations:
Budget: Granada Old Town is a hostel in the historical centre of Granada, run by very welcoming staff. The hostel offers shared accommodation but also private rooms. It has a lovely patio where solo travellers can meet new friends. You can check their reviews on Tripadvisor or click here to book directly on Booking.com
Mid-range: Hotel Saray is a great choice, just outside the city centre, with some of the rooms overlooking the Sierra Nevada mountains. The hotel's main areas are decorated in an Arabic style, with keyhole shaped doors and windows and mosaic designs. Guests can enjoy an outdoors pool – I didn't because I stayed here in winter. They do have a great deal for hotel + parking, when you book directly on Booking.com. You can check their reviews on Tripadvisor or click here to book directly on Booking.com
Luxury: Barcelo Carmen is a luxury hotel located in the heart of Granada, with spacious, modern rooms, some which have balconies. The hotel has a rooftop terrace with a small pool, and benefits of underground parking with a valet. If you have driven in Spain before you probably know how small the roads are and how narrow the underground car parkings are. You can check their reviews on Tripadvisor or click here to book directly on Booking.com
Liked it? Pin it!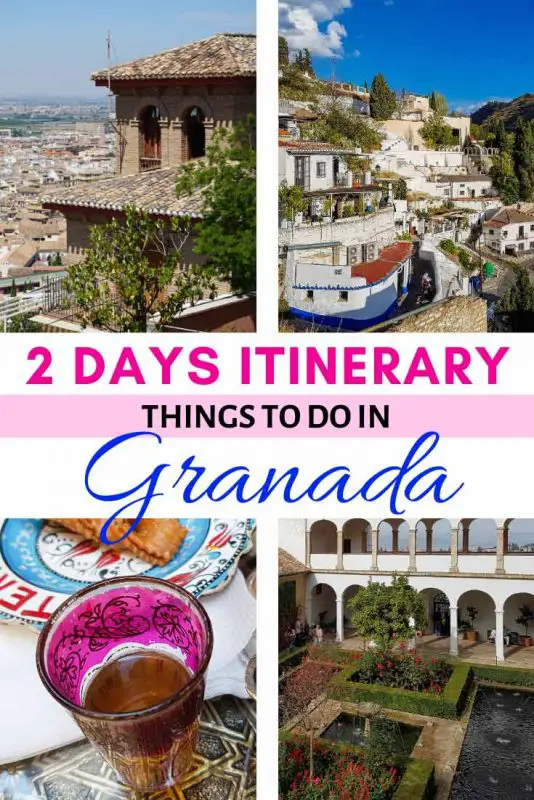 Disclaimer: Some of the links on this website are "affiliate links." This means that if you click on the link and do a purchase, I will receive an affiliate commission at no extra cost to you. This helps me keep my website running and continue to share my travelling knowledge with you. I thank you for booking your flights or hotels using the links on my website. Regardless, I only recommend products or services I use personally and believe will add value to my readers.