Whilst Barcelona is the top tourist spot in Spain and it gets a lot of attention, there is something so charming about the cities in Andalucia, and Córdoba is no exception. The city center has been recognized for its historical significance, where a number of different cultural and religious groups once lived peacefully together. There are a lot of things to do in Córdoba and it's worth visiting, even if it doesn't get as much buzz as nearby Seville or Granada. Here is an itinerary to hit the top sites to see the best of Córdoba in one day.
How to Get to Córdoba
Many tourists visit Córdoba as a day trip, which is easy to do. Córdoba is nestled between Madrid and Seville, and there is a high-speed train you can take from Madrid to Córdoba which makes getting here quite easy. On the Renfe AVE high-speed train, it takes just under two hours to get to Córdoba. The stately and cultured capital of Spain, Madrid is popular with tourists for its many museums, gorgeous parks and public spaces, and bustling squares.
Córdoba is only around 45 minutes to Seville. You can visit Córdoba as a day trip from Seville, or you can go from Madrid and then head to Seville at the end of the day. Córdoba is also a very easy day trip from Malaga, if you choose to base yourself on Costa del Sol. Unless, of course, you fall in love with Córdoba and decide to stay an extra day (or more!).
Córdoba Through the Lens of History
Córdoba is a historically significant city in Spain and it was actually the largest city in western Europe in the 10th century. It got its start as the Roman colony of Corduba in 152 BC. Corduba thrived until 711 AD, when it fell to the Muslims.
Under Muslim rule, the Christians, Jews, and Muslims peacefully coexisted. The city became known for its talented artisans of tile, silver, and leather. It also became a center of education and learning where scholars from all over the world visited. Then, in the mid-13th century, the Spanish kingdom of Castille captured Córdoba, and the city went through a period of decline, never again achieving its former status.
Even though Córdoba fell from prominence, it continued with some large construction projects focusing on religious buildings. In 1984, Córdoba's historic center, the Jewish Quarter, was recognized as a UNESCO World Heritage Site for its outstanding examples of religious architecture. Though, these buildings are not what you might expect of religious architecture, they beautifully reflect the influences of the cultural groups who occupied the area, living in peace together, including the Romans, Muslims, Jews, and Christians.
Top Things to Do in Cordoba
Knowing of Córdoba's distinctive history will put your visit into perspective. The most popular place to visit is the Mosque-Cathedral of Córdoba, generally known as the Mezquita. It's best to either go right when it opens to avoid a long wait or buy tickets online.  I recommend going there first since it's such a popular place to visit.
Mosque-Cathedral of Córdoba (Mezquita)
Alcázar of the Christian Kings (Alcazar)
Jewish Quarter
The Roman Temple and the Roman Bridge
The order that you will see these sites in depends on what time of day you start. If you can get there early, it's best to see the Mosque-Cathedral of Córdoba and the Alcázar before stopping for lunch. The Mosque-Cathedral and the Alcázar are two of the most heavily touristic attractions in Córdoba, and going early will give you more time to have them to yourself, without many other tourists around. Both of these sites are actually in the Jewish Quarter, so you won't need to walk far to see them. Then, wander the Jewish Quarter and get lunch. 
If you arrive mid-to-late morning, you may want to take a break after seeing the Mezquita to wander the Jewish Quarter to see some of the other sites and to grab lunch before heading to the Alcázar. Either way, visit the Mosque-Cathedral first. Do not leave it for the afternoon as often it will close early. You can check the schedule here.

Of course, how much you will get to see will depend on how much time you have. If you visit from Seville and arrive early or you're planning to spend a night in Córdoba, you will also get to visit the Roman Bridge, Calahorra Tower, and the Roman ruins. You can also shorten your visit to accommodate the entire itinerary.
Mosque-Cathedral of Córdoba (Mezquita-Catedral de Córdoba) 
The Great Mosque of Córdoba is the largest mosque in Europe and one of the biggest in the world. The Mezquita is the most famous building in the city and the most popular tourist attraction as it's one of the most incredible examples of Muslim art in all of Spain. If there is one reason to visit Córdoba, this is it!
It was built in 785 AD on the ruins of a church. It was enlarged and embellished several times since it was originally built. After the Christian conquest, a cathedral was built in the center so it's now a unique blend of Christian and Moorish architecture. 
This structure is opulent and absolutely magnificent. Take your time to take in the great hall with its detailed stone arches reflecting several styles of architecture. Then visit the Bell Tower and the Patio de Los Naranjos courtyard.
Alcázar of the Christian Kings (Alcázar de Los Reyes Cristianos)
The Alcázar is a medieval fortress where the Spanish Catholic kings and queens once lived that is built in the historic center of Córdoba near the Mezquita. During the Spanish Inquisition in Queen Isabella and King Ferdinand's reign, it became the Holy Office headquarters. The main tower of this structure was known as the "Tower of the Inquisition."
The "Hall of Mosaics" is a grand main all covered in stunning mosaic tiles. You can also tour the royal baths and two beautiful courtyards. Though this fortress is gorgeous, the gardens and the mosaics are actually the highlights of visiting. It's so tranquil that it's hard to believe it's in the center of a large city.
In the center of the four towers of the Alcázar is a large and beautiful garden. Wander around peaceful paths lined with cypress trees, ponds, beautiful fountains, and citrus and palm trees. Also, climb the towers and walk along the ramparts to take in the striking city views.  The Mezquita may be the gem of Córdoba; however, the Alcázar is also a must-see in Córdoba.
Jewish Quarter of Córdoba (La Judería)
Enter the Almodovar Gate to the Jewish Quarter, the historic center of Córdoba. This entire area is a UNESCO World Heritage Site, including both the Mezquita and the Alcázar. They may be the most famous buildings in this city, but it's also work walking around this striking city center. 
This neighborhood was once a vibrant Jewish community. You'll see some reminders of the past in this area with street names like Calle Judios, as well as signs and statues reflecting the history.  
The area thrived from around the 10th to the 15th centuries until the Jewish expulsion from Spain during the Spanish Inquisition in 1492. The same year Christopher Columbus sailed on his maiden journey to find the western route to the Far East. 
Córdoba Synagogue (Sinagoga de Córdoba)
Another spot in the Jewish Quarter worth seeing if you have the time is the only remaining Jewish synagogue in Andalusia. It is believed to have been a private synagogue that belonged to a wealthy family, given its small size. It is one of the best-preserved synagogues in Spain.
After the Spanish Inquisition, the synagogue was used as a school and then a hospital. It later became recognized as a national monument in the 19th century. It features some intricate scrolling work and carvings on the walls with Hebrew inscriptions and some beautiful scalloped archways.
Alley of Flowers (Calleja de las Flores)
Another popular place to visit in Córdoba in the Jewish Quarter is the Calleja de las Flores. You'll see many of the buildings in this area adorned with small pots of flowers, and it's quite picturesque to walk through. This narrow street is one of the most popular streets to see to enjoy the beautiful flowers and lovely patios.
Take a little time to wander through the maze of streets to appreciate just how beautiful the  Jewish Quarter is. Guided tours are offered if you're interested in learning more.
Roman Temple
The remains of a Roman temple were found in the 1950s during a new City Hall's construction effort. It was built with marble during the late first century AD and was a large square structure with massive Corinthian columns. It's believed the Temple was quite ornate and an important structure in its time. You can still see 10 of the marble columns and some of the temple foundation.
Roman Bridge (Puente Romano)
Built at around the same time was the Roman Bridge, a famous Córdoba landmark. The bridge crosses the Guadalquivir River and was the only way across the river until the mid-20th century. It has 16 stone arches and has been reconstructed a number of times, now including some Moorish elements and Roman.
At the end of the Roman Bridge, you'll find the Calahorra Tower. It was a large structure built during Muslim rule in the Middle Ages. It was built to protect the bridge and is now a national historical monument.
What to Eat in Córdoba
Check out the local tapas bars when you visit Córdoba and though they may not look very impressive from the outside, you'll find them packed with locals, always a great sign! Tapas is a Spanish tradition not to be missed when you're in Spain. These small plates made for sharing are filled with delicious and flavorful food.
A traditional local dish not to be missed when visiting Córdoba is salmorejo. It's a perfect hot-weather dish with cold tomato soup made of olive oil, vinegar, garlic, bread crumbs, and serrano ham. Bits of egg are sprinkled on the top. It's similar to gazpacho though a bit more substantial. 
The Best of Córdoba in One Day 
Córdoba is a striking city worth visiting in Andalucia. It's easy to get to and offers some of the most striking architecture in all of Spain. Wander the quaint old city center to see this historically important area, thinking about what lessons we might learn today from the people who once lived here. You can check out a more detailed one day in Cordoba itinerary here.
Author bio: Sam is a travel-obsessed animal lover with big plans to travel the world with her dog. When she's not blogging about her travel adventures at My Flying Leap, you can find her volunteering with her pet-therapy cat and dog, on the top of a mountain, or enjoying a glass of bold red wine planning for her next trip. Find her on Facebook, Instagram, Twitter and Pinterest.
Liked it? Pin it!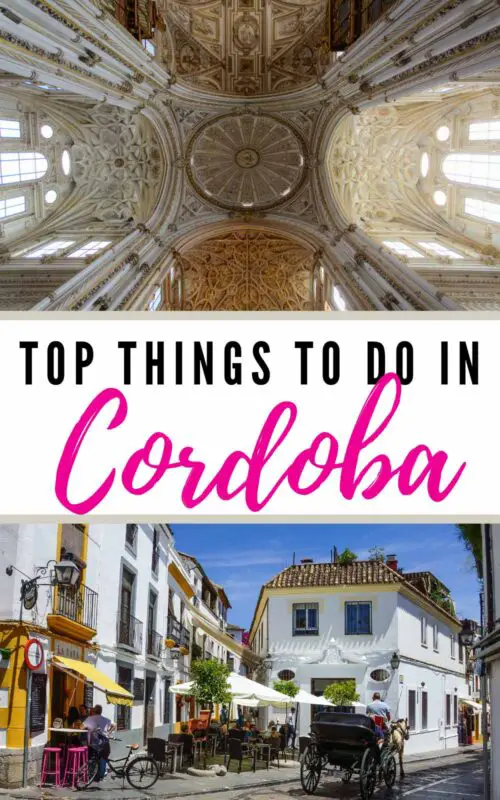 Disclaimer: Some of the links on this website are "affiliate links." This means that if you click on the link and do a purchase, I will receive an affiliate commission at no extra cost to you. This helps me keep my website running and continue to share my travelling knowledge with you. I thank you for booking your flights or hotels using the links on my website. Regardless, I only recommend products or services I use personally and believe will add value to my readers.