Many people who visit Ronda on a day trip tend to stick to the area around Puente Nuevo, have some lunch, then head back to Malaga, Sevilla or Cadiz. Or, if they are on a road trip around Andalucia, just move on to the next destination without seeing much of this beautiful town. But Ronda is so much more than just Puente Nuevo. There are plenty of things to do in Ronda to satisfy the history buffs, the thrill seekers, the culture lovers, the foodies, the backpackers, the nature passionate, and even families with young children.
How to Get to Ronda
Ronda is ideally located between Malaga, Sevilla and Cadiz, with great public transport from each of these cities.
From Malaga there are direct buses and trains that reach Ronda in about two hours. If you are driving from Malaga to Ronda, the trip takes just under one and a half hours.
From Sevilla to Ronda, it takes close to 2.5 hours by public transport, and just over one and a half hours by car.
The best way to reach Ronda from Cadiz is by car. The road passes through some beautiful Andalucian white villages and takes just over one and a half hours.
Where to Park in Ronda
Ronda has a small and compact town centre, with very narrow roads and many one-way streets which can be quite difficult to navigate if you are driving a large vehicle. This is why I recommend parking outside the historic town.
The best place to park in Ronda is just outside the old town centre, at Parking Martínez Astein. It is a very large and spacious underground parking area, on two or three levels, I can't remember exactly how many. I always found a parking space here. It is not the cheapest car park, but it is safe and has facilities such as toilets and a car wash. From here, it takes about 10-15 minutes to walk to Puente Nuevo.
The Best Time to Visit Ronda
The best time to visit Ronda is pretty much all year round. However, if you don't like extreme heat, I would avoid the summer months. Ronda is located in an area also known as the "oven of Spain" because of the high temperatures in July and August. I remember visiting one time in June, and climbing from the bottom of the Tajo Canyon was a real struggle because of the heat.
Map of the Best Things to do in Ronda on a Day Trip:
.
Cross Puente Nuevo 
Puente Nuevo is the most popular touristic attraction in Ronda. I don't think there is a photo of Ronda that doesn't feature it. The 98 meter high bridge was completed in 1793, after 34 years of construction. It has three spans, and it can be visited on the inside, as there is a chamber above the central arch. Crossing the bridge is just like walking on any other road. However, when seen from one of the viewpoints in Ronda or from the gorge below, the bridge looks spectacular. Most visitors come to Ronda because of the Puente Nuevo. 
The bridge was built to connect two of the most important parts of the town: La Ciudad and El Mercadillo.
The chamber below the second arch is now a museum and can be visited for a 2.5 euros fee.
Take in the Views from Mirador de Ronda
The Mirador de Ronda is an open terrace with a large balcony over the cliffs, which has some of the best views over the Tajo gorge. However, from here you won't be able to see the famous bridge in Ronda. The best views of the Puente Nuevo are actually from the small walkaway that follows the cliff edges towards it.
You will always find an artist at Mirador de Ronda, either singing or painting, so the atmosphere here is always quite bohemian.
There are many viewpoints in Ronda, some over the canyon and some over the bridge. For a different perspective, head over Jardines de Cuenca, which I will tell you about a bit later. This is the perfect place to see the bridge from below, without the crowds.
Hike in El Tajo Gorge
There are plenty of hiking trails going down into the El Tajo gorge. If you are a nature lover, then you will enjoy finding hidden swimming holes, or getting close to the waterfall underneath the Puente Nuevo. Looking at the bridge from below you can really appreciate the engineering and the hard work that went into building it.      
However, remember that there is very little shade in the gorge, so bring plenty of water and wear a hat, especially if you plan on hiking on a hot day. Getting down is easy but climbing back up can be a challenge.
Have a Glass of Wine at Albergue Los Molinos
Albergue Los Molinos is a fantastic little hostel and restaurant at the bottom of the gorge. I stumbled upon it by accident, on an extremely hot day, after I decided that it would be a great idea to do some hiking in 35 degrees heat. Not!
Albergue Los Molinos was a great place to stop at, to hide from the heat and have some lunch. I ordered their charcuterie platter which is a combination of lovely local meats and cheeses. The hostel is run by a very friendly and welcoming family, who also grow their own vegetables in a garden behind the hotel.
Check out Plaza de Toros
Plaza de Toros from Ronda is one of the oldest bullrings in Spain. I don't agree with, or support bullfighting, but I do appreciate history and architecture, and this is why I do recommend visiting the corrida and the museum.
The original arena was built in 1784 and inaugurated in 1785.  To-date it is known as one of the greatest bullfighting rings in the town's history. Ronda is home to one of the most famous Spanish torero families, the Romeros. Pedro Romero was the most famous, and it is said that he fought 5,558 bulls without sustaining any serious injuries. He retired in 1799. You can find out more about him and the evolution of bullfighting in Ronda at the Museo Taurino in Plaza de Toros. 
Find a Handmade Souvenir in the Market
If you happen to be in town when a market is on, it is worth checking out the local producers and artists. Their products make lovely souvenirs to take home with you. Usually there are a few stands as you head towards the Mirador de Ronda.
The "We love Ronda Market" gathers local artisans and celebrates their talent. I was lucky to catch it once and buy myself some lovely handmade earrings. 
Eat Tapas Where the Locals Do 
You don't need to be a genius to know that quite a few of the restaurants overlooking Puente Nuevo are pretty expensive and tourist orientated. This means that the food is not always the best.
I highly recommend having tapas at one of the restaurants around Plaza del Socorro and Calle Virgen de los Remedios. You won't get that iconic bridge view, but the food is good and fairly priced.
Check Out the Old City Walls
It took me a few visits to Ronda to discover the old city walls. This is because the walls are on the other side of town, where most tourists don't venture. In my opinion, discovering this part of town is one of the best things to do in Ronda.
Not only are the walls part of the Moorish history of the town, they also offer stunning views from the top. There is a tower which you can climb, free of charge, to get a gorgeous view of Ronda.
The ruins of the old Alcazaba of Ronda are just next to the walls, but there isn't much left of it. You can however get a sense of how big it used to be in its glory days, by walking alongside the walls. 
Visit the Old Banos Arabe
You can't end your day in Ronda without seeing the old Arab Baths. Built sometime between the 13 and the 14th century, the baths used to be located just outside the city walls, next to the Puente Viejo. They were used by locals to clean and purify their bodies with the use of water and steam, before they entered the Mosque.
The baths are very well preserved and definitely worth a visit. The entrance only costs 3.5 euros and includes an interactive visit with videos that will take you 1000 years back in history.
Cross Puente Viejo
Even if Puente Nuevo is the most famous bridge in Ronda, the city has two older ones that cross the gorge. Puente Viejo (the Old Bridge) was built sometimes in the 16th century. It was the first bridge to connect the two parts of Ronda which were divided by the Guadalevín River. The bridge is very small compared with Puente Nuevo, which was built centuries later. It is also built at a much lower height.
Puente Viejo used to lead to the Arco de Felipe V, one of the medieval gates of the city, which you can still pass through today.  The whole area is pedestrians only. 
Relax in Jardines de Cuenca
Just next to the Puente Viejo you will find the entrance to the Jardines de Cuenca. These landscaped gardens are a great place to find some shade, and also see Puente Nuevo from a different perspective. The gardens are not touristy at all, they are perfect to spend some peaceful time at the end of your one day in Ronda.
More Time in Ronda?
Are you planning to spend more than a day in Ronda? Then check out these fantastic places that make perfect day trips from Ronda:
Acinipo
Acinipo is one of my favourite hidden gems in Andalucia. I discovered it by accident and I've told everyone about it ever since. The ruins of Acinipo are free to visit, and make a fantastic day trip from Ronda. Most of the time you won't find any other tourists around, and you will have the place to yourself. You can read more information about the site in the article I wrote about Acinipo, by clicking here.
Setenil de las Bodegas
Setenil de las Bodegas is another unique place to visit in Andalucia. Whilst all the other white villages in Andalucia were built on top of cliffs and hills for defence purposes, Setenil de las Bodegas was built inside a canyon. The houses here are actually caves inside the rocks. Some of the streets are covered with boulders, making it such a peculiar place to see. You can read more about Setenil de las Bodegas by clicking here.
Olvera
Just next to Setenil de las Bodegas you will find Olvera, with its cliff top castle and imposing cathedral, seen from miles around. There are plenty of things to do in Olvera, just check out the article I wrote about it by clicking here.
Where to stay in Ronda
Living so close to Ronda I never spent the night here and I always visited it as a day trip from Malaga, but I can tell you that there are so many hotels in town, offering something for every budget and occasion. If you are treating yourself, book a room at Parador de Ronda – it is a luxurious hotel with beautiful views over Puente Nuevo and the Tajo Canyon. You can see its reviews on TripAdvisor or click here to check the latest rates on Booking.com
For more options, check out the suggestions below:
Liked it? Pin it!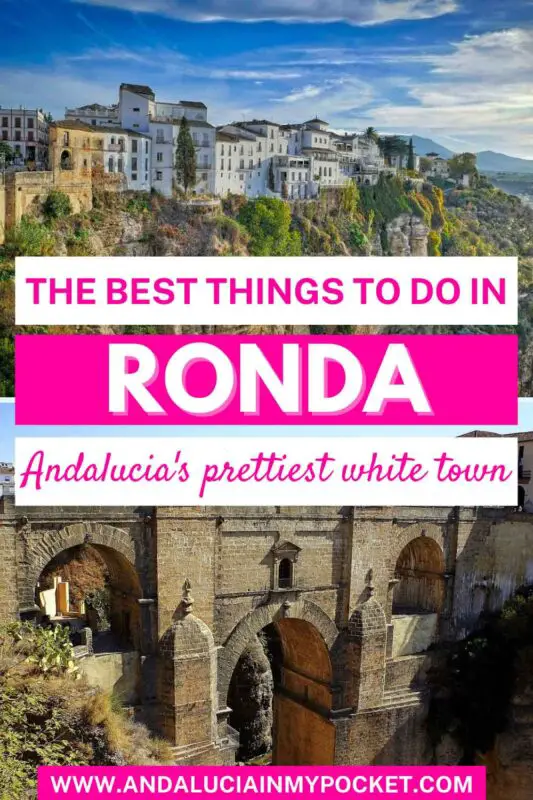 Disclaimer: Some of the links on this website are "affiliate links." This means that if you click on the link and do a purchase, I will receive an affiliate commission at no extra cost to you. This helps me keep my website running and continue to share my travelling knowledge with you. I thank you for booking your flights or hotels using the links on my website. Regardless, I only recommend products or services I use personally and believe will add value to my readers.