No matter what time of the year you are planning a weekend trip to Malaga, there will always be something amazing waiting for you in the sunshine capital of Costa del Sol. And starting with that, Malaga is a city where the sun shines over 300 days a year. So, no matter if you plan your perfect 2 days in Malaga itinerary in winter or in summer, you can almost be certain that the sun will shine.
There are so many things to do in Malaga. I have included in this Malaga weekend itinerary a little bit of everything the city has to offer: culture, food and entertainment, together with a couple of hidden gems.
Of course, you can always customise this Malaga itinerary, depending on how many days you are planning to stay in the city. You might want to spend more time at the beach, or explore more of the historical attractions in Malaga. Or maybe you want to check out the nightlife in Malaga, have drinks with the locals until the early hours of the morning. Malaga is known to be a very good party city.
How to Get to Malaga:
By flight: Getting to Malaga is very easy. The Malaga Costa del Sol airport is the fourth busiest in Spain, with flights coming from all over Europe but overseas as well. The sunshine capital of Costa del Sol is connected by direct flights to Canada, Morocco, Qatar, Bahrain and the States (New York). If you are flying from Europe there is probably a cheap direct Ryanair flight to Malaga.
The airport in Malaga is connected to the city centre by train, with a journey time of around 10 minutes and a cost of 1.80 euros.
By train: Malaga is connected to Madrid and Barcelona by the AVE high speed train. You can reach Malaga in 2 hours and 30 minutes from Madrid and 5 hours and 40 minutes from Barcelona. Booked in advance, expect to pay around 65 euros for a ticket from Madrid, and 100 for a ticket from Barcelona.
Other slower trains connect Malaga with Valencia, Sevilla, Cordoba and Ronda.
By bus: You can reach Malaga by bus from any destination within Spain, but also from Portugal, with an overnight Flixbus connecting Lisbon to the capital of Costa del Sol.
By car: If you travel to Malaga by car you need to keep in mind that it is forbidden to drive in the historical centre. Driving in Malaga is not pleasant either, as it's very busy, the roads are narrow and official parking costs a lot. There are plenty of parking garages around the airport which will keep your car safe for around 7 euros a day. You won't need a car to explore the centre of Malaga.
If you are doing a road trip around Andalucia and include Malaga in your itinerary, the best place to hire a car in the city is at the airport. You can use sites like DiscoverCars to compare the providers and choose the best offer for you.
How to get around Malaga:
Walk: the best way to explore Malaga is on foot. Malaga is not a very big city, with most of the tourist attractions close to each other. Most of the hotels are located around or in the historical centre as well.
By Bike: Malaga has some beautiful promenades where you can ride a bike along the seafront. There are quite a few bike rentals places around town, especially around Soho neighbourhood. Click here to check out this private guided bike tour of Malaga.
Train & Metro: The beaches outside Malaga are easily reachable by the C1 train. If you have time, I highly recommend checking out Playa de los Alamos, Playa de las Yucas of Torrequebrada and Playa Carvajal – my favorite.  
Highlights of the Perfect Weekend in Malaga:
Among the places to visit in Malaga and experiences that you should add to your itinerary I will mention:
Visit Alcazaba and Gibralfaro – Explore the Moorish architecture
Watch the sunset from the cathedral's rooftop  
Eat Espetos at a chiringuito at the beach
Relax with an Arabic massage  
Have a drink with a view on a rooftop terrace
Map of the Best Things to Do in Malaga in a Weekend
Day 1:
Visit Gibralfaro Castle
You must start your Malaga weekend itinerary with a history lesson. High above the sea level, overlooking the city, the Gibralfaro Castle was built in 929AD, on top of an old Phoenician lighthouse by Abd-al-Rahman III, the Caliph of Cordoba.
There isn't much left from the castle, except for the two lines of walls and the remains of some buildings. In the reinterpretation centre you can learn more about how the fortress used to look like in its glory days.
It's a long and exhausting way up to the Gibralfaro Castle, on a very steep and slippery footpath, going in a zigzag up the hill. Don't forget to bring water and to cover your head, especially in the hot months. The views from Castillo de Gibralfaro are spectacular and worth the climb up.
A ticket to visit the Gibralfaro Castle costs 2.2 euros. On Sundays after 2PM the entrance is free.
The opening hours of the Gibralfaro Castle are as follows: Summer: 9AM to 8PM; Winter: 9AM to 4PM.
Explore the Alcazaba of Malaga
Just below the Gibralfaro Castle, connected to it by a wall, you can visit the Alcazaba. Built in the 11th century, Malaga's Alcazaba is the best-preserved Moorish fortress in the entire Spain. During its peak times, when it served as a palace-fortress for the Muslim governors of the city, the Alcazaba used to have 110 main towers!
Even if you have visited Granada's Alhambra or the Alcazar of Sevilla, you should know that the Alcazaba of Malaga is different, as it was built three centuries before the other two. There are many original elements still standing of the 11th century Alcazaba, such as carved wooden ceilings, marble columns and balconies. The courtyards have beautifully landscaped gardens with fountains and orange trees.
A combined ticket for the Alcazaba and the Gibralfaro Castle costs 5.50 euros. The audio guide is extra, costing 5 euros more. It is highly recommended that you get one, to understand better the history of the places you are passing by.
If you prefer a tour with a private guide, check out this historic Alcazaba private experience.
The opening hours of the Alcazaba are as follows: Summer: 9AM to 8PM; Winter: 9AM to 4PM.
Check out the Roman Theatre
Just before you finish your historic visit to Malaga, stop by the ruins of the Roman theatre, the oldest monument in the city. Built in the first century BC, the Roman theatre was rediscovered during some archaeological excavations in 1951.
It is incredible how well preserved the site is. In summer, sometimes, there are open air performances on its stage.
The Roman theatre and its visitor centre, where a lot of the objects found on site are exhibited in a mini museum, are free to visit in Malaga. Just opposite, in the middle of the road, a glass pyramid is protecting the ancient remains of the garum basins – where the Romans used to make fish sauce in the second half of the 4th century AD. Make sure you take a peek through the glass to see them.  
The opening hours of the Roman Theatre are as follows: Tuesday to Saturday 10AM to 6 PM; Sunday and holidays 10AM to 4PM; Mondays it is closed.
Have Lunch at Malaga Atarazanas Food Market
Atarazanas Food Market is not only the place where most chefs in town are buying their fresh ingredients from, but also an architectural gem of Malaga. The building that is home to the best food market in Malaga used to be an old shipyard back in the Nasrid occupation. Over time, it was transformed into a convent and closer to our century, a military hospital. Looking up when you enter the market you will notice the keyhole shaped giant door, which was once used for ships to be launched on the side. Back on the 15th century the sea used to reach all the way to the building. Notice the large arched windows with gorgeous stained glass.
The market is very well organised, with three different sections: fruits and vegetables, fish and meat. Look out for the local seasonal products such as the chirimoya (November to January), the nispero (in May), the brevas (in June), the white asparagus (April to June) and the purple carrot (in December). Once you gazed at the beautiful produce that locals sell in the market, sit down at one of the bars in the meat section and order some local delicacies for lunch: boquerones en vinagre (anchovies marinated in vinegar, with garlic and parsley), friend anchovies, prawns pil pil (prawns cooked in lots of garlic), berenjenas con miel (crispy aubergines with treacle), or local goats cheese made with "cabra malaguena" milk.
Keep in mind that the market is open from 8AM until 2-3PM. Arrive early for lunch as it can get pretty busy.
If you want to learn more about the local cuisine in Malaga, you might want to experience this foodie walking tour around the city.
Visit the Picasso Museum
Malaga is the birthplace of Picasso, and whilst in town for a weekend, you can't miss visiting his "Casa Natal" and the nearby Picasso Museum, which hosts a fantastic collection showing the evolution of his work over the years. There are 12 different halls which explore the artist's periods in life, starting with the paintings he created when he was only 7 years old and going through his sculpting, drawing, poetry, even design works.   
A ticket to visit the Picasso Museum in Malaga costs 12 euros, whilst one for the Casa Natal is 4 euros, which includes the audio guide. On Sundays the last two hours of visitation are free. As the museum has different opening times depending on the time of the year, you can consult the schedule here to know when to go. If you choose to visit on a Sunday, arrive half an hour earlier because the queues can get quite long for the free access.
For a private guided tour of the Picasso Museum, check out this link.
Admire the Cathedral of Malaga and Climb on the Rooftop at Sunset
The Cathedral of Malaga is a symbol of the city, with its 84 meters tall tower visible from everywhere. It has been built over 2 centuries, in a Renaissance architecture style with a Baroque façade.
The Cathedral was supposed to have two towers, but the Southern one was never finished. The tower makes the Cathedral of Malaga the second tallest building in Andalucia.
It is recommended to book a tour of the cathedral ahead of time, especially in summer when very often there are queues at the door. I highly advise to visit the cathedral just before sunset, and admire the sky turning red from the rooftop.
A combined ticket for the cathedral and the roof, which includes an audio guide, costs 10 euros. You can book a special night ticket for the rooftop for 10 euros as well.
For a more in depth historical guided visit to the Cathedral, check out this link. If you fancy a guided tour of the city at sunset, click here.
The opening hours of the Cathedral differ from season to season. You can check them here.
Have a Glass of Wine with the Locals at Gloria Hoyos
Glorya Hoyos is a small café bar located North of the historic centre, very popular with locals. It is the perfect place to spend an hour or two before dinner, over a delicious glass of house wine which costs less than 2 euros and a large cheeseboard priced at only 6 euros.
The interior design of Gloria Hoyos inspires a very cosy atmosphere, inviting guests to chat to each other at the long, wooden tables.
Address: Calle Carretería, 89. Click here for directions.
Have Dinner at El Tapeo de Cervantes
El Tapeo de Cervantes is my favourite restaurant in Malaga. It is very tiny, so you need to book a table in advance, as the chances of getting one without a reservation are close to zero, especially in high season. El Tapeo de Cervantes is a fusion tapas bar with a large selection of high-quality wines.
At El Tapeo de Cervantes you usually order between 5-6 tapas if you are a party of two. The food is outstanding, the cooks manage to create so much flavour starting from the classic Spanish tapas. You can order from the classic menu or the daily specials, which include dishes made out of seasonal ingredients and fresh fish.
As this is a gourmet restaurant, the prices are on the higher side – think of 5-9 euros for a racion. However, the food is so delicious that I personally don't mind. I always book a table here when I'm in town, and I highly recommend you do the same in your 2 days in Malaga itinerary.
Day 2:
Enjoy Some Beach Time
Malaga is not only a great city to visit but also an amazing destination for beach lovers. There are two gorgeous beaches in the heart of Malaga: the popular Malagueta, located in the North of the city and walking distance from the old town, and the local Playa de la Misericordia, in the South, easy reachable by metro.
Playa Malagueta is the most famous beach in Malaga. Taking its name from the nearby neighbourhood, La Malagueta stretches on over 1,200 meters and has a width of 45 meters. It is known for its dark sand and the moderate swell tide. It is a safe beach for families, usually with not many waves and warm water.
The beach has a lifeguard service during season and benefits of all facilities such as toilets are showers. There are many places from where you can rent beach loungers and umbrellas, but also paddle boats. There is even a playground for children on Malagueta Beach.
Playa de la Misericordia is a two kilometres long and 30 meters wide beach popular with the locals living in Malaga. There are considerably less people that on Malagueta beach and, the prices are lower as well (5 euros for a beach chair and an umbrella compared with 10, on Malagueta). Misericordia beach has the same facilities as Malagueta. One curious thing to be aware of is the Melillero Wave, which happens every day at the same time: when the ferry from Melilla arrives in Malaga Harbour, it creates a sudden rise of the sea level. All the towels left near the shore get wet.
Have Lunch at a Chiringuito On the Beach
Malaga and the entire coast are famous for their chiringuitos – rustic beach bars located directly on the sand, which offer mostly fish dishes on their menus. There is something about sitting at a table with your feet in the sand, admiring the sea and delighting yourself with a pint of cold beer (the local San Miguel, of course) and a plate of espetos.
Espetos are sardine skewers which are grilled oven an open fire, on barbeques set in old boats filled with sand. Every proper chiringuito will have their grill set in an old finishing boat. The fresh sardines are put on a skewer which is set in the sand at a 45-degree angle over the burning olive wood. They are served with lemon wedges on the side.
Espetos is a traditional local dish which you will only find in Malaga and the surrounding coast. Also, espetos is only served in season, between May and October.
Normally, a plate of espetos will have between 7-9 sardines, depending on how big they are, and it will cost between 5 and 7 euros. You should eat them whole, with your hands. There are many chiringuitos you can choose from along Malagueta beach. A good one will usually be filled with locals, which you can easily recognise by their large families and loud taking. If you want a more authentic, local experience, head over to the El Palo neighbourhood – the place where the espeto was invented.    
You simply can't come to Malaga for a weekend and not have espetos.
Visit the Centre Pompidou
The Centre Pompidou is the only international branch of the museum with the same name located in Paris, France. The museum, located on the Paseo del Muelle Uno, focuses on modern art collections and it is hosted by an innovative building, underground, with a colourful mosaic cube on top which reflects rainbow waves on the ground below.  
The museum is quite small but the art inside is very daring, with temporary exhibitions featuring big names such as Klimt, Matisse, Picasso or Alexander Calder. If you enjoy modern art you should definitely include Centre Pompidou to your 2 days in Malaga itinerary.
The entrance to Centre Pompidou is 9 euros. The museum is free to visit every Sunday after 4PM.
The opening hours of Centre Pompidou are as follows: Wednesday to Monday 11AM to 10 PM in summer and 9:30AM to 8PM in winter; Tuesdays it is closed.
Shop for Handmade Souvenirs at Muelle Uno
Just outside Centre Pompidou you will find the handmade market from Muelle Uno, where you can buy all sorts of products.
Open on the first three Sundays of each month between 11AM and 5PM, this market offers a large selection of crafts, jewellery, souvenirs, clothes and gourmet products. During the summer months, from the end of June until mid-September, the market is open every day from 12PM until midnight.
There is a space in the market dedicated to the local artists so, if you want a more special souvenir, this is the place to find it.  
Have an Authentic Kessa Treatment at Hammam al Andalus
With all that running around during your weekend in Malaga, before it ends, you should treat yourself with a relaxation session at an authentic hammam. Located in the historic part of Malaga in a stunning Arab building, hammam al Andalus offers heavenly baths and massages that you will remember for years to come.
A session at Hammam al Andalus usually lasts for two hours and includes a kessa treatment, which is an authentic Arabic exfoliating massage using a traditional glove called "kessa". The treatment involves laying on a hot stone bed whilst your body is covered in a divine smelling foam and then scrubbed gently, to eliminate all the dead cells. The scrubbing is followed by a 15 minutes massage which relaxes and prepares the muscles for the hot and cold baths, and the steam rooms. It is just what your body needs after walking and exploring Malaga for the entire day.
You can book your relaxing experience at Hammam Al Andalus by clicking here.
Have Dinner at KGB
For the second night of your fantastic weekend in Malaga I recommend checking out KGB. This great tapas restaurant combines the classic Spanish cuisine with international flavours. For example, their menu includes Margarita chicken (yes, chicken with tequila sauce), tuna tartar with "kimchipotle" sauce, Beef tataki, and breaded shrimp with coconut and mango salsa. I highly recommend their juicy rabo de toro burger.
The chefs from KGB take part in many food competitions. In fact, the restaurant has a unique concept of inviting high profile chefs to create two different tapas, which they serve each month. The cuisine at KGB is highly innovative and the menu is always improving.  
Address: Calle Fresca, 12. Click here for directions.
Drinks with a View on one of Malaga's Rooftop Terraces  
For drinks with a view, head over to the terrace of AC Marriot Hotel, or, if you can't get in or you are on a budget, to the terrace of Alcazaba Premium Hostel.
Àtico Bar & Restaurant is the 15th floor rooftop terrace belonging to AC Marriot Hotel that features a pool and stunning panoramic views over the harbour, the Cathedral and the Alcazaba. This is an expensive terrace, and, as a guest, you need to buy a drinks voucher at the reception before being allowed to go up.
As sometimes Àtico Bar & Restaurant is not open to non-guests of the hotel due to private events, another great option for beautiful views over Malaga is the terrace from Alcazaba Premium Hostel. Attracting locals as well as tourists, this small but lively terrace has beautiful views towards Gibralfaro Castle and the old town of Malaga. Drinks are reasonably priced.  
Where to Stay in Malaga:
On a budget – Dulces Dreams Boutique Hostel
With a privileged location in the heart of the old centre of Malaga, this boutique hotel offers private rooms starting from 60 euros a night. Each room is decorated in a different style and color, inspired by cakes, and decorated with recycled materials. It's a hotel with a lot of personality.
Downstairs, the hotel has its own café where they serve healthy snacks and drinks.   
Click here to read the reviews on Tripadvisor, or check the latest rates on Booking.com
Mid-range: Molina Lario
With beautiful, modern spacious rooms and a rooftop pool overlooking the Cathedral, Molina Lario is a four stars hotel which you can book for around 100 euros a night. The hotel is located in a 19th century old building which has been modernized and soundproofed, for the perfect relaxation break.
Click here to read the reviews on Tripadvisor, or check the latest rates on Booking.com
Luxury – Parador Malaga Gibralfaro
For fantastic views and a five stars experience, treat yourself with a stay at Hotel Parador Malaga Gibralfaro. Located opposite the Alcazaba, on top of mount Gibralfaro, this hotel is the perfect choice if you are spending a romantic weekend in Malaga. The stunning panoramas, the rooftop pool, the spacious rooms with sea views, the romantic restaurant – there is nothing that you won't love about Parador Malaga Gibralfaro hotel.   
Click here to read the reviews on Tripadvisor, or check the latest rates on Booking.com
Liked it? Pin it!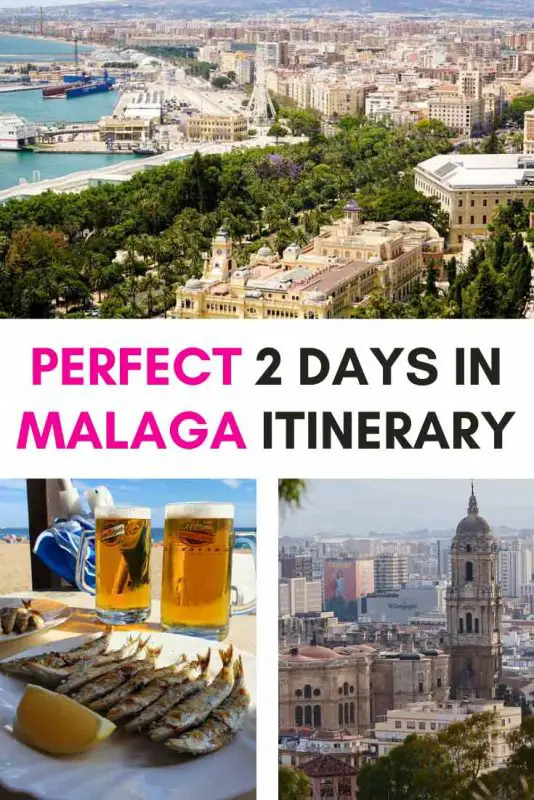 Disclaimer: Some of the links on this website are "affiliate links." This means that if you click on the link and do a purchase, I will receive an affiliate commission at no extra cost to you. This helps me keep my website running and continue to share my travelling knowledge with you. I thank you for booking your flights or hotels using the links on my website. Regardless, I only recommend products or services I use personally and believe will add value to my readers.