As someone who lived in Andalucia for the past few years, I know how important it is to have the freedom of exploring the land at your own pace. Whilst the big cities in Andalucia are very well connected to each other by public transport, if you want to visit villages, remote places, or even go hiking, you must either plan very well to catch the last bus of the day, or hire a car. As most travellers to Andalucia and Costa del Sol will land in Malaga, this is the best place to hire a car from.
In this article, I will tell you the best way to hire a car in Malaga, together with plenty of useful tips to minimise your costs and don't get fooled by the 2 euros a day adverts – which are not true!
Car Rental in Malaga
Hiring a car at Malaga Airport is very easy. There are so many different providers, so you won't have an issue picking the best for your needs. As you leave the airport, you will notice large car parks containing thousands of cars – these are all rentals.
Malaga is a very popular place to rent a car from and in summer you will find huge queues at the rental offices inside the airport. Sometimes you have to wait for hours until you get the keys to your car. This is why it is very important to pick your provider carefully.
First of all, think – do you really need to hire a car in Malaga? What places are you planning to visit? Are they easy accessible by train or bus? If you plan to go to Malaga, Granada and Seville, there is no need to hire a car. However, if you want to go hiking in the Sierra Nevada mountains or Caminito del Rey, explore ancient ruins such as Acinipo, trek in the Torcal de Antequera, or, visit as many whitewashed villages as you can in a day, you will definitely need a car.
Book Online in Advance!
Renting a car in Malaga is very popular, especially during the high season and the school holidays. Many expats who own holiday homes on Costa del Sol will hire cars as well when they come to spend some time in the sunshine, especially because it's very affordable – and buying a car in Spain is much more expensive than in the UK.
To get the best rate for your car rental in Malaga, you must book in advance. There are plenty of websites where you can hire a car in Malaga, where you will see offers from 2 euros a day. Stay away from those.
I prefer to hire cars on my trips through Holiday Extras. I use them for car hire, travel insurance and airport parking, and they have never failed me. What I like about them is that they show the real price you will be paying when you rent a car.  And yes, there might be that promotional 2 euros a day offer, but they will also explain how much you will actually pay when the insurance is added to the final price. In general, you will be looking at around 100 euros for a 5 day car hire.
When you book a car that is advertised at 2 euros a day, you will be guaranteed to start your holiday with frustration when you arrive at the counter to pick up your keys, as you will be hit with extra fees. When you book through Holiday Extras you can see all these fees ahead of time – and you can actually do something about it, such as buying separate insurance, which is cheaper than the one you will be offered at the counter.
The All-inclusive Rental Car Insurance – Watch Out for Hidden Costs!
Let's talk about the excess waiver insurance. When I first started renting cars for my holidays, I was so naïve that I actually paid this extra insurance. Now I know better!
The usual scenario is that you arrive at the rental counter, they will check the papers, and then pressure you into paying the excess waiver insurance, claiming that if you return the car with as much as a scratch, the repairs will be taken from your deposit.
It is essential to have excess waiver insurance, but don't buy it at the counter! There are quite a few companies through which you can buy this type of insurance, such as iCarHireInsurance or Car Insurent. I usually just add it as an extra when I book through Holiday Extras, as they offer it for 4-5 euros extra per day. At the counter you will be charged 20 euros extra per day for the same thing.
When you buy the excess waiver insurance ahead of time, you will still need to pay the deposit for the car, but if you get involved in an accident, the insurance company will return your deposit to you and take care of the repair costs.
Where to Hire a Car in Malaga from?
The best place to hire a car in Malaga is from the airport. The most popular providers such as Europcar, Hertz or Avis have their offices inside the terminal, in the Arrivals Hall. The smaller companies have their offices a short ride away from the airport, but they provide a free shuttle to and from their location.
I often used Picasso for both car hire and airport parking, after I brought in my car from the UK. Their building is a two minute drive away from the terminal, and they provide a free shuttle service which you don't have to wait longer than 10-15 minutes for.
As the traffic in Malaga can be quite hectic, I only recommend hiring directly from the airport. If you are visiting Malaga as well during your trip, go and see the city first and hire the car after. The C1 train from the airport to the city centre takes 10 minutes and costs just over 2 euros each way.
What Do You Need to Rent a Car in Malaga?
In order to be able to hire a car in Malaga you must be at least 21 years old and have held a driving license for at least two years. Some suppliers request the minimum age of 23. If you are under 25, most companies will charge an additional fee of up to 20 euros a day.
You also must provide a credit card in the same name as the driver who made the reservation, and with enough credit on it to cover the deposit for the car. Usually, this will be around 1000 euros, depending on the car. Smaller cars will require less of a deposit than the larger, more expensive cars. When you make the online booking, you will be shown exactly how much the deposit is for each type of car.
Another thing to check for when you rent a car in Malaga is whether or not you need an international driving licence. European, EEA, and UK driving licenses don't need an international driving licence as well. For other countries, please check.
What Kind of Car to Hire in Malaga?
Let's just say that the traffic on Costa del Sol is not the most perfect in the world. I remember my first time on the A7 and how terrified I was at how many people didn't respect the traffic rules. A7 is one of the most important motorways in the South of Spain and you will find all sorts of people on it: locals who think they are Schumacher, people crossing over from Morocco by ferry driving extremely chaotically, and tourists who have no idea where they are, or where they are going.  The list goes on. It's intimidating!
My advice would be to hire a small car, especially if you are planning on visiting some of the gorgeous white washed villages of Andalucia, where the streets are extremely narrow. I had plenty of instances where I almost got stuck in tiny roads in the small villages, driving a small Ford Fiesta.
As there are plenty of hills and mountains in Andalucia, even if you hire a small car, make sure that your engine will be powerful enough to take you on the desired itinerary.
Tips on How to Save Money on Your Car Rental in Malaga
Check the Car Before You Leave the Rental Agency
Most bad experiences with car rentals come at the end of the trip, when some agencies might try to keep the deposit for damages that were already there when you hired the car. It's so important to check the car before you leave the parking lot, and mention to the rental agent if there are any damages that are not on the handover documents. Make sure that you get this paperwork before you get the keys to the car, rather than them sending it to your email later on.
I usually take a video, walking slowly around the car, so that any existing damages are recorded. I film the interior, the exterior, and underneath. Make sure you spend some time on any dents and scratches. 
The Full-to-full Policy
Always choose the full-to-full policy. This means that you receive the car with a full tank of petrol, and you are expected to return it the same way. There are two petrol stations just outside the airport.
Most of the petrol stations in Spain have attendants who will fill the car up for you, so make sure you check whether the one you hire is petrol or Diesel.
Going for a "Full-to-empty" policy can cost you at least 20-30 euros more than "full-to-full". In this case, the rental company will give you the car with a full tank of petrol and you will be expected to pay in advance for an extra tank, which will allow you to bring the car back without having to fill up again. In most cases, the price for the fuel will be inflated and you will be charged an extra service fee – for them to fill up the car.
Go for a Hybrid
The last car I hired in Spain was a hybrid and it saved me so much money! During four days of travelling all around Mallorca, I only spent just over 20 euros in fuel, as the car charged itself every time I hit the break. 
The price for the car was the same as for a fuel-only one, and I didn't even know I was getting a hybrid until I got the keys. It is worth asking for a hybrid, especially if you are travelling to Malaga in the low season and you have a choice. It will save you so much money!
Navigation
If you have Google Maps, you don't need to pay extra for a GPS. With Google Maps, you can download the map of the area you are planning to travel to and use it even if you don't have access to an internet connection. Do bring a phone holder though, as the cars usually come without one.
Hire a Manual, not an Automatic
It's a given; manual cars are so much cheaper than automatic ones. I think it's mostly in America where people aren't used to driving manual cars. In Europe, automatic cars are not so popular, which means that you will pay much more to hire one.
How Many Drivers?
Distances in Andalucia are not that long, so usually one driver is enough and should not get too tired. Car rental agencies will charge more if you want to add a second driver.
Size Matters
As I mentioned above, hiring a small car is much cheaper than a bigger one. A small car will also consume much less fuel.
Driving in Andalucia
Driving in Andalucia is pretty easy if you ignore the A7. The other motorways I experienced were quite empty, even during the high season. The roads in Spain are very well maintained which offer a great driving experience. Even the roads around my apartment, on the outskirts of Fuengirola, were in pristine condition, with no potholes.
Just like in every other place, avoid driving during the rush hour.
The speed limit in Spain is as follows: 120km/h on the motorway, 90km/h on regular roads and 50km/h on urban roads. In towns the speed limit varies between 30-40km/h, and it is always sign posted.
The wearing of seatbelts is mandatory, both for the driver and the passengers in the back of the car. Children below 12 years old or 135cm height must travel in the back of the car, on a special car seat. If you are travelling with children, for an extra fee you can also hire a car seat from your rental company. Just make sure you book in advance if you travel in high season.
Parking in Andalucia
From my experience of driving around Andalucia, there is always an official car park. Most of the white washed villages have a dedicated car park on the outskirts, which I always point out in the articles I write here. It's best to just park there, even if it's a bit expensive. Finding a free parking spot on the side of the road might seem lucky, but you risk your car being hit by a driver who isn't paying attention. A lot of the cars in Spain have dents in them. I've learned not to get upset when finding a new scratch or dent on my car, even in the supermarket car park.
For street parking, you have to pay attention to the lines on the side of the road. White lines mean that parking is allowed and free of charge. Blue lines mean that you have to pay to park there so look for the meter. Also check the timings, as the blue lines have free periods as well (usually nights and Sundays) always shown on the parking meter. Yellow lines mean that you can't park there.
It's good to know that most of the hotels will charge an extra 8 to 10 euros per night for parking. Some of the hotels, especially around Cordoba, will have attendants who will park the car for you, as their car parks are narrow, on different levels, underground.
Liked it? Pin it!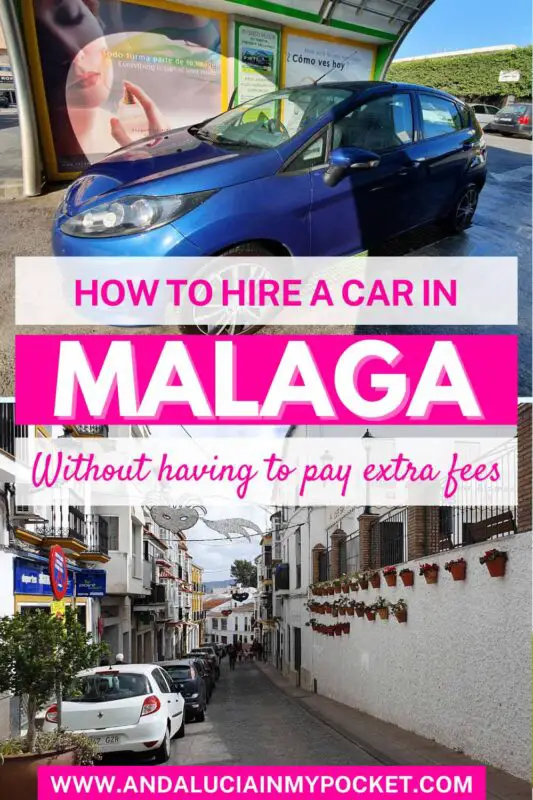 Disclaimer: Some of the links on this website are "affiliate links." This means that if you click on the link and do a purchase, I will receive an affiliate commission at no extra cost to you. This helps me keep my website running and continue to share my travelling knowledge with you. I thank you for booking your flights or hotels using the links on my website. Regardless, I only recommend products or services I use personally and believe will add value to my readers.