My first encounter with the Caminito del Rey walk was about 15 years ago. Back then, there was this terrifying video circulating around, with a very brave (or maybe insane?) man, walking on broken planks, on the side of a cliff, a hundred meters about the ground. Underneath, there was every fear of heights person's nightmare: a drop that led to certain death. Years have passed though and Caminito del Rey was renovated, now featuring safety boards, a high safety rail, and a much nicer experience than seen in that video.
Caminito del Rey is one of the most exciting things to do in Andalucia and makes a great day trip from Malaga, if you're an adrenaline junkie. As someone who fears heights, I knew from the first moment I had a glimpse of Caminito del Rey walk that I will never be able to complete it. I remember sitting at a tapas bar, on the road opposite that vertical cliff, looking at the boardwalk hanging on its side, looking at the people walking it… I could almost feel the vertigo kicking in, and my knees going soft.
A couple of weekends ago, a couple of friends went to Caminito del Rey, and I asked them to write down all the details. This is how this article was born.
What is El Caminito Del Rey?
El Caminito Del Rey ('King's Little Way' in English) lies between Ardales and Álora and is one of the most famous, and most spectacular, hiking trails in Spain.
The one way trail runs north to south. It consists of narrow wooden boardwalks that hug the sheer rock faces of the Gaitanes Gorge and dizzyingly high suspension bridges crossing the Guadalhorce River. 
The walkways are just one metre wide and are, on average, 100 metres above ground level. In total, El Caminito Del Rey is 2.9 kilometres long with a further 3 – 4 kilometres of access paths.  
The History of El Caminito del Rey
The walkway was built in 1901 and took four years to complete. It was initially constructed as an access route for workers at the El Chorro hydroelectric power station and dam. The path gained its name in 1921 when King Alfonso XIII officially opened and walked the trail. 
Over the years, the path was used by local villagers, school children and traders but gradually fell into disrepair. After a series of fatal accidents, El Caminito Del Rey was closed to the public. 
In 2009 restoration works began and the historic route was eventually opened to the public in 2015. 
Today, this popular tourist trail is part of a Biosphere Reserve and is hoping to gain UNESCO World Heritage Status. 
Is El Caminito del Rey Dangerous? 
Before its restoration, the path claimed the lives of several hikers and climbers. 
Today, access to the path is strictly controlled and there are guides throughout the trail to reinforce the rules. The path is nerve-racking and not for the faint-hearted but it is considered safe. 
The greatest risk is from small rock falls so every visitor must wear a hard hat which is available at the trail entrance.  
How to Book Tickets for the Caminito Del Rey Walk
Tickets must be booked online or by phone in advance of your visit. Book as early as you can as places are limited and sell out quickly. There is a limit of just 600 people per day (which equates to 50 people per half hour slot). You can book a ticket by clicking here.
Children under 8 are not allowed on the trail and any child hoping to complete the route must bring photo identification to prove their age. 
When booking your entrance ticket online, be sure to book your bus ticket at the same time. You will need to catch a shuttle bus at the end of the trail to bring you back to your starting point. If you do not book online, bring cash for the bus fare.
Entrance fees include your hard hat and a 'Civil Responsibility Insurance.' 
El Caminito Del Rey is open every day except Monday, from 9.30 am to 2.30 pm. 
Guided Tours of El Caminito del Rey
Visitors can access the trail independently or join a guided tour. 
A tour guide will highlight the geography and geology of the route and provide information about the flora and fauna that can be seen. You will also learn more about the history of the famous path and its construction on a guided tour.
Tours can be pre booked online and are available in Spanish and English. 
How to Get to Caminito Del Rey
The trail is located in the Desfiladero de los Gaitanes Natural Park. It is 60 kilometres from Malaga and 51 kilometres from Antequera. 
It is an easy (though winding) self drive from Malaga or you can catch a train to El Chorro station. 
Visitors must arrive at the start of El Caminito Del Rey 30 minutes before their allotted time in order to receive a safety briefing and a hard hat. 
However, neither the car park next to El Kiosko restaurant or the El Chorro rail station is at the start of the trail. 
If you arrive by train, you need to catch the shuttle bus (a 15 minute journey) to El Kiosko restaurant car park. Buses run every 30 minutes.  
From El Kiosko hikers choose between a 1.5 kilometre / 20 minute walk or a 2.7 kilometre / 45 minute path to reach the start of El Caminito Del Rey. 
Therefore, it is recommended to arrive AT LEAST one hour before your allotted start time, preferably more if travelling by train.  
The El Caminito Del Rey Hike 
The hike begins with a choice of two access trails. The longer 2.7 km route passes through a pine forest. On route you can see traditional cave houses once used by the hydroelectric workers. 
The shorter route runs through an illuminated tunnel. Both paths merge to start El Caminto Del Rey. 
The wooden boardwalks of the trail pass through three canyons. Other sights include the Gaitanejo reservoir, El Soto (known for its neolithic caves) and the enormous Tajo De Ballesteros escarpment. Highlights of the route are the 'Walkway of Death' a 10 metre long suspension bridge hundreds of metres above the river, the breathtaking Rocas Llanas viewpoint and the stomach-churning glass balcony. 
In addition to the spectacular views, look out for historical remnants from the original trail and ammonites in the Fossil Beach area. You may also see Griffin vultures and Iberian foxes. 
Safety tips for El Caminito del Rey
There are no facilities on the trail (and that includes no toilets!) so bring plenty of water. A limited amount of food is allowed so small snacks such as energy bars or fruit are ideal. Only small bags or backpacks are allowed as the boardwalks are so narrow. 
Bring a hat and plenty of sunscreen as there is little shade along the route. 
Note that selfie sticks, umbrellas, hiking sticks, drones and pets are not allowed. It is also prohibited to smoke or lift anyone up on the boardwalks.
What to Wear to El Caminito del Rey?
Good gripping footwear is a must; your footwear will be checked for suitability at the entrance. 
Temperatures are a little cooler than at the coast so consider bringing a warm layer. A waterproof coat is recommended outside the summer season. 
How Difficult is El Caminito del Rey?
El Caminito Del Rey is not technically difficult or physically demanding. The route is mostly downhill though there are some uphill sections and several steps. 
The entire trail (including the access routes) can be completed in 3 – 4 hours. 
However, if you suffer from vertigo, heart/lung conditions or other underlying conditions, it is not recommended to attempt the trail. 
Liked it? Pin it!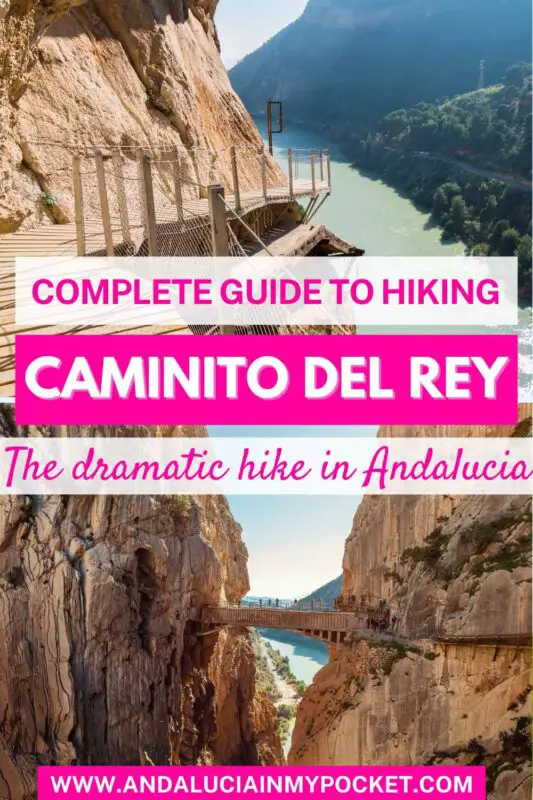 Disclaimer: Some of the links on this website are "affiliate links." This means that if you click on the link and do a purchase, I will receive an affiliate commission at no extra cost to you. This helps me keep my website running and continue to share my travelling knowledge with you. I thank you for booking your flights or hotels using the links on my website. Regardless, I only recommend products or services I use personally and believe will add value to my readers.