Malaga is one of those perfect cities that has everything for everyone. It's impossible to get bored in this vibrant city that never sleeps. Really! I remember waking up at 3am one evening, to go to the airport, and the streets were filled with people partying.
Malaga also makes a perfect base if you want to explore more of Andalucia. Luckily there are plenty of amazing places to see no more than two hours away from Malaga. In this article I want to talk about my favourite day trips from Malaga. Living in Southern Spain for a while I took advantage of every free time I had to go on an explore the region. And now I'm sharing my favourite destinations with you! No matter what you are looking for, I'm sure one of the suggestions below will suit your travel style.
Public Transport or Car Hire?  
Whilst some of the day trips from Malaga can be easily accessible by public transport, some are more difficult. You can go to Granada, Cordoba, Sevilla and the towns on Costa Tropical by train or by bus (I highly recommend the Alsa buses, which have a great website in English to book tickets on). However, destinations such as Setenil de las Bodegas, and even Caminito del Rey are much harder to reach by public transport.
For these type of destinations, I recommend hiring a car. I have written a guide on how to hire a car in Malaga with plenty of advice on how not to get scammed and not to worry about excesses. You can find it by clicking here.
The Best Time to Visit Malaga
Malaga is a great destination to visit year round. In summer the city benefits of a lovely breeze which makes the scorching temperatures more bearable. Winter in Malaga is mild with temperatures averaging between 15-20 degrees. Spring and autumn are the best times to visit in my opinion, because the number of tourists is still low whilst the weather warm enough to sunbathe.
How Long to Stay in Malaga
Many tourists fly into Malaga but skip the city all together in favour for other destinations. I would recommend spending at least one day in Malaga. Even better, on a weekend in Malaga you will get the chance to get a feel of the city and enjoy it as a slow pace.
Malaga is a great place to choose as a base in Andalucia. You will see in this day trips from Malaga article that most of the destinations are usually no more than two hours away from the city.
Incredible Day Trips from Malaga:
I have included in this article my favourite day trip destinations from Malaga that are accessible by car, public transport, or guided tour. Being based in Fuengirola, just outside Malaga, I have personally visited all these destinations myself. So, here's my list of the best day trips from Malaga.
1. Granada (126 km, 78 miles)
Granada is one of my favourite cities in Andalucia. When friends visit me, I often bring them here for the day.
Among many other things, Granada is known for Alhambra, the UNESCO World Heritage Site also called the 'Red Palace'. It is one of the finest palace complexes and among the most visited monuments in Spain. Make sure to book your tickets to the Alhambra ahead of time, as they tend to sell out at least three months in advance. You can buy a skip the line ticket, which is very handy when you have a limited time in the city, by clicking here.
Other highlights in the town include Granada Cathedral, the attractive Arabian quarters of the Albaicin neighbourhood, the cave houses in the Sacromonte neighbourhood, and the live flamenco shows inside the caves.
Granada is located very close to the beautiful Sierra Nevada mountains and has an authentic Spanish vibe and historic architecture.
2. Cordoba (159 km, 99 miles)
Cordoba is the perfect destination for a day trip from Malaga. The town was once the largest city in the world, and its history dates back to the Roman times. Today, it boasts four World Heritage Sites and is known for its patios, large courtyards, and secluded little squares. If you visit Cordoba in May, you must coordinate your visit with the Festival of the Patios. This is when the locals are opening their gardens to the public, so you can take a peak to the most beautiful patios in the city, otherwise private.
The most popular sites in Cordoba are the Mezquita Mosque-Cathedral and Alcazar de los Reyes Cristianos. Another must-visit attraction is the 14th Century Cordoba Synagogue in the Jewish quarter.
Whether you visit Cordoba on a day trip or opt to stay there, this historic city should not be overlooked. It is not as crowded as Granada or Seville, which makes it much more authentic to explore.
3. Seville (206 km, 128 miles)
One of the most beautiful cities in Spain, Seville, is Andalucia's capital city. Spain is known for tapas, toros, and flamenco, and all of these things are typically Sevillian. The city flaunts incredible Mujedar architecture and orange-scented courtyards.
The Royal Alcazar, a 10th Century Moorish Fort, is Seville's most famous attraction. This UNESCO World Heritage Site was a popular Game of Thrones filming location as well. Asides from this, you must also visit the Seville Cathedral, the Tomb of Christopher Columbus, and climb the Metropol Parasol.
4. Cadiz (234 km, 145 miles)
Cadiz is a coastal city situated under a 3 hour's drive away from Malaga and is known for its sparkling green water, vibrant fishing boats, and narrow cobbled streets. In addition, the city is known for its Roman ruins and fascinating forts. The best way to enjoy the bustling city is to explore it on foot while enjoying the vibrant tapas bars.
The top thing to do in Cadiz is strolling along the promenade at La Caleta beach and climbing the tower of the Cadiz Cathedral for some stunning views of the city.
I know that Cadiz is three hours away but trust me, it's a must. It took me two years after I moved to Andalucia to visit Cadiz, and ever since I regret never going there sooner. I loved every single thing about Cadiz, from the buzzing fish market to the peaceful beaches. Cadiz is a must!
5. Gibraltar (136 km, 85 miles)
A mere 2-hour drive from busy Malaga, Gibraltar has a fair share of amazing tourist attractions. A heaven for bird lovers, this town is visited by more than 300 species of birds that stop over while migrating between Europe and Africa. 
Visit Gibraltar to explore St. Michael's Cave, ride the Gibraltar cable car, learn the legends of Catalan Bay, and join a dolphin-watching excursion. If you are an outdoor enthusiast, hike to Gibraltar's highest point – O'Hara Battery.
Beware of the monkeys living on the rock, who are very eager to jump in your backpack and search for food. Gibraltar is also home to a British supermarket, to which I often passed by on my day trips there.
6. Ronda (103 km, 64 miles)
Ronda is located right around the visually stunning, 120-metre deep El Tajo Gorge, making it among the unique day trips from Malaga. The town is divided into two by the Guadalevin River and is linked by various ornate bridges along the gorge.
The main attraction of Ronda is the Puente Nuevo bridge, which is the most instagrammable spot in the town and is like an emblem found on any Ronda postcard. After photographing the bridge, head to the 13th Century Arab quarters, followed by Alameda del Tajo, for a perfect sunset. 
There are plenty of things to do in Ronda on a day trip, so make sure to read my recommendations by clicking here.
7. Antequera (51 km, 32 miles)
Antequera is an off-the-beaten-path town in Andalucia, and with only an hour's drive away, it makes for a great day trip from Malaga. The town has 33 churches, the highest number per inhabitant in all of Spain.
One of the best places to visit in Antequera is the 14th Century Alcazaba de Antequera – a fortress built on top of Roman ruins. Asides from that, visit the many churches, the Arch of Giants viewpoint, and the Lover's Rock – a rock resembling a man's face.
In Antequera you will also find some peculiar ancient temples called dolmens, which were used for burial ceremonies. If you are driving to Antequera, don't miss a visit to the Torcal de Antequera. The shortest trail to hike in the Torcal de Antequera only takes an hour but it's well worth it as the scenery is like out of this world.
8. Nerja (57 km, 35 miles)
Nerja is a beautifully whitewashed coastal resort town surrounded by cliffside coves and mountains. First, explore the massive underground caverns at Nerja caves and admire the magnificent rock formations. After that, head to Balcon de Europa, a spectacular balcony with stunning sea views. 
You will find pristine beaches like Torrecilla, Burriana, and Playa El Salon at the foot of the cliffs of Balcon de Europa. In fact, Nerja has some of the best beaches near Malaga, so if you are looking for a beach day trip, this is the place to come to. There are plenty of daily buses connecting Malaga to Nerja in just an hour.
9. Tarifa (161 km, 100 miles)
Located in southernmost point of continental Spain, Tarifa is a trendy and laid-back Andalusian town known as the wind capital of Europe. It is a kitesurfing hub, and you can learn this activity in one of the kite schools. 
The main attractions of Tarifa town include the Castillo de Santa Catalina, a Renaissance castle, and the castle of Guzman El Bueno. In addition, just a walk in the town will take you to numerous charming corners like a long harbour and Iglesia de San Mateo – built on the remains of a mosque.
There are no chain restaurants, hotels or shops in Tarifa, which make it very authentic and charming. I love going to Tarifa for chilled time by the beach.
10. Almeria (200 km, 124 miles)
Almeria offers many things for every type of traveller – from crystal clear beaches to Moorish buildings to subtropical desert to unique rock formations. The town is home to La Alcazaba – the second largest Muslim fortress in Andalucia.
Apart from sightseeing, don't miss out on visiting the Almeria central market for some delicious Spanish food, wander the streets and take a picture with the statue of John Lennon, try authentic Andalucian tapas, and go underground to check out the city's Civil War bunkers.
Near Almeria you will also find some of the most spectacular beaches in Andalucia, in Gabo de Gata National Park.
11. Caminito del Rey (67 km, 42 miles)
Also known as King's Path, the Caminito del Rey is a 2.9 km long boardwalk that snakes through cliffs and hangs 100 metres above the Guadalhorce River. It is considered one of the most beautiful hikes in Spain. 
During the hike, you will get stunning views of the river, the mountain ranges, and the lush greenery surrounding the gorge. Once considered dangerous, today the Caminito del Rey hike is very safe and easy to complete and is a must-visit from Malaga.
You can read my guide on hiking the Caminito del Rey by clicking here.
12. Mijas Pueblo (33 km, 21 miles)
Mijas Pueblo is a small Andalucian village perched on a hillside with shining white houses that stand out against the bare rocks and evergreen trees. Visit the Grotto of the Virgen de la Peña, Miniature Museum, and History Museum while exploring Mijas Pueblo.
The opportunity to go on wonderful hiking trails, stroll along the picturesque town, and hop the museums makes Mijas Pueblo one of the best day trips from Malaga. Mijas is one of the most easily accessible pueblos from Malaga.
Mijas Pueblo is also my favourite place to spend a lazy summer afternoon in. There are plenty of great restaurants in Mijas Pueblo which serve delicious food at affordable places. I often call Mijas Pueblo my happy place because I go there so often.
13. Frigiliana (58 km, 36 miles)
Only an hour's drive away from Malaga, the whitewashed town of Frigiliana attracts plenty of visitors who come to explore its cobbled streets and terracotta tiled houses. Though there aren't many things to do in Frigiliana, strolling the labyrinth alleyways and stopping by the charming boutiques and cafes is what tourists love to do here.
You can visit the Museo Arqueologico de Frigiliana or climb up the Castle of Lizar if you are looking for some fun things to do in the town.
14. Salobrena (87 km, 54 miles)
Salobrena is a picturesque whitewashed town, referred to as the jewel of Costa Tropical. You can easily spend a day in this town, as a day trip from Malaga, exploring the narrow streets and the 10th-century Moorish castle. 
Don't miss La Roka restaurant, which is close to the castle. It has a hidden terrace that extends over the cliff and offers spectacular views over the entire coast. It's good to book a table, if you want to dine here at the sunset.
In addition to the castle, also visit the town museum, El Penon – a large rock that once served as a prison and a burial site, and the 16th Century Mudejar church built on the remains of an old mosque in Salobrena.
15. Almunecar (80 km, 50 miles)
Almunecar is a 19 km stretch of gorgeous beaches on Spain's south coast ranging from family-friendly beaches to nudist beaches. Apart from the beaches, the centuries-old San Miguel Castle is the most popular attraction in Almunecar.
Almunecar is also known for canoeing in the Green River (Rio Verde) amongst other sports like hiking, river rafting, and horse riding. In addition, the beaches of La Herradura and Punta de la Mona pull diving lovers to discover the sea's hidden treasures.
16. La Herradura (71 km, 44 miles)
Also located on Sapin's Costa Tropical, La Herradura is a seaside resort that is a part of the borough of Almunecar. The town's subtropical climate attracts sun-seekers, and the quaint village attracts people looking for history and culture.
La Herradura's top attractions include the La Herradura castle, Torre Cerro Gordo (a short hike), Playa Cantarrijan (the most popular beach in the town), and the Shipwrecked Sailors monument. Above all, the town is known for water activities like kayaking and scuba diving. From La Herradura you can go on a kayaking tour to discover a couple of caves that are only accessible from the sea.
17. Setenil de las Bodegas (97 km, 60 miles)
Setenil de las Bodegas is popular because of its unique location inside a canyon carved by the Trejo River. The top attraction in the village is the cave houses that are carved into the cliffs above the river.
Visit the remains of the 12th Century Arab Castle remains and wander amongst the popular cave restaurants situated on the Calle de las Cuevas to enjoy the local cuisine. There are five churches in the village, the most famous one being the church of Our Lady of Incarnation.
18. Olvera (109 km, 68 miles)
Located on top of a hill, Olvera is a charming village surrounded by olive plantations. You can choose to visit Olvera on a day trip from Malaga and spend a tranquil afternoon here, visiting the castle and savouring delicious tapas over a glass of wine or local beer.
Visit the Calle Calzada – the prettiest street of Olvera, and the La Cilla Museum – a former women-only prison. The stunning viewpoints in the village are enough to keep you entertained for an entire day and more if you have time.
19. Marbella (61 km, 38 miles)
If you are looking for one of the most accessible day trips from Malaga, Marbella is sure amongst your best options. The town has everything from Michelin-starred restaurants, long stretches of gorgeous sandy beaches, marinas filled with luxurious yachts, and designer boutique shops.
Whether you choose to explore the charming Old town or the remains of Roman empire villas enveloped between the luxurious developments, you will make a lot of little discoveries in Marbella.
20. Fuengirola (33 km, 20 miles)
Right in the centre of Costa del Sol, Fuengirola is an internationally acclaimed ex-pat town renowned for 8 km of white sandy beaches. The major attraction of Fuengirola is the Bioparc– an urban jungle plus zoo built from scratch and a safe haven for the animals. 
If you love to soak up the sun, Fuengirola has 3 Blue flag beaches that make up for a perfect holiday under the sun. You can also enjoy many fun activities like parasailing, tubing, and skiing at the town's marina.
Fuengirola is also my home, so I have plenty of local insights in this article, here.
21. Cabo de Gata (234 km, 145 miles)
Though located far, Cabo de Gata makes up for an amazing day trip from Malaga with its clifftops overlooking the beaches and hidden bays that double up as naturist beaches. Cabo de Gata Natural Park is blessed with various wildlife species, the most popular being the flamingos observed at the Las Salinas wetlands.
After a tiring beach hopping day, stop at the Cabo de Gata Lighthouse for a perfect sunset. Also, visit the impressive defensive castles along the town's coastline, including the San Felipe castle and San Ramon castle.
22. Fuente de Piedra (71 km, 44 miles)
The town of Fuente de Piedra stands out for its lagoon, which bears the same name and it is listed as a natural reserve. The lagoon is home to the largest population of flamingos in Europe. A festival of the ringing of the flamingo is celebrated annually in the town in the summer.
Besides the lagoon, Fuente de Piedra is known for the Palace of Marques – a neoclassic style palace that dates back to the 19th Century, and a neo-Mudejar style church. 
23. Benalmadena (21 km, 13 miles)
About half an hour away by train from the busy streets of Malaga, you will find a beautiful beach town where each traveller finds something to enjoy. Benalmadena is home to some outstanding beaches, an old historic town, and amazing nightlife.
Looking down at the vast Mediterranean Sea, Benalmadena's old centre is filled with a labyrinth of narrow, cobbled streets that run around typical white houses. To get a bird's eye view of the town, ride the Benalmadena cable car to the peak of Mount Calamorro.
24. Sierra Nevada (163 km, 101 miles)
The Sierra Nevada is home to the second highest peak in Spain and the second highest peak in the Iberian Peninsula – Mulhacen (3480 m). You can easily hike this peak on a day trip from Malaga, but you will have to wake up early for it. If you don't want to attempt a day hike, you can always try Los Cahorros, a family-friendly trail with hanging bridges and a lovely waterfall to cool off in.
The Sierra Nevada Resort is best visited in winter as it houses a great ski resort. In summers, you can take a ski lift up the town's second highest peak, Pico Velata. You can even opt to bike the narrow mountain roads and enjoy the spectacular views on the way.
25. Juzcar (123 km, 76 miles)
Also known as Spain's Smurf Village or the Blue Village of Spain, Juzcar is a must-visit village on a day trip from Malaga. Juzcar is Andalucia's only blue village and stands out against the plenty of whitewashed villages in the surrounding area.
The best thing to do in Juzcar is climb the small hills surrounding the village to get to some amazing viewpoints. Also, keep an eye out for the mushroom statues and Smurf-related mural art on the residential streets.
Liked it? Pin it!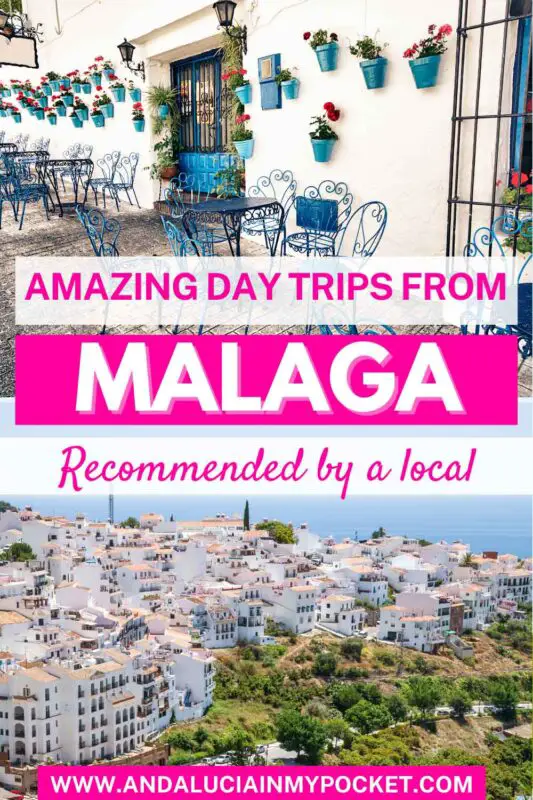 Disclaimer: Some of the links on this website are "affiliate links." This means that if you click on the link and do a purchase, I will receive an affiliate commission at no extra cost to you. This helps me keep my website running and continue to share my travelling knowledge with you. I thank you for booking your flights or hotels using the links on my website. Regardless, I only recommend products or services I use personally and believe will add value to my readers.