Tarifa is the Southern most city of Spain, and mainland Europe, famous for its stunning beaches but also for its windy weather. It is one of the most popular destinations for windsports in the world!
Tarifa might be a small and old city, but its chilled vibe and cozy atmosphere had many fall in love with it. There are plenty of things to do in Tarifa: learn how to kite surf, get lost among huge sand dunes, research the city's tumultuous history, relax at one of the many cafes and restaurants, and so much more.
Tarifa is one of those places where it just feels good to be. Even if you are in Tarifa for a day only, waiting to get the ferry to Tangier, or you are spending an entire week learning how to kite surf, this guide on Tarifa will tell you which are the most popular attractions in town.
How to Get to Tarifa
Getting to Tarifa is very easy, no matter which nearby city you are coming from. There are daily buses from Malaga and Cadiz connecting Tarifa in around 2 hours.
The nearest airport to Tarifa is in Gibraltar, 40 minutes away, popular with EasyJet and British Airways flights connecting many cities in the United Kingdom. If you fly low cost, Malaga Airport is a more suitable choice, located 2 hours drive away. Jerez de la Frontera is a smaller airport, popular with flights coming from German destinations. From Jerez Airport, it takes less than one and a half hours to get to Tarifa.
The easiest way to get to Tarifa is by hiring a car. The A7 motorway connects Malaga to Algeciras, from where it changes into the beautiful N-340 national road. The road from Algeciras to Tarifa is wonderful to drive, as it crosses the Estrecho National Park.
Where to Park in Tarifa
There are plenty of parking spaces in Tarifa, with the most popular one being in the Port of Tarifa. Here, you pay by the hour, with a maximum amount of 17,34 euros per day. This parking offers a discount for ferry passengers so, if you plan on taking a day trip to Tangier, just show your ferry ticket when you pay at the kiosk.
If you plan on spending more time in Tangier and are worried about leaving your rental car in Tarifa, check out the San Sebastian garage, a secure covered car park which costs 14.5 euros a day.
If you visit Tarifa on a Sunday or during a holiday, you can park for free on the blue lines. Otherwise, you can only park here for a maximum of two hours, for a fee of 1 euro/hour. It's not ideal when you want to visit Tarifa.
For free street parking, arrive in Tarifa early. There is plenty of free street parking in the residential area of Tarifa, outside of the city walls. This is where I usually park when I visit Tarifa. As you drive into Tarifa from the N-340, follow Avenida de Andalucia and turn right on any of the side streets, after the traffic lights.  
How to Spend a Day in Tarifa
Start Your Day in Tarifa With Breakfast
Start your day in Tarifa the same way as the locals: with a tostada and a café con leche (coffee with milk). Tostada is a very popular dish for breakfast in Spain, present on every café's menu. It consists of a grilled toasted pitufo (a mini baguette), usually topped with either olive oil, salt and grated tomatoes, or with butter and jam.
It is good to mention that in Spain cafes and restaurants take allergies very seriously, and most of them will have milk replacements, such as lactose free or soy milk.
A typical Spanish breakfast in Tarifa, with café con leche and tostada, won't cost more than 2.5 euros.
Hit the Beaches
The beaches in Tarifa are some of the best in the entire Andalucia. Long, wide, with soft golden sand, with coves and dunes, the beaches in Tarifa stretch for miles. If you only have one day in Tarifa, Playa de Los Lances is the perfect choice for sunbathing and kite surfers watching.
Stretching for 10 kilometres, this spectacular Tarifa beach is the closest to the town. But don't be worried, even in high season there are plenty of spaces where you can have the beach only to yourself. The furthers away you walk from Tarifa, the wilder the beach becomes, finishing at the pine forests from Alcornocales National Park.
Playa de Los Lances is divided into two sections, North and South. The part closest to Tarifa is considered the South, and it is exclusive for sunbathers. The North, close to the National Park, is dedicated to water sports such as surf and kite surfing.
This paradise beach is very well equipped, with showers, toilets, first aid points and lifeguards – in season. There are plenty of restaurants and chiringuitos along it, where you can enjoy a nice plate of freshly grilled fish and a jarra of beer.
For a more spectacular experience, check out Playa Punta Paloma, with its 100 meters high dunes and crystal clear water, perfect for diving or snorkelling. You can reach Playa Punta Paloma by driving around 15 minutes North from Tarifa.
If you are looking for a local, off the beaten path beach, Playa de Bolonia is the place to go to.
Admire the Kite and Wind Surfers or, Try Your Skills at Kitesurfing in Tarifa
Tarifa is best know in Andalucia as the windy city, which makes it a perfect place to practice or learn how to kitesurf. In fact, kitesurfing is on the first position in the top of things to do in Tarifa, the reason why most visitors come to this quant city sharing both the shore of the Mediterranean Sea and the Atlantic Ocean.
There are over 60 schools kite surfing school in town, which is an extraordinary number thinking of how small Tarifa actually is.
There are plenty of opportunities to learn how to master a kite surf in Tarifa, even if you are in town only for a day. The kite surfing schools in Tarifa offer all sorts of experiences: from a 2 hours kitesurfing private lesson, to a beginner's day course, from a group kite surfing classes to full five days programs. If you already know how to surf or kite surf but are on holiday, you can easily rent the equipment from most of the schools in town.
Another fantastic water sport that you can learn or practice in Tarifa, is wind surfing. Even if Tarifa is very windy, there are plenty of bays and lagoons along the coast where beginners can learn how to kitesurf as well, without worrying that the wind will make it too difficult. In fact, plenty of schools in Tarifa offer windsurfing lessons for children too.
Surfers will enjoy Tarifa, especially on El Palmar beach, where the waves can reach heights of three meters.   
Walk the Promenade to the Isla de las Palomas
Even if Isla de las Palomas is currently not open for visits, the promenade leading towards it is a touristic site itself, because it splits the Mediterranean Sea from the Atlantic Ocean.
Halfway through the walk there is a sign pointing at the two bodies of water, a very popular spot for photos and selfies.
Isla de las Palomas (meaning The Pigeon Island) is the southernmost point of mainland Europe and it used to be a military base, connected by mainland by a causeway created in 1808. However, the island has been inhabited since around the 6th century BC, proven by the Phoenician-Punic remains of at least five funeral chambers. Later on, the Romans used the island as a limestone quarry.
Sometimes, the visitor centre from Estrecho National Park organises group visits to the island. You do need to book at least 4 days in advance because the island has restricted access. You can check out when the next visit will be (and other activities organised by the park) by clicking on this link.  The 2 hours long visit costs approximately 10 euros per person.
Visit Castillo de Guzman el Bueno
Castillo de Guzman el Bueno is one of the main attractions of Tarifa old town. Built in 960 by the back then Caliph of Cordoba, Abd-ar-Rahman III, the castle was renamed after the governor Alfonso Perez de Guzman who, in 1294, during a Muslim siege, refused to surrender the castle in exchange for his son's life.  
The castle has been built on top of a rock in the upper part of the town, to protect from the sieges from the sea. The original construction used to have 15 defence towers over its four walls, enclosing a trapezoidal area of 1.5 hectares. The walls of the castle are 10 meters high and, in areas such as the main door, 3.6 meters thick. The wall that surrounds the old town of Tarifa starts from the castle.
A ticket to visit the castle costs 5 euros and the visit is worth it, especially that from the top you can get some fantastic views over the old town of Tarifa and across the straight of Gibraltar, over Morocco, on a clear day.
Have Menu del Dia at One of the Many Local Restaurants  
One great thing about Tarifa is that is has so many restaurants and tapas bars hidden in little squares or along the narrow roads. Menu del dia translates as the daily menu, and includes a starter, a main, a coffee or dessert and a drink, for 8-10 euros. It is a large and economical meal, with usually three to five different dishes to choose from for each course.
The menu del dia changes every day and depends of what local products are available and in season. In Tarifa, as a sea town, expect to have a lot of different fish dishes on the menu.
You need to remember that menu del dia is only served during lunch time, until 3 or 4 PM, depending on the area. Sometimes the menu del dia is not listed, so you will have to ask for what's available that day.
A good tip for recognising which restaurant serves a good menu del dia is to check out the locals. If the restaurant gets busy quickly at 1:30, it's a good sign that the food is very good. If it's 2:30 and there are still plenty of empty tables, then that restaurant might not serve a very good menu del dia.  
Get Lost on the Narrow Streets of Tarifa
One of my favourite things to do in Tarifa is get lost on the cute, narrow streets of the old town. You never know where you will end up to, or what treasure will await at the next corner. This is how I've discovered amazing pastry shops open on a Sunday (as you may know, on Sunday everything is closed in Spain), or independent boutique shops selling handmade jewellery and art.
From time to time, you will stumble upon small plazas with orange trees filled with fruits, contrasting with the white of the town.  
Look out for all the Arab remains of the city, such as keyhole arches and door frames, Arabic decorations and the still standing city walls.
Visit the San Mateo Eliza Church
Iglesia San Mateo Eliza is the main church in Tarifa, dating from the 15th century. Whilst the interior of the church has been built in a Gothic style and maintains its original architecture, the façade has been redecorated in the 18th century with Baroque elements, which now dominates the old town of Tarifa. The belfry of the medieval church is painted in a salmon pink color, decorated with Tuscan pilasters, culminating with a round dome on top.
Look up and you will discover a stunning ceiling, with delicate and intricate symmetrical carvings in stone.  
The entrance to the San Mateo Eliza Church in Tarifa is free.
Climb the Miramar Tower
Located above Plazuela del Viento (The Little Windy Square), the Miramar Tower is indeed in a very windy spot of Tarifa. The tower and its gardens are situated on top of the city walls and offer a peaceful oasis to catch your breath and admire the views over the Straight of Gibraltar.
The gardens are landscaped in a Moorish style, with a long fountain in the middle. Plants and beautiful mosaic decorated benches stand symmetrically on each side of the fountain.
Climbing the tower is free of charge.
Stop at the Mirador del Estrecho for Spectacular Views Over Africa
Driving out of Tarifa, you can't miss the viewpoint over the stretch of Gibraltar.
Located 300 meters above the sea levels and only 6 kilometres outside of Tarifa, Mirador del Estrecho is easily accessible from the N-340 road.  Tucked away, with a tricky entrance right in a curve, Mirador del Estrecho offers breathtaking views towards Morocco and its Jebel Musa mountain, also known as the Southern Pillar of Hercules.
When the clouds are low, you don't even notice that the two continents are split apart by the sea. On a clear day you can see as far as Ceuta – one of the two Spanish cities on the coast of Africa. If you are a bird lover, take your binoculars with you, as this is a great point to spot raptors, especially during the migratory seasons.
Liked it? Pin it!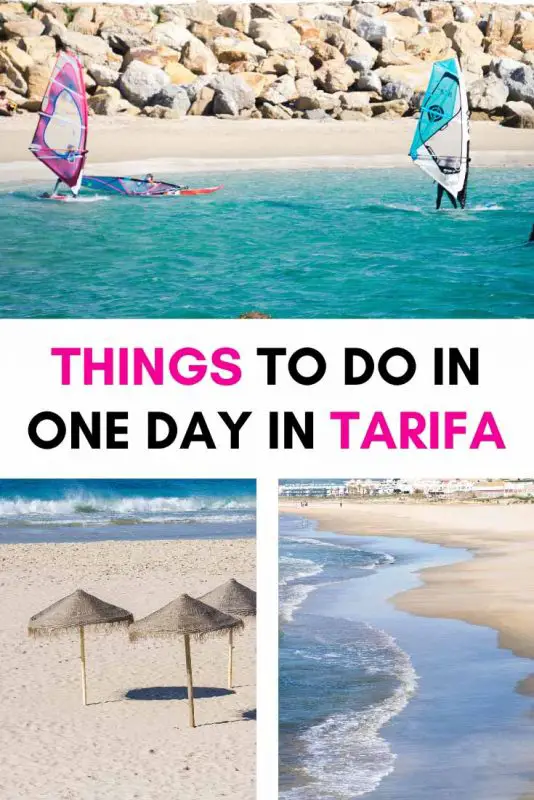 Disclaimer: Some of the links on this website are "affiliate links." This means that if you click on the link and do a purchase, I will receive an affiliate commission at no extra cost to you. This helps me keep my website running and continue to share my travelling knowledge with you. I thank you for booking your flights or hotels using the links on my website. Regardless, I only recommend products or services I use personally and believe will add value to my readers.