Jerez de la Frontera is one of the most charming places in Andalucia, very often overlooked by tourists. I have always wanted to visit Jerez de la Frontera, known for its sherry production, flamenco shows and its school of equestrian arts. There are so many wonderful and unique things to do in Jerez de la Frontera, and in this article I am going to tell you all about them.
I can say that Jerez is one of those hidden gems of Andalucia, an off the beaten path Spanish city where you can discover authenticity and local kindness. The sweet smell of orange blooms will follow your steps as you walk up and down the cobbled streets of Jerez de la Frontera, whilst the sounds of flamenco guitars will guide you to the nearest bodega, to cool down with a chilled glass of tinto de verano. Jerez is romantic and don't be surprised if it will sweep you off your feet, making you fall in love with it.
Spending one day in Jerez de la Frontera is surely not enough to get to know it, but it's good for a taster, which will make you return.
How to Get to Jerez de la Frontera
There are several routes that you can take from Malaga to Jerez de la Frontera, the fastest one being on the A7 toll road, which will get you there in less than two and a half hours. You can check out the map below, for more information.
The free route is a bit slower but much more beautiful.
Driving from Cadiz to Jerez de la Frontera only takes 30 minutes, on the A4 motorway.
Where to Park In Jerez de la Frontera
Even if I booked a hotel with a car park, because I arrived quite late in Jerez de la Frontera, I was told that the garage was already full, but that I can park on any blue line as it was already Saturday night. In Spain, parking on a blue line means you need to pay, however, from Saturday at 2PM until Monday at 9AM these spaces are free of charge.
If you are in Jerez only for the day and are looking for a secure parking, check out the underground one in Plaza del Arenal. A day parking ticket will cost you 9.5 euros. This car park is located in the historic centre of Jerez de la Frontera and is open 24 hours a day. Click here for directions to the parking's entrance.  
Another option is to park at the Central Market. Here a day of parking costs 10 euros. Same as the previous one, this parking is open 24 hours as well, it is underground and it has security. Click here for directions to this parking.
How to Spend a Day In Jerez de la Frontera
I have created this one day itinerary in Jerez to cover some of the most beautiful sights that you can see if you have limited time in this beautiful city. I included a little bit of everything, some of the unique things to do in Jerez de la Frontera, so that you can enjoy an authentic experience even if you are in Jerez for one day only. 
Have a Tostada For Breakfast
As everywhere else in Spain, having a tostada for breakfast is mandatory. For roughly 1.20 euros you can get a freshly toasted pitufo (bread roll), topped with manchego cheese, accompanied by grated tomatoes, olive oil and salt, at Café Bar Levante, on Calle Levante 11.
This seems to be a very popular place for the locals, and I ended up having tapas and drinks here quite a few times during my trip to Jerez.
Check Out the Alcázar of Jerez de la Frontera
If you visit Jerez in spring, the moment you enter the premises of the Alcázar you will be swiped off your feet by the sweet aroma of the orange blossoms, from the lines of orange trees layered before the entrance.
The Alcázar is a Moorish fortress built in the 11th century and it is a prime example of Almohad architecture, with many original elements very well conserved. Visiting the Alcázar cazar is one of the highest rates things to do in Jerez de la Frontera. The perimeter of the fortress's double walls are 4,000 meters long with seven remaining towers overlooking the surroundings.
The fortress used to be an autonomous fortified city within a larger fortified city so inside the Alcázar of Jerez you will be able to see a palace dating from the 12th century which used to serve as a royal pavilion, the last remaining mosque out of the 18 once present in the city, the Arab baths and a much newer Baroque style palace built in 1664.
The Alcázar of Jerez de la Frontera is a Spanish Property of Cultural Interest, the national heritage registry of Spain. The entrance to the Alcázar of Jerez costs 5 euros.
Visit a Sherry Bodega
Did you know that sherry can only be produced in Spain, in the province of Cadiz, between what is called the "Sherry Triangle": Jerez de la Frontera, Puerto de Santa Maria and San Lucar de Barrameda. Sherry is a fortified wine with al alcohol content of 16%, made from white grapes and, originally, is very dry and clear. The sherry that you drink after dinner or as an aperitif, which is sweet, has quite a bit of added sugar.
The sherry gets its distinct earthy aroma because of the moisture retaining soil and the humidity in which the Palomino grapes variety grow, close to the sea.    
There are a few sherry bodegas which you can visit in the town centre of Jerez de la Frontera: Sandeman, Bodegas Lustau, González Byass, Luis Pérez or Tio Pepe. By taking a guided tour at any of the bodegas you will learn about the process of making sherry, about all the different types of sherry, and you will also indulge in a sherry tasting. Going for a sherry tasting at a local bodega is one of the must do things in Jerez de la Frontera.
Another interesting fact to know about Jerez, if you are interested in alcoholic drinks, is that 90% of the brandy in Spain is produced here, in casks which have been previously used to age sherry.
Check Out the Cathedral of Jerez
The Jerez Cathedral is a majestic 17th century Gothic, Baroque and Neoclassical building, which was built on the remains of the Great Mosque of Jerez and the San Salvador church. If you look closely at the Cathedral's tower, you will notice that up to a point it resembles very well a minaret.
The façade of the cathedral is so intricate, with many small decorative details sculpted in stone, and statues of different scenes from the Bible, Mary and Jesus, placed at different heights above the doorways and windows.
The inside of the cathedral is as impressive as the outside, with neo-classic Corinthian pillars and large statues of the Apostles.   
A complete visit to the Cathedral, with an audio guide and a climb to the tower included, costs 7 euros. If you visit on a Sunday, the entrance to the Cathedral is free of charge for the mass, so no audio guide or access to the tower. You can check the schedule and the visiting hours here.
Have Lunch With a View And Rhythms of Flamenco
Across the street from the Cathedral there is a charming little bar where you can have some tapas for lunch whilst enjoying a cold beer or a tinto de Verano, in rhythms of flamenco. Mesón Rociero Fragua 4 has the best view you can get over the cathedral of Jerez, is cheap, and has traditional food and drinks.
I enjoyed here a glass of mosto – which is a very young alcoholic grape "drink", taken out of the barrel just after the fermentation process has started. Their salmorejo was delicious as well: homemade and full of flavour, very refreshing for a hot day.
The bar plays flamenco music and has its own guitars inside, which were used twice during my lunch, by guests, to practice their flamenco. One of them was really, really good!, I could have listened to him for hours without getting bored.
Walk Around the Old Town of Jerez
The old town of Jerez is fascinating, full of surprises waiting after each street corner. There are narrow streets among white houses, squares with odd shapes, fountains, churches, a lot of churches. If you visit Jerez on a Sunday, you will be able to visit a lot of these churches for free. They are all so different, one more beautiful that another.
You will never know what awaits next, when you stroll around Jerez. It might be a beautiful view over the rooftops of the city, or a road flanked by orange trees, or a massive Gothic church squeezed between small houses. It can be a small tapas bar, or it can be a nice local eager for a chat. It can be an old building in ruins, next to a brand-new architectural gem. It can be a sherry bodega, or it can be a house with its façade full of flowers.
Visit the Royal Andalusian School of Equestrian Art
Photo by
El Pantera
One of the best things to do in Jerez in one day is visiting the Royal Andalusian School of Equestrian Arts. One of the four most prestigious classical riding academy in the world, at the Royal Andalusian School of Equestrian Arts you can watch the daily training of the horses and riders, in a beautiful 19th century palace.
A visit to the Royal School takes around two to three hours. Besides the horse training you can also check out the Museum of Equestrian Art, which has 11 rooms dedicated to the history of the art of horse riding in Andalucia. Don't miss the saddlery where the harnesses are made and repaired. The carriage museum includes a large collection of vehicles, saddles and equestrian costumes, and it is include in the ticket, which you can buy from here.
For a more in-depth experience, check out the "How the Andalusian Horses Dance" show. It's a fantastic demonstration of equestrian ballet, in six to eight different choreographies accompanied by classical Spanish music and 18th century costumes. A ticket to the show costs 21 euros, and you can buy it from here. Note that the performance starts every day at 12PM.
But a Bottle of Jerez Vinegar
Vinagre de Jerez is a gourmet vinegar made out of sherry, in the same denominated area as the sherry, in the province of Cadiz. There are three different types of vinegar of Jerez: the classic one is aged for 6 months, the Reserva is aged for a minimum of 2 years, whilst the Gran Reserva has spent at least 10 years in the wood barrels.
The Jerez vinegar makes a really nice vinaigrette with a deep and complex flavour which highlights any dish it is used in.
You can buy Jerez vinegar at the souvenir shops are the town, for prices which vary between 3 and 10 euros for a 375 ml bottle, the price depending on the age category.  
Attend a Flamenco Performance
It is said that Jerez de la Frontera is the birthplace of flamenco, so when you are visiting, you can't miss a performance at one of the local tablaos from Barrio de Santiago, the old part of town. For a flamenco show with dinner, check out La Taberna Flamenca or Tabanco El Pasaje. For a more authentic experience, go for a local performance at a Peña – a place where the community meets to experience local music, usually on Friday and Saturday. Look for the schedule at Peña Flamenca La Buleria or Peña Flamenca Buena Gente. Performances at Peñas are free, but you do need to give them a call and book a seat in advance.
If you are interested in learning more about flamenco, pass by the Andalucian Flamenco Foundation which hosts a wonderful museum which is free to visit.
Spending the Night In Jerez?
If you are spending the night in Jerez de la Frontera and are on a budget, check out Hotel Joma. They have budget very simple rooms (I paid 36 euros for a night, for a twin room), pet friendly, with parking included, but do let them know in advance that you want this service, as when I arrived the parking was already full. You can check out the reviews of this hotel on Tripadvisor by clicking here.
Liked it? Pin it!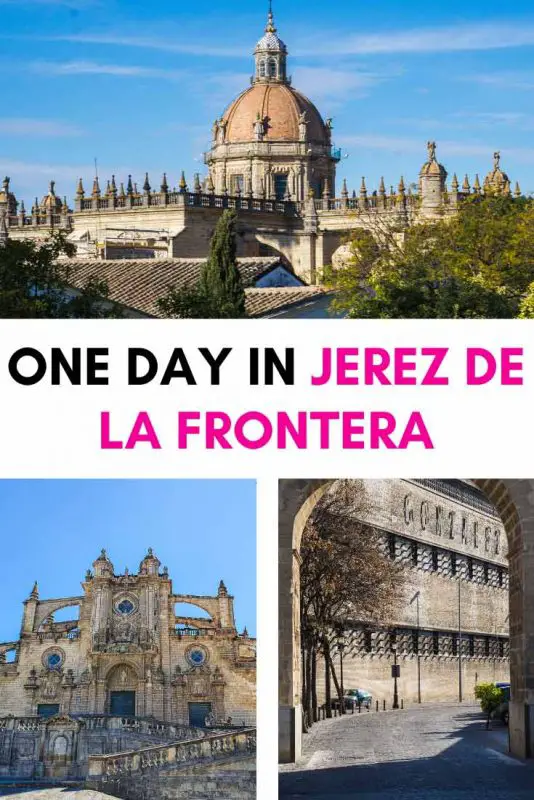 Disclaimer: Some of the links on this website are "affiliate links." This means that if you click on the link and do a purchase, I will receive an affiliate commission at no extra cost to you. This helps me keep my website running and continue to share my travelling knowledge with you. I thank you for booking your flights or hotels using the links on my website. Regardless, I only recommend products or services I use personally and believe will add value to my readers.