If you have booked flights to Andalucia and are now planning an itinerary, I can understand if you are having trouble choosing the best places to visit. There are so many fantastic cities in Andalucia! The region is so diverse.  There are many different things to see and do in every place, with fantastic beaches and high mountains. The highest mountains in continental Spain are located here, which are home to the most Southern ski slopes in Europe. In fact, there are places in Andalucia where you can ski in the morning and enjoy tapas in a beach bar in the afternoon.
Malaga
Malaga is usually the gateway to Andalucia, being one of the cheapest airports to fly to in the region. Many people just hire a car at the airport to go and explore the more famous cities such as Granada or Sevilla, or, hop on their transfers directly to the all-inclusive hotels in Torremolinos or Benalmadena.
Malaga is worth exploring, even if it's just for a day. One of the most important cultural monuments of Malaga is the Picasso Museum, which holds an impressive collection of works and sketches by the famous painter. Visiting the museum is free for the last two visiting hours, on a Sunday. Nearby, you can also visit the house where he was born, which is also a research centre.
Malaga's Moorish roots can be seen at the Alcazaba Fortress and the Gibralfaro Castle, architectural gems which are among some of the inexpensive places to visit in Andalucia. The views from the Gibralfaro Castle are breathtaking.
Malaga is a young city, with lots of great restaurants and outdoors terraces, especially around the Paseo Maritimo. Here you will find the only Michelin Star restaurant in the city.  Also, if you want to sample some of the best tapas in Malaga, this is the area to go to.
If you only have one day in Malaga, make sure you don't skip spending a little bit of time on Malagueta beach. For more information about Malaga, you can check out my weekend in Malaga article, here.  
Cadiz
Cadiz is one of my favourite cities in Andalucia. I could return over and over and never get bored. Cadiz is actually the oldest inhabited city in Europe, established approximately 3000 years ago, by the Phoenicians. Archaeologists found remains of old walls seven meters beneath the old town of Cadiz.
Cadiz flourished not only as an important trade city, but also as a strategic port for the Spanish Navy, during the 18th century. The Cathedral of Cadiz, which faces the sea, was often referred to as the "Cathedral of the Americas" because it was built with the money from the sea trade. One peculiar thing you should know about the Cathedral is that its crypts are under sea level.
Even if Cadiz is such an old city, its soul couldn't be younger. Go to the fish market at lunchtime and you will find crowds of locals enjoying freshly grilled fish, seafood, and cold beers. The fish market in Cadiz is a must visit as, and in my opinion, it's the soul of the city. Whilst in the morning you can buy the freshest fish and seafood which was caught in the early hours of the morning, at lunchtime you can enjoy the same produce prepared by the restaurants adjacent to the market.
Cadiz is actually an island, connected to the mainland by a fantastic bridge – if you're into architecture. Because of this, you will never run out of beaches to explore.  Whether you choose to explore the old or the new parts of Cadiz, there will always be a sandy beach within a 15 minutes walk.
For more information about the city, check my two days in Cadiz itinerary here.
Sevilla
Sevilla is without a doubt one of the most beautiful cities in Andalucia. Over 2 million tourists come here every year to enjoy the culture, the monuments and its heritage.
Sevilla is without a doubt one of the most romantic destinations in Spain.  There are so many things to see and do in Seville, and each season comes with its own celebrations and reasons to visit the city. Sevilla has some of the most spectacular Easter processions in the whole of Spain.
Seville is the capital of Andalucia and has charm, plenty of history, beauty and energy. The Royal Alcazar of Seville is one of the most impressive citadels in Spain. It was built by the Moors, extended by King Ferdinand and Queen Isabella and, to this day, it is still the residence of the Spanish monarchs when they visit the city. The gardens of the Alcazar are themselves a work of art and were used as a back drop for many famous movies such as Game of Thrones, Lawrence of Arabia and 1492: Conquest of paradise.
One of the most recognised sights in Sevilla is Plaza de España, built specifically for the 1929 Exposicion Ibero-Americana. This Spanish landmark is a gorgeous architectural gem built with a mix of Moorish Revival, Baroque Revival and Renaissance Revival styles.
To find out more about the top places to visit in Seville, check out my full article here.
Granada
I have been to Granada so many times, and I can never get enough of this beautiful city at the foothills of the Sierra Nevada mountains. I love Granada for its relaxed atmosphere and gorgeous Moorish architecture. Every time a friend visits me, I take them to Granada which for me, it is one of the friendliest cities in Andalucia. We go by bus, enjoy the day sightseeing between sessions of wine and tapas, and then return to Malaga. Granada is one of the few places in Spain where tapas are still offered for free when you buy a drink.  If you think this makes the prices of drinks higher, on the contrary, it does not.
If you want to visit the monuments of the city however, I would highly recommend spending at least two days in Granada.
Granada is home to the Alhambra, the most visited historical landmark in Spain, so popular that tickets sell out months in advance. The Nasrid fortress located on a hill overlooking the white Albayzin neighbourhood is a masterpiece of Moorish architecture and landscaped gardens. Even if you don't manage to book a slot to visit the palace, you can still buy tickets for Generalife on the day – the summer palace of the rules of the Emirate of Granada, located just outside Alhambra's walls. Also, keep in mind that there are plenty of parts of the Alhambra such as Plaza de Los Aljibes, the Fountain of Charles V and the Carmen de los Mártires, that can be visited free of charge.
Another beautiful area of Granada that must be added to your itinerary in the city is Albayzin. The Muslim Medieval neighbourhood is a Unesco Heritage Site, and no wonder, as it is so beautiful. The narrow cobbled streets open up into small squares, decorated with orange trees. The white walls of the houses hide lush gardens with palm and pomegranate trees, fountains, and water elements. Granada is famous for its gardens, which are called Carmens. You can visit some of the public carmens in Albayzin for free.
Cordoba
Cordoba is one of the most laid-back cities in Andalucia. Often overlooked in favour for its neighbours Granada and Sevilla, Cordoba offers the same beautiful experiences, but without the crowds. Cordoba was a very important Islamic centre in the Iberian Peninsula in the Middle Ages and a prosperous city during the Moorish occupation of Spain. When Cordoba was the capital of the Al-Andalus Empire, it became the largest and most important city in Western Europe.
What makes Cordoba special is that it was always a peaceful place to live, where Jews, Christians and Muslims peacefully live together in diversity, embracing each other's culture.
The most important monument in Cordoba is the Mosque-Cathedral also known under the name of Mezquita. It is the largest mosque in Europe and one of the biggest in the world. To enter the Mezquita you must pass through the Patio de los Naranjes (the orange trees patio), a peaceful courtyard with a fountain under the shade of the trees, which provides water for purification.
The interior of the Mezquita is spectacular, with 856 columns built out of semi-precious stones.
Another beautiful place to visit in Cordoba is the Alcazar of the Christian Monarchs, a stunning palace with gorgeous Moorish style landscaped gardens. The Moors were known for their attention to details and their belief that gardens should provide their visitors with the five most benefits in life: spiritual, aesthetic, psychological, nutritional and scientific. This is the reason why behind the tall walls of the white houses in Andalucia you will find an oasis of greenery and stunning gardens.  
Cordoba is also known for the hidden patios decorated in the most beautiful ways, with flowers, fountains and mosaics. Every year in May, the city organises a competition to find the most beautiful patio in the city. This is when the residents open their doors to the general public, giving the city's visitors a chance to see the private patios.
I highly recommend adding Cordoba to your Andalucia itinerary. As the city centre is quite compact, you can see a lot even if you are only on a day trip to Cordoba.
Jaén
Jaén is a proper hidden gem in Andalucia, often overlooked by tourists. It is best known for its olive oil production, winning awards for the liquid gold, as olive oil coming from this area is referred to locally. Jaén has around 40 million olive trees, more than any other province in Spain. When you visit Jaén you must try some of the local delicacies made with olive oil, such as the ochíos bread rolls, the Pipirrana salad – a delicious salad dressed with olive oil; or the fantastic Ajoatao sauce – made with potatoes, eggs, garlic, lemon and olive oil. Jaén also has some of the best marinated olives in the entire Iberian Peninsula, often served with your drink, as a free vegetarian tapa.
Jaén is one of Andalucia's least touristy cities, so if you're looking for an authentic experience, this is where you will find it. One of the most interesting places to visit in Jaén is the Renaissance built cathedral, which dominates the skyline of the city. Inside you can see the Holy Veil, said to have been used by St Veronica to wipe Christ´s face as he was carrying the heavy gross up the Golgotha hill.
Jaén is also home to the largest Arab baths in Andalucia, built in the 11th century. Whilst in Granada or in Malaga you can relax at Hammam Al Andalus, which was reconstructed as a traditional Arab spa, in Jaen you can learn more about this type of bathhouse. The historical hammam, which was declared a Cultural Heritage Property of Spain in 1931, can be visited as part of the Palacio de Villardompardo.
Jerez de la Frontera
Jerez de la Frontera is famous all over the world for its sherry production and for the authentic flamenco performances. Whilst many people think that flamenco was born in Seville, it was actually Jerez de la Frontera where the first historical mentions of flamenco came from. If you visit Granada and Seville, you will find that attending a flamenco performance is a costly experience, exclusively for tourists. In Jerez de la Frontera however you will find plenty of free shows, especially in Penas, where the local performers practice in front of the locals. This is a much more authentic experience than a 50 euros one hour show in Granada.
You might not know this, but sherry is exclusively produced in the Jerez Triangle, a small DOP area between Jerez de la Frontera, Sanlúcar de Barrameda, and El Puerto de Santa María. The most popular bodega in Jerez de la Frontera where you can taste sherry and learn more about its production process, is Tio Pepe.
Whilst in town don't miss enjoying a delicious plate of carrillada iberica – tender pork cheeks braised in Pedro Ximénez sweet sherry wine, accompanied by a glass of mosto – an unfiltered young wine that hasn't yet been fortified and turned into sherry.
The town of Jerez de la Frontera is extremely beautiful as well, with narrow cobbled roads, white buildings and many, many churches. In fact, I don't think I have visited a town with more churches than Jerez. The cathedral in Jerez is a work of art in itself, dominating the entire hill it sits on.
For more information about what to do in the city, check out my best things to do in Jerez de la Frontera article, here.
Antequera
Just half an hour from Malaga, you will find Antequera, a quiet small town overlooked by a beautiful Moorish fortress. Antequera is popular with nature lovers who come here to hike the Torcal de Antequera, a Unesco protected site with dramatic limestone tower rock formations.
Antequera is also home to some ancient burial mounds dating back to the Bronze Age, called Dolmens.
The historic centre of Antequera is filled with monuments such as churches, convents, palaces, monasteries and stately homes. Just outside Antequera you will find a fantastic hotel built inside an old convent, which has been converted to offer a unique experience.
The access to the Moorish Alcazaba is through the Arcos de los Gigantes – an impressive archway that in the past used to be decorated with giant statues of Hercules. Nearby you can visit the Royal Collegiate of Santa Maria, an imposing building known as the first Renaissance church to be built in Andalusia.
Close to Antequera, in Fuente de Piedra, each spring you will see one of Europe's largest colony of pink flamingos when they come here to breed.
For more information about the best things to do in Antequera, check out my article here.
Guadix
Guadix is a city that you probably won't find in many touristic guides about Andalucia. I didn't even hear about it until two years after I first moved to the South of Spain.
In Guadix you will find no hoards of tourists, and no overpriced hotels and restaurants. Nestled at the foothills of the Sierra Nevada mountains, Guadix is special because many of its residents are living in underground cave houses. There is an entire neighbourhood of cave houses, named "Barrio Troglodyte".
There are many fantastic viewpoints in Guadix from where you can see these houses, even though sometimes it's only the tall chimneys that give away the location of some of the dwellings. Because it's surrounded by mountains, Guadix is also privileged with many amazing hiking trails, and you don't have to go far to find them.
Guadix also has an impressive cathedral build in a Gothic – Renaissance – Baroque style, which is free to visit. The town's Moorish Alcazaba is the highest building in town, built somewhere around the 11th century. Its role was to protect the town and the road to Granada. 
Same as in Granada, when you sit down and order a drink at a restaurant in Guadix, you will also receive a free tapa. When it comes to accommodation, there are quite a few hotels built inside the caves, which can give you a taste of how it feels to sleep underground.
I visited Guadix the weekend the lockdown was announced in Spain, and I was so humbled by the kindness of the locals. The owner of the hotel I was staying at kept it open for me (I was the only guest). At the small tapas bar around the corner, the only one still open when I returned from exploring Guadix, the staff made me dinner with what ingredients they still had. They also offered to give me bread and milk to take with me back home as by then, the stores had been emptied by people panicking about the lockdown.  Due to this experience, Guadix will always be a special place for me in Spain, because of kindest people I have ever met.
Almeria
Compared with other cities in Andalucia, Almeria, even though it's located on the Mediterranean Sea, is much less crowded. The Moorish Alcazaba of Almeria sits high above the city, offering fantastic views of the entire coast. It was built in the 10th century and to this day it's the second largest fortress in Andalucia, after the Alhambra in Granada.
One curious thing about Almeria is that it almost never rains, so no matter when you visit, you are almost guaranteed good weather. This is because Almeria is located in the driest area of Europe. Even in winter, the temperatures in Almeria remain in double figures, so it's a perfect wintertime destination.
In fact, just 30 kilometres away from Almeria, you can explore Europe's only desert, Desierto Tabernas, a protected area.
Just outside Almeria you will find the Cabo de Gata national park, an oasis of secluded beaches, where the Costa del Sol residents escape to in the summer months, when the foreign tourists take over their town.
Check our my article about the best things to do in Almeria here.
Liked it? Pin it!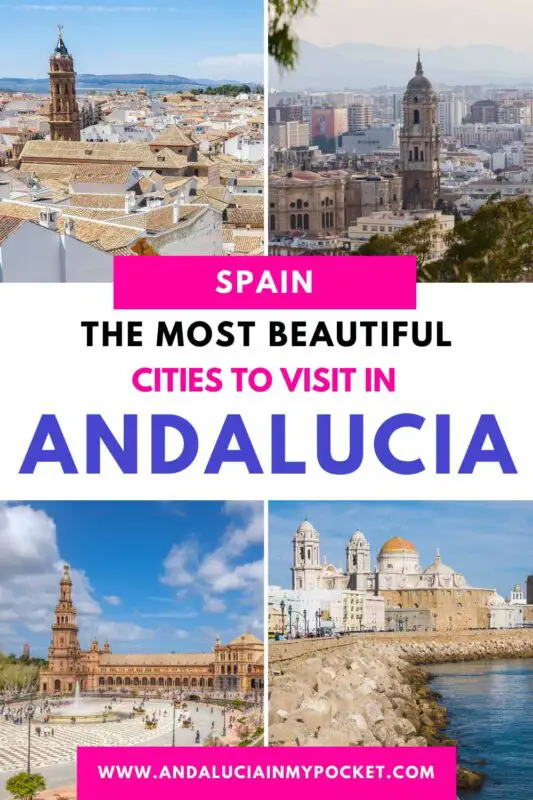 Disclaimer: Some of the links on this website are "affiliate links." This means that if you click on the link and do a purchase, I will receive an affiliate commission at no extra cost to you. This helps me keep my website running and continue to share my travelling knowledge with you. I thank you for booking your flights or hotels using the links on my website. Regardless, I only recommend products or services I use personally and believe will add value to my readers.