I first visited Costa Tropical in March and back then I only got a little taster of all the activities that you can do here. I enjoyed so much the nature that I promised myself I will return in summer to explore more. I didn't make it in summer, but I came back in September to try out kayaking and snorkeling on Costa Tropical.
About Costa Tropical and La Herradura
Costa Tropical is a beautiful area of Southern Spain with its own microclimate which makes it warm during the winter months as well. Because the Sierra Nevada, the highest mountains in Spain, are so close to the Alboran Sea, farmers can grow all sorts of exotic fruits on Costa Tropical, and this is where the name of the region comes from. As a tropical fruit finca owner once told me, there is no fruit that I can think of that she doesn't grow in her orchard.
La Herradura is a beautiful small town, one of the best places on Costa Tropical to practice water sports. The bay of La Herradura is flanked by mountains, which makes it a very calm area, kept away from strong winds. The bay is part of the Cerro Gordo National Park, where the fauna and flora are protected.  The marine life is very rich, with beautiful corals and plenty of fish, so snorkelling here is fantastic, and you don't have to go too far from the shore either. The crystal-clear water makes it easy to see through as well.
Where to Stay on Costa Tropical
There are plenty of options of places to stay on Costa Tropical and out of season, they are all more than affordable. If you are traveling to Costa Tropical in summer, make sure you book in advance your accommodation as the hotels get full quite quickly.
For a mid-budget option, stay at Playa Granada, in between Salobrena and Motril. This resort is located right on the beach and has beautiful, spacious and modern decorated rooms. I enjoyed a lot the view from my room, which was towards the sea on the left and towards the mountains on the right. The resort has a spa and a couple of gorgeous outdoor pools. You can read the reviews on TripAdvisor or check the rates and book directly on Booking.com
For a budget option, Hotel Avenida Tropical is a good choice, in the heart of Salobrena, 5 minutes' walk to the beach and just across the street from the old town. I chose this hotel as a last minute getaway to Costa Tropical because it was one of the very few that still had rooms available at the end of July. It was a decent hotel with a jacuzzi on the rooftop and a lovely view over the old town of Salobrena and the castle. Parking was free, in a locked yard behind the hotel for which I was given a key. If you want to park in the underground garage, you do need to pay extra. You can read the reviews on TripAdvisor or check the rates and book directly on Booking.com
On this particular trip I chose to stay in Nerja, at Hotel Nerja Club & Spa, as I wanted to visit Frigiliana in the morning. I was pleasantly surprised by this hotel and didn't expect it to be so modern for the low price I paid for the room. My stay also included an hour in the spa, which I took advantage of to relax my muscles after over two hours of paddling. I noticed that this was a TUI Hotel, which meant that there was live entertainment in the evening and a fixed price buffet dinner. The hotel is located on the outskirts of Nerja, on the hill, but has beautiful views over the coast. I have to mention the staff, which was very friendly and helpful as well. You can read the reviews on TripAdvisor or check the rates and book directly on Booking.com
Kayaking and snorkeling on Costa Tropical with Activ8you
I was very excited to finally try out kayaking and snorkeling on Costa Tropical with Activ8you, after meeting Sophie – the owner – before, during my first trip here. Back then she guided me on a hike on top of the cliffs of the Cerro Gordo National Park and I loved it so much that when I decided to return to Costa Tropical, I contacted her directly.
Activ8you can organise your entire trip on Costa Tropical, tailored to your preferences. Sophie knows everything and everyone in the area, so you will be in the perfect hands! There is nothing that she can't arrange for you, from the most beautiful hikes and water sports, to horse riding in the stunning Alpujarra region, to cooking classes and flamenco lessons. For anything you need, just drop her a line on www.activ8you.com and she will help making your holiday on Costa Tropical perfect.
Back to my experience of kayaking and snorkeling in La Herradura, I actually missed the morning departure due to heavy traffic on the motorway. Arriving around three hours before the afternoon one, I had time to enjoy lunch and then sunbathe for a bit.
If you arrive by car in La Herradura, you should know that there are plenty of parking spaces just outside the Activ8you beach hut. I was pleasantly surprised that parking was free, because the high season ended.
Watch the video I made with the experience:
Kayaking
After everyone arrived for the 3PM tour, we were given snorkeling gear and flippers, which we had to try on to make sure they fit. Then, a short demonstration on how to paddle followed. Even if I kayaked before (not on the open sea though), I didn't know that you have to slightly turn the paddle when you push the water on the left side. I also didn't know that there were three different methods of paddling. Until now I just hired kayaks and went on my own, so I never actually knew how to paddle properly.
I liked that the tour was kept small, so each of us got to hear the guide's explanations whilst on the water.
After the briefing was done, we put on the life vests, hoped in the kayaks and off we went, on our paddling test. Kayaking in the bay was quite easy and entertaining, going through the rocks and being challenged not to bump into them. The water underneath was so clear that I could see the fish swimming between the reef. The rocks between which we were passing were full of the so-called sea tomatoes, some red large masses that resemble the humble fruit. However, don't be fooled of their adorable look, as they are very toxic.
As we left the rocky area and started to paddle towards the open sea, I started to feel the current. Paddling became more and more difficult, especially as the sea was a bit choppy out there in the open. We were heading around the cliffs to explore two caves: the pirates cave and the pigeons cave.
En route we passed by quite a sight: a massive boulder coming out of the sea, disconnected by the mainland, on which a mountain goat was sunbathing undisturbed. Only the goat knows how it managed to get up there without getting wet.
We kept paddling and paddling, until we reach Cueva de los Piratas, which in the past was known as the place where the pirates would hide their smuggled goods brought in from Morocco.
The second cave, Cueva de las Palomas, is known not for the pigeons inside, as there are none, but for the stunning changing color water from the inside. The cave is actually full of bats but no worries, they don't come out during the day. The only way to access this cave is by boat and it is way worth the effort of kayaking up to here, even if the sea is choppy. Inside there is a small altar, which I found very interesting. The first eight meters are accessible by kayak, but the cave goes further up into the mountain for another 80 meters.  It is a pretty spectacular cave and I loved that we got plenty of time to spend inside and observe all the natural rock formations.
Snorkeling
The way back seemed a bit easier, especially that the current was somehow behind us. We stopped on this beautiful remote beach, where we pulled the kayaks out of the water and prepared out snorkeling gear. Here's a tip: don't put your flippers whilst still on the shore, as you will get the full of sand. Also, walking with fins on is a pain. Put them on after you get into the sea.
After making it into the water, you only have to swim a few meters in order to look underneath you and see the beautiful underwater world. The reef is covering the entire bottom of the sea and among it there are plenty of different fish swimming around. If you look closely, you can observe octopuses, cuttlefish and sand eels hiding underneath the rocks. Because the underwater terrain is so rocky, there are a lot of fish around them, so you don't have to go very far from the beach to watch them.
A Few Things to Consider Before You Go Snorkeling:
Please wear a sunscreen that is reef friendly.
Do not touch the reef.
Be mindful of your surroundings when you are underwater, it's very easy to kick and break corals with your fins if you don't pay attention.
Do not step on the sea bed.
How about you? Have you been to Costa Tropical in Spain yet? Have you tried kayaking and snorkeling in the open sea before? Let me know your thoughts in the comments below.
Liked it? Pin it!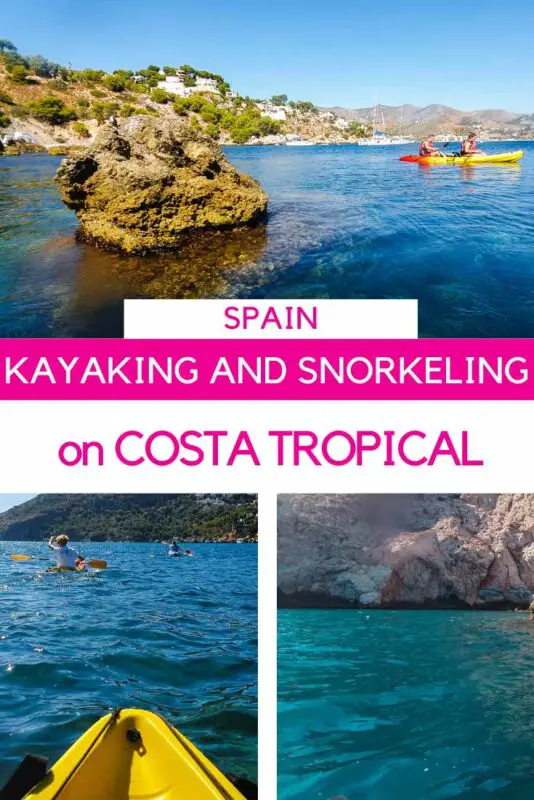 Disclaimer:  Please note that I was a guest of Activ8you and I received this experience complimentary. However, all the opinions in this article are my own and I would not recommend anything that I wouldn't have enjoyed myself doing or think it was a great place to visit.
Some of the links one this website are "affiliate links." This means that if you click on the link and do a purchase, I will receive an affiliate commission at no extra cost for you. This helps me keep my website running and continue to share my traveling knowledge with you. I thank you for booking your flights or hotels using the links on my website. Regardless, I only recommend products or services I use personally and believe will add value to my readers.