When it comes to must-see destinations from Andalucia, Almuñecar is certainly one of them. The small and tranquil ex-fishing village is a fascinating undiscovered gem sitting on the Costa Tropical between Nerja and Salobrena. But unlike its size, the number of things to do in Almuñecar is incredibly broad and, even more, varied. It's a worthwhile trip for the whole family to enjoy, whether you're a sporty outdoors person looking for something exciting, interested in culture, a foodie, or just looking for a pleasant beach to chill out on.
How to Get to Almuñecar
Almuñecar has very good transport connections to all the nearby major cities, such as Malaga or Granada.
From both Malaga and Granada, it is a one-hour drive on your car. Alternatively, there's a direct Alsa bus that costs about 7€ and runs multiple times per day.
When is the Best Time to Visit Almuñecar?
June to September is the most popular time for tourists to visit the South of Spain. Hence, accommodation prices are likely to be high. It is also the hottest period. Temperatures rise up to 30°C . My personal recommendation, really, would be to avoid going in August – it's a scorching month.
If you want to escape the heat and the crowds, you'd be better off in October or May. However, one thing to keep in mind is that this part of Spain is enjoyable year-round.
The Best Things to Do in Almuñecar:
Take in the Views at Peñón del Santo (Rocks of San Cristobal)
Located at the western end of Almuñécar's main beach, the famous mirador (viewpoint) is the birthplace of utterly breathtaking views. It provides astounding photography opportunities. There are quite a lot of steps to reach it but, honestly, the climb is not too difficult and -what is for sure- worthwhile.
What visitors sometimes do is leave a print of their visit by carving their name into the rock that faces out to sea, or secure padlocks onto the iron bars enclosing the viewpoint. The huge cross at the tip of the viewpoint represents the return of Christianity to Almuñécar, which was reclaimed from the Moors in 1489.
Have Fun at AquaTropic
While not exactly a traditional Andalusian experience, I would highly recommend checking AcquaTropic out. It's a truly fun and entertaining place and not only for the kids but for the whole family. The salt-water park is open from the second half of June to the first half of September. The attractions range from the classic Zig-Zag, Kamikaze and Soft Roads slides to more exhilarating ones like The Black Hole or Whirlwind for the fans of thrills.
On the other hand, for the ones who prefer to just relax, there is always enough place there to chill out on as well as the wave pool and a Jacuzzi.
Relax in Parque Botánico 'El Majuelo'
Are you a lover of the nature? Then the Botanic Garden 'El Majuelo' is the right place for you. This verdurous, wonderful oasis is the perfect spot to have a peaceful stroll in the cool shade of some Sabal Palm trees, listening to the soothing melodies of bird chirping. More than 100 other species of sub-tropical vegetation from all over the world will be surrounding you during your visit. 
Check Out Factoría de Salazones
Make sure you don't forget to make a detour around the 'Factoría de salazones' (Roman Fish Salting Factories), and dive into the rich history behind the archaeological site, that shockingly goes all the way back to the Phoenicians, occupying Almunecar in the 8th century BC.
The ancient factory was discovered by Enrique Pareja and Manuel de Sotomayor, during their archaeological dig of 1970. Once the importance of this discovery was acknowledged, a team of specialists led by the Almuñecar town archaeologist, Federico Molina Fajardo, undertook a further archaeological excavation. They dug practically the whole area which today is known as the aforementioned Majuelo Park.
During the time of the Roman occupation, the fish salting industry contributed immensely to the local economy.
Almuñecar salted fish was highly valued among nations. The factory's most esteemed product was "Garum", a paste prepared by fermenting entrails of fish in seawater that ended up as a sort of dense sauce that in those times was believed to have restorative properties. It was exported widely all over the Mediterranean coast as a delicacy to be spread on bread. "Garum" was a remarkably successful business back in the day.
Visit San Miguel Castle
Here's to the history and culture enthusiasts. The structures of the fortress date from the Muslim period, as it became the resting place of the Nasrid dynasty in the 13th century. During the War of Independence against the French, it was bombarded by English troops and left in ruins, and was used as a Christian cemetery until the middle of the 20th century. Right now, it stands tall as an impressive town monument for tourists' awe and admiration.
Discover the Roman Aqueduct
Further cultural heritage is reflected in the Roman Aqueduct, which had been discovered in the heart of Almuñecar only in the last century. It is believed to have been built in the first century BC, coinciding with the construction of the main Roman monuments in the city. The aqueduct was crucial for the transport of water to the fish salting industry, as well as for drinking, hygiene and cooking. There have been a total of 5 pieces of the aqueduct discovered, within 7 km of town. It is one of the best-preserved pieces of history from the town. Just imagine, you are looking down at the authentic construction a Roman engineer was working on 20 centuries ago!
Hit the Beaches
Without question, the highlight of Almuñecar is its coastline. Just walking along the Paseo Maritimo feels like a blessing, so I doubt you could resist a nice swim in the blamelessly blue and refreshing waters of the Tropical Coast. The town has a lot of unique beaches –the wide range of choice is sure to satisfy even the pickiest of the tourists. The most famous has to be Playa Costa Tropical, but it doesn't tend to be peoples' favourite because of its relatively unappealing first sight and the rock and pebbles forming its terrain. However, it tends to be more spacious, so the perfect place if you're not much into huge crowds. Additionally, the views are ravishing and a row of buzzing beach bars is just a two-minute saunter away.
The best sandy beaches in Almuñecar are, no doubt, Calabajio and Playa de Cabria. Though not quite in the centre (an 8 minute car ride from it, more exactly), both are worthwhile, cozy places with lovely views to Almunecar Bay. And while you are at it, both beaches have exceptional restaurants beside them: Restaurante Calabajio (for a gourmet experience of value) and Tito Yayo (famous for the best traditional dishes) at Playa de Cabria.
Moreover, most beaches will have options to rent kayaks, paddle- and windsurf sets or a jet ski to go crazy for a while. There are many good areas for snorkelling and exploring too, if you're feeling particularly adventurous.
Stroll Along the Old Town
One of the most interesting things to do in Almuñecar is to take a walk around the old town and discover its hidden corners. The entire zone is a picturesque and romantic quarter of steep, narrow alleys and lovely white houses all spruced-up with bright flowers. It is quite a climb uphill, so make sure you have a bottle of water with you. The views are definitely worth it, though.
Taste the Local Cuisine
If you haven't tried Andalusian gastronomy, you're certainly missing out. Migas (fried bread crumbs), gazpacho, boquerones, pescaito frito (fried fish), espetos (skewered fish) , salmorejo, olives, paella, tortilla, churros… I'd better stop because this is making me hungry. There are plenty of great restaurants in Almunecar where you can try authentic local food. Like the actual authentic local food.
Apart from the two restaurants I mentioned above (Tito Yayo and Calabajio), examples of such include, 'La Corrala', 'Cortijillo', 'Mar de Plata', 'Los Geraneos'. The list could go on, Almuñecar actually has a lot of pretty excellent places to eat at.
Two very typical (and delicious) Spanish breakfasts would be either a tostada con tomate (toast with tomato and olive oil) or 'churros' with hot chocolate. As a personal recommendation, the coffee shop 'Al Quiros' serves the absolute BEST churros con chocolate in town, so you should definitively check it out one morning.
Where to Stay in Almunecar
There are plenty of places to stay in Almuñecar, for each budgets. The most beautiful hotels are located along the Paseo Maritimo and offer gorgeous views over the sea. One particular hotel that I highly recommend is Helios. You can read the review of my stay at Hotel Helios by clicking here. You can also check the reviews on TripAdvisor or the latest rates on Booking.com
For other options, check out the suggestions below:
Author's box: Born in Russia, Maria Bogatyreva is a high-school student currently residing in the South of Spain along with her family and big dreams. Asides from alpacas and macadamia nuts, what she loves most in life is nature and travelling. Her absolute passion has always been reading and writing. When she isn't wallowing in the fascinating world of ink on paper, she can be found baking vegan recipes, playing the piano or paddle tennis.
Liked it? Pin it!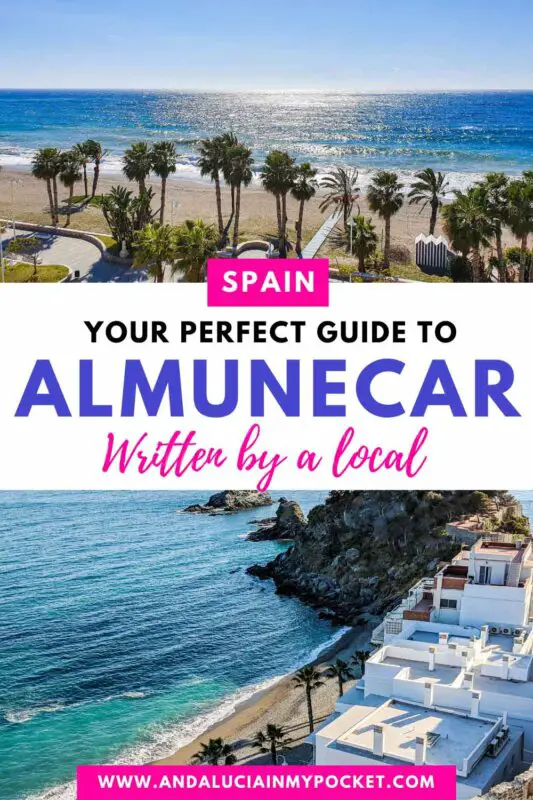 Disclaimer: Some of the links on this website are "affiliate links." This means that if you click on the link and do a purchase, I will receive an affiliate commission at no extra cost to you. This helps me keep my website running and continue to share my travelling knowledge with you. I thank you for booking your flights or hotels using the links on my website. Regardless, I only recommend products or services I use personally and believe will add value to my readers.