Nerja is one of my favourite places in whole of the Costa del Sol. Not only are there so many things to do in Nerja, the whitewashed town is also extremely beautiful, and is surrounded by the most gorgeous scenery.
I have visited Nerja many times, and it's always a great pleasure to keep returning here.  I like that compared to the other beach resorts on the Costa del Sol, Nerja doesn't get as busy. Also, I love that the town has some really good restaurants. I have enjoyed some pretty memorable dinners here.
How to get to Nerja
Nerja is very easily accessible from both Malaga and Malaga Airport. There are ALSA buses that leave every hour from Malaga Bus Station towards Nerja, reaching the coastal town in around one hour. The fastest direct bus gets there in 50 minutes, whilst the slowest one, which stops along the way, reaches Nerja in one and a half hours. Booked online in advance, the bus ticket costs less than 5 euros each way.                
From Malaga Airport, take the C1 train towards Malaga and get off at Maria Zambrano train station. Just across the street is Malaga Bus Station.
If you rent a car from Malaga Airport you will reach Nerja in under one hour. If I rent a car, I usually book it through Holiday Extras, as they are very transparent with all the fees. In Spain there are a lot of companies that advertise car rentals from £2/day but once pick the vehicle up, you are hit with extra fees that raise the price up to £20 or over per day.
Where to Stay in Nerja
There are plenty of places to stay in Nerja, to suit all budgets and travel styles.
MB Boutique Hotel
If you are planning a romantic weekend in Nerja, check out the adults only MB Boutique Hotel. The rooms are spacious and extremely modern, with digital controls for most of the lights and appliances. The toiletries in the bathroom are Rituals, which for me was a big plus, as I love this brand and I know how expensive their products are. The hotel also has a relaxing area on the rooftop, with sun loungers and a couple of Jacuzzis which I took full advantage of every afternoon.
For more details you can check the reviews on TripAdvisor, and the most recent prices on Booking.com by clicking here.
Hotel Nerja Club & Spa
For a resort-type hotel, check out Hotel Nerja Club & Spa. I stayed here whilst on a road trip along Costa Tropical because it was cheap, and it had spa access included in the room price. In Spain this is very rare, as hotels with a spa will usually charge extra to access the facilities.
The hotel had an entertaining program in the evening and a fixed price buffet dinner. In the morning I enjoyed the gorgeous views over Nerja from the terrace of the hotel. Because this hotel is located on top of a hill on the outskirts of Nerja, the panoramic views are pretty spectacular.
For more details you can check the reviews on TripAdvisor, and the most recent prices on Booking.com by clicking here.
Where to Eat in Nerja
When it comes to food and local restaurants, Nerja is a foodie's paradise. First of all, because it's at the border with Costa Tropical on the Granada's coast in Nerja, pretty much all the restaurants offer free tapas when you order a drink. The more drinks you order, the better the tapas. Secondly, Nerja has some pretty good restaurants that I have also personally tried:
Restaurante Bakus
I stumbled upon this restaurant whilst on a tapas quest when exploring the town. I was thirsty so I sat down on their terrace and ordered a cold beer, which arrived with a gourmet tapa. It was so good, I ordered another drink, and another one, until I decided that I had to have dinner there. Unfortunately, it was fully booked for that evening, but I did manage to reserve the last free table they had for the following day. This restaurant has an amazing view from the terrace so, if you decide to eat here, book in advance for a table with a view. It is such a romantic place!
The food was outstanding! For starters I chose the beef tartar, which was fresh and full of flavour. As a main I went for the trio of fish in a lime velouté sauce, which was also very good.
This is not a cheap restaurant, but it is worth every penny, as the food is simply outstanding.
Goa Town
Directions | Menu | Reviews
Because I lived in Spain for so long, I was craving some really good Indian food during my trip to Nerja. I happened to stumble upon Goa Town, which had great reviews on TripAdvisor, so I booked a table.
It did not disappoint. The restaurant specialises in South Indian cuisine which I really like because of the extensive use of coconut. I ordered the Jhinga Dum Nashi – a unique dish created by the chef, which combined so many flavours together, spicy and sweet, with plenty of coconut. The keema naan I ordered on the side was also delicious, with plenty of meat filling.
El Sevillano
I came across this place as it was close to my hotel, away from the touristic area of the town.
El Sevillano is a very local tapas bar where you won't encounter many tourists. It's a great place to go in the afternoon for a drink and some tapas, which always come in generous portions. The dishes are mostly typical Spanish comfort food, such as meatballs in tomato sauce or chorizo with rice, so expect it to taste great, but not to look so pretty. The prices are on the low side. 
The Best Things to Do in Nerja:
Enjoy the Award-Winning Beaches
Nerja is known for its award-winning beaches. Not only will you find some of the most beautiful beaches on this side of Malaga, but also the most beautiful golden sand and the most gorgeous azure and turquoise shades of blue of the water.
Nerja has plenty of beaches, the most famous being Burriana. Located one kilometre outside the city centre, Burriana beach is wide and sandy.  It's also popular among both locals and tourists. Here you will find the famous Chiringuito de Ayo, where you must try a plate of their woodfire cooked paella, grilled sardines, or their famous avocado salads.
Closer to the centre, just below Balcon de Europa, you will find Playa Calahonda. However, this beach is small and extremely busy. I personally wasn't a fan. If you don't arrive early, you probably won't be able to grab a free sunbathing spot.
Check Out the View from Balcón de Europa
Balcón de Europa is the most famous touristic attraction in Nerja. This viewpoint resembles a giant balcony as it is suspended over the cliffs. It offers gorgeous views over the Costa del Sol on one side and the beautiful Sierra Nevada Mountain range behind it.
The road to Balcón de Europe is flanked by palm trees, making it look like a luxury entrance to the best view in town.
In the past, this place was occupied by a look-out tower, from where locals would scan the sea to defend themselves from pirates. If you hike along the coast, you will find that many of the towers are still standing, which were used for defence. They also used them to signal to each other, communicating using fire when enemies were approaching the coast.
Explore the Cueva de Nerja
In first place for the best things to do in Nerja in every guide you will find the cave of Nerja, which is a 10 minute drive outside the town.
Just outside the complex is a large parking area, which costs 1 euro a day, but arrive early as it fills up quite quickly. Also, buy your entrance ticket as soon as you arrive, as the number of people allowed in the cave at one time is limited. I arrived at around 9am and I had to wait around 45 minutes, which was ok as I had a coffee at a nearby café. However, when I finished my visit inside the cave, there were very long queues at the ticket booth.
The caves are stunning, and the ticket entrance includes a guided tour, so get to learn about how they formed and about the rock formations inside. You will need to move along with your tour, but there is still plenty of time to take photos. Remember that taking photos with a flash is not allowed inside the caves. 
You can read more about visiting Cueva de Nerja here.
Visit the Botanical Garden in Nerja
Just next to the Cueva de Nerja you will find the botanical garden of the town. It's a small but pleasant garden, with mostly native plants such as small shrubs, orchids, cacti and herbs. There is a lot of rosemary around.
Visiting the botanical garden is free of charge. Also, if you want to reach Maro from Cueva de Nerja, you have to pass through the botanical garden, then cross a bridge over the motorway.
See the Aqueduct of El Águila
I was surprised at how many people don't know about the Aqueduct of El Águila, a fantastic building with four levels of superimposed arches, built in the 19th century and still in use today to irrigate the nearby farmland.
I spent a good hour walking down and around the aqueduct and I didn't meet any other tourists during this time, which I suppose makes this a hidden gem. You don't have to stop on the main road to check out the aqueduct, you can park on the outskirts of Maro and walk to it.
I would definitely recommend hiking down to it, especially because you will pass over the ruins of a Roman bridge. The view from below is as spectacular as the view from the main road facing it.
Stroll Along the Historical Old Centre
Nerja is a beautiful Andalucian town, with whitewashed buildings, narrow streets and plenty of alleys to get lost in. The area around Balcon de Europa is very crowded but, as you step away from it, you will find yourself on beautiful and quiet streets, where you can explore in peace.
Make sure to look for the hidden balconies that open up to beautiful views over the sea. These places are best explored at night, when the full moon shines onto the water below, leaving a long trace of golden light.
Visit the Nerja Museum
Nerja has been inhabited for a long time. Signs of prehistoric man living inside Cueva de Nerja, and paintings on the rocks inside made by humans date back to as early as 30,000 years ago.
At the Nerja Museum you can learn about the local human evolution, from the prehistoric times until the present day. The Nerja Caves were discovered by accident by a group of teens who were searching for bats – the entire story is told at the museum. 
Visit the El Salvador Church
El Salvador Church is a popular place for weddings, where both locals and foreign couples come to tie the knot. It is a small but beautiful church, very close to Balcón de Europa. It was first built in 1505 and rebuilt with a different structure in 1697. Over the years different things were added, such as extensions and the bell, but the shape was left pretty much the same.   
Inside the church is a large Norfolk Island pine which was brought from South America sometime around the beginning of the 20th century.
Even if you are not searching for the perfect place to get married, still visit the church, it's pretty special.
Practice Water Sports in Nerja
Nerja is a fantastic place for water sports. The best way to see the rocky coast of Nerja is actually from a kayak in the sea. There are plenty of hidden attractions such as waterfalls that flow straight into the sea, and caves that can only be accessed from the sea.  And guess what? In Cueva de las Palomas, the water changes colour when its disturbed.
A few hours on a kayak on the open sea costs only 20 euros. You can check a highly recommended kayaking guided tour by clicking here.
Another great thing to do around Nerja is to snorkel. In nearby Cerro Gordo Natural Park, you will find a surreal underwater world. Because the water is so clear and the area is protected, no high-speed boats are allowed, so you can see so many different species of fish and aquatic plants. You don't need to bring your own snorkelling gear as there are plenty of local companies like this one, which runs guided snorkelling tours. 
Hike Pico El Cielo
Hiking El Cielo and back will take the entire day, so come prepared with plenty of water and good hiking shoes. The hike starts in the car park at Cueva de Nerja. However, in the winter months when the fire hazard has passed, the barriers are up, and you can drive five kilometres closer to the beginning of the trail.
Pico El Cielo stands 1,500 meters high, and it is one of the hardest to reach on the Costa del Sol. It has plenty of extremely steep, almost vertical paths, with no shade at all. Do not try to climb during the summer, when the temperature is very hot. 
Hike Cueva de Nerja – Almijara
For a less demanding hike, follow the trail that starts just behind the ticket booth at Cueva de Nerja. It is a short trek that will give you a taster of what going up Pico El Cielo will be like.  From the top you can spot Malaga, and even Gibraltar on a sunny and clear day. The coast of Africa is just 165 kilometres across the sea.
Explore Chillar River
Rio Chillar runs between Frigiliana and Nerja and makes a popular summer excursion for the locals when the temperatures reach unbearable degrees. The river is very cold and the way to explore it is by walking directly through it. It is a great way to cool down and spend a few hours away from the coast and the scorching sun.
Make sure to bring a dry bag to put your belongings in, as well as a pair of water shoes, as you will be walking waist deep through the water.
Check Out Maro
Maro is a pretty village located on a cliff top, with pretty views over the sea. There is not much to do in the village itself as most visitors come here after visiting Cueva de Nerja, or if they are on their way to a water sport.
The village has a few cafes and restaurants, which make great stops for tapas at lunchtime. 
Get to the Wild Beach of Maro
Maro has a fantastic wild beach, rocky with black sand. It is only accessible on foot from the village of Maro, on an uneven path. There are plenty of stairs and a rocky terrain to descend to this beach, so make sure that you are prepared for it and don't try to get there in flip flops.
The Wild Beach of Maro is home to a few people who seem to live there. They are quite friendly, and unless you initiate a conversion, they won't bother you.
Take a Day Trip to Frigiliana
You can't visit Nerja and not take a day trip to Frigiliana, the most famous white village in this part of Costa del Sol. Frigiliana is only a 10 minute drive away from Nerja, so you have no excuse for not visiting it.
Frigiliana is famous for its narrow streets decorated with ceramics. The entire village looks like a photographer's set, with the beautiful sea as a backdrop.
Liked it? Pin it!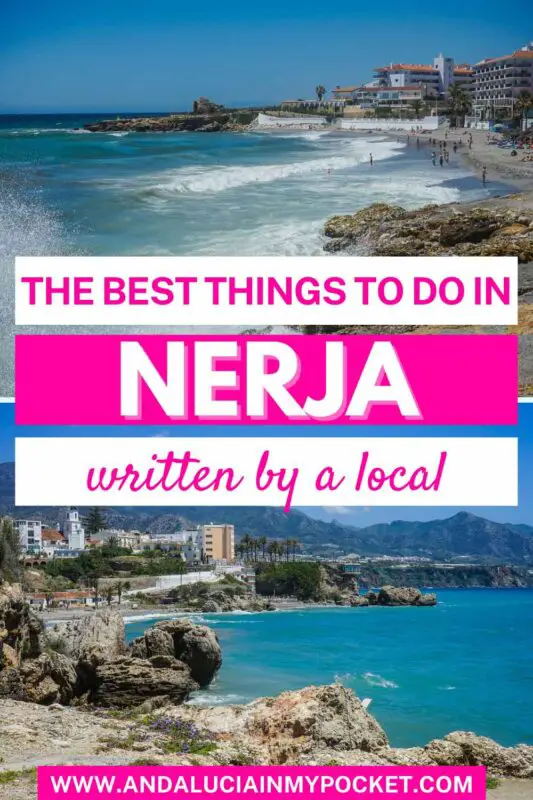 Disclaimer: Some of the links on this website are "affiliate links." This means that if you click on the link and do a purchase, I will receive an affiliate commission at no extra cost to you. This helps me keep my website running and continue to share my travelling knowledge with you. I thank you for booking your flights or hotels using the links on my website. Regardless, I only recommend products or services I use personally and believe will add value to my readers.