The food in Andalucia is full of flavour, with delicious fish dishes on the coast and hearty meaty stews in the mountains. That doesn't mean though that there is no or little vegan food in Andalucia. On the contrary! You don't have to look for vegan paella on the restaurants' menus, as the vegan Mediterranean flavours of the land will surprise you.  
The most fascinating region in Spain brings everyone in awe with its pretty places. The architecture is outstanding at every corner giving gratitude to the Moorish heritage. The years of history certainly influenced the Andalucian cuisine, with the Moors bringing in to the South of Spain some of their most precious ingredients: nuts, dates, lemons, artichokes, aubergines, and even cinnamon. This is how many traditional Andalucian dishes have come to life.   
Even the humble olive tree, which produces Spain's most used ingredient, the olive oil, has been introduced to the continent by the Phoenicians, back in 1050BC.
No matter if you are looking for tapas or you want to have an a la carte meal, there are plenty of vegan options available.
Traditional Vegan Dishes in Andalucia
Each province in Andalucia has its own typical dishes, highlighting the produce of the land. For example, the Jaen province is famous for the olive oil production, whilst Cadiz province is the place to go if you want to try the unique Sherry wine.
One of the staple of the Andalucian cuisine are the cold soups, which are a blessing over the hot summers. The most famous cold soup is the gazpacho, which makes a great vegan option for a starter, or a quick lunch. It is made with a blend of tomatoes, cucumbers, onions, olive oil and Jerez vinegar. For a fruity finish, some chefs like to add a couple of strawberries in the mix.
Salmorejo, originally from Antequera, is a thicker cold soup, made with tomatoes, stale bread, garlic and extra virgin olive oil. If you are a vegan, make sure to let the restaurant know, so they don't top the soup with the traditional jamon serrano and the chopped egg.
Another fantastic vegan cold soup that you can enjoy around Malaga, is the ajo blanco. This soup is made with almonds and garlic, and tastes divine.
If you are travelling to Andalucia in winter, you must try the local stews, especially around the mountain areas. The chickpeas and spinach stew is popular vegan dish that comes from Sevilla, and it was brought to the country by the Arab traders, from Ancient Persia.  
Tapas
Tapas is one of the most popular food traditions in Spain. The tapas are small plates of food that are meant to be shared by the people around the table. They can be anything, from fried food to small sandwiches.
In Granada the tradition of getting a free tapa when you order a drink is still very well maintained. The more you order, the better the tapas become.
A great vegan tapa dish is the pimientos de Padron. This delicious dish consists of chargrilled Padron peppers, served with flakes of sea salt on top. The Padron peppers are sweet, but it is said that one in ten will be spicy. It is always a gamble around the table on who will be getting the spicy pepper.
Another delicious vegan tapa is the berenjenas con miel. The aubergine is thinly sliced, deep fried in olive oil, and served with a sweet molasses drizzled on top.
Other vegan tapas suggestions include the mushrooms with garlic, the grilled vegetables, the patatas bravas, the pepper stuffed olives or the white beans stew.
Vegan Desserts in Andalucia and Their Moorish Influence
Unfortunately there aren't that many vegan desserts in Andalucia, and you will always have to double check with the bakery or the restaurant you are eating at what the ingredients are.

Most of the traditional desserts in Andalucia resemble sweets from Morocco because they use almonds, cinnamon, as well as plenty of honey. On the most delicious traditional desserts is the torta del Almendras, which is cooked with almond flour, making it extremely nutty and delicious. There are vegan versions of the torta del Almendras is some bakeries.
Another great sweet snack is the pestino, popular around Easter and Christmas. They are drizzled with sugar and honey – making them vegan when molases is used instead of honey.
Churros are a vegan dessert that you can enjoy in the cafes all around Andalucia.
Seville and Its Vegan Restaurants
Seville is the capital of Andalucia, well known for its heritage, culture, architecture, as well as delicious food. The nights spent in Triana, hopping from tapas bar to tapas bar will always remind you of how amazing this city is.
Food is a very important part of the social life in Seville, so there are plenty of restaurants catering for all types of dietary requirements and preferences. As a vegan, you don't have to worry about finding great restaurants in Sevilla.
Some great vegan restaurants in Seville are:
Veganitessen – located in the lovely Mercado de Arenal, in Triana. Here you can try the famous Spanish omelette, which is made with chickpeas instead of eggs.
El Enano Verde – offers vegan dishes inspired from all over the world, on a menu that changes regularly, depending on the fresh ingredients available.
Vegan Rock – is a tranquil tapas bar that offers traditional Andalucian tapas reinterpreted in a vegan way.
Thank You Mother – for a great selection of international dishes, such as vegan pad thai, mac & cheese or Buddha bowls. They also have a great selection of breakfast tostadas.  
Malaga for Vegans
Malaga is usually your gateway to Andalucia. The airport in Malaga is the largest in the region, and this is where most flights arrive. 
Malaga is a great city to explore and has plenty of vegan restaurants where you can enjoy the local flavours of the area.
Some great vegan restaurants in Malaga are:
La Vegana Taperia is a great concept vegan restaurant that serves traditional Andalucian dishes – in a vegan form. You will find on their menu the classic lagrimitas de pollo, gambas pil pil, as well as pinchitos morunos, all made from vegan alternatives.
Recyclo Bike Cafe offers a unique location and décor, next to a bike shop.  The menu is mostly vegan, so it's a great place to go if you are travelling with a mixed group of people.
El Vegetariano de Alcazabilla is the first vegetarian restaurant to open in Malaga. Over the years it shifted its menu to more and more vegan alternatives. They serve classic Andalucian dishes reinterpreted to cater for vegans.
Nerja can be a fabulous day trip from Malaga, easily reachable town within one hour bus ride. There are plenty of vegan restaurants in Nerja. Several Indian restaurants, such as the wonderful Goa Town, offer  fantastic vegan options.
Eating Vegan in Granada
The iconic city of Andalusia, Granada is home to the  Alhambra and has stunning Moorish architecture in the white Albayzin.
Even if Granada is an old city, it's spirit is extremely young. The city is a magnet for young adults who travel here either to learn Spanish or teach English.
To cater for everyone, there are plenty of vegan restaurants in Granada that offer Andalucian classics, as well as international options.
Some great vegan restaurants in Granada are:
El Ojú is a popular vegan spot in Granada, where tapas are the star of the show. The food is made using local ingredients, supporting local businesses and being committed to the environment. More than this, they organise different events such as movie nights and live concerts.
Babel World Fusion offers a selection of tapas inspired by flavours from all over the world. They have a vegan menu, but also offer non-vegetarian options for meat eaters.
Hicuri Art is not just a great place to enjoy a vegan twist on global dishes, but also a work of art. The walls are decorated with quirky murals and the décor is very quirky.
Vegan Choices in Cadiz
Cadiz is famous for being the best place to eat fish in Andalucia. The fish market is an attractions it itself, as well as a massive foodie hotspot.
There are not many vegan restaurants in Cadiz, but as a veggie you won't starve either.
Some great vegan restaurants in Cadiz are:
La Veganesa started its vegan journey right in the heart of the Mercado des Asbatos. It is a fully vegan restaurant with a traditional Andalucian menu and a very airy décor. They have delicious cakes as well.
D'plocia Heladería is the perfect stop for a sweet treat. They serve vegan ice cream and sorbets.
Don't Miss the Markets
If you prefer to buy your own ingredients and cook at your serviced apartment, you must check out the food markets in Andalucia. Here is where you will find the freshest local produce, directly from the producers.  
One amazing way to shop in Andalucia is by going to the local Huerta – which is a farm or a garden centre. If you go to a farm, you will be able to pick your own fruits and vegetables directly from the land. The garden centres, or vivero, usually have a smaller section, but it's always seasonal and most of the times organic grown. I would say that the Huerta is Andalucia's most hidden foodie secret.
Vegan Hotels in Andalucia
For a unique experience, stay at one of the exclusive vegan hotels around Andalucia.
Finca Vegana is a truly gem located close to the white village of Zahara de la Sierra, in the Sierra de Grazalema Natural Park.  
Here you can enjoy a hiking retreat or simply take advantage of the relaxed environment to spend time by the pool, enjoying the local vegan cuisine offered by the resort. The surroundings are stunning as well, with plenty of things to do around.
Rancho Los Lobos in Jimena de la Frontera is a boutique hotel that focuses on local and organic food. Their restaurant is plant-based with plenty of delicious treats. This is a rustic but luxurious retreat and offer activities such as yoga or horse riding.
The Sea Retreat is another great options for a vegan stay in Andalucia. Located in El Palmar, close to Vejer de la Frontera, the Sea Retreat is the soul project of Marina and Callum who combined their passion to open a surf school. At the Sea Retreat you will not just learn how to surf, but also enjoy a fully vegan menu cooked by the wonderful Alessia from Comiendo Tierra.
Final Thoughts
Visiting Andalucia as a vegan doesn't mean you have to skip on the any of the traditional dishes of the region. I hope this article convinced you and gave you some pointers for your next vegan visit to Andalucia.
Liked it? Pin it!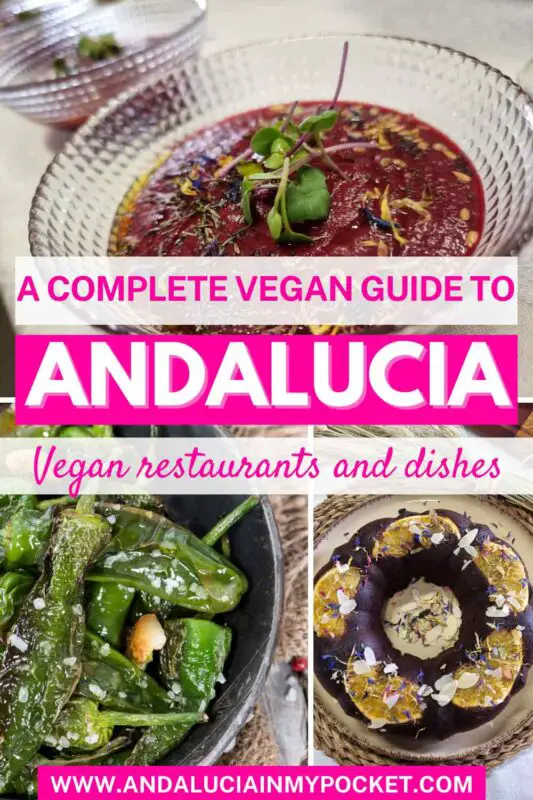 Disclaimer: Some of the links on this website are "affiliate links." This means that if you click on the link and do a purchase, I will receive an affiliate commission at no extra cost to you. This helps me keep my website running and continue to share my travelling knowledge with you. I thank you for booking your flights or hotels using the links on my website. Regardless, I only recommend products or services I use personally and believe will add value to my readers.