The cuisine in Malaga is characterised by Mediterranean flavours, which bring together fresh ingredients to create tasty dishes in a simple way. The south of Spain is a fantastic place to grow produce such as olives, black tomatoes, almonds, and the sweetest avocados you have ever tasted. The seasonal vegetables and fruits are used by chefs in restaurants all over the city, to create the best tapas in Malaga. If you are wondering what to eat in Malaga, this guide will have you covered. The flavours of the sea meet the inland products to create the amazing dishes which you must try when you visit Malaga.
The food in Malaga has been highly influenced during the 800 years of Moorish occupation, bringing in exotic flavours through the use of almonds, honey, raisins and many more. In fact, it was the Moors who introduced some of today's most important crops in Spain: orange, lemon, pomegranate, as well as saffron, dates and figs. 
The typical food in Malaga caters for hot weather, with light and refreshing dishes that will cool you down when the temperatures reach 40 degrees Celsius in August. A lot of the traditional dishes in Malaga are based on fish, which comes from just off the shores of the city. The local Andalucian olive oil, which is one of the best in the world, is widely used both as a dipping sauce or a dressing for salads, as well as for deep frying. One of the best tapas in Malaga is actually deep fried in high quality olive oil, which contributes to the fish's flavour. 
Ajo Blanco
Ajo balnco is often referred to as "white gazpacho" because it has many similarities with the most famous Spanish cold soup. It is a typical tapas dish from Malaga, served cold on hot summer days with stale bread, almonds and garlic, seasoned with sherry vinegar and olive oil.
The recipe dates back to the Moorish times and celebrates the abundance of almond trees growing around Andalucia.
Ajo blanco is always served with fruits, most traditionally grapes or slices of melon. It is refreshing, creamy, nutty, and full of flavour. Contrary to its name "ajo blanco" (white garlic), the garlic is only used to season the soup, so it is not the dominant flavour in it.  
Albondigas en Salsa de Almendras
Whilst you will find albondigas all over Spain, in Malaga they are commonly cooked in a delicate almond sauce, instead of the classic tomato based salsa.
The meatballs are juicy and tender, usually made from a mix of beef and pork mince. The sauce is a mixture of almonds, bread, onions, garlic, white wine, and chicken stock. The tapa is savoury, with hints of sweetness and a nutty taste. Definitely a crowd pleaser and a comfort food at the same time.
Espetos
If you are wondering what would be the number one dish to eat in Malaga, that would be espetos. You could easily say that espetos are the symbol of Malaga. There is nothing better than enjoying a nice cold beer on a very hot day, at a chiringuito on the beach, together with a plate of espetos.
Espetos are anchovies grilled over an open fire, which you can usually only order at the beach bars called chiringuitos. The grills are mostly built inside old boats, and the wood used comes from olive trees. In order to make the perfect espetos, the anchovies are put on metal skewers, salted and drizzled with olive oil, then grilled at a perfect 45 degrees angle, which is very important for the even cooking of the fish. They are served hot, with a wedge of lemon.
Traditionally, espetos are only eaten in the months that don't contain an "r", which are May to August. During the rest of the year the fishermen give the boqueron time to develop and grow in the sea. 
Boquerones al Limon
Boqueron translates as anchovy but, don't mistake it for the tiny fish that you find in jars sold in supermarkets. The boqueron is a big, meaty anchovy, that is found only in the warm waters of the Alboran Sea. It usually grows between 9-12 centimetres long, and it is always cooked fresh and not preserved, unlike other fish from the anchovy family.
Boquerones al limon is one of the most popular fish dishes in Malaga. The fish is cleaned, marinated in lemon, garlic and parsley for a couple of hours, coated in chickpea flour, and then fried in high quality olive oil until golden brown. They are juicy and lemony, a perfect tapas to accompany a cold pint of San Miguel on a very hot day at the beach.  
Boquerones en Vinagre
Boquerones en vinagre is another favourite Malaga tapa of mine, often present on the menus of tapas bars around the region. In this case, the boqueron is cleaned, frozen for at least two days, then cured in vinegar for another 24 hours or so. The result is tangy and delicious. Why is the fish frozen for two days you may ask? It's simple: because the fish is cured and served raw, the freezing process kills all the bacteria in it. By law, Spain actually requires that anchovies cured in vinegar should be frozen from fresh for two to three days before preparing and serving.
Boquerones en vinagre is usually served with lots of olive oil and slices of garlic on top. It is a more expensive tapas, but the taste is worth it. If you love strong flavours, you will love the boquerones in vinegar.
Fritura Malagueña
Fritura Malaguena translates as "fried food from Malaga" and it is a very traditional dish in Malaga. It consists of a fantastic platter of different types of seafood and fish, coated in batter and deep fried in high quality olive oil. You can either order this as a full meal, as a tapas, or in a cone as street food.
Mixed in the fritura Malagueña you will often find Spanish anchovies (boquerones), squid, prawns, cuttlefish, rosada, hake, and sometimes even dogfish. It is delicious but also very heavy, so keep that in mind when you are ordering it.  
Fritura Malagueña is often served with fries and wedges of lemon, which makes it a perfect snack to share, alongside a pint of beer.
Ensalada Malagueña
As the city gets really hot during the summer months, a lot of the typical tapas in Malaga are made without the use of an oven, and are meant to be refreshing. One of these tapas is the Ensalada Malagueña, a salad which combines protein with the freshness of cold fruit.
The Ensalada Malagueña is a cold potato salad mixed with cod or tuna, onions, hard boiled eggs, olives, and slices of orange. The combination might sound off, but it's delicious. You can either take my word for it, or order it in a tapas bar on your next visit to Malaga.
Ensalada Rusa
You will find ensalada Rusa in pretty much every tapas bar in Malaga.  It is one of the cheapest but most delicious tapas that I always find myself ordering because it is so good. Ensalada Russa translates as "Russian salad" and it is an adaptation of the popular Olivier salad originated in Russia, and popular among the ex-soviet countries.
Even if the salad has been adapted and modified until it reached Spain, it does maintain its base ingredients which are potatoes, carrots, peas, eggs and a mayo-based dressing. Besides these, the Ensalada Rusa often contains tuna or surimi. Some places even add prawns to it.
Ensalada Rusa is often served with small pieces of toasted bread. 
Pipirrana Malagueña
Another summer salad typical to Malaga is the Pipirrana Malagueña. The simple ingredients that bring this recipe to life are tomatoes, cucumbers, bell pepper and onions. What makes this salad typical to Malaga is the add-on of cooked octopus and prawns.
The salad is seasoned with olive oil and red wine vinegar.
Each household and tapas bar has its own version of the pipirrana, so whilst it's still a Malaga tapa because of the octopus and the prawns, in some places ingredients might be added or removed.
Cazon en adobo
You won't find cazon tapas anywhere else other than the South of Spain. Cazon translates as dog fish, which is a type of shark that lives at the bottom at the Alboran sea. The Andalucian style for "cazon en adobo" requires the pieces of fish to be marinated overnight in a mixture of vinegar, garlic and herbs mixture. This infuses into the fish, giving it that fresh taste.
Even if the fish is deep friend, the tapas of cazon is extremely light, with a fresh taste. You almost don't need to squeeze lemon on top. Cazon is usually served in small bites, with lemon wedges.
Gambas Pil Pil
Gambas pil pil is one of my favourite tapas in Malaga. If I see it on the menu, I will always order it. This is such a simple dish but has so much flavour – and it's guaranteed to burn your tongue first time you try it. Gambas pil pil only has four ingredients: prawns, garlic, chili and paprika, when put together create layer over layer of deliciousness.
The prawns are always served in a terracotta dish, sizzling on a generous bed of garlic and chili infused olive oil. They are served with crusty bread, which is meant to be dipped in the sauce once you finish eating the prawns. 
Porra Antequerana
Coming from the nearby town of Antequera, porra is a version of the popular Spanish gazpacho, a cold tomato soup which is extremely refreshing in summer. Porra Antequerana differs from gazpacho and salmorejo in several ways. Firstly, it is made with tomatoes and dried bread and secondly, it has a very thick consistency. This makes it served more often as a tapas rather than a soup, and is usually topped with jamon, eggs or tuna.
Sometimes, tapas bars get creative and serve the porra as a sauce for tortilla. Either way, it's a delicious dish that will cool you down when the temperature becomes unbearable.
Berenjenas con Miel
Whilst I am not a fan of aubergines in general, I love berenjenas con miel. Berenjenas are aubergines that are thinly sliced, dipped in batter, then fried until crispy. They are served with a sweet black treacle syrup which is practically sugar molasses, not honey – as the name of the dish suggests. It is a great choice if you are looking for a vegetarian Spanish tapa.
Berenjenas con miel are extremely popular among the tapas bars in Mijas, Malaga, and Andalucia in general. Usually the portions are quite large, even if you only order tapas.
Gambas a la Plancha
This tapa celebrates simplicity and taste. The giant prawns are salted and then quick cooked whole on a flat grill. The salt is used to enhance and complement the delicate sweet taste of the prawns. The tapa is served with lemon wedges and sometimes aioli but, to be honest, it is not needed.
This is a tapa which you will have to get your hands dirty with, when you remove the heads and peel the prawns, as it is served directly from the grill.
Carrillada Iberica
Whilst carrillada is not a tapa that was born in the city, it is one of the dishes which is a must to eat in Malaga. Carrillada Iberica translates as slow cooked pork cheeks and it is one of the most flavoursome tapas you will taste in Spain. The pork cheeks from the Iberico pork are firstly fried in olive oil with garlic and onions, then simmered for hours, in a sweet Port wine, with apples and cinnamon.
The final result is a melt in your mouth meat, extremely tender and juicy, with out of this world flavours. You will find carrillada served as tapas or as ration. Either way, if you see it on the menu, order it, your taste buds will be in a for a proper treat.
Revueltos
Revueltos can come in many different ways, made with whatever fresh ingredients the tapas bars have that day or what is in season. Revueltos is practically a Spanish version of the humble scrambled eggs, in which the vegetables and the meat are the star of the dish.
One of the most popular vegetables used in revueltos is asparagus. However, there are countless combinations of ingredients used to make revueltos. Some of my favourite ingredient mixes include morcilla with mushrooms, chorizo, and spinach with prawns.
Liked it? Pin it!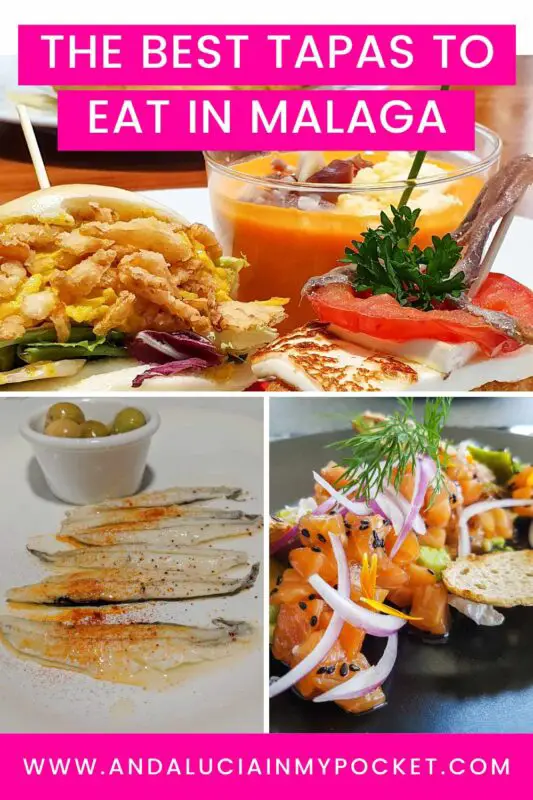 Disclaimer: Some of the links on this website are "affiliate links." This means that if you click on the link and do a purchase, I will receive an affiliate commission at no extra cost to you. This helps me keep my website running and continue to share my travelling knowledge with you. I thank you for booking your flights or hotels using the links on my website. Regardless, I only recommend products or services I use personally and believe will add value to my readers.