La Cala de Mijas is a lovely place to choose for a holiday on Costa del Sol. It has a beautiful, large, sandy beach with all the facilities, including lifeguards during the high season, plenty of great restaurants and bars where you can spend your evenings over a glass of gin and tonic and a nice atmosphere.   
Having called Mijas home for the past few years, I have been to La Cala numerous times, not only for the beach but also to discover new places to eat. There are so many restaurants in La Cala de Mijas, some better than others. I have put together this list of the best La Cala de Mijas restaurants based on my own experience and the best dishes I've eaten here.
Tikus Gastrobar
Directions | Tripadvisor Reviews | Reservations
Tikus Gastrobar is a great restaurant which serves a fusion of Asian-Spanish dishes. The restaurant is small, with a quirky décor and a nice outdoor terrace. Their menu is quite expensive for Spain, and it does change every season I believe, but because the food they serve is so full of flavour and innovation, it is worth visiting once during your holiday in La Cala. I usually choose to come here with friends, to share the food – and the bill.
From the menu I highly recommend their bao buns, which are delicious and come with different fillings. Their burgers are so good too, juicy and aromatic. From the fish dishes, ask if they have cazon – lemon marinated dogfish. It comes in bite sizes with an aioli dip, and it tastes divine.   
Konfusion
Directions | Tripadvisor Reviews | Reservations
Konfusion is a family run restaurant, and my favourite place to go for fancy cocktails. They have a cute little terrace on the sidewalk from where you can watch people passing by, or admire the sunset. Besides fantastic cocktails, Konfusion also serves delicious tapas, and has a small but well executed menu.
Konfusion only opens at 6PM and I do recommend that you make a reservation if you want to come for dinner, as the terrace is quite small – and you do want to eat outdoors! I highly recommend their Brazilian prawn curry in coconut milk, and their wasabi salmon. 
Rose Box
Directions | Tripadvisor Reviews | Reservations
There's nothing quite like enjoying a large glass of gin during the happy hour at Rose Box, when drinks are 2 for 1. Rose Box is in fact a wine bar, very tastefully decorated with giant grape decorations on the ceiling and the most adorable rustic bicycle at the entrance. Their large selection of quality gins, paired with the right tonics, can't be ignored either.
Manuel is always there to greet customers with a large smile and his knowledge on wines and gins.
When it comes to tapas, the menu is small but contains some delicious dishes. I highly recommend trying the suckling pig with apple sauce, and the curry croquettes.
El Torreon
Directions | Tripadvisor Reviews | Reservations
El Torreon is a great upscale fish restaurant located right on the promenade, with gorgeous sea views. They have a restaurant, and a terrace on the beach where they offer a different menu, I highly recommend the restaurant rather than the terrace, if you want to experience their lovely fish dishes, instead of just fish and chips.
I also highly recommend their grilled fish selections. If you are travelling with friends, you can order a platter which includes both fish and seafood. Even though fried fish is the speciality of Malaga, I suggest  that you to choose the grilled version, as it has so much more flavour. For an individual portion, I recommend the grilled lubina – so good! For dessert, try the whiskey crème brulee.
Sai Indian Restaurant
Directions | Tripadvisor Reviews | Reservations
There are not many Indian restaurants in La Cala de Mijas and out of those, I recommend Sai for an authentic cuisine. Located on a quiet street, off the main road, Sai offers a selection of Indian classics as well as innovative dishes.
The chef's specials are a must, especially the Gohan curry and the Peshwari Naan which has cherries inside, instead of just coconut. Their Tandoori mixed grill is very good as well. For starters, Prawn Puri is a must.
The staff is attentive and caters to your personal preferences when it comes to Indian food and spiciness tolerances. In summer, this is a very popular place among the expats living in La Cala, so I recommend that you book a table.
The Little Geranium
Directions | Tripadvisor Reviews | Reservations
For an outstanding taste buds experience, head over to The Little Geranium, which in my opinion is one of the best restaurants in La Cala. The restaurant is run by Michelin Chef Steven Saunders and his wife Michele.  It is situated in a quiet location behind the main road in La Cala. Steven has designed a menu that uses local fresh ingredients, which he chooses himself every morning.
Having dinner at The Little Geranium is an experience, and I recommend it for special occasions. It is the perfect place to bring your loved one to experience an exquisite tasting menu. The restaurant is open for lunch between 1PM and 4PM, with a contemporary tapas menu, and for dinner, between 7PM – 10PM.
I highly recommend the tasting menu experience, either for lunch or dinner.
Kiosko Cristobal
Directions | Tripadvisor Reviews
I can't even count how many summer afternoons I found myself relaxing with my feet in the sand, having a cold San Miguel beer and a portion of espetos at Kiosko Cristobal.
Kiosko Cristobal is a no frills chiringuito located 5 minutes' walk from the Torre de la Bateria de Cala del Moral, on the promenade. It offers a proper local Spanish experience, with plastic tables and chairs, friendly staff and the traditional barbecue boat for grilled fish. This is the kind of place where you don't really need a menu – there is a fish of the day board on the wall and, of course, there are always espetos available.
For a proper Costa del Sol experience you must order espetos – sardines which are put on a skewer and grilled over an olive wood fire at a precise 45 angle. A plate of 9-10 sardines costs 7 euros (last summer's price). 
Kiosko Cristobal gets very busy in summer, so I recommend that you get there early. I usually just leave my towel on the beach before coming here to have lunch.
BocArte Restaurante
Directions | Tripadvisor Reviews | Reservations
Bocarte is a little hidden gem, 15 minutes' walk from the centre of La Cala, well worth the journey. They specialise in tapas which you can order in small sizes, or as a full meal. I always recommend tapas size because the food is so good you will want to try everything on the menu.
The restaurant might seem small from the outside, but it is very spacious inside, with another large room in the back. It is a perfect place to spend a lazy afternoon after enjoying the morning on the beach. I was introduced to this place by a friend who lives nearby, and I have returned many times since.
I highly recommend their meatballs in almond sauce, and their salmon tartar.
Lizarran
Directions | Tripadvisor Reviews
Lizarran is a tapas chain which towards the end of last year opened a new restaurant in La Cala de Mijas. Calling themselves "La Casa de pinchos", Lizarran serves mostly small tapas: cold, which you can choose from the counter, or hot, which the waiters bring to you. You pay by the number of skewers and bowls you have on your table at the end. The prices vary between 1.50 and 2.50 euros, with a couple of more expensive tapas that cost 3.90 euros.
They also have a menu from which you can order full meals or cheese and charcuterie platters.
I love going to Lizarran in La Cala because their staff has always been welcoming and kind, and because their food is always good. I highly recommend the salmorejo topped with jamon – one of the best I ever had in Spain. Their hot mini burgers are also fantastic.
Liked it? Pin it!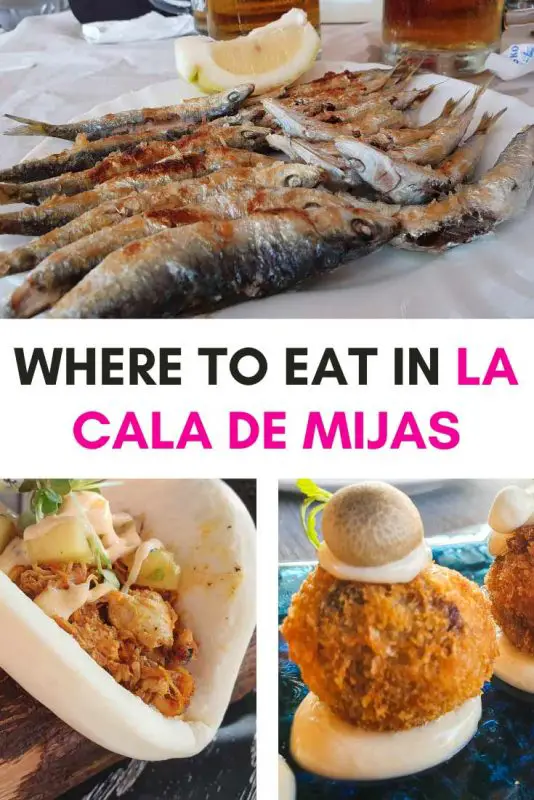 Disclaimer: Some of the links on this website are "affiliate links." This means that if you click on the link and do a purchase, I will receive an affiliate commission at no extra cost to you. This helps me keep my website running and continue to share my travelling knowledge with you. I thank you for booking your flights or hotels using the links on my website. Regardless, I only recommend products or services I use personally and believe will add value to my readers.