Cadiz is without a doubt the fish capital of Andalucia. One of the most fantastic places to taste the local cuisine is the fish market, which is in itself a cultural hub where you can learn a lot about the food in Cadiz. If you are wondering what to eat in Cadiz, then you have landed on the right page.  In this article I will go through all those delicious fish dishes, but also traditional recipes that were born in this beautiful city.
About the Food in Cadiz
The traditional food in Cadiz is mostly based on fish, and no wonder, as the city is surrounded by the ocean.  Here you will find the freshest fish dishes cooked in a simple way, without too many ingredients so that it shines on the plate. Cadiz is also a fantastic place to try seafood, as there is an abundance of it, and it is delicious. From langoustines to oysters, sea urchins to anemones, prawns and calamari, Cadiz has it all!
One of the staple foods in Cadiz is the Atún rojo – Atlantic bluefin tuna from Barbate, which is caught using a traditional method known as almadraba. The best time to come to Cadiz if you want to try the Atún rojo is during its season which starts early May and lasts for just 8 weeks.  
How to Order Food in Cadiz
One of the charms of Cadiz is going out to eat, hopping from tapas bar to tapas bar around La Viña, the liveliest neighbourhood in the city. Here you will find plenty of places to eat, from outdoor terraces, to restaurants, to tiny holes in the wall that serve the best tapas in town.
Another great place to go for lunch in Cadiz is the fish market. In the morning here you can buy the freshest fish, by lunchtime the same fish is being prepared by the restaurants adjacent to the market. You can grab a drink and see how the fish is grilled in front of you.
Unless you go to a fancy restaurant, it's important to learn how to read the menu of a tapas bar. There are three options on most of the items on the menu: tapas, media raciones, and raciones. A tapa means a small plate of food, big enough for one person. If you want to share the dish, consider a media racion (half a portion) or a racion (full portion), depending on how big your party is.
A great way to experience the tapas culture of the city and taste a few of the traditional dishes in Cadiz is by going on a food tour. Here are a few highly reviewed options:
What to Eat in Cadiz:
Puntillitas
Puntillitas are one of the most popular foods in Cadiz. They are usually served as a tapa in the local bars and restaurants and are great accompaniments for a chilled glass of beer. Puntillitas are made from baby squid that are tossed through chickpea flour and fried in olive oil until crispy and golden brown.
The name of this dish comes from the pointy shape of the baby squid. They are usually served alongside lemon wedges and aioli. A good plate of Puntillitas has to be crispy and dry, without any extra oil on them. It's an art in itself to avoid serving them soggy, and the tapas bars in Cadiz usually master it.
Atún Rojo
Atún rojo, or the Atlantic bluefin tuna, known as "red tuna" in Cadiz, is an absolute delicacy and a typical dish of the region.
The traditional method of fishing for bluefin tuna in the coastal areas of Cadiz is known as almadraba. This technique, dating back to the Phoenician era 3,000 some years ago, involves using an underwater labyrinth of nets connected to boats. The tuna are trapped in these nets as they migrate from the Atlantic towards the Strait of Gibraltar, and to the warmer waters of the Mediterranean Sea. The nets are lifted (known as "levantá") and the tuna are captured. Today, only four places in Cadiz still practise this method: Barbate, Zahara de los Atunes, Tarifa, and Conil de la Frontera.
The bluefin tuna fishing season starts in early May, making it a great time to visit the Costa de la Luz for some of the best tuna you will ever eat. To prevent overfishing, there are strict quotas and only tuna of a certain size are caught – smaller tuna are released back into the sea.  
There are various ways to enjoy atún rojo, prepared in four different ways: as smoked, dried and salted (mojama), flank (ijada), and belly (barriga). Generally speaking, barriga is the most sought-after and expensive part of the tuna, as it is incredibly tender and delicious.
Tortillas de Camarón
Tortillas de camarón is another traditional dish from Cadiz. They are a type of savoury fritters made from a mixture of chickpea flour, camarones – which is a tiny shrimp, diced onions, parsley and seasonings. The shrimps are so small that they don't need to be cleaned before cooking, they are added to the mix as they are.
The fritters are crispy and taste delicious. They have a very light texture, despite being deep fried in olive oil.
This is a tapa that is consumed a lot during the Carnival time in Cadiz, but also throughout the year, so you will find it most of the time on the menus in the tapas bars. They are great with beer but also with a cold glass of manzanilla.
Huevas Aliñadas
This one might be an odd one, and definitely not for everyone, but in my opinion it's delicious. The Huevas aliñadas is seasoned fish roe, served alongside a fresh simple salad. The dish is typically made using the roe of different types of fish, including tuna, hake, and mullet, although hake roe is the most commonly used.
To make huevas aliñadas, the roe is boiled until it is cooked through, then sliced into thin rounds. The slices are then dressed with a simple vinaigrette and topped with tomatoes, peppers, and onions. The dressed roe is then served as a tapa, sometimes alongside a Russian Salad.
Pescaito Frito
Pescaito Frito is a staple of Cadiz and Costa de la Luz, as well as Costa del Sol. It is a dish that showcases the variety of fish living in the Atlantic Ocean and the olive oil that Andalucia is so proud of.
Pescaito Frito consists of a large selection of fish and seafood that is deep fried in olive oil, and served as a sharing platter alongside drinks. This typical dish from the south of Spain usually includes small fish that can be eaten whole, without having to worry about bones, as well as baby squid, calamari or prawns. The platter is usually served with wedges of lemon to squeeze on top and sometimes even small bowls of aioli.
Oysters and Sea Urchins
I mentioned before that Cadiz has some of the freshest seafood you will ever come across. And there is nothing better than having a fresh fish and seafood lunch in the Mercado Central de Abastos fish market, along with the locals. The prices for these delicacies are much lower than you would pay in the UK, and the seafood is opened in front of you. Imagine paying 50 cents for a fresh sea urchin!
The only addition to the oysters or the sea urchins is fresh lemon juice wish is drizzled over before serving. 
Gambas
In Cadiz, gambas are cooked in a very simple way: just boiled, served alongside glasses of manzanillo or fino. They are tender, cooked to perfection, and have that slightly sweet flavour we all love when it comes to prawns. They are served as they are, without any seasoning, not even salt. That's how delicious they are – they don't need to be seasoned.   
Mackerel En Piriñaca
Mackerel en piriñaca is a classic dish of Cadiz. Piriñaca is a local version of the Pipirrana salad, which is slightly different around the provinces of Andalucia. This dish from Cadiz is a perfect summer treat because it's very easy to make, it's light, and has a fresh flavour. So it's perfect for those hot days when you don't feel like cooking.
For this dish, the mackerel is usually barbecued on special racks, seasoned only with salt and olive oil. It is served on top of Piriñaca, which is a simple salad made with tomatoes, peppers, onions, olive oil and Jerez vinegar.
Ortiguillas Fritas
Another great food from Cadiz is ortiguillas fritas, which requires a bit of an open mind to order.
Initially the ortiguillas fritas was a fisherman's food, a snack that originally fed the poor. In recent years however they have been discovered by the mainstream chefs and the demand for them has grown massively.
Ortiguillas translates as sea anemones, which in this dish are delicately cleaned, coated in a light batter and fried in olive oil until crispy. They are usually served alongside lemon wedges and sea salt.
Ortiguillas Fritas has a unique taste that is difficult to describe, with a subtle flavour that is slightly sweet and salty at the same time, with a strong flavour of the sea. They are unlike anything you have tried before. It is a true delicacy of Cadiz and is highly recommended for seafood lovers who want to try something new and different.
Patatas Aliñadas
Patatas Aliñadas translates as potato salad and it is a popular food in Cadiz. This dish is essentially a simple potato salad, but with a unique twist. To make Patatas Aliñadas, boiled potatoes are mixed with chopped onions, red and green bell peppers, and canned tuna fish. The salad is then seasoned with extra virgin olive oil, Sherry vinegar, and salt. The final touch is a sprinkling of chopped parsley on top.
The result is a refreshing and flavourful salad that is perfect for a hot summer day's light dinner. It can also be found in supermarkets, where it is sold pre-packaged and ready to eat.
Papas con Choco
Another great potato based dish coming from Cadiz is the papas con choco. It consists of boiled potatoes (papas) and small cuttlefish (choco) cooked in a rich tomato sauce with peas, garlic, onions and white wine. The dish is typically served as a main course and is often accompanied by bread to soak up the delicious sauce.
This is a dish popular around the entire Costa de la Luz, what makes it specific to Cadiz is the addition of peas.
Cazón en Adobo
Marinated dogfish, or Cazón en adobo, is a delicious fish dish that is widely popular along the Cádiz coast. Although it is also known as 'bienmesabe' – don't confuse it with the dessert with the same name from the Canary Islands – , this name is seldom seen on menus. Dogfish is a type of shark that lives on the bottom of the sea.
To prepare this dish, the dogfish is cut into small cubes and marinated for at least 8 hours before being fried to perfection in olive oil. The origin of this dish can be traced back to the 17th century when it was common to marinate fish to prevent spoilage. The marinade typically consists of Jerez vinegar, water, oregano, cumin, garlic, and pimentón (Spanish smoked paprika).
Garbanzos con Langostinos
If Sevilla has the garbanzos con espinacas (chickpeas with spinach), Cadiz has garbanzos con langostinos. This is a hearty, warming dish that brings together the land and the sea on one plate.
This is a very aromatic stew, with rich flavours of tomatoes and garlic, and a thick consistency created by the sofrito used as a base: onions, peppers, and sweet paprika. The dish is brought together by the addition of white wine.
Pollo a la Canilla
When the temperatures drop in Cadiz, as winter does come to this part of Spain too, even if it's much milder, there is nothing better than a warming plate of pollo a la canilla. This dish consists of chicken pieces which are left to soak for an entire day in Amontillado sherry wine from Jerez, garlic, chilli, and salt.
After 24 hours the chicken is drained and fried until crispy. The sauce for this dish is made by pouring the marinade over the pan where the chicken was fried. The chicken is served with the sauce, alongside salad or sometimes, potatoes.
Chicharrones de Cadiz
Chicharrones de Cadiz is a very typical dish from Cadiz, served mostly as a tapa. It consists of thin slices of cooked pork belly seasoned with Spanish paprika, oregano, garlic, and salt.
It is served topped with salt and lemon wedges, alongside bread.
Pan de Cadiz
Coming to desserts, you must try the Pan de Cadiz. Even if Pan means bread in Spanish, this dessert is nothing like bread. Pan de Cadiz is a type of marzipan made with sugar, almonds, and fruit, such as candied oranges and citrons.
The cake is often decorated with candied fruit or with a marzipan pattern. Once cut, the interior has defined, colourful layers. It is mostly eaten during Christmas time in Cadiz.  
Pestiños
Pestiños are an Arab sweet that probably arrived in Spain during the Moorish occupation. Compared to the other parts of Andalucia, the Pestiños in Cadiz are much smaller. The predominant flavours in this dessert are cinnamon, aniseed, lemon, honey, and a touch of white wine. 
They are coated in sugar and often served at holidays such as Easter or Christmas.
Fore more articles about Cadiz check out the following:
Liked it? Pin it!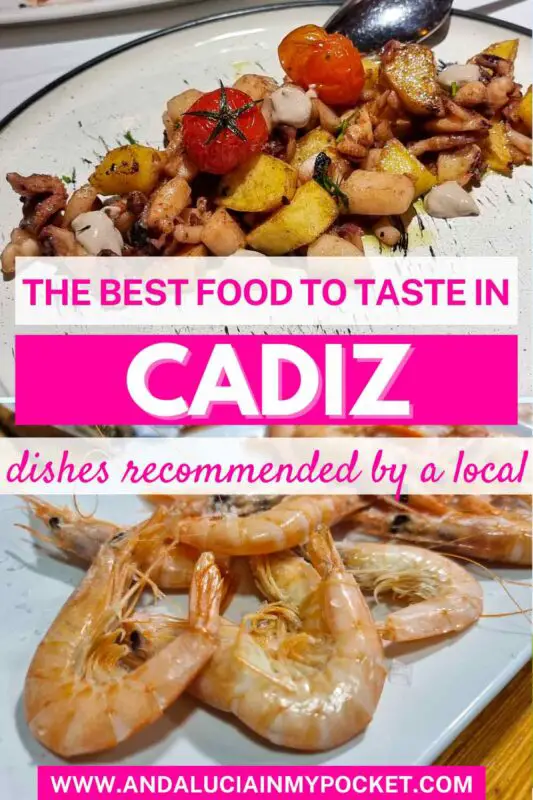 Disclaimer: Some of the links on this website are "affiliate links." This means that if you click on the link and do a purchase, I will receive an affiliate commission at no extra cost to you. This helps me keep my website running and continue to share my travelling knowledge with you. I thank you for booking your flights or hotels using the links on my website. Regardless, I only recommend products or services I use personally and believe will add value to my readers.