If you are wondering what to eat in Sevilla, then you have landed at the right place. In this article I will tell you which dishes are the most traditional in Sevilla, that also have their origins in or around the city. Each city in Andalucia has its own traditional foods, each one offering a unique and delicious taste of the region such as savoury stews and the most amazing pork dishes. The food in Seville is part of the city's culture, which we will now explore, so let's dive in. 
About the Food in Sevilla
The dishes in Sevilla are hearty and comforting, which may be surprising to some. Sevilla is known as the oven of Europe in summer, but it also gets quite cold in winter. Being inland and not that close to the sea, most of the typical foods in Sevilla are based on pulses, meats and root vegetables.
The staple meat that you will find all around Sevilla is the Iberian Pata Negra pork. This breed of pig is raised at farms nearby, in the Sierra de Aracena, and it is known for the high quality meat it produces. The pigs are fed with acorns and free to roam on vast areas of land.
How to Order Food in Sevilla
One of the charms of Sevilla is going out to eat, hopping from tapas bar to tapas bar around Triana, the most lively neighbourhood in the city. Here you will find plenty of places to eat, from cafes, to restaurants, to tiny holes in the wall that serve the best tapas in town.
Unless you go to a fancy restaurant, it's important to learn how to read the menu of a tapas bar. There are three options on most of the items on the menu: tapas, media raciones, and raciones. A tapa means a small plate of food, big enough for one person. If you want to share the dish, consider a media racion (half a portion) or a racion (full portion), depending on how big your party is.
A great way to experience the tapas culture of the city and taste a few of the traditional dishes in Seville is by going on a food tour. Here are a few highly reviews options:
What to Eat in Sevilla:
Serranito
Serranito is Sevilla's most famous sandwich. It consists of a crusty bread roll cut in half and hopped with grilled pork loin, slices of Jamon Serrano, tomatoes and grilled green peppers. It is a delicious sandwich that you can have for lunch or even for breakfast, alongside a cup of Spanish café con leche. The serranito originated in Sevilla but it quickly became famous all over Spain.
Secreto Iberico
Secreto Iberico translates as "the Iberian Secret" and it is the most tender grilled piece of pork you will ever have in Spain. The "secret" is a very tender cut of the neck of the Pata Negra pig, between the shoulder blade and the loin. It is a fat marbled piece of meat which when grilled transforms into a juicy, full of flavour pork steak.
The Secreto Iberico is sometimes referred to as the wagyu of pork, which is a reflection of how good it is. It doesn't come at the same price though, so don't worry, ordering it at a restaurant in Sevilla is an affordable experience.   
Presa Iberica
Presa Iberica is another fantastic piece of meat with a high marbling content, considered to be one of the finest cuts of the Iberico pig. It is as high quality as the Secreto Iberico, and it's usually served medium to medium rare, despite the fact that it is pork.  
Solomillo al Whiskey
The solomilo is the pork tenderloin, which in this recipe is cooked in a moreish whiskey sauce, with garlic, lemon juice, and olive oil. This is a classic dish in Sevilla, found easily in the tapas bars around Triana. It is not known how it became a staple of the food in Sevilla, but good it did as it's delicious. The solomillo al whiskey is often served alongside potatoes, and it can be either a tapa or a dish in itself.
Carillada De Cerdo
Carillada is one of my favourite dishes in Andalucia. It's indulgent, decadent, and each bite melts in your mouth. If I see carillada on a menu, I will order it without hesitation. I fell in love with carillada from the first bite in a small restaurant next to a golf course, in Malaga. However, this dish originates from Sevilla.
Carillada de cero translates as slow cooked Iberian pork cheeks in a sweet wine sauce, usually Pedro Ximenez from Jerez de la Frontera. The meat is lean and so soft that you won't need a fork at all to cut through it. The sauce is another level of deliciousness, with so many layers of flavour.
Carillada is a main dish, but can be served as a tapa as well, especially in the tapas bars around the countryside, which advertise their choices directly in a warm box, on the bar.
Rabo del Toro
Rabo de Toro is another classic dish that you must eat in Sevilla. Once a poor man's dish, the Rabo de Toro is prepared with the tail of a bull or an ox, slowly cooked in red wine until extremely tender and succulent. The result is a very flavoursome dish with a texture that melts in your mouth.
Pato a la Sevillana
Another great traditional dish to eat in Sevilla is Pato a la Sevillana. This dish, which translates to "Sevillian-style duck," features succulent duck meat cooked to perfection with an array of flavorful ingredients such as garlic, onions, carrots, tomatoes, bacon, lard, olives, white wine or sherry. Usually the entire duck is cooked inside a Dutch oven until golden brown, then removed and the sauce made in the same pot, using the duck juices.
The Pato a la Sevillana is served alongside potatoes and crusty bread, to mop the sauce with.
Puchero
If you are wondering what to eat in Sevilla when the weather gets colder, puchero is the answer. Puchero is Sevilla's answer to the best comfort food for winter. This warming slow cooked stew includes different types of meat, bones, chickpeas, different root vegetables, and even noodles. Sometimes, puchero is made with both pork and chicken. The recipe differs from household to household.
Berza de Acelgas
This rustic Andalucian chickpea stew has its origins in the village of Isla Menor, just outside Sevilla. The Berza de Acelgas is similar to the puchero stew, but includes collard greens rather than root vegetables. Char and celery are the main vegetables used to make this stew, alongside the different types of meat, chickpeas, beans, and different herbs and spices.
Espinacas Con Garbanzos
Espinacas con Garbanzos is a hearty vegetarian dish that is often consumed during the cold months in Sevilla. This is a chickpea and spinach stew flavoured with onions, garlic, cumin, paprika, and olive oil. This stew is often served with a slice of fried bread called "picatoste".
The espinacas con garbanzos is one of those typical Andalusian dishes that has its origins back in the Moorish times. The Moors were the ones who introduced the spinach and cumin to Spain. It is believed that the chickpeas came from the Middle East, through the Phoenicians.  
This iconic typical dish is a classic in Seville and you will find it in most tapas bars.
Montadito de Pringa
Montadito de pringa is a true Sevillan tapas classic. It is practically a sandwich filled with the leftovers from the puchero pork stew. The meat in this sandwich differs, depending on what the stew was made with. The only cut that doesn't miss is the pork. Alongside it, you can taste chorizo, morcilla, and sometimes even chicken. The stew is mashed together until they get the consistency of a pate, and spread on a baguette cut in half or on a mollete bread, which is toasted before serving.  
Zanahorias Aliñadas
Whilst in other parts of Spain you will find Tomatoes Aliñadas, in Sevilla this dish is made with carrots. This is a simple dish of marinated carrots, a great vegetarian option if you think you've eaten too much pork during your trip to Sevilla.
The carrots are let to infuse in a marinade of garlic, paprika, oregano, cumin, olive oil and apple cider vinegar, for at least four hours, before being served.   
Ensalada Sevillana
There are many different cities around Andalucia that have their own typical salads. And Sevilla is no exception. Ensalads Sevillana is a great dish to try in Sevilla in summer, when it's hot and you don't feel like eating a heavy meal. This salad contains a base of endives to which tomatoes, olives, and tarragon are added. The dressing is simple, made from wine vinegar and extra virgin olive oil. Depending on the restaurant, there are extra ingredients that can be added to the Sevillian salad, such as tuna or hard boiled eggs.
Lentejas
Another great staple of the Sevillian cuisine is the lentejas, a lentil soup with chorizo. This typical food in Seville is hearty and comforting, especially during the winter months. This is a thick soup, very aromatic, cooked for several hours. The vegetables and spices blend in together resulting in a fantastic spiced dish.
Torrijas Sevillanas
Torijjas is Spain's answer to French toast. This indulgent dessert is very popular around The Holy Week and Easter time. What makes torijjas from Sevilla different is that the stale bread is first dipped in white wine, before being passed through egg and fried in olive oil. The fried bread is then drenched in a syrup made from honey and cloves.
Dulces del Convento
Dulces del convento are without a doubt a must try in Sevilla. These unique desserts are baked by nuns from the Monasteries around Sevilla and sold on the premises. They have old recipes that date from the times of the Moors and even Romans, so you know that if you buy them you will be in for a treat, as they won't be sold anywhere else in Spain.
Buying dulces del convent is an adventure in itself. You have to go to one of the monasteries where these desserts are sold, and check the price list on the wall. Decide which cakes you want to buy, then ring the bell on the wall. A nun will come and ask what you wish to buy, and then you will put the money on a lazy susan, which will return with the cakes. You won't get any contact with the nuns and you won't see them.
Vino de Naranja
It wasn't until my last trip to Sevilla when I tasted Vino de Naranja for the first time. This is because this type of liquor is specific to nearby Huelva and you don't find it anywhere else in Spain. The Vino de Naranja is an aromatised fortified wine, flavoured with macerated Sevilla orange peels that have been dried in the sun.
This is a sweet wine with a very dark colour, with an intense bitter but aromatic flavour. Just in case you didn't know, the famous Sevilla oranges are actually bitter and are not used to be consumed on their own, but to be cooked in marmalade or meat dishes.
Vino de Naranja is an aperitif that should be consumed before dinner, or alongside tapas. The wine should be served cold or on ice.
For more articles about Sevilla check out the following:
Liked it? Pin it!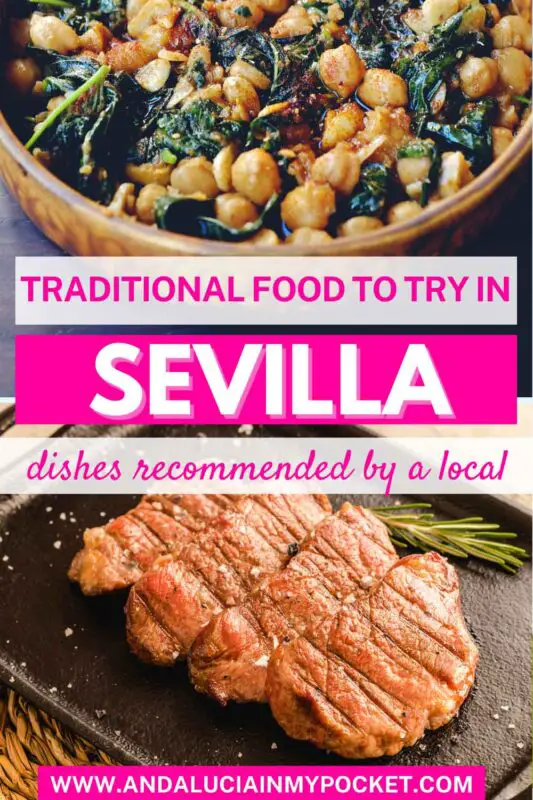 Disclaimer: Some of the links on this website are "affiliate links." This means that if you click on the link and do a purchase, I will receive an affiliate commission at no extra cost to you. This helps me keep my website running and continue to share my travelling knowledge with you. I thank you for booking your flights or hotels using the links on my website. Regardless, I only recommend products or services I use personally and believe will add value to my readers.