"Visit Cueva de Nerja" is probably on top of the list in many touristic guides for this beautiful town on the shores of the Alboran Sea, which borders Costa del Sol from Costa Tropical. The caves are fantastic, and although I have seen many others before, I found myself marvelling at the stalactite and stalagmite formations inside.
You can spend at least half a day visiting the caves and the surrounding areas. Many people don't know what there is to do around La Cueva de Nerja, so I've put this guide together, based on my personal experiences of exploring the area.
How to Reach Cueva de Nerja
La Cueva de Nerja is easily reached from the town of Nerja, by car or by bus (check the timetable here) in less than 10 minutes. Located 4 kilometres outside of town, you can choose to walk to the caves if you feel like it, or take a taxi from the town centre of Nerja, which will cost around 10 euros each way.
Cueva de Nerja
Visiting La Cueva de Nerja is one of the top things to do in Nerja. And no wonder, with 5 kilometres of galleries and the largest stalactite in the world inside measuring 32 meters high, with a base of 13 X 7 meters. The caves were discovered in 1959 by a group of local teens who were on a walk searching for bats.
Inside the caves there are three galleries, only one being opened to the general public. The Nerja caves have many signs of prehistoric human habitation, going back to 30,000 years ago. There are over 500 prehistoric paintings inside the cave, the most famous one being used as the logo for the cave and the Nerja museum. Tourists however, are not allowed to view them, as they are very fragile and can be easily damaged.
Visiting Cueva de Nerja
I arrived at Cueva de Nerja at around 9:15, not long after it opened. I left my car in the official parking area, which charges 1 euro/entry, and went straight to the ticket office. Even so, I had to wait 45 minutes for time stamped on the ticket. I didn't mind, as there was a café across the road with a beautiful view, which is where I went for a coffee. A ticket to Cueva de Nerja costs 14 euros for adults and 6 euros for children. Kids under 6 years old can visit free of charge. There is also a combined ticket which includes the cave, the touristic train and the Nerja Museum, which costs 15 euros for adults and 10 for children. If you buy your ticket online, you save 2 euros. There are two types of visits, one with an audio guide and one with a proper guide. I went on a guided tour with a professional guide. This one costs 2 euros more, but it's worth it.
Between Monday and Friday at 09.30, the caves can be visited for free, but without a guide. There are 40 daily tickets which can be bought online for this promotion.
There is a limited number of people who are allowed inside the caves at a time, so it's important not to miss your slot. Once the group was formed, we were guided inside a small room and given audio guides. Then we sat down and watched a movie about the cave, how it was discovered and why is it important. I liked that the video highlighted all the spectacular details inside the cave, about which I put a mental note to search for later.
We then head down some stairs leading to the cave. Once inside the cave, wow, it was majestic from the very first glimpse. Rather than explaining how beautiful the gallery was, I will show you the photos I took. I specifically pointed my camera at people so that you can see how big the stalactites and the stalagmites actually are.
The visit inside the Cueva de Nerja takes about 45 minutes and it's fully guided. There is time to take photos, but keep in mind that using the flash is forbidden.
Besides the caves, there are other things that you can do around Cueva de Nerja.
Hiking Sendero Cueva de Nerja – Almijara
The path starts behind the ticket office and takes you up the hill, following the path of the cave. From place to place there are boards which tell you what lies beneath you, inside the cave. It is an easy hike, but if it's hot outside, make sure you wear sunscreen, a hat, and have plenty of water with you. It takes about 30 to 40 minutes to reach the top, from where you can enjoy a beautiful panorama of the sea. On a clear day you can even spot the mountains from Morocco.
The Botanical Gardens
From the Car park you can reach the Detunda Botanica Garden, which is free to visit. There are around 200 different species of plants local to the area, mostly small shrubs, herbs, cacti, bulbs and orchids. There is not a lot to see as the plants are still quite small – the botanical garden just opened a couple of years ago.
Maro
Maro is a pretty small and quiet village that lies on the opposite side of the motorway from Cueva de Nerja. I reached it by walking through the botanical garden and then crossing a bridge over the highway.
I visited Maro around lunchtime, and the village was mostly asleep. I had a couple of tapas and a drink at the restaurant in the main square, where all the locals seemed to have gathered that day. It was nice to see the local life of the village. There is not much to do in Maro other than walk along its narrow streets, admire the beautiful views over the sea, and take photos.
Maro Secret Beach
I imagined there was a beach nearby, so I followed a road down towards the sea. I did get lost a couple of time, following directions written on electricity poles: "beach" and an arrow. Luckily, I met a group of young people who pointed me in the right direction.
The secret beach in Maro is so beautiful! Little did I know that it is home to a few nomads who seem to be living there, right on the beach. But they didn't mind me visiting.
The beach is small and secluded, rocky, with waves crashing into large boulders on both sides of it. Even if there are a few other people around, it is still very quiet and the only sounds I could hear were produced by the sea.
Tips for visiting la Cueva de Nerja
If you are driving, aim to arrive at Cueva de Nerja as close as possible to 9am. The parking lot is not very big and any later, you will struggle to find a parking spot. I visited Cueva de Nerja in April and when I left, there was a big queue of cars waiting in front of the barriers for spaces to be freed by people leaving. There are quite a few things to do around the caves, so securing a parking spot is essential for not losing time.
The temperature inside the caves is constant year-round. You do not need a jacket to visit.
Driving or not, still come early. Once the tourist buses arrive the entire area gets way too crowded for my liking.
Do not wear flip flops, as you won't be allowed inside the cave. Wear a proper pair or trainers – it's wet and slippery inside, even on the wooden walkway.
From time to time there are concerts organised inside the cave. You can check what's on here and schedule your visit to the cave accordingly. It must be amazing to see a performance inside.
Liked it? Pin it!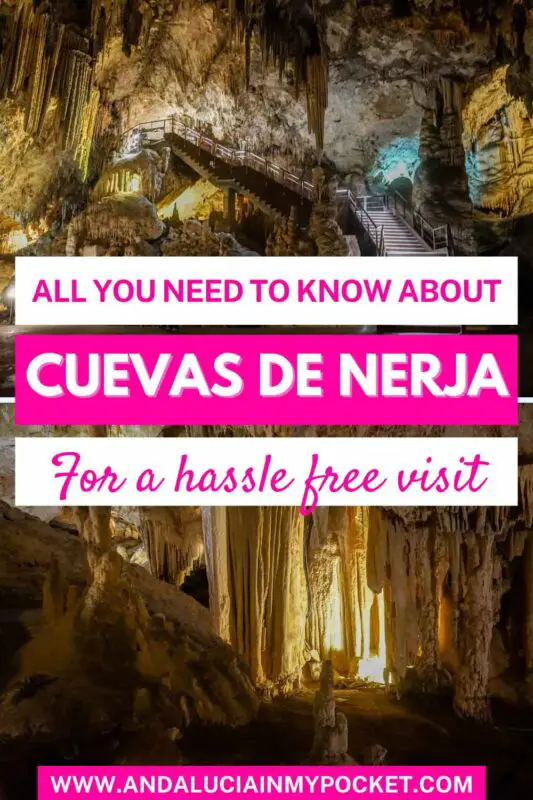 How about you? Have you been to Nerja before? Have you visited the Cueva de Nerja? Would you like it? I would love to hear your opinions in the comments below.
Disclaimer:  Some of the links one this website are "affiliate links." This means that if you click on the link and do a purchase, I will receive an affiliate commission at no extra cost for you. This helps me keep my website running and continue to share my traveling knowledge with you. I thank you for booking your flights or hotels using the links on my website. Regardless, I only recommend products or services I use personally and believe will add value to my readers.