Nerja is a fantastic town to go for a relaxed holiday, away from the extremely popular Costa del Sol. During summer, when Costa del Sol becomes extremely popular, I prefer to drive to Nerja and the Costa Tropical in order to have a more authentic beach experience. I have visited Nerja quite a few times, exploring the cave and enjoying strolling along the narrow streets of the town.
There are many great places to eat in Nerja. You will find amazing seafood, grilled fish and delicious wood-cooked paella, at one of the most famous chiringuitos in the area. There are plenty of restaurants in Nerja where you can have great food and enjoy some chilled time on the outdoor terraces.
In this article, I want to tell you where to eat in Nerja, based on my own experience. Sure, there are many great restaurants in the town, and these are just my favourites.
My Favourite Restaurants in Nerja: 
Restaurante Bakus
Restaurante Bakus is my favourite restaurant in Nerja. I stumbled upon it by accident, after a lovely stroll along the narrow streets of the town. I was thirsty and was feeling hot as the sun was quite strong, so I stopped here for a cold beer.  The waiter also brought a gourmet tapa, beautifully constructed on a spoon. As soon as I tasted it, I ordered another beer so I could taste another tapa, then I booked a table for the following evening.
This is a very popular restaurant, so I suggest you book ahead of time if you want a table with a view. The restaurant is located on a high point, so it has beautiful views over the beach and the sea.
The menu at Bakus changes seasonally, so there is always a reason to come here for dinner. I enjoyed a super fresh beef tartar, which tasted so good! I also tasted their trio of fish in a lime volute, which was incredible. The delicate flavour of the fish was complemented gently by the acidity of the lime, creating a perfect balance. The dish was also very easy on the eye, decorated with edible flowers.
Goa Town
If you live in the South of Spain, as I do, you will know how hard it is to find a good Indian restaurant. Sometimes I crave the fragrant spices of India, so, when I stumbled upon Goa Town, I knew I had to book a table here. 
The restaurant didn't disappoint, and I had one of the best Indian meals I had tasted in a long time. Goa Town specialises in South Indian cuisine, which I sometimes prefer to the Northern one because of the use of coconut.
I ordered the signature dish of the chef of Goa Town, a coconut-based curry layered with both sweet and spicy flavours. Every mouthful tasted delicious and made me want to come back here again. To accompany the curry, I went for the keema naan, a lamb filled Indian bread. There was plenty of filling inside the soft, steaming hot bread.
Goa Town has great reviews on Tripadvisor as well, which was the reason why I initially booked a table here. They are all well-deserved, as the food was so good!
Chiringuito de Ayo
Burriana is one of the most beautiful beaches near Malaga, with golden sands and beautiful colours. It is located just outside the centre of Nerja and it is sought by tourists from all over the world because of its golden sands, crystal clear water and great facilities.
At Burriana Beach you will find Chiringuito de Ayo, which is famous in the area for its woodfire cooked seafood paella. Whilst paella is not a traditional dish in the South of Spain, as it comes from Valencia, the one you will have at Chiringuito de Ayo is a real treat for your taste buds. 
You can't miss this modest beach establishment as they have giant paella pans in front of the restaurant, and the aroma spread in the air is the only invitation you will need for you to sit down and order a portion of this most famous Spanish rice dish.
They also serve the famous espetos, which is so popular on the Costa del Sol, as well as boquerones al limon, typical Andalucian fish dishes and baked fideuà noodles. The portions are always large and delicious. This is not the cheapest beach bar in Nerja, but the food is so worth it. 
El Sevillano
I snacked at El Sevillano a few times, as it was just across the street from my hotel. This small tapas bar is a local restaurant. Their staff don't speak much English but they serve great homemade food. They also have great deals, such as a bucket of beer for only a fiver.
I enjoyed their homemade comfort food, which was always delicious. One thing about the South of Spain is that you will find the best, hearty food, in the most unexpected places. This restaurant has plastic chairs and tables on its outdoor terrace but serves simple, tasty food. You know it's a good place where you will see locals eating and drinking there.
Being a neighbourhood tapas bar, the prices are very affordable at El Sevillano.
Staying the Night?
Whilst a lot of people choose to come to Nerja as a day trip from Malaga, I highly recommend spending at least one night here. I loved my stay at MB Boutique, a modern adults-only hotel with a lovely spa area on the rooftop.
You can check the reviews of this hotel on Tripadvisor or the latest rates on Booking.com
For a more family orientated place, check out Hotel Nerja Club & Spa. I stayed here whilst road tripping around Costa Tropical, and really enjoyed the spa package which was included in the room rate. The hotel is up the hill, so you have a lovely view of the sea and the town.  The hotel also has a decent restaurant, with a buffet.
You can check the reviews of this hotel on Tripadvisor or the latest rates on Booking.com
Liked it? Pin it!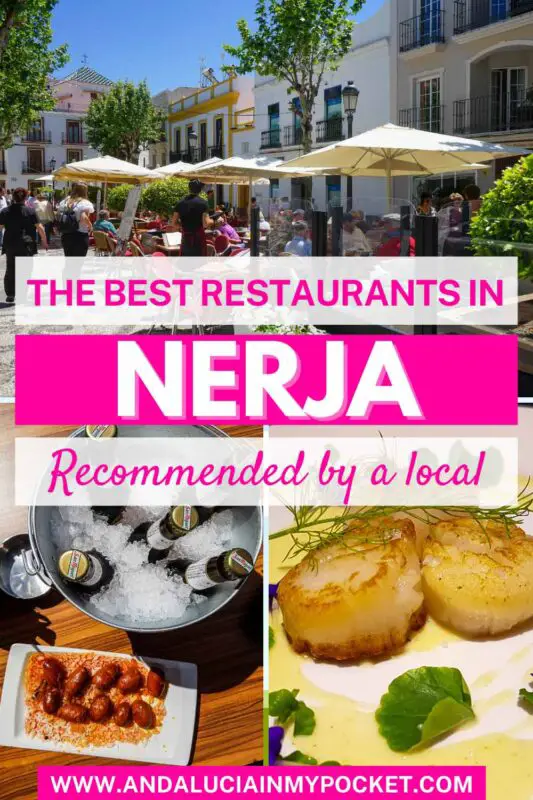 Disclaimer: Some of the links on this website are "affiliate links." This means that if you click on the link and do a purchase, I will receive an affiliate commission at no extra cost to you. This helps me keep my website running and continue to share my travelling knowledge with you. I thank you for booking your flights or hotels using the links on my website. Regardless, I only recommend products or services I use personally and believe will add value to my readers.