Cordoba is one of the most beautiful cities in Andalucia, often overlooked in favour of its neighbours, Granada and Sevilla. Whilst I have talked about what to see in the city previously, in this article I want to focus in particular on what to eat in Cordoba.
In this Cordoba food guide I will tell you which are the most traditional dishes in Cordoba, the comida casera – homemade humble food, I will recommend you some of my favourite restaurants in the city, and I will also tell you how to order in a tapas bar.  
Typical Food in Cordoba
Typically, cuisine in Cordoba is light and fresh and adapted to the scorching temperatures the city experiences in summer. One of the main ingredients in the traditional food of Cordoba is the olive oil. Cordoba is surrounded by olive groves, and the city is known for producing a high quality olive oil in the world. The oil is used in many local dishes, as well as served with bread and vinegar, for dipping.
One of the most famous dishes from Cordoba is salmorejo, a cold soup made with tomatoes, garlic, bread, olive oil, and vinegar. It's typically topped with chopped hard-boiled eggs and jamon. Another local dish is flamenquín, a roll made of pork loin wrapped in jamon serrano and filled with cheese, breaded before frying.
Cordoba is known for its comida casera. This refers to the rustic dishes which pack a lot of flavour but are not necessarily the best looking on the plate. I am all for comida casera because it is always made with love and tastes incredible. You will find this type of food all over the city, at the small tapas bars.
How to Order Food in Cordoba
Eating out in Cordoba is a delight, no matter if you go to a small local tapas bar, or to a Michelin star restaurant. I have never had a bad foodie experience in Cordoba. There are two types of restaurants in Cordoba: the local eateries, which serve indulging tapas and traditional Cordobes dishes, and high end restaurants run by chefs who approach a creative refined cuisine using locally sourced ingredients.
Cordoba has two Michelin star restaurants: Noor, which has 2 stars, and Choco, which has 1 star. The Michelin star chef from Noor opened his own restaurant, El Bar de Paco Morales, where he offers the dishes that won him the award, and at a very affordable price, in an open and cosy location.
Although I do enjoy an elevated gastronomic experience, in Spain I simply love the tapas bars. There is something about enjoying a warm evening on an outdoor terrace, with delightful homemade dishes that don't look like much but taste like heaven.
When it comes to dining at a tapas bar, you'll notice that most of the items on the menu offer three size options: tapas, media raciones, and raciones. A tapa is the perfect choice if you are on your own or if you want to try different dishes, as it's a small plate of food designed for one person. If you're planning to share with your dining companion, you might want to consider a media racion, which is half a portion, or a racion, which is a full portion. Choosing between these options really depends on the size of your party and how much you'd like to indulge in each dish. I usually go for 3 or 4 tapas per person.
A great way to experience the tapas culture of the city and taste a few of the traditional dishes in Cordoba is by going on a food tour. Here are a few highly reviewed options:
What to Eat in Cordoba
It is time to get to the core of this article: what to eat in Cordoba. I have chosen for you my favourite traditional dishes from Cordoba that I think are a must try when you visit the city.
Salmorejo Cordobes
Cordoba is the birthplace of the delicious salmorejo. This delicious cold soup is a perfect choice for a summer lunch, when the temperatures in the city are unbearable. I was in Cordoba just the other week, at the beginning of May, the afternoon greeted me with 36 degrees Celsius and clear skies. During this time all you want is a dip in the pool and a refreshing lunch. And that's exactly what salmorejo is. Don't mistake salmorejo for gazpacho, which is a cold tomato soup as well, as it is different. Salmorejo Cordobes has a very creamy texture and packs a punch of flavour. It's garlicky, light but filling, and cools your body down.
Salmorejo is made from a blend of sun kissed ripe tomatoes, day old stale bread, garlic, extra virgin olive oil, and Jerez vinegar. It is topped with small pieces of chopped eggs and jamon serrano. The olive oil blended with the tomatoes creates the creamy texture of this cold soup, though there is no cream in it!
Flamenquin
Flamenquin is another speciality of Cordoba that you must try. It is a pork loin roll filled with jamon and cheese, panned using egg and breadcrumbs, and deep fried in olive oil until golden. As you cut through the flamenquin, the decadent melted cheese oozes out. Usually the flamenquin is very long and it is served alongside fries and some green salad. Sometimes it is served already cut, but most of the time it will come whole on the plate.
The name flamenquin actually translates as "the little Flamenco dancer", which is quite bizarre and doesn't tell much about the dish itself. But trust me, it's delicious.  
Queso Frito
Queso frito is a must eat in Cordoba. It's such an indulgent treat and makes a great tapas. It consists of fresh cheese that is deep fried in olive oil until it has a golden, crunchy crust. It is served alongside a pot of pure honey, and another one of tomato relish.
The cheese is very soft in the interior, and crunchy on the outside. It pairs so well with both the honey and the tomato relish, which is a little bit spicy.
A great place to try the queso frito is the La Copita de Vino. It might not look like much from the outside, but the food here is divine.
Berenjenas Califales
Berenjenas Califales is one of my favourite tapas, and there is plenty of it in Cordoba because it is the city where it comes from. I don't really like aubergines, and I only eat them in two specific dishes – one of them being the berenjenas con miel, the other name you will find this tapa under.
Berenjenas are aubergines, which are thinly sliced, dried, and then deep fried in olive oil until crispy. They are served with sweet molasses which works so well with the slightly bitter taste of the aubergines. Whilst "miel" means honey, there is no honey in this dish, just molasses.
Because we are in Cordoba, there is also the version of berenjenas con salmorejo, when thinly crispy slices of aubergines are topped with salmorejo before serving.
Caracoles
If you see the small tapas bars around Cordoba advertising in their windows "hay caracoles", you are in luck. It'll still be snail season! This starts late February and continues throughout May. During this time you will also find over 35 small stands round the city, selling the caracoles directly from the hot pot.
There are two types of snails: the classic caracoles, which are small and are served "en su salsa" inside a broth flavoured with cumin. Caracoles chicos are served in a glass filled with a minty hot broth, which is meant to be drunk all the way to the bottom. You are supposed to eat the snails with your hands. The cabrillas and the gordos are larger snails, served inside a hot and spicy tomato broth.
A portion of caracoles costs between 1-3 euros and they make a great tapa to have alongside a refreshing beer. It's very affordable and it is one of those dishes that you must eat in Cordoba.
Mazamorra de Almendras
Mazamorra de Almendras is very similar to the ajo blanco in Malaga. It is a cold soup made from almonds and seasoned with garlic. The other ingredients going into the blender are day old stale bread, olive oil, Jerez vinegar, and salt. Similar to salmorejo, this is a very creamy cold soup.
The soup is usually served topped with brown raisins and topped with tiny pieces of chopped Granny Smith apple.
Lechuga al Ajillo
Lechuga al Ajillo is a simple but very flavoursome appetiser in Cordoba. It consists of a wedge of lettuce covered in a simple fried garlic sauce. The lettuce is firstly sprinkled with a little bit of Jerez vinegar. The garlic is chopped into small pieces and fried in extra virgin olive oil, until it releases its flavour. As soon as it's done, it is added on top of the lettuce, which is brought to the table straight away.
If you love garlic, then you will also love this dish.
Rabo de Toro
Rabo de Toro is one of the most famous dishes that is said to have originated in Cordoba during Roman times. You will find it on most restaurant menus. There are a few places that specialise in Rabo de Toro, where locals go specifically to enjoy this dish. One of these places is Bodega Campos.
Rabo de Toro is a perfect dish to enjoy in winter. It is comforting and the flavours will make you want to order it again and again. Rabo de Toro is a slow cooked oxtail, in a sweet wine or brandy sauce, resulting in the most tender melt in your mouth meat. It is served alongside lightly seasoned chunky fries, served as a modest accompaniment.  The fries add nothing other than a side, it is the meat that is the shining star on the plate.   
Callos de Ternera a la Cordobesa
Callos translates as tripe. This traditional dish in Cordoba is not for everyone. But if you give it a chance and ignore the fact that the main ingredient is offal, you will be surprised at how delicious it is. I have passed by restaurants where I could only see this dish on the outdoor tables, with the diners taking mouthful after mouthful, in silence, enjoying its exquisite taste.
There isn't a set recipe for this dish, each chef making it their own version. The main ingredient in the dish is tripe, but this stew can also have morcilla, chorizo, and even Jamon Serrano. It can also contain other types of offal, such as pig trotters or snout.
The meat is slow cooked alongside onions, tomatoes, garlic, hot peppers, white wine, cumin, pimenton, cloves, saffron, and olive oil.  
Tortilla Cordobesa
Tortilla is one of the most popular tapas in Spain. The delicious gooey Spanish potato omelette, creamy on the inside, with or without onions, is famous all over the world. But in Cordoba, it is served in a different way. Firstly, the tortilla in Cordoba is much, much larger than in other parts of Spain. It's usually double the size and instead of a flat dish it looks more like a round ball.
When you order a slice of tortilla in the Cordobes style, expect it to be topped with a generous amount of salmorejo, alongside jamon and chopped boiled eggs. It's delicious, two of the best Spanish staples coming together in a delightful combination of flavours.
Cochifrito
Cochifrito is a delicious dish consisting of deboned lamb which is fried in lard to brown, and then cooked alongside onions, garlic, pimenton, lemon juice, and parsley. Whilst this dish has originated in the north of Spain, it is also very popular in Andalucia, especially in Cordoba.
The meat has a lovely crunch but it is extremely tender and succulent inside. It is served with potatoes which have been cooked in the same sauce.  
Pastel Cordobes
The pastel Cordobes is one of those desserts which has its origins in the Moorish Al-Andalus Empire. It consists of layers of puff pastry with a creamy filling made from threaded squash jam also known as angel's hair. Some bakeries also add small pieces of jamon in the filling, which is odd but tastes good.
The pastry is decorated with sugar, cinnamon and almonds. There is an entire festival dedicated to the Pastel Cordobes that takes place on the 17th of November. On this day the cake is offered free of charge to everyone who attends the festival.   
Montilla Moriles Wines
You may think that Pedro Ximenez is a sweet grape variety from Jerez de la Frontera, cultivated in the Jerez Wine Triangle. And you wouldn't be wrong. But Pedro Ximenez is also cultivated in the small region of Montilla Moriles, in the south of Cordoba. Because of the very different climate, the taste of the wines are different from the ones in Jerez.
This area is probably the oldest wine producing region in Andalucia, with vines being cultivated here since the 8th century BC.  The Montilla-Moriles wine region is renowned for its luscious dessert wines that are classified using the same system as Sherry from Jerez. Unlike Sherry, however, most wines produced in Montilla-Moriles are not fortified, with the exception of Oloroso. This is due to the extreme heat and dryness of the climate, which allows the Pedro Ximenez grapes to achieve a high level of ripeness.
During fermentation, the wine reaches an alcohol content of 14-16%, while retaining a significant amount of residual sugar. These wines are then aged using the solera system, a traditional method of fractional blending that adds complexity and depth to the final product.
The bodegas, or wineries, in the Montilla Moriles wine region are worth a visit for any wine lover. Many of them are family-owned and operated, and offer tours and tastings that allow visitors to experience the region's unique wines firsthand.
You can book a wine tasting tour by clicking here.
For more articles about beautiful Cordoba, check out my recommendations below:
Liked it? Pin it!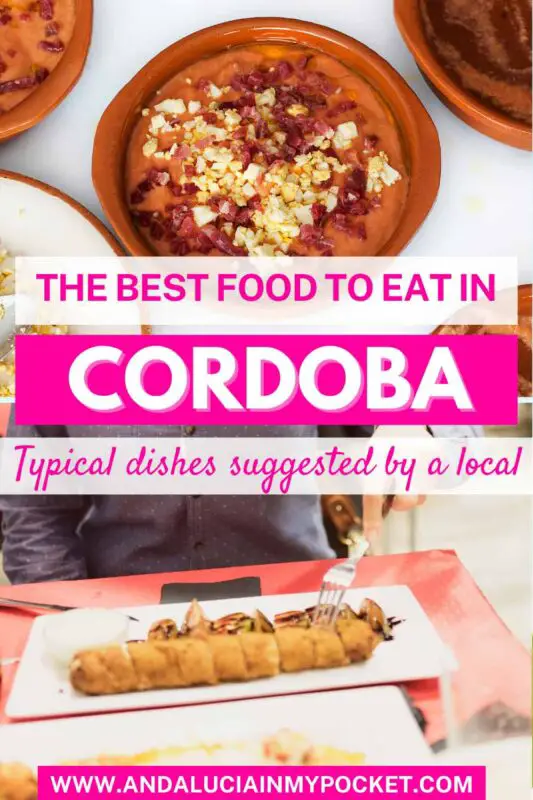 Disclaimer: Some of the links on this website are "affiliate links." This means that if you click on the link and do a purchase, I will receive an affiliate commission at no extra cost to you. This helps me keep my website running and continue to share my travelling knowledge with you. I thank you for booking your flights or hotels using the links on my website. Regardless, I only recommend products or services I use personally and believe will add value to my readers.