If you are wondering what to eat in Granada, you have arrived in the right place. In this article I will tell you all about the traditional dishes and tapas in Granada that go well beyond the classic patatas bravas or pimientos del padron. Each city in Andalucia and in Spain in general has its own typical cuisine, with fantastic gourmet products made in the local area. And Granada is no exception. The hills around Granada are home to thousands of olive trees which produce some of the best olive oil in Spain. The Sierra Nevada mountains are home to an incredible ecosystem and meadows of wildflower, producing the most flavoursome honey. The coast of Granada has an abundance of seafood that make the freshest, simple, but tasty fish dishes.
The food in Granada is not just part of the city's culture, but also a wonderful experience of the province itself.
The Tapas Culture in Granada
Granada is one of the very few places in Spain where you will receive a free tapa with every drink you order. The more drinks you order at the same place, the better the tapas become. If the first one might be a small slice of bread topped with cheese or jamon, the following can be a bowl of chorizo cooked in red wine, a plate of boqerones en vinagre, and even a selection of fried fish and seafood.
Going out for tapas is a social event, a way for families to get together, friends to celebrate and strangers to get to know each other better. Every evening the tapas bars and restaurants in Granada are buzzing with locals, having a great time over a drink, sharing small plates between them.
About the Traditional Food in Granada
Granada is a city where a variety of cultures have blended together, over the course of history, influencing the local gastronomical scene. The typical dishes you find in Granada are a reflection of the culture itself, combining different ingredients brought into the city by different nations. The Moors are responsible for so many of the main ingredients used in the local cuisine: oranges, lemons, almonds, sugar cane, figs, dates, saffron, cumin, nutmeg, sesame, mint and cinnamon. Many of these products are at the base of Spanish cuisine today.
How to Order Food in Granada
Ordering food in Granada is always fun. The best way to enjoy the local dishes is by ordering a selection of dishes to share. This is what tapas are.
There are three different options on most menus at the tapas bars in Granada: tapas, media raciones, and raciones. A tapa is a small plate of food, typical just enough for one person. However, friends do share these between them as well. A media racion means half a portion, which means a larger dish which is perfect to share. If you don't want to share the dish or don't want to order more than one plate of food, consider ordering a racion, which is a full portion.
In Granada, lunch is actually the main meal of the day. During lunchtime you will find the restaurants all over the city offering the "Menu del Dia", an affordable two or three course meal followed by a coffee or a soft drink. The "Menu del Dia" has a fixed price (usually between 10-15 euros) and offers a couple of choices for each course.
Tapas are usually left for the evening, when friends, families, or couples, meet up. As I mentioned before, going for tapas is a social event.
A great way to experience the tapas culture of the city and taste a few of the traditional dishes in Granada is by going on a food tour. Here are a few highly reviews options:
What to Eat in Granada:
Remojon Granaino
Remojon Granaino is one of the most typical dishes to eat in Granada. It is a cold salad mixing the flavours of the sea with the fresh aroma of the fruits. It consists of cooked cod alongside onions, olives, slices of orange and pomegranate seeds. This is a fantastic salad, combining savour and sweet flavours into a dish that celebrates Granada's heritage.  
Jamón de Trevélez
Jamón de Trevélez is a special type of Spanish ham under the Protected Designation of Origin and Protected Geographical Indication certifications that recognises the quality of the jamon. It is produced and cured in Trevélez, a small whitewashed village in the Alpujarras Mountains.
Jamón de Trevélez is characterised by its intense taste and the marbling of fat that runs through the meat. It has a firm texture and a deep red colour, with a slightly salty and nutty flavour. The ham is typically served sliced thin, either on its own or as part of a charcuterie board.
Queso Montefrieño
Queso Montefrieño is a delicious cheese that comes from the town of Montefrío in the province of Granada. It is made in small batches and over the years has won several international awards. Most of the cheese is made from goat milk, except for the soft cheese which is made from a combination of goat and cow milk.
Berenjenas con Miel
Berenjenas con miel is one of my favourite tapas in Andalucia. I always order it when I see it on a menu because it is one of the very few dishes using aubergines that I enjoy. This is one of those dishes that were brought into Andalucia by the Moors. It consists of thin slices of aubergines fried until crispy, when drizzled with a sweet, tempting sugarcane molasses.
Pipirrana
Pipirrana is a great refreshing salad, which helps cooling you down when the temperatures in Granada go over 40 degrees Celsius, in July and August. It is a simple salad consisting of tomatoes, peppers, cucumbers, and onions, dressed with olive oil and Jerez vinegar.
Pipirrana is practically the unblended form of gazpacho.
Asparagus Cazuela
Granada is the largest producer of green asparagus in the entire Spain. Farmers take a lot of pride in growing the asparagus, which is carefully cultivated and picked up always at dawn, to expose it as little as possible to light.
The asparagus cazuela is a great dish that highlights the local asparagus. It is cooked together with jamon and almonds, resulting in a flavour layered dish. It is said that the asparagus cazuela was Federico Garcia Lorca's favourite dish.
Habas con Jamon
Habas con Jamon is considered a classic dish in Granada and is often served as a tapa or racion in local restaurants. It is typically made with dried or fresh broad beans, which are cooked until tender and then mixed with sautéed onions, garlic, and diced jamon. The dish is then seasoned with salt, pepper, and paprika for an extra burst of flavour.
The history of Habas con Jamon can be traced back to the Moorish era of Andalusia, when the region was under Muslim rule. Broad beans were a staple food in the diet of the Moors, who brought them to the Iberian Peninsula. The dish evolved over time, and with the addition of the jamon, it became a popular dish in the Granada region.
Olla de San Anton
This hearty stew is typically made with a variety of meats such as beef, pork, and chicken, along with vegetables like chickpeas, potatoes, and carrots. It is flavoured with spices such as paprika, cumin, and saffron, giving it a rich and aromatic taste.
The history of the Olla de San Anton dates back to the 16th century, when it was created as a hearty meal for the workers and villagers in the rural areas of Granada. It was typically prepared in large pots, which were cooked over an open fire for several hours, allowing the flavours to develop and the meat to become tender. Over time, the dish became a popular staple among the people of Granada, and it was traditionally eaten during the winter months, when the weather was cold and a hot and nourishing meal was needed.
The cultural importance of the Olla de San Anton is evident in the annual festival that takes place in its honour. The festival, which is held in January, is a celebration of the patron saint of animals, San Anton, and includes a procession of animals through the streets of Granada, as well as the preparation and serving of the Olla de San Anton.
Plato Alpujarreño
Plato Alpujarreño is a delicious combination of potatoes, cured ham, chorizo, black pudding, and fried eggs. It is typically served as a main course or as a shared plate among friends and family. It is a hearty dish gathering on a single plate the best produce from the Sierra Nevada mountains.
The history of Plato Alpujarreño is closely tied to the cultural heritage of the Alpujarras region, which has a rich history of Moorish and Christian influences. The dish has evolved over time, with each ingredient reflecting the culinary traditions of the region.
The use of cured ham, chorizo, and black pudding in the dish can be traced back to the region's strong tradition of pork farming. The potatoes used in the dish are typically grown in the Alpujarras and are known for their rich, earthy flavour. The fried eggs on top of the dish are a nod to the Andalusian tradition of using eggs in many dishes.
Plato Alpujarreño has become a cultural icon in Granada, and is considered one of the province's most popular and traditional dishes.
Tortilla de Sacromonte
The history of Tortilla de Sacromonte dates back to the 16th century when the city of Granada was under Muslim rule. At that time, the Sacromonte neighbourhood was home to the city's gypsy population. They were known for their love of rich and hearty food. The dish was originally made with offal, which was a cheap and plentiful source of protein for the poor.
This unique dish is made with beef or lamb brains, testicles, bone marrow, as well as onions, garlic, peppers, and potatoes. The mixture is then bound together with eggs and cooked into a thick omelette, similar to a Spanish tortilla.
Migas Alpujarreñas
Traditionally, Migas Alpujarreñas was a dish that shepherds would make while out in the fields. They would take stale bread and combine it with garlic and olive oil to create a satisfying and filling meal. Over time, the dish evolved and became more elaborate, with the addition of paprika, chorizo, among others.
To make Migas Alpujarreñas, stale bread is broken into small pieces and sautéed in olive oil with garlic, onions, and green peppers until it is crispy. Then, paprika and chorizo are added to the pan, and everything is cooked until it is hot and fragrant. The dish is typically served with a fried egg on top, which adds richness and creaminess to the dish.
What makes Migas Alpujarreñas so delicious is its simplicity and use of high-quality, local ingredients. The bread used in the dish is often made with locally grown wheat, and the olive oil is typically from the region as well. The use of paprika and chorizo adds a smoky, spicy flavour to the dish, which pairs perfectly with the crispy bread and creamy egg.
Gurupina
Gurupina is a chorizo and pork stew made with chickpeas, potatoes, spinach, and other vegetables. It is typically seasoned with garlic, paprika, and cumin, which gives it a rich and spicy flavour. The dish is often finished with a splash of vinegar which adds a tangy acidity. It's a perfect winter warmer especially when you travel around the Sierra Nevada National Park.
The name Gurupina comes from the Arabic word "kuru", which means chickpeas. What makes Gurupina so delicious is the combination of simple, wholesome ingredients that come together to create a hearty and satisfying dish that you must try whilst visiting Granada.
Zalamandroña
Zalamandroña is a delicious fish stew that originated in the beautiful town of Guadix, near Granada. Like many traditional Granada dishes, this recipe dates back to southern Spain's Moorish times. It is a delicious dish with a fresh flavour due to the vegetables used to make it: tomatoes, peppers, onions, pumpkin and olives. What makes this dish unique is that the vegetables are dried in the sun before being cooked.
Choto al Ajillo
This delicious dish features tender, slow-cooked pieces of choto, or baby goat, simmered in a garlic and white wine sauce until it is meltingly tender and bursting with flavour.
Choto al ajillo is a perfect example of the rich, flavourful cuisine that is characteristic of the region of Granada. This dish is often enjoyed as a hearty, warming meal during the cooler months of the year.
Quisquillas de Motril
Quisquillas de Motril are a type of prawn that grows only in the Alboran Sea, around the Motril area. This type of prawn is small, has a much sweeter taste and is available year-round, which is not the case with other types of prawns.
The Quisquillas de Motril requires a very short cooking time, and this is why it is often served grilled, or cured.
Moraga de Sardines
Another great dish that you can taste in Granada is the Moraga de sardines. If you have visited Morocco, you will recognise that this dish is very similar to a sardines tagine, from the coastal areas of the country. The Moraga de sardines translates as sardines cooked in a clay pot, with lemon juice, white wine, garlic, olive oil, and parsley.
Moraga de sardines is typically served with a side of bread and a cold beer or white wine.
Patatas a lo Pobre With Morcilla de Granada 
This typical dish from Granada comes from the Aplujarras Mountains. Patatas a lo Pobre translates as poor man's potatoes, which is a humble dish often found around Spain. In this version of the dish, the potatoes are accompanied by the morcilla de Granada, which is a blood sausage from Granada, chorizo and Jamon Serrano. It is sometimes served with fried eggs as well.
What makes the morcilla de Granada different from the other blood sausages in Spain is the pig that it comes from. The morcilla de Granada comes from the same pigs as the Jamón de Trevélez.
Breua de Pollo
Breua de Pollo is a fantastic snack to try in Granada. It is very similar to the Moroccan pastilla, and consists of flaky pastry stuffed with a mix of chicken cooked alongside cinnamon, raisins, almonds, and saffron. It is an intriguing sweet dish that somehow becomes addictive.
Pan de Alfacar
Pan de Alfacar is a type of crusty bread made using a natural leavening process, which gives it a unique flavour. Because of the ovens where it is baked in, this bread also acquires a delicious, smoky taste.
The best way to taste the Pan de Alfacar is at breakfast, with extra virgin olive oil from Jaen drizzled over it.
Piononos
Piononos are one of the most famous desserts in Granada. This dessert was created in the 19th century by Ceferino Isla from the nearby town of Santa Fe, to honour Pope Pius IX.
Piononos are made using a unique recipe that includes a thin layer of pastry dough that is wrapped around a filling of sweet cream or custard. The pastry is then topped with a sprinkle of powdered sugar and a touch of cinnamon. The shape of the pionono is thought to resemble the hat of the Pope.
Abuella Ili Chocolate
Abuela Ili is a small artisan family run chocolatier that makes chocolate using natural ingredients from Pampaneira, one of the highest white villages in the Sierra Nevada. They import their cocoa from South America and mix the highest quality local ingredients to create new chocolate flavours that will take your taste buds through a journey of sensations.
The flavours of their chocolate are varied, from 100% dark chocolate to goats cheese, and from banana milk chocolate to pepper dark chocolate.
Arab Sweets
Arab sweets are characterised by their unique flavours and textures, which are created using a variety of ingredients, such as honey, nuts, and dried fruits. Many of these sweets are also infused with traditional spices, such as cardamom and cinnamon, which add an extra layer of complexity to the flavours.
One of the most popular Arab sweets in Granada is the baklava, which is made using layers of phyllo pastry, chopped nuts and honey or syrup. The layers are baked to create a crispy and flaky texture, and the honey or syrup adds a sweet and sticky finish. Another popular Arab sweet is the qatayef, which is a type of stuffed pancake filled with cheese, nuts or sweetened cream.
You will find most of the Arab sweet shops at the foothills of Albayzin, at the Moroccan shops.
This sweet treat is often served during the Carnival season, which is a time of celebration and feasting before the start of Lent, and is considered one of the most delicious and festive foods in Granada. The custard-like texture of the desert is rich and creamy, while the cinnamon adds a touch of warmth and spice. The dish is often served with a sweet syrup made from sugar and water, which adds an extra layer of sweetness to the dessert.
If you are ever in Granada during Carnival season, be sure to try Cuajada de Carnaval Granadina
Fruits From the Costa Tropical
Costa Tropical is renowned for the high quality of the fruits and vegetables grown here. Because of the proximity of the Sierra Nevada Mountains to the sea, the area has its own microclimate which sees very mild summers and winters, creating the perfect climate to grow any type of crops here. Some of the best fruits to try here are the chirimoya (custard apple) and the avocados, which are giant, creamy and have a sweeter taste.
If you find yourself on Granada's Costa Tropical, don't hesitate to order a salad at any restaurant. You will be surprised with a medley of vegetables and fruits brought together with a balsamic glaze. The salads differ all the time, depending on what local produce is in season.
Fore more articles about Granada check out the following:
Liked it? Pin it!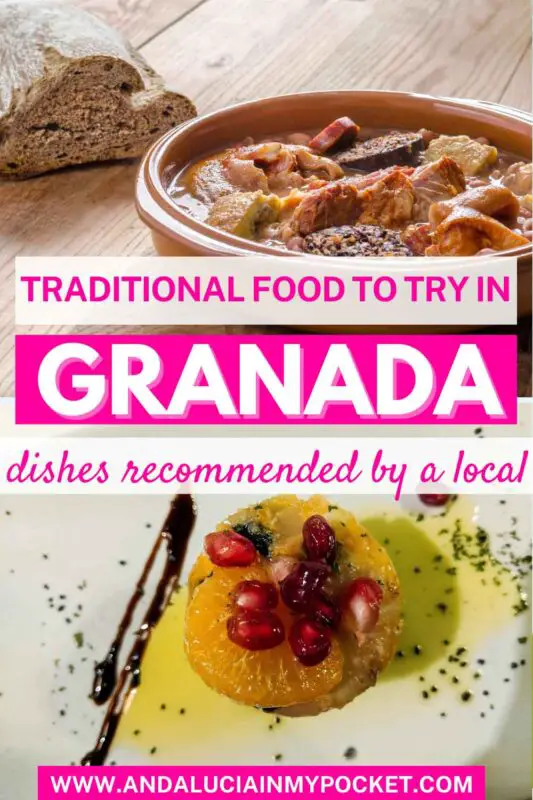 Disclaimer: Some of the links on this website are "affiliate links." This means that if you click on the link and do a purchase, I will receive an affiliate commission at no extra cost to you. This helps me keep my website running and continue to share my travelling knowledge with you. I thank you for booking your flights or hotels using the links on my website. Regardless, I only recommend products or services I use personally and believe will add value to my readers.