Boquerones en Vinagre is one of the most popular tapas in Malaga, and generally found throughout Andalucia. It's one of the most delicious tapas that you can order, with so much flavour. It's not difficult to make this traditional Spanish anchovies in vinegar recipe at home, but it does take a little bit of time because the boquerones must stay in the freezer for two days. Then, they need to marinate and infuse with flavour.
The recipe of Boquerones en Vinagre is over 3,000 years old. And no wonder, as it's such a delicious dish. Boquerones are so important to Malaga and its surrounding coasts, that sometimes the locals refer to themselves as the name of the anchovy. When you visit Malaga, you must go to Rincon de la Victoria and try the "boqueron Victoriano", that is where you will find the best boquerones in the entire Spain.
There are so many different ways of cooking the boquerones, either marinated in lemon and deep fried, as part of the fritura malaguena, grilled over an open fire in a chiringuito on the beach or marinated in vinegar – the recipe that I will be showing you today.  Regardless of which method you choose, the boquerones in Andalucia are always cooked from fresh. 
How to Prepare the Boquerones
When you buy boquerones in Spain, you can always ask the fishmonger to clean them for you. However, this might not be the case abroad, so knowing how to clean the anchovies is essential. Don't worry, it's not too complicated.
Firstly, it's important to know what type of boquerones to buy. In Andalucia it's easy, as boqueron refers to the meaty blue 9-12 cm long anchovy, that lives in the Alboran Sea. If you live abroad look for bigger anchovies. Do not buy sardines as they might look the same, but they taste very different. Good substitutes for boquerones are Herrings, Jack Mackerels or Smelts.  
Back to cleaning the anchovy. Firstly, remove the head with a sharp implement, then run your finger through the belly of the fish, to remove the guts. Then, pinch the spine from the middle of the fish and pull it out with a gentle but firm movement. Make sure that you pull the tail as well, because for this recipe we won't need it for presentation, like we would for boquerones al limon. It takes a bit of practice, but once you get the hang of it, you will finish cleaning the fish in no time.
Once the fish is cleaned and de-boned, wash it thoroughly under cold water to remove any remains of the guts. 
The Importance of Freezing the Boquerones
It is very important to freeze the boquerones before marinating them in vinegar. Since this is a raw fish recipe, you need to eliminate any risk of Anisakiasis bacteria that lives inside fish. You need to freeze the fish for at least 24 hours, but I would recommend 48 to be on the safe side. 
To freeze boquerones, simply put them in a plastic container and pop them in the freezer for 2 days, then take them out  and defrost them in the fridge. Once they have defrosted,  let them sit in iced water for about half an hour.  Wash them until the water remains clean. Do not put boquerones in a metal container, only use Tupperware or glass.
How to Marinate Boquerones in Vinegar
Marinating the boquerones is easy. You will need white wine vinegar, Jerez vinegar, sea salt and water. For 300 grams of boquerones use a mix of 300ml of white wine vinegar, 50ml of Jerez vinegar, 100 ml of very cold water and 40 grams of sea salt. 
Cover the boquerones with the liquid mixture and put back in the fridge for another 12 hours or overnight. You will notice that the colour of the fish will change to white.
Now that the boquerones have marinated in vinegar, it's time to dress them. Chop 6 cloves of garlic and a bunch of parsley and set aside. Take a glass container and start arranging the anchovies, marinate the first layer in vinegar until they are completely covered.  Add some of the chopped garlic and parsley, and continue with another layer of anchovies on the top, and so on until you have used all the boqurones. Pour good quality extra virgin olive oil over the top until it completely covers the fish. Put in the fridge for another 12 hours before serving, so that the oil infuses with the garlic and parsley.
Boquerones en vinagre will last for about a week if kept in the fridge. Just make sure they are always covered in olive oil.
How to Serve Boquerones en Vinagre
To serve boquerones en vinagre, take a few fillets from the glass container, put them on a plate, drizzle a bit of the oil over the top, then garnish with chopped garlic and parsley. Serve with crusty bread.
Replacement Ingredients for Boquerones en Vinagre:
As mentioned above, if you can't find boquerones at your local fishmonger, buy herring or smelt.
If you can't find Jerez Vinegar, you can replace it with rice vinegar which you can find in any supermarket or Asian store.
How to Make Traditional Spanish Anchovies in Vinegar – Boquerones en Vinagre Recipe
Course: Andalucian Cuisine
Difficulty: Easy
Ingredients
300 grams of Spanish anchovies (or herring/smelt)

300 ml white wine vinegar

50 ml Jerez vinegar

40 grams of salt

100 ml ice cold water

extra virgin olive oil
Directions
Wash and clean the anchovies, put them in a plastic container and freeze them for at least 24 hours.
Defrost the fish gently, by moving it from the freeze to the fridge. Once it is completely defrosted, wash it in a bowl until the water runs clean.
Mix the white wine vinegar, Jerez Vinegar, salt and ice cold water, and pour it over the boquerones. Leave in the fridge for around 12 hours, or overnight.
Drain the fish, and move the fillets in a glass tray. Start layering the fish with slices of garlic and chopped parsley in between. Once you finish all the fillets, cover the entire contents of the dish with extra virgin olive oil.
Leave it in the fridge for another 12 hours before serving, for the oil to infuse with the garlic and parsley.
Serve with enjoy!
Liked it? Pin it!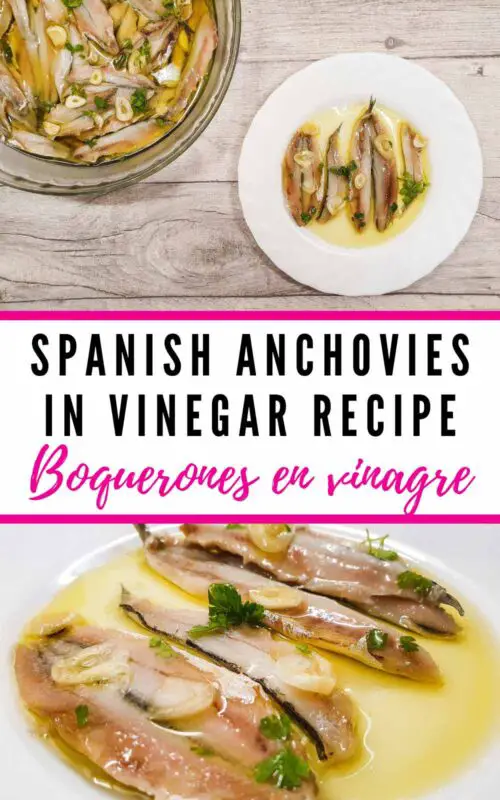 Disclaimer: Some of the links on this website are "affiliate links." This means that if you click on the link and do a purchase, I will receive an affiliate commission at no extra cost to you. This helps me keep my website running and continue to share my travelling knowledge with you. I thank you for booking your flights or hotels using the links on my website. Regardless, I only recommend products or services I use personally and believe will add value to my readers.