Are you curious about what people eat for breakfast in Spain? Or which are the most popular ingredients of a Spanish breakfast? There are several typical Spanish breakfast dishes that you will find in pretty much every restaurant in Spain. 
About the Spanish Breakfast
In Spain, breakfast is one of the most important meals of the day. Whilst the typical Spanish breakfast is quite small, it is sacred, and you will often find cafes full of locals at 7am, enjoying a quick coffee and a bocadillo on the go. There are several things that people eat for breakfast in Spain, one favourite being the humble Spanish tostada – a delicious, toasted slice of bread topped with olive oil, grated tomatoes, and sea salt. Coffee, usually café con leche, never fails to be on the Spanish breakfast table.
Different regions in Spain have different traditional breakfast dishes, but the ingredients don't differ that much from one place to another: toasted local bread, tomatoes, olive oil, jamon serrano, cheese, churros and hot chocolate.  Yes, all of Spain loves a cheeky churros con chocolate once in a while for breakfast. 
Tostada con tomate
Tostada is the top breakfast dish in Andalucia. The smaller, local restaurants don't even have a menu, you just order a tostada with your favourite toppings and they will make it for you. It is a very low-cost breakfast dish, usually costing around 2-3 euros, depending on if you choose a Manchego cheese or jamon topping.
Tostada is a toasted small baguette served with grated tomatoes, salt and extra virgin olive oil. To make, drizzle the bread with olive oil, add the grated tomatoes and sprinkle the salt over the top. The tomatoes used to make tostada are usually Roma, which have a firm meaty flesh and an intense flavour. 
This breakfast is quite popular in Catalonia as well, where you will find it under the name of pa amb tomàquet. 
Tostada can be served not just with savoury ingredients, but with butter and jam or chocolate spread too. 
Pitufo
Pitufo is a typical bread roll that you will only find in and around Malaga. The name "pitufo" translates as "smurf", referring to the fact that the bread roll is quite small.
On a breakfast menu you will see the name pitufo followed by different fillings, including cheese and ham, fried eggs or sausages. This means that your sandwich is made using a pitufo, and filled with whatever you choose. Usually, a pitufo will be quite cheap, 2 or 3 euros.
Mollete
Mollete is a bread specific to Andalucia, similar to an English bap in texture, very soft and flat. It is often served as the bread for the tostada, especially around Antequera – where it originates from. However, mollete is delicious with any filling. 
Bocadillos
Bocadillos are Spanish sandwiches, which are baguettes cut in half lengthwise. They can be filled with anything from serrano jam to Manchego cheese, from sausage to fried eggs, from vegetables to fish. Usually, the bocadillo doesn't have a sauce, and the bread is not buttered.   This is because the ingredients have enough flavour and don't need any enhancement.
In most local places, when you order a bocadillo, you just tell the waiter what you want in it, as the ingredients won't be listed on the menu.
In cities like Cadiz, fish bocadillos that include sardines, calamari or prawns are quite popular. Inland Andalucia, bocadillos are more substantial, often being prepared with meat, chorizo, and sometimes even beans. For breakfast, bocadillos filled with fried eggs, cheese and bacon are very popular.
Serranito
If you are visiting Sevilla, for a true Spanish breakfast experience, you must order the famous local serranito. This is a warm sandwich topped with grilled pork loin, thin slices of serrano ham, fried Italian green peppers, aioli, and sometimes a slice of tomato. It is so good!
The sandwich is usually made with a toasted baguette and often served with chunky fries on the side.
Manteca
Manteca is a common breakfast option in local restaurants in the South of Spain, and not always found on the menus. It comes in a big box that is passed from one table to another, and is used as a different topping for tostada.
Matenca is made by adding spices such as oregano and bay leaf to lard, then cooking it with finely chopped pieces of pork meat. Its orange colour comes from the added paprika. It does have an unusual taste that you will either love or hate. 
If you want to try it but can't find it in restaurants, you can always buy it from the supermarket.
Huevos
Surprisingly, eggs are not a very common Spanish breakfast item. If you see eggs on a menu, the restaurant will probably be in a more touristy area, and they are usually served as scrambled or as an omelette.
Tortilla de Patatas 
Tortilla is one of the most delicious breakfasts that you can have in Spain. Also known under the name of Spanish omelette, the tortilla is both a breakfast item and a vegetarian Spanish tapa. It consists of potatoes, onions and eggs cooked in extra virgin olive oil, and it's often served with bread. Sometimes other flavours are added as well, such as bell pepper or chorizo.  
The tortilla de patatas is firm and creamy at the same time. It is one of the staple Spanish dishes that is a must to try during your trip to Andalucia.
The Mediterraneo
If you choose to have breakfast at more upscale places such as golf clubhouses or four-five stars hotels, you will find the Mediterraneo on the menu, besides the tourist-orientated English Breakfast. The Mediterraneo is a continental type of breakfast, including tostada with grated tomatoes, a boiled or fried egg, fresh cheese, slices of Manchego cheese and jamon serrano.
Churros con Chocolate
Churros are famous not just in Spain, but in many different countries around world. In South America you can buy churros directly from the vendor on the street, sprinkled with sugar. In Spain however, churros are a typical breakfast item and are usually dunked in thick, hot chocolate.
Around the cities in Andalucia you will often find churrerias – small restaurants dedicated to serving churros and hot chocolate.
Pastries
Pastries are also popular for breakfast in Spain. In Andalucia many places have almond croissants on their menu, and no wonder, as almonds are one of the region's most precious crops. Another typical Spanish breakfast pastry is the palmerito. This pastry is flaky and crunchy, covered with sugar crystals or with chocolate. It gets its name from the date palm tree and is shaped like a heart. 
Magdalenas
Magdalenas are small muffins, usually flavoured with lemon and dusted with sugar. They are an option as a breakfast for people who prefer a quick bite at home before leaving to work. You can find them at any supermarket, and they cost very little.
Café con Leche
Café con leche is the staple drink of a Spanish breakfast. It's a simple coffee with milk, served in a small glass rather than a cup. As a rule of thumb, when you can touch the glass, you know you won't burn yourself drinking the coffee.
If you are lactose intolerant, you'll be pleased to know that Spain is a fantastic country when it comes to catering for intolerances. 95% of the breakfast places will have milk alternatives. I wouldn't recommend having black coffee without milk, as it's extremely strong.
Orange Juice
When you order "zumo de naranja" in Spain, you are ordering freshly squeezed orange juice. I had to mention it as it's a delicious way to start your day with a healthy kick. The best oranges in Spain come from Valencia. Whilst the oranges of Sevilla are the most famous, bear in mind that they are quite bitter and better for marmalade, rather than a freshly squeezed drink.
Ensaimada in Mallorca
Ensaimada is an extremely fluffy sweet pastry dusted with loads of powder sugar, that you will find all over Mallorca at breakfast time. The pastry is shaped in the form of a coil and comes in big sizes. It's delicious and you are guaranteed to make a mess whilst eating it, because the sugar gets everywhere.
Fun fact: I was at Malaga airport waiting to board a flight coming in from Mallorca. Almost half of the people getting off were carefully carrying their boxes of ensaimadas.
Frangollo in the Canary Islands
In the Canary Islands, frangollo is often eaten both as breakfast and as a dessert. It is made from millet flour, eggs, milk, sugar and infused with lemon, cinnamon, raisings and almonds. Some places use rose water instead of milk and add an extra aniseed flavour. 
This dish has the consistency of porridge and its quite filling. Frangollo is often served with honey drizzled on top.
Liked it? Pin it!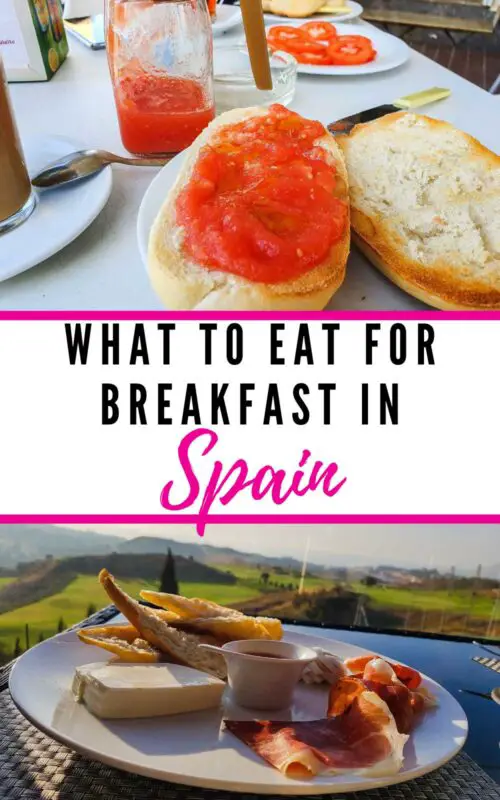 Disclaimer: Some of the links on this website are "affiliate links." This means that if you click on the link and do a purchase, I will receive an affiliate commission at no extra cost to you. This helps me keep my website running and continue to share my travelling knowledge with you. I thank you for booking your flights or hotels using the links on my website. Regardless, I only recommend products or services I use personally and believe will add value to my readers.