Being a vegetarian travelling in Spain doesn't mean that you can't enjoy the delicious tapas culture. On the contrary, there are so many mouth-watering vegetarian Spanish tapas, you will probably need a return trip to the country to try them all.
When you travel around Andalucia you will find that each region has its own traditional vegetarian tapas. The vegetarian Spanish tapas you will eat in Sevilla will be different than the ones you will try in Granada for example. It all depends not just on the local produce, but the history of the area too, as this part of Spain has been influenced so much by Arabic flavours and ingredients, during the Muslim occupation of the Iberian Peninsula.
In this article, I have compiled 20 of the most popular vegetarian tapas that you will find on restaurant menus in the provinces of Andalucia.  
Olive Oil
Andalucia produces some of the highest quality virgin olive oils in the world, winning awards in so many competitions. It is very common in Andalucia to serve you with a small bowl of olive oil and warm crusty bread to dip it into, before your main meal.
The olive oil, produced locally, has a nutty but fruity flavour, together with peppery and bitter notes.
Aceitunas
There's just something about Spanish olives. Maybe it's because the country grows over 200 different varieties of olives, or that the ones you get in tapas bars to have with your cold beer are always very large.
The Spanish olives are served with a fragrant dressing of olive oil, garlic, and oregano, making it hard to stop eating one after another. 
Manchego en Aceite
A simple but delicious tapa is a platter of Manchego cheese, soaked in olive oil. Manchego is a typical Spanish cheese from La Mancha region, located in the southern part of central Spain. It's made with raw milk from the Manchega sheep, and is aged between 60 days to two years. The longer the cheese ages, the more intense the flavour is. Manchego's texture depends on the aging time, and the older it is the harder it gets.  Manchego has a nutty flavour that gets stronger with every month it ages.
Usually tapas bars will have platters of Manchego cheese on their menus, which they serve alongside honey and almonds. However, for the ultimate taste experience, try the Manchego marinated in herbs with extra virgin olive oil.
Montaditos
A montadito is a very common tapa in Andalucia, a small, opened-faced bread roll filled with whatever ingredients the tapas bars have available on the day. Ask for a vegetarian montadito and you will get delicious freshly baked bread filled with either cheese and fried eggs, tomatoes and avocado, caramelized onions and aubergines, or roasted peppers and olives… it's a surprise!
I had some of the most delicious montaditos when I traveled to Setenil de las Bodegas.
Gazpacho
Gazpacho is a great tapa to order in summer, when the temperatures reach highs of 40 degrees Celsius, and you need to cool down. Gazpacho is the most famous Spanish soup, served cold and made with ice cubes. The soup reflects the hot Spanish summers and it is so popular that you can actually buy cartons of it at the supermarket, just like you do milk.
Gazpacho is a blend of ripe tomatoes, bell peppers and cucumbers, red onion and garlic, with a splash of olive oil and vinegar. Some places add extra ingredients for an even fresher taste, such as watermelon or strawberries. Usually gazpacho is served in a glass with small pieces of tomato and cucumber, topped with chives.  
Salmorejo
Salmorejo shares some of the ingredients with gazpacho, but it tastes quite different. Whilst gazpacho is light and fresh, salmorejo has more consistency to it. This is because the recipe of salmorejo contains stale bread and garlic, making it thicker and more fragrant.
Salmorejo is seasoned with Jerez sherry vinegar, which is much more acidic than your usual household vinegar. The dish is also served in a bowl, rather than in a glass like the gazpacho. When you order salmorejo, make sure you let your waiter know that you are vegetarian, so that they leave out the ham. Traditionally, salmorejo is topped with small pieces of jamon and boiled eggs.
Salmorejo is popular around Cordoba and Antequera.  
Ajo Blanco
Ajo Blanco is another refreshing cold soup specific to Malaga, made from almonds and garlic. Although it's less famous than gazpacho or salmorejo, it's equally delicious.  It's also much older than the other two, having been created before tomatoes arrived to Spain from South America.
The Ajo blanco is served with grapes and slices of melon on top.
Berenjenas con Miel
Berenjenas con miel are thin slices of aubergine, deep fried and served drizzled with cane honey. It's a delicious vegetarian Spanish tapa, being savoury and sweet at the same time.
Originally from Cordoba, the aubergines are carefully soaked in milk for at least two hours before deep frying them. This reduces the natural bitterness of the aubergine, also making them crispy once they are deep fried. Some tapas bars dilute the cane honey with a little soy sauce, to reduce the over-sweetness of the dish. Usually the portions of berenjenas con miel are quite generous and you will find this pretty much in every tapas bar in Malaga and in Andalucia.
Croquetas
In the past, croquettes were considered a poor man's dinner, made with whatever leftovers the family had. Today though, croquettes are some of the most delicious tapas you can order in Andalucia.  A croquette is a simple roll of a particular filling, covered in breadcrumbs and deep fried. They usually melt in your mouth once you bite into them.
Whilst the most popular ones are made with jamon or oxtail, there are plenty of options for vegetarians travelling to Spain.
I highly recommend the spinach croquettes, which have a creamy white sauce filling. Other options include mushrooms, leeks, potato or cheese. They can be eaten on their own or dipped in aioli.
Tortilla de Patatas
Another staple of the Spanish cuisine and a perfect option for vegetarians in Spain is the tortilla de patatas. You will find this tapa all over Spain, not just in Andalucia.
Tortilla de patatas is also referred to as the Spanish omelette, but it has nothing to do with the renowned breakfast dish. The main ingredient used to make the Spanish tortilla is the humble potato, which is fried together with onions (optional) and eggs to bind them. It is a tall dish, firm but creamy, served in triangles. Some tapas bars even serve it as a topping for bread. 
Around Cordoba, tortilla is sometimes served with a thick salmorejo based sauce. Around other areas in Spain it is served with sofrito, a fried tomato, pepper, onion, garlic, and a fresh herb sauce.
Ensalada de Pimientos Asados
Pimientos asados translate as roasted peppers. The roasted pepper salad is packed with so much flavour, even though it has very few ingredients.
This tapa comes from Cadiz and is made using the highest quality extra virgin olive oil. The sweet red roasted peppers are cut into strips and together with the roasting juice, are served with onions.
The seasoning for the grilled red pepper salad includes finely chopped garlic, oregano, cumin and sherry vinegar.
Tostada con Tomate
Tostada is a typical Spanish breakfast, but some tapas bars also serve it all day long as a snack. The crusty bread is toasted under the grill and served with extra virgin olive oil, salt, and a jar of grated tomatoes. To eat, firstly drizzle the bread with olive oil, spread the tomatoes on top, then sprinkle with salt.
It is a very simple dish, but it tastes fantastic. The tomatoes used to make this tapa are usually either beef or pera, which have a more intense flavour and a thicker flesh. You can also order other toppings to add to  it, such as Manchego cheese or avocado.
Setas al Ajillo
Setas al ajillo is another simple but full of flavour vegetarian Spanish tapa. Translated as mushrooms with garlic, this tapa is healthy and very nutritious. There are different types of mushrooms used to make this recipe, most commonly champignons and oyster. The sauce is made with extra virgin olive oil, chili, and white wine. A generous quantity of garlic is added to finish the dish.
The dish is served topped with freshly chopped parsley.  
Pimientos del Padron
Pimientos del Padron is probably one of the most famous vegetarian Spanish tapas. It consists of native Spanish Padron peppers which are grilled on a hot plate until parts of them turn charred. They are served with a good quality Andalusian olive oil drizzled over the top, and sprinkled with coarse salt. 
The pimiento del Padron is a small green pepper with a mild taste. What is particularly interesting is that a very small percentage of pimientos del Padron, around 10%, are very hot. You never know what you will get, so it's always a gamble when eating them. They are delicious though, even when you get the odd spicy one. 
Espinacas con garbanzos
This tapa is a hearty stew made with chickpeas and spinach, and it's one of the most typical vegetarian Spanish tapas you will find in Andalucia.
The espinacas con garbanzos is a tapa which originated in Seville and it is very popular during the winter months. It is an exotic recipe, having its roots deep in the Al-Andalus Moorish Empire, which ruled over the South of Spain for centuries. The Moors were the ones who brought, amongst others, chickpeas, spinach, and cumin to Spain.
Besides the obvious spinach and chickpeas, the dish also contains garlic, stale bread, sweet smoked Spanish paprika, Jerez vinegar and cumin. Sometimes onions and tomato sauce are also added. It's served with crusty bread. 
Pisto
Pisto is a dish that resembles the French ratatouille. This Spanish vegetable stew is made with onions, tomatoes, courgettes, eggplants, bell peppers, in a rich red sauce, and is usually served with a fried or poached egg on the top, together with a slice of crusty bread.
Sometimes it's also served with ham, so be sure to tell your waiter that you would like a vegetarian pisto.
Patatas Bravas
Whilst patatas bravas is not a specific Andalucian tapa, it's still widely available in the restaurants around the county. You can either order the fried chunks of potatoes with the brava sauce, or with aioli. The salsa brava is made from broth, olive oil and Spanish spicy smoked paprika.
The aioli is a simple sauce made from olive oil, eggs, mustards, lemon juice and garlic. The lazy version is just mayonnaise with garlic.
When you are ordering patatas bravas, ask the waiter if the sauce is made with chicken or vegetables broth. The chances are that the sauce will come from a bottle, rather than homemade. When it comes to aioli, many tapas bars do make their own from fresh.
Revueltos
Revueltos is the Spanish equivalent of the humble scrambled eggs. The difference is that in the Spanish version the eggs are mixed with vegetables. The most common revuelto is made with wild asparagus but pretty much any greens and vegetables can be used.  
Huevos Rellenos
Huevnos rellenos are practically Spanish deviled eggs, using different peppers, from roasted peppers and asparagus to anchovies or tuna. The hard-boiled eggs are cut in half and the yolk is separated and mixed with mayonnaise, mustard and a touch of Spanish paprika. The egg white is then filled with the mixture.
No matter what the topping is, they are finished off with sprinkles of chopped parsley or paprika.  
The Salads from Costa Tropical
The salads you order on Costa Tropical are something I guarantee you have never tasted before. They are a medley of locally grown fruits, vegetables and nuts, served with a simple dressing of olive oil and balsamic vinegar, allowing the produce to shine.
Costa Tropical is a small area between Maro and La Rabitta, on the coast of Alboran Sea. Because the Sierra Nevada mountains are so close to the sea, the area benefits from its own microclimate in which any fruit or vegetable from anywhere in the world, can grow. As an example, the avocados grown here are so big that you need both hands to hold one. Also, here you will find the sweetest custard apples, and the tastiest kumquats.
In most restaurants the menus won't have the ingredients of the salads written down because they always change, based on what is in season. Therefore, make sure to let the waiter know you are vegetarian, as sometimes the salads will also contain tuna or pieces of jamon.
Liked it? Pin it!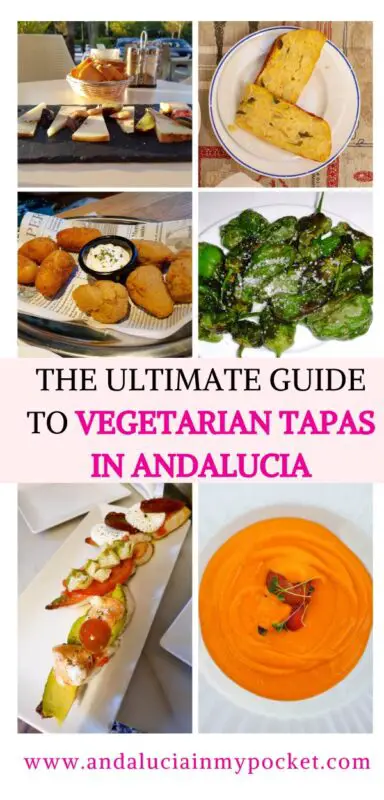 Disclaimer: Some of the links on this website are "affiliate links." This means that if you click on the link and do a purchase, I will receive an affiliate commission at no extra cost to you. This helps me keep my website running and continue to share my travelling knowledge with you. I thank you for booking your flights or hotels using the links on my website. Regardless, I only recommend products or services I use personally and believe will add value to my readers.