Mijas Pueblo has been my happy place ever since I moved to Andalucia. It is only a 10 minutes drive up the road, which makes a wonderful change of scenery for every time I need a bit of me time. And for such a small village, there are so many things to do in Mijas Pueblo, from immersing yourself in the charming scenery to discovering mysterious legends and tales.  
Because of its unique location, on the side of the mountain, Mijas Pueblo is considered to be one of the most beautiful villages on Costa del Sol. Mijas Pueblo's history dates back to the Bronze Age, and has been home to the Phoenicians, Romans, Moors, and Christians. As you walk through the village's streets, you'll notice a mix of various architectural styles, particularly in the lower section. Because it's built on the mountainside, the village is divided into two sections: the upper and lower parts, separated by the main square, Plaza Virgen de la Peña.
How to Get to Mijas Pueblo
Mijas Pueblo is one of the easiest accessible white villages from Malaga.
From Malaga's Central Bus Station (Estación Bus Málaga), you can take the M-112 bus, which runs 7 times a day and costs 3,60 euros for a single ticket. The journey takes approximately 1 hour. Click here for the schedule.
If you are based in Fuengirola, take the M-122 bus for a 15-minute journey at a cost of 1.55 euros for a single ticket. Click here for the schedule.
Alternatively, if you are in Marbella, you can opt for a private day tour with transport and guide included. Click here to check the details for this option.
For those arriving by cruise ship, private tours are available that will pick you up directly from the terminal, with a city tour of Malaga before departing for Mijas. These tours start at 70 euros and guarantee you'll return to your cruise ship on time. Click here for more details.
If you plan to rent a car, read my guide on how to save money on a car rental in Malaga. My preferred website for car rentals is Holiday Extras because they show the exact price you will pay to hire a car – don't believe those 2 euros a day offers as they are not real. Although Mijas Pueblo is located up on a mountain, the road is easy to drive on and in a fantastic condition.
Where to Park in Mijas Pueblo
I would not recommend driving into Mijas Pueblo. The roads are tiny and if you have a larger car you will probably get stuck driving around the corners of the village. There is a large multistorey car park very well signalled from the main road that enters the village. It is actually a pretty cool car park because it is dug into the rocks, so one of the walls is practically a cliff.
Parking here is more than affordable, 1 euro for up to eight hours, with the first hour free of charge. The day charge (24 hours) is 9 euros.  
The Best Things to Do in Mijas Pueblo
In this article I will tell you about my favourite things to do in Mijas Pueblo. As I am a local, I got the chance to experience every single one of them, and pick which I thought were the most interesting. You won't regret visiting Mijas Pueblo on a day trip from Malaga, it's a wonderful place that I hope will make you feel as happy as it makes me.
Discover the Beauty of the Village
Mijas Pueblo is famous for being one of the most beautiful white villages in Andalucia. And the best way to find out why is to just walk along its pretty white streets and buildings decorated with red and blue flower pots.
I have always thought that one of the best things to do in Mijas Pueblo is just discover it at a slow pace.
I have written before an article about where to find the most beautiful streets in Mijas Pueblo, which you can find here. Make sure to step away from the beaten path, and take a random left and right to explore the less visited areas of the village. I promise you won't get lost, Mijas is too small for that.
You can also book a guide if you want to learn more about the village and its history. Click here to see the offers.
Take in the Views from The Muralla Gardens
Taking a leisurely walk through the Muralla Gardens is one of the top things to do in Mijas Pueblo. These gardens are located in the lower part of the village and have been built on the remains of the old fortress walls that protected the village. You'll find an array of multi-colored flowers that bloom all year round, making the gardens a delightful sight to behold.
What's more, you can catch breathtaking panoramic views of the entire Costa del Sol from different vantage points in the Muralla Gardens. On a clear day you can even spot the mountains in Morocco, all the way over the sea.  
Walking along the centuries-old Arabic wall, you can see how Mijas Pueblo has evolved over the years.
Climb the Torre de la Muralla
From all the once mighty fortress that once surrounded Mijas Pueblo, only one tower still stands today: Torre de la Muralla. You can climb it free of charge, for a nice rooftop panorama of the village.
The tower dates from the 16th century. The only other building as old in Mijas Pueblo is the tower of the church of the Immaculate Conception, which is very close, next to the bullring.   
See the Unique Bullring in Mijas Pueblo
The bullring in Mijas is a unique structure of its kind in Spain because it has an oval shape instead of the traditional round one. This is because it was built on a rocky surface, which made it impossible to create a circular arena. Due to this, there are seats only on two sides of the bullring rather than all around.
The bullring in Mijas is not used for bullfighting anymore, which is a positive improvement in my opinion. Whilst bullfighting is a cultural Spanish experience, it's still animal cruelty and, like many others, I will never support this barbaric way of slaughtering animals for the entertainment of humans.
Happily, the arena has been transformed into an event space, with flamenco performances. The cost of visiting the bullring museum is 4 euros, which is worth it for those interested in learning about the history and cultural significance of bullfighting in Spain. Events are priced differently.
Find Out the Story of the Grotto of the Virgen de la Peña
According to legend, in 1538 two children playing outside the city walls encountered a white dove unlike any they had seen before. The dove allowed them to touch it before flying away. The next day, the children had the same encounter with the dove and told their parents, who forbade them to go back to the walls, fearing for their safety. Despite this, the children returned and heard a voice calling to them. They followed the voice and found the Virgin Mary, who appeared to them and asked to be freed from the rock. The children reported the incident to their parents, who alerted the authorities. The next day, the entire village went to the tower where the children had seen Virgin Mary. The children's father began removing rocks and uncovered the statue of the Virgin, which now stands above the altar in the chapel.
Attempts to build a chapel on the same spot had failed until a local priest took it upon himself to construct one inside the rocks. The chapel was completed in 1682.
The Virgin Mary is now the patron saint of Mijas, and her feast day is celebrated annually on September 8th.
Watch a Free Flamenco Show
Every Wednesday at noon, the local flamenco group "Artes Cordobes" performs a free show in Plaza Virgen de la Peña. Flamenco is a passionate art form that originated in the south of Spain and is associated with the Romani people living in Andalucia. It is a combination of various musical styles, including singing, guitar playing, vocalization, hand clapping, finger snapping, and dancing. Flamenco typically conveys deep emotions through body language and facial expressions.
If you're a flamenco lover or just curious about this art form, you can't miss the Flamenco Dance Festival held in July, where both local and national flamenco groups come together in Mijas Pueblo to showcase their skills.
Visit the Wine Museum
Another intriguing thing to do in Mijas Pueblo is visiting the wine museum. Because this is not just a museum where you can learn about the wine, but also a place where you can taste it.
Malaga is the oldest wine producing area in the entire Spain and the Mijas Museo del Vino provides a wealth of information about the production of the local sweet Malaga wine. Unlike the wines produced in the North of Spain, the grapes used in Malaga wine are already naturally high in sugar and undergo a different making process. After harvesting, the grapes are dried under the hot sun to reduce moisture and concentrate the natural sugars.
Despite its dark colour, Malaga wine is made from white grapes, its deep hue coming from the over ripening of the fruit. At the Museo de Vino in Mijas, visitors can not only learn about the process of making Malaga wine but also enjoy a glass or two on their small terrace at the back. The museum also organizes wine tastings and tours and offers a selection of around 250 different Spanish wines for purchase.
Visit the Museum of Miniatures
Mijas Pueblo's Miniature Museum is one of the most intriguing attractions in the village. Its bright yellow, wagon-shaped building is hard to miss, and visitors often wait in line outside to purchase tickets, priced at 3 euros for adults and 1.5 euros for children.
What sets the Miniature Museum apart is the need to use a magnifying glass to fully appreciate the intricacies of the exhibits. Some of the paintings on display are so small that they were done on individual grains of rice. This unique experience is particularly enjoyable for children, making the museum a great place to spend a fun and entertaining afternoon.
Find the "Mole of Mijas Pueblo" at the Ethnographic Museum
I still remember the day I was dining with a friend at one of the restaurants in Mijas Pueblo when a man sitting at the next table started a conversation with us. One thing led to another, we started chatting, and this is how we found out the legend of the "Mole of Mijas Pueblo".  
Manuel Cortés Quero was the mayor of Mijas when the Spanish Civil War started. He became a wanted man as Franco's Regime took over, with a warrant of execution on his head. He fled Mijas but returned soon after, and hid in the walls of his father's house for a few years and then in a different house for 30 years more.  
The Ethnographic Museum in Mijas Pueblo is a "Casa Museo", which means that it recreates a typical Andalucian home, with a wine cellar and an olive mill. It hosts a collection of typical farming tools, gardening objects and cooking utensils. What is interesting about this museum is that they have recreated the room where Manuel Cortés Quero hid for so long.
If you visit the Ethnographic Museum in Mijas Pueblo and mention the "Mole of Mijas Pueblo", the attendant will be very happy to show it to you.
Check Out the Contemporary Art Centre (CAC)
The Contemporary Art Centre (CAC) in Mijas Pueblo is a small museum that has a large collection of art by the renowned artist Pablo Picasso, featuring predominantly sculptures, ceramics, and prints.
It is believed that the CAC in Mijas has the second-largest collection of Picasso's works, only surpassed by the Picasso Museum in Malaga.
In addition to Picasso's pieces, the CAC Mijas also showcases works by other famous artists such as Salvador Dali, George Braque, and Tsuguharu Foujita. The cost of entry to this outstanding collection is as little as 3 euros.
Have a Drink at La Boveda del Flamenco
La Boveda del Flamenco is without doubt one of the prettiest restaurants in Mijas Pueblo. It appears on many of the images and postcards promoting this fairy tale village because of its charming flower pot decorations, blue umbrellas and red tablecloths.
This is a modest family run restaurant that serves mostly simple but tasty tapas and drinks. It's a great place to go if you know a little bit of Spanish, as there is always chatter going on around. The owners are extremely friendly and here everyone seems to know everyone. If you are looking for a more upscale dining experience, you can try the upstairs restaurant, El Mirlo Blanco, which has a charming terrace overlooking the square and serves outstanding Basque dishes.
See an Old Flour Mill
One of the most interesting things to do in Mijas Pueblo is visit the old flour mill. Back in the day, the village had no less than 22 different flours mills, but all of them were destroyed. This flour mill is a reconstruction of an old mill constructed in an original way, which has an original mechanism inside.
You will find the mill just next to the Miniature Museum. Because of the bright colour of the museum and the mill's location just underneath the rocks, you may miss it.
Take a Photo on the Donkey Statue
As you descent into Plaza Virgen de la Peña you will mostly sure notice the row of donkeys in front of the tourist office. Their story started in the late 1960s, when the first tourists arrived in Mijas Pueblo.
The locals used donkeys to carry large baskets of wheat, fruits, and vegetables across their backs. The tourists were intrigued by this practice and often took photos, but they also began asking the locals if they could ride the donkeys for a small fee. The amount they offered, however, was significant enough to cover the locals' daily wages.
One entrepreneurial local saw this as an opportunity and decided to start a burro taxi company. This allowed tourists to experience riding the donkeys while providing an additional source of income for the locals. Unfortunately this practice is still very popular today, and many tourists choose to pay to ride the donkeys, who are not treated very well.
Rather than supporting this cruel activity and riding the donkeys around the uphill streets of Mijas Pueblo, climb on the donkey statue, in front of the tourist office. You can take a photo on it rather than on the poor animals, and raise awareness by teaching your friends and family who want to visit Mijas Pueblo not to take part. This cruel practice should have been outlawed long ago.
Make Your Own Chocolate
If you love chocolate, then you must pass by the Mayan Monkey. This is the world's smallest chocolate factory that not only sells its own delicious products but also offers visitors the chance to participate in a chocolate-making experience. During this fun activity, you can learn how to make a range of chocolate treats, including bars, truffles, and figurines. It's a popular choice among children and adults alike.
As the groups are small and the chocolate workshop is a very popular thing to do in Mijas Pueblo, it's better to book this experience in advance. You can click here to book it.
Mayan Monkey has two locations in Mijas Pueblo: one in the main square, Plaza Virgen de la Pena, where the chocolate-making workshops take place, and the other in Plaza de la Constitucion. In the latter location, you can treat yourself to homemade ice cream or indulge in a cup of delicious hot chocolate.
Go Shopping For Artisanal Goods
Although a small village, Mijas offers an excellent shopping experience, particularly for those in search of traditional handmade ceramics. Local artists have set up shops throughout the town where they sell their unique crafts, including leatherwork, lace, paintings, and jewelry.
For one-of-a-kind ceramic pieces of the highest quality, Artesania de Espana is a must-visit. The owner collaborates with skilled craftsmen from all over Spain to produce exclusive and exceptional pieces.
Every Wednesday and Saturday, a buzzing street market is set up in front of the Tourist Office, showcasing local artisans' creations for sale. It's an opportunity to browse and purchase authentic and distinctive souvenirs to take home as a reminder of your visit to Mijas. The market starts at 9am and lasts until around 2pm.
Hike to Ermita del Calvario
For a panoramic view over Mijas Pueblo and the sea below, hike to Ermita del Calvario. The path starts in the upper part of Mijas Pueblo, and continues steeply through the pine forest on rocky terrain. It takes around 15 minutes to reach the Ermita, and enjoy the wonderful view below you.
The Valencian Baroque-style chapel is small and often closed, but if you're lucky, you may catch it open. Even if you can't go inside, the stunning views from the top make the journey up the hill worth the effort.
Hike Pico de Mijas
From Eremita del Calvario, you can continue hiking up the mountain, to reach Pico Mijas. This is a hard hike for which you have to be prepared with good shoes and have plenty of water with you, as there are no other sources on the way. The trail takes around 6-7 hours to complete and get back to Mijas Pueblo, and I found it quite difficult, mostly because there is no shade at all. Don't attempt it in summer, when the temperatures are very high.
It is a wonderful and rewarding hike, if you know what to expect from it. You can click here to read my experience on hiking Pico de Mijas.
Don't Go On A Donkey Ride
Unfortunately, Mijas Pueblo is also known for its donkey rides. Please do not engage in this activity, it is not ethical and the donkeys are not very well taken care of. I have seen numerous times their owners abusing them. Don't encourage this practice and hopefully, soon, it will stop.
An alternative to the donkey riding are the electric tuk tuks which can offer you a much more ethical tour of Mijas Pueblo, without involving any animal cruelty in the process. Not to mention, it is much, much cheaper!
Where to Stay in Mijas Pueblo
If you are staying in Mijas Pueblo overnight, I highly recommend the TRH Hotel. The bedrooms have wonderful sea views, and the hotel has an outdoors pool, as well as a spa and in-house restaurant.
You can click here to see the reviews on TripAdvisor or here to check the latest rates on Booking.com
Liked it? Pin it!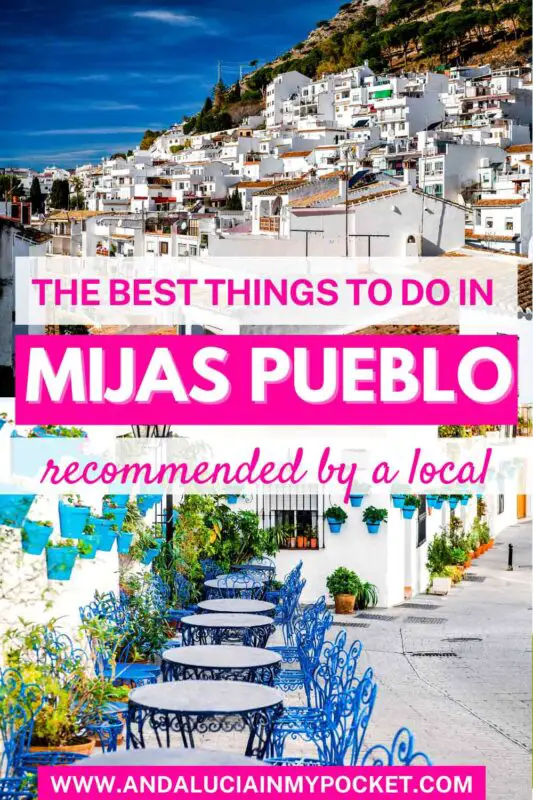 Disclaimer: Some of the links on this website are "affiliate links." This means that if you click on the link and do a purchase, I will receive an affiliate commission at no extra cost to you. This helps me keep my website running and continue to share my travelling knowledge with you. I thank you for booking your flights or hotels using the links on my website. Regardless, I only recommend products or services I use personally and believe will add value to my readers.