Jaen is often overlooked by travellers to Andalucia in favour of the more popular Granada, Cordoba, or Seville. And this is a good thing if you are looking to visit an extraordinary city with an authentic atmosphere, without too many tourists around. There are so many things to do in Jaen, known for its majestic Renaissance Cathedral, its fortress and, of course, the rolling hills cultivated with over six million olive trees.  
You may wonder why I refer to Jaen as Andalucia's olive oil capital… this is because the Jaen region is Spain's number one producer of olive oil, winning award after award every year.  
Jaen is a city that will surprise you. As you approach it from the motorway you will see how it raises gloriously over the hills surrounding it. I would highly recommend spending at least one day here and adding Jaen to your Andalucia itinerary.
Where is Jaen and How to Get There
Jaen is one of the northern provinces of Andalucia. The city of Jaen is well connected with all the other cities in Andalucia and Spain by train and buses, but keep in mind they are quite slow. I would highly recommend spending the night in Jaen if you want a relaxed visit to this wonderful city.
The nearest airport to Jaen is Granada, located 65 kilometres away.  Malaga airport, which is the largest airport in Andalucia, is 212 kilometres away. Most tourists who want to explore Andalucia on a road trip will land in Malaga and hire a car directly at the airport.
From Granada, it takes around one hour to drive to Jaen, whilst from Malaga, it takes two and a half hours.
What is Jaen Famous For?
Jaen is famous for its olive tree groves and the high-quality olive oil produced here. 60% of Spain's extra virgin olive oil is produced here each year. Jaen is also responsible for 20% of the entire world's production of extra virgin olive oil.  
Locals refer to the olive oil produced in Jaen as liquid gold. And no wonder, as it tastes so good! The extra-virgin olive oil is meant for dripping, and not for cooking. The best way to taste it is simply on a piece of bread, or on a tasty breakfast tostada.
Where to Stay in Jaen
Budget: Pensión La Florida 19
This basic B&B offers clean, spacious rooms with air conditioning in the centre of Jaen. It's a great option for budget travellers who only want a room and a private bathroom.
You can read more reviews on Tripadvisor or book directly on Booking.com
Mid-range: Hotel Condestable Iranzo
This four stars hotel is located in the centre of Jaen, next to the Jaen Museum. The hotel has a rooftop pool and a terrace which offers beautiful views over the city. The rooms are cosy, with comfortable beds and large bathrooms. The suites have spa baths as well.
The breakfast is included in the room price, which starts at £67 a night.
You can read more reviews on Tripadvisor or book directly on Booking.com
Luxury: Parador de Santa Catalina Jaen
For a unique experience, choose to spend the night at Parador de Santa Catalina. The hotel is located in an 18th-century castle built over a Moorish fortress, on top of a hill, overlooking the city. The entire décor of the hotel is medieval, with high ceilings supported by wooden beams, stone walls, and Arabic architectural elements.
The hotel also features a modern outdoors pool and an onsite award-winning restaurant focused on creating outstanding dishes with the use of the local olive oil.
A room at Parador de Jaen starts at £100 a night. You can read more reviews on Tripadvisor or book directly on Booking.com
Things to Do in Jaen:  
Visit the Jaen Cathedral
The city of Jaen is dominated by a beautiful 16th Century Renaissance Cathedral, officially known as the Assumption of the Virgin Cathedral (Catedral de la Asunción de Jaen). The cathedral is home to an important Catholic relic in the form of the Veil of Veronica, or Holy Veil.
Architecturally, the church is constructed in the baroque style, but before that the site was home to both a mosque, and then a gothic cathedral before the Renaissance.
It's possible to enter the cathedral and explore the intricate friezes, frescoes and eaves for a fee of €6.00. There is also a small museum located in the crypt.
For lovers of history, architecture or religious people, Jaen Cathedral is one of the top things to do in Jaen!
Climb to Castel de Santa Catalina
Another of the great things to do in Jaen is to take a hike up to Catherine's Castle (Castel de Santa Catalina) which sits above the town on an old Moorish fort built by the same man behind the Alhambra.
There is a visitor centre with information about the castle's Moorish beginnings, and transformation in the 13th Century. And it goes without saying that the views over Jaen and the surrounding Andalus countryside are incredible!
If you are feeling fit (and it is not the middle of the day during the summer) then you can hike up to the castle from the town which takes around an hour. You can book a tour that includes a guide and entrance to the castle by clicking here.
Visit the Arab Baths of Jaen
This well-preserved Islamic bath house dates back to the 11th Century and remained hidden until being unearthed in 1913!
In 1592 the Viceroy of Peru, Fernando de Torres y Portugal decided to build his Palacio de Villardompardo on top of the baths, thus obscuring them from view for over 300 years (and also means they have been incredibly well preserved)!
The Arab baths are well worth a visit and definitely one of the top Jaen attractions! You can book a tour that includes a visit to the Cathedral, the Arab Baths and a historical walk around Jaen by clicking here.
Check out Palacio de Villardompardo
The Arab baths are housed within the larger Villardompardo Palace complex. The palace now acts as a cultural centre and also houses two museums; the Museum of Popular Arts and Customs of Jaen and the Jaen International Museum of Naïve Art.
Wandering around the old palace, baths and art galleries is definitely one of the best free things to do in Jaen (that's right, these attractions are all free)!
Go for an Olive Oil Tasting
It's no secret that Andalusia is famed for its olives, so what better place to see how this elixir is produced and have a tasting session?! There are various tours you can book such as this one.
Wander around the olive groves, see the mill in action and learn all about harvesting and how the oil is made. The fun part is the tasting session at the end where you can try three different locally produced olive oils.
Wander Around the Jewish Neighbourhood
Jews have called Jaen home since at least 612AD and in 2002 walls of a Mikvah (Jewish baths) were discovered in the town. There was a large Jewish presence for over 12 centuries which has left its mark on the town.
The Jewish Quarter occupies the area between the Santa Cruz and San Andres neighbourhoods and consist of winding alleyways and narrow streets clinging to a hillside. This area is perfect for walking and getting lost in the small side streets, discovering where the next one leads.
Visit the Iberian Museum
The Jaen City Iberian Museum is dedicated to Spain's prehistoric Iberian culture and houses the largest selection of Iberian art in the world!
Most people are more familiar with Spain's Moorish and Roman histories than this often-neglected period between the 7th and 1st Centuries BC. So, learn more about the country's unique history at this fascinating museum. Definitely one of the best things to do in Jaen for history lovers! Click here to book a ticket and a guided tour of the museum.
Discover the Legend of the Slaying of the Dragon and Lagarto de Jaen Monument
It is said that the city of Jaen has the shape of a dragon, and legends of lizards and dragons have persisted since times of antiquity.
Legend has it that a large lizard or dragon appeared close to the Magdelana Fountain and scared the townspeople and feasted on those who went to collect water.
The Lizard of Magdalena, or Lizard of Jaen as it is also known can be found in architecture around the city, and the most prominent example is the Lagarto de Jaen Monument which is well worth a visit.
Go under San Lorenzo Arch
The Arch of San Lorenzo is where Fernando IV" the Summoned" (King of Castile) met his end, and ever since the arch is where prayers are said for the dead.
The arch is part of the old San Lorenzo Church which no longer exists (its artworks have been moved to the nearby Church of La Merced).
The archway can be found at the intersection of Almendros Aguilar and Madre de Dios.
Visit the Local Market, Mercado de Abastos
There is nothing quite like a Spanish market, and Mercado de Abastos is no exception. The building dates back to 1870 and is where you can find the freshest local Andalucian produce.
From fresh fish to local butchers, fruits, vegetables, olive oils and more, this is the perfect place to go if you are planning on cooking a meal, having a picnic, or you just want to soak up the atmosphere of an authentic Andalucian market.
Explore Refugio Antiaereo
Jaen's air raid shelter dates back to 1937 and the Spanish Civil War. On April 1st of that year 159 people were killed in bombings by Franco's fascist regime. As a result, hasty measures were put in place to stop such a tragedy ever occurring again.
Today the shelter is a museum that you can visit to get a feel for those grim times. The corridors are lined with photographs and other artefacts from the war. This museum is a great way to learn more about Jaen and Andalusia in general during those terrible years.
Visit the Olive Culture Museum in Baeza
One of the best things to do near Jaen is visit the Olive Oil Culture Museum. The museum is located in an old Hacienda in Baeza, 50 kilometres from Jaen. Here you can learn about Andalucia's long connection with the production of olive oil.
As with the tour mentioned above, here you can wander through age-old olive groves, see how the oil is produced and taste samples.
Take a Day Trip to Sierra de Cazorla
The Sierra de Cazorla is a mountain range to the east of Jaen. The area encompasses a large national park with jagged peaks, fast-flowing rivers and some of the most beautiful and untamed countryside Andalucia has to offer.
From hiking, picnicking, and swimming in the rivers to more adventurous activities such as mountaineering and kayaking, the Sierra de Cazorla should not be missed. Nature lovers can expect to find deer, ibexes, wild boars, and birds of prey.
The picturesque white village of Cazorla is well worth a visit itself. This medieval hill town of stone buildings includes Yedra castle clinging to the hillside, ancient churches and more.  
Liked it? Pin it!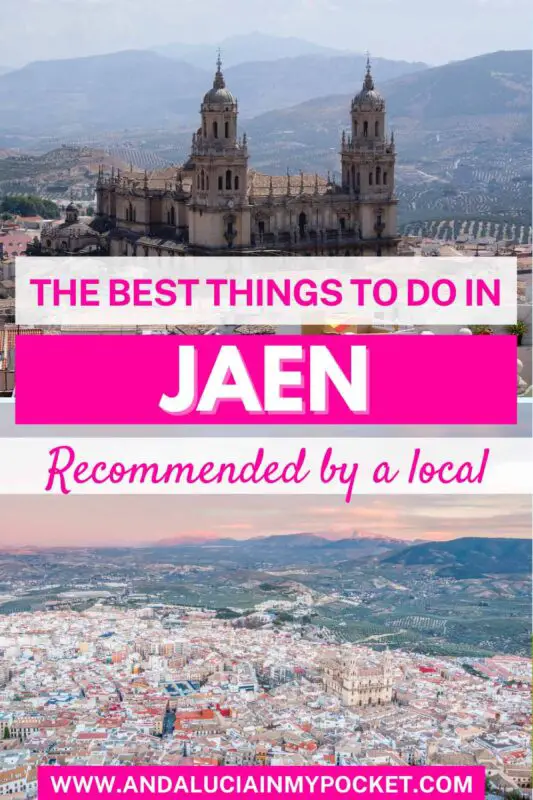 Disclaimer: Some of the links on this website are "affiliate links." This means that if you click on the link and do a purchase, I will receive an affiliate commission at no extra cost to you. This helps me keep my website running and continue to share my travelling knowledge with you. I thank you for booking your flights or hotels using the links on my website. Regardless, I only recommend products or services I use personally and believe will add value to my readers.