Breakfast in Spain is the lightest meal of the day. It is very common to go out for breakfast, some of the most popular places being the cafes attached to petrol stations. And I'll let you in on a secret, these places make the best breakfasts and lunches in Andalucia, maybe even in all of Spain. I've had some of the most delicious homemade tapas, such as boquerones al limon or gambas pil pil, in petrol station cafes.
The Spanish tostada is one of the most popular Spanish breakfasts which you will find at pretty much every café, in every city on the Iberian Peninsula. Tostada is a staple of the Spanish cuisine, even if it's called something different, depending on the region. For example, if you are travelling in the North of Spain, you will find tostada under the name of "pan con tomate" – which means bread with tomatoes. In Catalunia, the same breakfast item is called "Pa Amb Tomàquet". However, the Spanish tostada is so much more than bread with tomatoes.
The Traditional Spanish Breakfast
The traditional Spanish breakfast differs from area to area, but two of the most popular choices are either tostada, bocadillos, or churros con chocolate. Churros with hot chocolate are mostly for tourists though, as not many Spanish people eat them for breakfast. I haven't actually seen that many cafes serving churros for breakfast in Andalucia. If I fancy churros, I would usually buy them from a churreria, which is a bakery that only makes and sells churros.
In Mallorca, the traditional breakfast is the ensaimada, a sweet and soft spiral shaped pastry covered in dusting sugar. In the Canary Islands, the frangollo, a sweet dish made out of millet flour, eggs, sugar, butter, raisins, almond and cinnamon, is often found on breakfast menus. For a sweet treat along with a cup of coffee, magdalenas are another option for a Spanish breakfast on the go. They resemble muffins, but are much smaller, and are usually eaten at home.
A typical breakfast in Andalucia will be either a tostada or a bocadillo – which is a baguette sandwich with different fillings such as eggs, cold meats, sausages, or grilled vegetables. There is no traditional bocadillo, as each café make their own variations.
What is the Spanish Tostada?
Tostada translates as "toast", and it is the best thing you can order for breakfast in Andalucia. In its most traditional way, the Spanish tostada is simple, a piece of bread drizzled in good quality olive oil and sprinkled with salt. A very popular variation of the tostada is the one with tomatoes. Tostada con tomates is served in the same way as the traditional one, but with the addition of grated tomatoes – which resemble a thick sauce. From here, you can start building the tostada to your own taste by ordering additional ingredients such as manchego cheese or jamon serrano. The combinations are endless.
Tostada can also be sweet, when the piece of toast is served alongside butter and jam or honey.
Types of Bread Used to Make Spanish Tostada
The bread plays a very important part in the making of a tostada. If you are using the wrong bread you can end up with a very soggy tostada, which is not very tasty. The cafes in Spain are using small crusty baguettes to make their tostadas. If you can't find it in your local supermarket, look for rustic bread – it works just as well. Ciabatta is a good option too.
How to make Spanish tostada:
It only takes five minutes to make tostada, it is one of the easiest Spanish recipes to re-create in your own kitchen. However, in order to achieve the depth of flavour that will remind you of your last trip to Spain, you must use high quality ingredients.
These are the ingredients to make Spanish tostada:
Crusty bread (baguette)
Two ripe tomatoes (plum or Roma tomatoes are a good variety to use in a tostada)
High quality extra virgin olive oil
Sea salt
Optional: manchego cheese, jamon serrano
As you have probably noticed, there is no garlic in this recipe of tostada con tomate. I have seen many recipes for Spanish tostada online that are listing garlic as one of the ingredients, and I can tell you that they are not authentic. There is no garlic in the tostada con tomate.
To toast the bread, use the grill on your oven, not a traditional toaster. If you don't have a grill, put the bread on an oven tray on the top shelf of your oven and keep an eye on it until it's toasted. It shouldn't take long. I can't give you an exact timing because not all ovens are the same.
Whilst the bread is toasting, prepare the tomatoes. To achieve that thick sauce that you usually find in the Spanish restaurants, you must grate the tomato instead of chopping or blending it in a food processor. The plum tomatoes are sweet and don't have a lot of water inside, which makes them perfect for grating.
When it comes to olive oil, if you have visited Southern Spain you will know what a huge difference there is between the one you buy in the supermarket to cook with, and the one you use for drizzling on salads or dipping bread in. Whilst some parts of Spain are famous for wine, the hills in Andalucia are covered with olive tree plantations. In fact, most of the premium extra-virgin olive oils which have won awards around the world, are produced in Andalucia. A good quality bottle of extra-virgin olive oil will cost somewhere around 15-30 euros for 250ml, but because you use so little of it, it will last for a long time. The best places to buy extra-virgin olive oil in Andalucia are the small shops that specialise in cheese and/or jamon. If you are not planning a trip to Spain soon, then you can order some online. Great brands to look out for are Autentico, Oro Bailen, or Casa del Aguila.
Back to our Spanish tostada, once the bread is toasted, it's time for assembling: drizzle the extra-virgin olive oil on top, add the tomato sauce, then sprinkle on some sea salt. Then, if you want to, add manchego cheese and/or jamon serrano. Enjoy it with a cup of hot café con leche!
How to Make Spanish Tostada – The Typical Spanish Breakfast
Course: Breakfast
Cuisine: Spanish
Difficulty: Easy
Ingredients
Crusty Bread (baguette)

2 Ripe Plum Tomatoes

High Quality Extra-Virgin Olive Oil

Sea Salt

Optional: Jamon Serrano and/or Manchego Cheese
Directions
Toast the bread under the grill of your oven
Grate the tomatoes into a paste and set aside
Once the bread is toasted, take it out of the oven and drizzle olive oil on top
Add the tomato paste and sprinkle salt on top
Add extra toppings such as jamon serrano or Manchego cheese
Liked it? Pin it!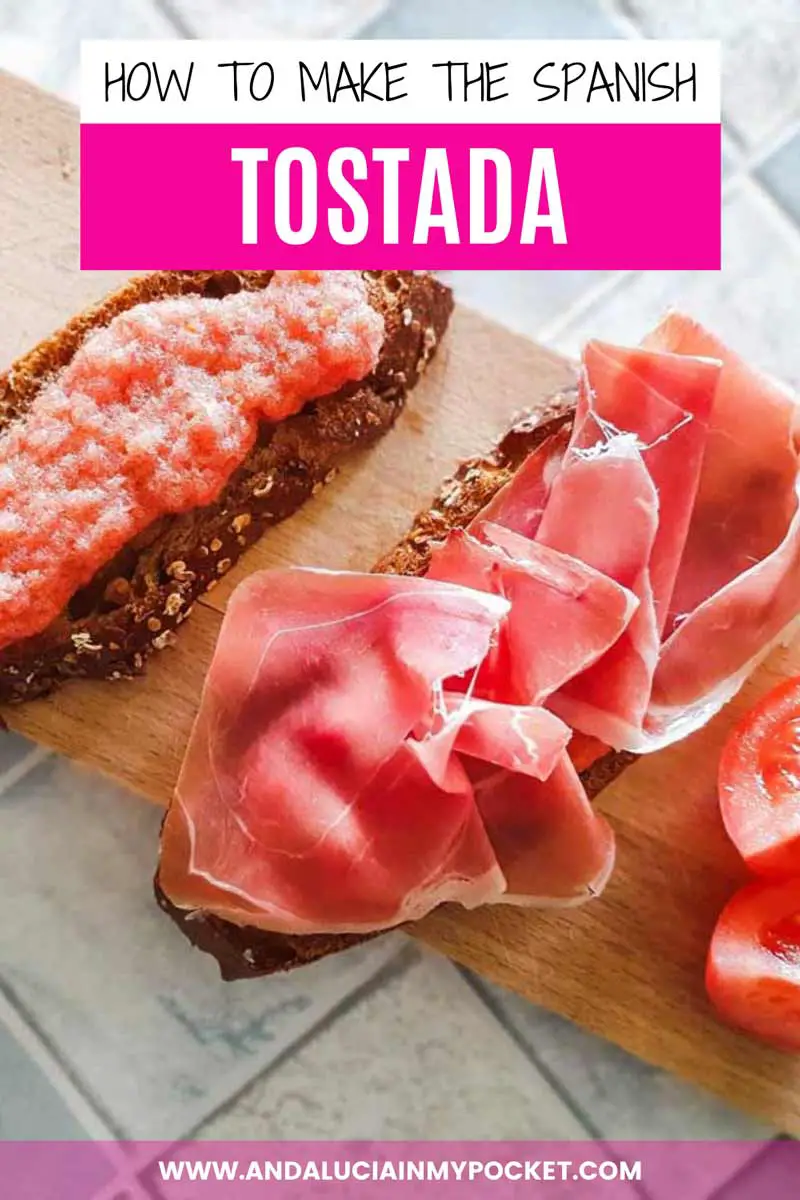 Disclaimer: Some of the links on this website are "affiliate links." This means that if you click on the link and do a purchase, I will receive an affiliate commission at no extra cost to you. This helps me keep my website running and continue to share my travelling knowledge with you. I thank you for booking your flights or hotels using the links on my website. Regardless, I only recommend products or services I use personally and believe will add value to my readers.