Often referred to as the jewel of Costa Tropical, Salobreña is a picturesque whitewashed town with narrow streets and a castle dating from the 10th century. You can spend one day in Salobreña, as a day trip from Malaga, or spend a week, it's entirely up to you. No matter which choice you will make, there is no doubt that you will fall in love with Salobreña and you will return to the jewel of Costa Tropical over and over again.
As you exit the A7 motorway, you start noticing how beautiful the sea is all along Costa Tropical. With the sun reflecting golden rays on its surface, the sea changes its color from turquoise to azure, just to blend it with the sky, at the horizon. This small Andalucian town is everything you can dream of when you think of Spain: quaint, full of flowers, with friendly locals.
There are quite a few things to do in Salobreña, which don't involve laying on the beach the entire day, which is not at all a bad thing, as the sea front is so inviting, and the water is so warm.
How to get to Salobreña
Salobreña is very easily accessible by the A7 motorway, directly from Malaga. It takes around an hour to drive the 90 kilometres between Malaga and Salobrena. For directions, consult the map below:
How to Spend One Day in Salobreña:
Have a Tostada for Breakfast
You are in Spain, so you must start your day in Salobreña with a tostada, the traditional Spanish breakfast. Usually no more than 2 euros, a tostada is a soft roll toasted, and served with grated tomatoes, olive oil and salt. You are supposed to drizzle the bread with olive oil, spread the tomatoes on top, and then sprinkle some salt. You can top it with other ingredients, such as jamon or manchego cheese – which is my favourite.
There are plenty of small cafes where you can have the local breakfast in Salobreña.
Check Out the Beaches
Salobreña's beaches are nothing less than gorgeous. Imagine crystal clear, azure coloured water, warm, and an inviting large beach that does not feel crowded.
There are 6 kilometres of beaches in Salobreña, with the most accessible being just in front of the town's promenade. Stretching from the famous rock of Salobreña for a distance of 1 kilometre, this is one of the most popular beaches for families with children. Close to the shore there is an inflatable water park which seems to be a lot of fun for children. Nearby, the rock attracts a young crowd of daredevil who like to dive in the sea from the high cliffs.  
For a more intimate experience, check out the La Charca beach, located in the residential area of Salobreña. Here you will encounter mostly locals and more family run restaurants.
For a secluded experience, check out the El Cambrón beach, which is not so easily accessible and has no facilities, which makes it less popular, even if it's very beautiful.
Visit a Rum Distillery
Because, why not? Bodega Ron Montero has been producing rum since 1963, when a passionate young Francisco Montero had a desire to produce the perfect spirit. He developed a secret formula which is still used today, by the family run distillery.
What makes Ron Montero so special is that every bottle has a little bit of that first batch of rum, that Francisco Montero firstly created over 50 years ago. The rom is aged in barrels that are stocked on top of each other and moved lower and lower, as the years pass by. However, the bottom ones never get fully emptied, to maintain the original recipe and flavour.
You can visit the Bodega Ron Montero for free, from Tuesday to Saturday at 1PM (for the English tour) and enjoy a tasting at the end, enjoying all three variations of rum that they make: plata (a white rum great for cocktails), palido (a perfect rum to be drank mixed with coke) and reserva (the high quality aged rom made to be enjoyed on its own).
Have Lunch at a Chiringuito on the Beach
The best lunch you can have on Costa Tropical is at a chiringuito, on the beach, or on the promenade. And there are plenty of them in Salobreña. Order an espeto – a traditional way of grilling sardines on a skewer, over an open flame, which his typical to the South of Spain.
Remember that you are on the Granada Coast, which means that every drink comes with a free tapa as well. The more drinks you order, the better the tapas are.
I had lovely fish lunches at Restaurante El Verdejo (click for directions) and at Restaurante La Jabega (click for directions), both on the promenade. At Restaurante El Verdejo, check out the leche rizada, a unique drink made out of milk, with the consistency of merengue, cold, flavoured with cinnamon, sugar and orange peel. For more suggestions on places to eat in Salobrena, check out my article here.
Explore Albayzin – the Old Town of Salobreña
The old town of Salobreña is a dream. Imagine narrow, cobbled streets among white houses, with pink flowers climbing their walls. The town is built up a hill so prepare for a bit of exercise, as some of the streets are really steep, and there are plenty of stairs as well. However, the views are so worth it. Salobreña is a photographer's paradise, with plenty of little corners that will make up for the climb.
Next to the castle, you can visit the Parish Church of Our Lady of the Rosary, a church which has been built in the 16th century on the remains of an old mosque. The church is only opened in the evenings, at 8PM, and it is free to visit.
Visit the Castle of Salobreña at Sunset
The Castle of Salobreña dates from the 10th century and it was built during the Nasrid dynasty. During the years, the fortification was reconsolidated many times, when elements of Muslim and Christian architecture were added, such as the internal gardens and the defence towers. The Salobreña castle has a trapezoidal shape, with four majestic towers.  
During the years, the castle from Salobreña changed its purpose, from defence from the enemies coming over the sea, to prison, to summer residence of the Monarchs of Granada, to military use in modern times.
From the walls of the castle there is a wonderful panoramic view both over the sea and the Sierra Nevada Mountains; and everything in between. When the sun sets the views are even more precious. Make sure you check out the last admission time, as it changes during the year. A ticket for visiting Salobreña Castle costs 4 euros.
Enjoy Dinner With a View
For dinner, I recommend going to La Roka, a small restaurant with a stunning view over the castle and the sea. In summer, book ahead, as it is a small place. Ask for a table on the terrace, to fully enjoy the experience.
La Roka is just a few minutes' walk from the castle, so it makes sense to come here after visiting it, due to the steepness of the streets in this town.
La Roka specialised in fusion tapas, with a fun menu integrating classic flavours with an exotic twist. I highly recommend trying out the Indian triangles (spinach and prawns samosas served with a sweet and sour plum sauce), the croquets which have a secret recipe, and the Nautilus (a mix of eels, octopus, salmon and shrimp hold together by scrambled eggs).
Spending the night in Salobreña?
If you are spending the night in the town and are wondering where to stay in Salobreña, here are my suggestions, both personally tried.
For an upscale experience, check out Playa Granada Club, five stars resort with its own beach, surrounded by a golf course. In winter, you can get a room here for around 50 euros. In summer, it's considerably more expensive and you need to book ahead, as the rooms go quickly. The resort is very large, with outdoor and indoor swimming pools, tennis courts, wellness centre, a traditional hammam, beauty salon and a kids club.
For a more budget friendly accommodation option, check out Hotel Avenida Tropical. Located stones away from the old town and 10 minutes' walk from the beach, this hotel has decent rooms and a jacuzzi on the rooftop, free to use for all guests. They also offer free outdoors parking, in a secure locked yard behind the building. In summer, this is a blessing, as most hotels charge a small fortune for a day of parking.
Liked it? Pin it!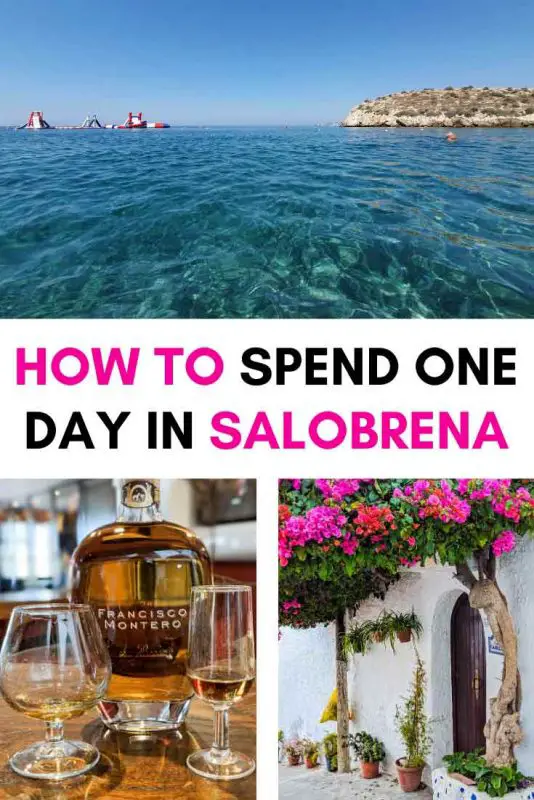 Disclaimer: Some of the links on this website are "affiliate links." This means that if you click on the link and do a purchase, I will receive an affiliate commission at no extra cost to you. This helps me keep my website running and continue to share my travelling knowledge with you. I thank you for booking your flights or hotels using the links on my website. Regardless, I only recommend products or services I use personally and believe will add value to my readers.