Salobreña is one of my favourite towns on Costa Tropical. I remember my first visit to this gorgeous town with its whitewashed buildings during a press trip, when we rushed uphill for a good 15 minutes up narrow alleys which felt almost vertical, to catch the sunset from the top of the castle. That was my introduction to Salobreña and, since then, my love for this town has grown, making me return over and over again.
Salobreña is a beautiful white town, overlooked by a mighty castle on the highest cliff. There are two parts of Salobreña: the old town, which is all uphill with narrow streets and houses decorated with flowers, and the new town, which is near the beach. If you want to book a hotel in Salobreña, take this into consideration, especially if you are renting a car or have luggage. I do not dare to drive uphill on those narrow alleys and round those sharp bends, so I always pick a hotel near the sea front.
In summer, the beaches of Costa del Sol become too crowded for my liking, so I jump in my car and drive one hour to reach the much quieter atmosphere of Salobreña. During my many visits to this white town, I found quite a few amazing places to eat.  It doesn't matter whether I just want a few tapas with my drink whilst I'm hiding away from the scorching sun, or I'm on a quest for dinner with a view, Salobreña restaurants deliver.
One important thing that you should know about the restaurants on Costa Tropical is that most of them will not open for dinner before 8pm. This is something that I really struggled with, as I am used to eating around 6-7, and by 8 I am absolutely starving. On Costa del Sol, to cater for the foreign tourists, most of the restaurants will open earlier, at 6 or 7pm, so make sure you have a proper lunch that will keep you full until dinner time.
Without further ado, let's see where to eat in Salobreña! This article contains a selection of my favourite restaurants, where I had memorable experiences with good food and attentive service.
Where to Eat in Salobreña:
La Roka – For Dinner
La Roka is my favourite restaurant in Salobreña. I have eaten here several times and each time the food was outstanding. Not to mention the gorgeous view, as La Roka has a terrace overlooking the castle on one side and the sea on the other. I highly recommend booking a table if you want to come here in high season, especially if you would like a table on the terrace. This is not a big restaurant.
La Roka specialises in fusion food, combining the Mediterranean flavours with exotic spices. One of the highlights of my dinner was the samosas filled with spinach and prawns, served with a delicate sour plum sauce. The grandma's croquettes were outstanding as well.
On a different occasion I came here for a drink and ordered a local charcuterie and cheese platter, with products from the Alpujarra, which again, was delicious. The tuna tartare with an Asian twist was a notable dish as well. Shall I mention desserts?
The menu changes with the season, so dining here is always exciting as you get to try different dishes. The great thing about this restaurant is that the prices are very decent and dining here won't break the bank. A glass of wine, for example, which comes with a free tapa, starts from 2 euros.
Bar Pesetas – For Dinner or a Drink
I only stopped here for an evening drink, but the food looked really tasty as well so I must return for dinner. This little bar has a lovely terrace overlooking the sea. It is not big, so if you want to eat here, you will need to book. There are a few spaces at the bar for drinks, near the giant legs of jamon.
This restaurant is also located up the hill, so you can build up your appetite whilst walking there. The staff are really attentive and nice, making the experience even better.
Restaurant Miba – for Lunch or Dinner
Another fantastic place to eat in Salobreña is Restaurante Miba, which is part of the Miba Hotel.
I had a quick but really high-quality lunch here. As much as I loved the location and the gorgeous view from the terrace, I had to catch a bus back home so I couldn't enjoy more than one hour and a half here.
I started my lunch with a salad, which is a must when you visit Costa Tropical. The salads here are taken to the next level, taking the best ingredients the land offers and combining them into a delicious meal. A typical salad from Costa Tropical will contain seasonal vegetables, local fruits and a selection of nuts for crunch. No matter which restaurant you are at, order a salad when you visit this area of Spain, as it is one of the highlights of the local cuisine on Costa Tropical.
For my main course I chose the presa Iberica, which is a shoulder cut of Iberian pork. It was marinated before grilling, and served with a lightly curried sauce, which made it to melt in my mouth. Each forkful was a delight.
Restaurante La Botavara del Nisporón – For Tapas
Firstly, I have to say that this sea front restaurant doesn't look like anything special at first glance. After coming here several times, taking a break from the sun and the beach to cool down with a cold drink, I have come to really like this place. The staff are very friendly and nice, and the tapas are always more than ample.
As you probably know, in the Granada province, which Salobreña is part of, every time you order a drink you will receive a free tapa. The more drinks you order, the better the tapas are. At this restaurant the tapas were quite substantial, from slices of bread topped with Manchego cheese to grill it yourself boquerones. At some point, as there were four of us, the waiter brought an entire platter of frittura Malaguena for us to share. 
El Verdejo – For Dinner
El Verdejo is a great fish restaurant located on the sea front of Salobreña. I like that the portions at this restaurant are huge and the fish is extremely fresh. As I was here with friends, I sampled quite a few dishes from the menu.
I started with boquerones al limon, which are deep fried anchovies marinated in lemon and served with aioli. This was followed by cazon, which is a local delicacy, found only in the South of Spain. Cazon is also known as dog fish. To prepare it for cooking, the fish is marinated in lemon for at least 12 hours. It is then deep fried in olive oil. The result is an extremely tender, lemony fish bite. I also tried the seafood croquettes and the foie gras served with a dip of mango, and a dip of strawberry, which worked really well.
For the main course I went for the grilled turbot with tempura vegetables, baked potatoes and pimiento del padron. The dessert introduced me to leche rizada, a semi-frozen milk-based dessert, flavoured with cinnamon, sugar and orange peel. Delicious!
Mesón La Dehesa – For Breakfast
I stumbled upon Mesón La Dehesa accidently whilst looking for a place to have breakfast. This small café is located on a small pedestrian street, very close to the hotel where I had chosen to stay. I had the typical Spanish breakfast – the tostada – which I topped with Manchego and jamon.
The service was prompt and the bill only a few euros. The food was delicious, with good quality cheese and jamon. I will return here again next time I'm in Salobreña.
Sunahra Beach Club – For Lunch
I would say that Sunahra is a beach restaurant with personality. Balinese personality to be more exact.
The menu of Sunahra is designed to highlight the flavours of the Mediterranean, using in season ingredients from Costa Tropical. The dishes are created to wake up your senses and make you appreciate the taste of food. The highlight of my lunch as Sunahra was the slow cooked pork cheeks on a bed of pumpkin puree, topped with a light beetroot sauce – a take on the classic Spanish carillada. The fish course, a fillet of dorada served with celeriac puree and a pickled mussels sauce was so scrumptious as well.
For dessert, I tried the chirimoya flan served with mango ice cream and kumquats jelly. The flavours were incredible, refreshing, bursting with flavour with each bite.
Restaurante Katena – For Fish Lovers
If you love fish, this is the best restaurant to call fish heaven. Katena Restaurant is located outside Salobreña, on Playa del Poniente, but it's well worth the drive/walk.  Some of the best fish in Spain is served here.
I tasted several dishes, from boquerones en vinagre to steamed mussels, from octopus to rosada fish, and everything was excellent and of extremely high quality.  The grilled prawns were as large as my palm and were served on a bed of salt. The clams in the garlic and white wine sauce were to die for. The dessert, a baked custard apple cake served with whipped cream, was divine.
Now, my experience at this restaurant was fantastic. However, I did notice that there are quite a few people complaining on Tripadvisor about the high bills. My advice is to always check the price before you order, as they do sell the fresh fish for grilling by the kilo – and the price reflects the weight and not the piece of fish. Most of the time the price is shown for 100 grams, and not for one kilo. So it's always best to ask.
Are you interested in more articles about Salobreña? Check out the following:
Liked it? Pin it!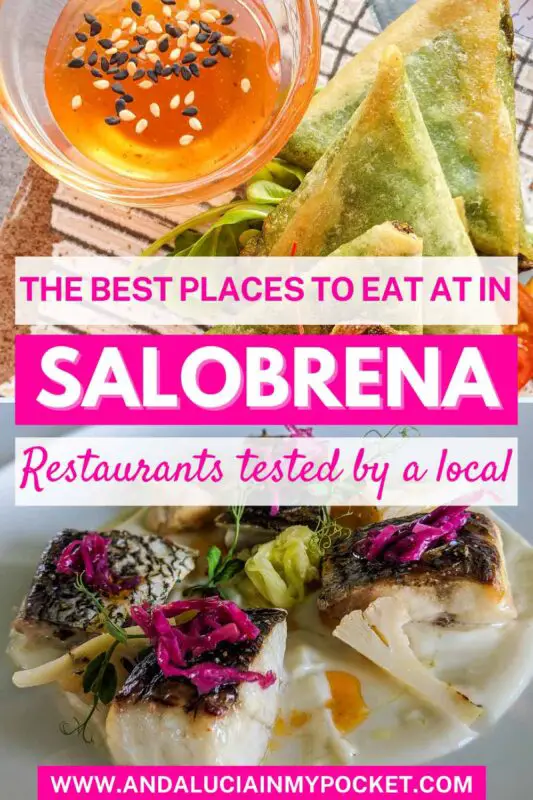 Disclaimer: Some of the links on this website are "affiliate links." This means that if you click on the link and do a purchase, I will receive an affiliate commission at no extra cost to you. This helps me keep my website running and continue to share my travelling knowledge with you. I thank you for booking your flights or hotels using the links on my website. Regardless, I only recommend products or services I use personally and believe will add value to my readers.