It's been so many years since I've been living close to Mijas Pueblo, which is my favourite white village in Andalucia. I kind of fell in love with it from the first visit and returned over and over. I like to go to Mijas Pueblo for dinner after all the tourist buses have left and the village returns back to its quiet self.
I've put together this list with my favourite places to eat in Mijas Pueblo, after eating often at the local village restaurants. There are many great restaurants in Mijas Pueblo, and this list combines my suggestions based on my own preferences.
Let's see now which are the best restaurants in Mijas Pueblo, in my opinion.
Alboka Gastrobar
Currently, Alboka Gastrobar is my favourite tapas bar in Mijas Pueblo. I discovered it last year, after coming back from a hike on the mountain nearby. I was very thirsty, so I sat down here for a cold beer, and got intrigued by their menu, so I ordered some tapas as well. It did not disappoint.
The lady serving was very welcoming and attentive, even if the terrace was full. This restaurant specialises in fusion tapas, so, when you come here, expect to experience some wonderful creations full of flavour.
Alboka Gastrobar shares its terrace with Restaurante Olivar, so be careful where you sit down. I wouldn't recommend the latter.
Restaurante Meguiñez and Grapevine Patio
Another great find in Mijas Pueblo was Restaurante Meguiñez and Grapevine Patio, which specialises in local gastronomy, with tapas and full-size portions. I had tapas twice here, and both times they were delicious.
The restaurant has a small terrace in front, on the street, from where you can watch the people pass by. The interior is very interesting as well, inside a traditional white house, with an indoor terrace covered with colourful umbrellas.
I can recommend the fried aubergines with molasses, a local dish, which is so delicious. I usually don't eat aubergines because I don't like their texture. In this dish, however, they are crispy and covered with asweet syrup, which makes them so good. You can also try the berenjenas rellenas, if you love aubergines.
The "tortilla sandwich" is also delicious: layers of potato with jamon and cheese in between them.
Bar La Martina
I stopped at La Martina by chance. I wanted to go and test the wine bar on the other side of the street, which was closed, when I noticed a sweet aroma spreading around. I followed my nose and ended up here, where the owner (?) was making donuts in front of the restaurant, attracting quite the local crowd.
I decided that I want bunelos (local donuts), so I sat down at a table inside and placed my order, together with a glass of wine, of course. I notice that their back terrace was very popular with the locals, so I thought this must be a good place. And indeed, it was, the bunelos were delicious and the wine served at the perfect temperature. The bill was something ridiculous, like 8 euros for 4 glasses of wine and one portion of bunelos. If you are wondering, no, I did not drink all four glasses, I was there with friends. 😊
La Boveda del Flamenco
This is one of my favourite places in Mijas Pueblo. Not only that without a doubt this restaurant is the prettiest in town, but the prices are also low. You might think that this place is expensive when you first see it, but trust me, it's not.
La Boveda del Flamenco is a bar, so don't expect them to have fancy food. This is a great place to stop at for a cold drink and a sandwich or a snack. They have great tostadas for breakfast and bocadillos for the rest of the day.
What makes this place special is the décor: blue tables with red tablecloths, blue umbrellas, next to a wall filled with blue flowerpots in which red flowers grow. An Instagrammer's dream 😊
The staff is very friendly. You will notice that many locals come here.
Restaurante Triana
A little bit off the beaten path but with a fantastic view, this restaurant offers comfort food and cheap selections of tapas. To reach it, you have to pass through the artisan market and climb down the stairs which lead towards the main square. At some point, a few stairs on the right-hand side will lead to the terrace of Restaurante Triana.
I like to come here in the afternoon and order a selection of tapas together with a cold beer, especially in summer. I sit on the terrace and gaze at the people passing by below, in the main square.
The tapas selection includes 5 different ones for a merely 8-10 euros for a sharing platter. I go for the mix one which usually includes meatballs in tomato sauce, peppers stuffed with cod, pimientos del padron, and croquettes.
Mayan Monkey
Mayan Monkey is not only an amazing place for hot chocolate in winter and ice cream in summer, but they also organise workshops in which you can make your own sweet treat.
They have two locations in Mijas Pueblo, one in the main square and the other one 5 minutes' walk, up the hill. They have a museum, where you can learn the journey of the cocoa bean, from the tree to the chocolate bar.
Their workshops are very popular among children, who love to design their own chocolate.
In the shop they sell all sorts of chocolate based baked goods, pralines and drinks, all made with 100% natural and sustainable ingredients.
The Secret Garden
Years ago, this used to be my favourite place to go for coffee or for tapas in Mijas Pueblo. Thinking about my latest experiences there, I had serious doubts if I should include this restaurant in my article. I am only doing it because the food is still good – dinner wise.
I always loved the location of this restaurant, on one of the narrow streets in Mijas Pueblo, hiding a beautiful garden in the back. That's why it is called "The Secret Garden".
Unfortunately, the last few times I tried to go to the Secret Garden, the staff was very rude and unhelpful. Actually, the last time I was there they refused to allow me and my friends in the garden because we only wanted to drink, not to eat as well. When we did go and eat, another time, I did notice that the tapas selection has shrunk but the price went up.
Regarding dinner, the food is good, but the prices are high, compared with what I am used to in Mijas Pueblo. Unfortunately, the Secret Garden has become very touristic and I have given up coming here mostly because of the rude staff. The good food is the only reason why this restaurant is on my list at the moment.
Liked it? Pin it!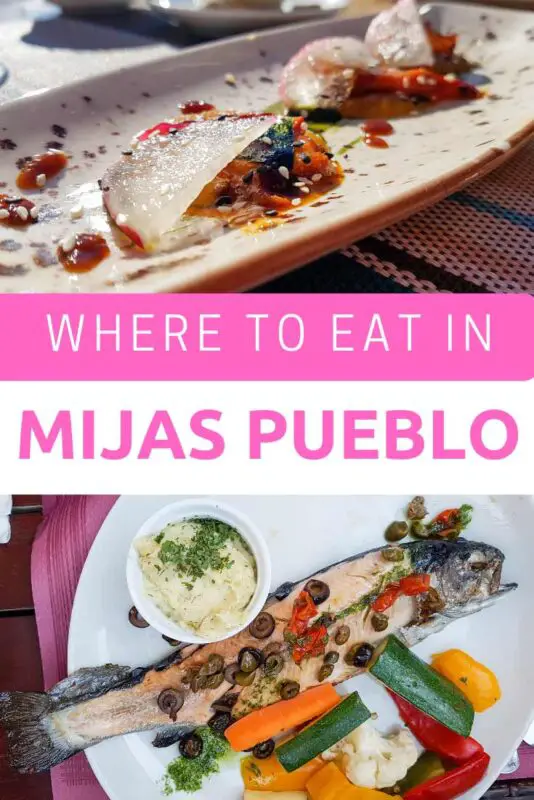 Disclaimer:  Some of the links one this website are "affiliate links." This means that if you click on the link and do a purchase, I will receive an affiliate commission at no extra cost for you. This helps me keep my website running and continue to share my traveling knowledge with you. I thank you for booking your flights or hotels using the links on my website. Regardless, I only recommend products or services I use personally and believe will add value to my readers.