Malaga is a perfect blend of Moorish architecture, modern art, sandy beaches, delicious food, and amazing nightlife. If you only have one day in Malaga, this itinerary will take you on a journey to have a little taster of what this seaside city has to offer.
It might be that you are on a cruise and are taking a day trip to Malaga, or maybe you are exploring the city before taking a road trip around Andalucia. Either way, you shouldn't skip Malaga.
In this Malaga itinerary, I will tell you what you can do in the city when you only have a short time to visit, as well as give you recommendations on where to taste authentic, delicious, local dishes. 
The best thing about Malaga is that all the historic sites are close to each other, and it is totally possible to visit most of them in one day.
How to Get to Malaga
Getting to Malaga is very easy, from all over Europe and within Spain. Malaga is also a very important harbour on the Mediterranean Sea, and a port of call for cruise ships, which means that the city sees many day visitors during summer.
Malaga is also well connected by daily ferries to Morocco and Melilla, the Spanish city on the coast of Africa.
Malaga has the biggest airport on Costa del Sol, and it is considered the gateway to Andalucia. All the low-cost companies fly to Malaga, regardless of the season. During winter, it is very affordable to fly to Malaga with Ryanair, with fares of only 5 euros at times. And with over 300 sunny days a year, no wonder many people choose Malaga for a winter getaway in the sun.
The main train station in Malaga, Maria Zambrano, is centrally located and connects the city to all the other major cities in the region. The city is also connected to Madrid via the high-speed AVE train, with a journey time of just over 2 hours. Just opposite the train station, you will find the bus station, with buses arriving from all over Andalucia.
If you choose to hire a car at Malaga Airport and drive into the city, you will find an ample underground parking underneath Muelle Uno. Click here for directions.
The Best Time to Visit Malaga
The beauty of Malaga is that it can be visited throughout the year, during any season. From my experience, the wet months in Malaga are usually November, December, and January. During the past few years though, November has been quite dry and sunny.
From February you can see the weather getting much better, with the daily temperatures reaching comfortable levels of around 15-20 degrees Celsius. Spring can be quite windy, so be prepared for that. 
Because of its location, sheltered by mountains and near the sea, the city receives a lovely breeze throughout the year, making the summer high temperatures much more bearable.
The average temperatures for each season are as follows:
December – February: 13 degrees Celsius
March-May: 18 degrees Celsius
June – August: 31 degrees Celsius
September – November: 20 degrees Celsius
How to Get Around Malaga
Malaga is a small city and the best way to explore it is by foot. Most of the touristic attractions are close to each other, so you won't need to use public transport at all.
If you want to explore some of the pretty beaches of Malaga, it's worth considering hiring a bike. There are plenty of places where you can rent one, around Plaza Poeta Alfonso Canales (click here for directions).
How to Spend One Day in Malaga
There are many reasons why you would find yourself with only one day in Malaga. You may be arriving on a cruise ship and have a day to explore the city. Or, you might be going on a road trip around Andalucia, starting in Malaga. You may also visit the city at the start of your organised tour around Andalucia, as my mother did when she came to visit me. Or, you may just find a cheap flight to Malaga and decide to come into the city for the day, for a tenner. No matter what your reasons are, this Malaga one day itinerary will take you on a relaxed stroll around the city, taking into consideration the distances between places, as well as the logical order to visit them in order to maximise your time.
Morning:
Gibralfaro Viewpoint
Start your day in Malaga with the best panoramic view of the city. I am choosing this as the first thing to do during your day in Malaga because the path leading up is steep and sometimes slippery, and when the sun is high it can take a lot of effort to reach. Don't forget to bring a bottle of water with you, you'll need it.
There is also a bus that goes up, but I always walk the path. You can take bus 35 from Paseo del Parque near Plaza de la Marina and in 15 minutes you will be up the hill. A bus ticket costs 1.2 euros.
As you climb up, step by step the panoramic view of the city will reveal itself to you. It's a very popular place and you will often find a local busker playing his guitar, when you reach the top. The view from Gibralfaro is spectacular and, on clear sunny days, you can even see the Atlas Mountains over the sea, in Morocco. 
The Alcazaba and the Gibralfaro Fortress
Alcazaba is Malaga's Moorish fortress, one of the most impressive in Andalucia because it used to have 110 towers and three defence walls. It is the best-preserved Moorish fort in entire Spain. The interior of the Alcazaba is landscaped in a similar way as the Alhambra in Granada, with beautiful courtyards, gardens, and water features.
There isn't much left of the Gibralfaro Castle, which was built in 929AD by the Caliph of Cordoba, Abd-al-Rahman III, as a defence structure.
It is recommended to get an audio guide, or book a private tour of the Alcazaba and the Gibralfaro Castle, in order to understand their role in history and their magnificent architecture. I promise you, it's a well worth experience, especially if you don't have time to go to Granada and see the Alhambra. Visiting the Alcazaba in Malaga is a much more private experience than the ever popular Alhambra in Granada.
A combined ticket for Alcazaba and the Gibralfaro Castle costs only 5.50 euros. The audio guide is an extra 5 euros. If you visit on a Sunday, there is a free of charge guided tour at 2PM. There are many places in Malaga that are free on a Sunday.
The Roman Theatre
Visiting the Roman theatre is one of the free things you can do in Malaga. Built in the 1st century BC, the theatre is in such a good condition that sometimes during the summer months, open-air performances are held here.
In the visitor's centre, which you will pass through before accessing the site, you can find out more information about the role of the theatre during the Roman times, as well as see an interesting exhibition with items that were found when the site was excavated. Don't miss the small pyramid in the middle of the road, in front of the theatre. Look through the glass and you will see the ruins of the old Malaca, as the city was called during the Roman occupation. 
Lunch
If you are wondering what to eat in Malaga, I've got you! For lunch, I recommend two areas: one of the tapas bars on the same street as the Roman Theatre, or one of the restaurants alongside Muelle Uno, Malaga's beautiful harbour promenade. If you choose the first option, I can recommend Bar El Pimpi, one of the most famous tapas bars in Malaga, a favourite of Antonio Banderas. He likes it so much that he is a shareholder in the restaurant. The bar is beautifully decorated in a typical Malagueno style and has its own wine cellar. It's definitely an experience eating here.
Bar El Pimpi is more expensive than other places, so if you find that it is a bit out of your budget, check out Breakfast at Tiffany's, a simple tapas bar with daily offers and tapas starting at 1 euro. Here you can find plenty of vegetarian tapas such as piminetos del padron and berenjenas con miel, as well as classics such as ensalada rusa or albondigas.
If you choose to have lunch at Muelle Uno, check out Cervecería La Sureña, a very affordable brewery, with classic local fish dishes and tapas such as boquerones, fritura Malaguena, or tortillas de camarones. They also offer buckets of beer bottles for only 4-5 euros.
Afternoon:
Walk Along the Streets of the Old Town
Once you finish lunch, burn off those calories by walking around the old town of Malaga. It's a lovely experience and you will come across pretty corners, hidden churches, and streets without many other tourists around. 
The Cathedral
On your day trip to Malaga, you can't miss a visit to the Cathedral. I left this activity for the afternoon because there are fewer people around then and the queue will be smaller, especially during the high season. There are fixed hours when you can go up the rooftop of the cathedral, which you can check by clicking here. Make sure you either buy your ticket online by clicking here or get to the cathedral half an hour before admission, so you don't miss your desired slot.
The cathedral is beautiful, with an 84 meter tall tower which dominates the skyline of the city. The cathedral was built over two centuries, in a Renaissance style featuring a Baroque façade. You can take a guided tour of the cathedral, or opt for a sunset access on a private tour. If you pick the latter option, go to Picasso Museum first.
Picasso Museum
Malaga is the birthplace of Picasso, consequently the town has not just one, but two different museums dedicated to him. At the Picasso Museum you can see a large collection of his works, set on two different floors. There is a permanent exhibition and temporary collections that change during the year. When I visited the museum, I got a chance to see a display of letters and photographs found in Picasso's first wife Olga Khokhlova's travel trunk, portraying their relationship.
The building that hosts the Picasso Museum is a 16th century Andalucian Palace, with a mixed architecture of Renaissance with Mudejar elements.
A ticket to the Picasso Museum costs 12 euros. If you want to visit the memorial house where he was born, which is nearby, you will have to pay an extra 4 euros. You can book your ticket online, to skip the line. When you only have one day in Malaga, you don't want to wait in queues to buy a ticket. On Sundays the entrance to the Picasso Museum is free of charge during the last two hours of admission.
The museum has different opening hours, depending on the time of the year, so always check the schedule here before you go. For a more in depth experience, you can always book a private guide to accompany you around the museum.
Evening:
Dinner at El Tapeo de Cervantes
This is one of my favourite tapas restaurants in Malaga. It is a little bit more expensive than other similar tapas bars, but you'll have to trust me, it's well worth it. If you only have one day in Malaga, this is the place to go for dinner. Their menu includes fusion tapas, where the chef creates mouth-watering combinations with the freshest ingredients Costa del Sol has to offer.
The food is exceptional. Don't order full portions, go for a selection of tapas of the same dishes to share with your dinner partner/s.
They also have an extensive selection of Spanish wines, and the waiters are able to recommend the best vino for your food order. El Tapeo de Cervantes is a tiny restaurant, so chances are, you will start a conversation with your neighbours on the next table – this happens every time I go there.
Don't forget to book a table at El Tapeo de Cervantes, as it's a very popular restaurant, especially during the summer months.
Drinks at AC Hotel Malaga Palace
To end your day in Malaga with a bang, head over to the rooftop bar at AC Hotel Malaga Palace. You don't have to be a guest at the hotel to have a drink with a view here, but always check at the beginning of the day what time the bar opens for external guests as sometimes they have private events, when the bar will be closed to anyone not staying there. You will have to buy a 15 euros drinks voucher from the reception of the hotel, before being allowed to the rooftop. If the terrace is not available, check out the rooftop bar at either Molina Lario hotel, or the one at the Alcazaba Premium Hotel. For more information on the best viewpoints in Malaga, check out my article here.
Staying the Night?
If you plan to spend the night in Malaga, here are some recommendations based on my personal experiences:
Budget: Dulces Dreams 
With a privileged location in the heart of the old centre of Malaga, this boutique hotel offers private rooms starting from 60 euros a night. Each room is decorated in a different style and colour, inspired by cakes and decorated with recycled materials. It's a hotel with a lot of personality.
Downstairs, the hotel has its own café where they serve healthy snacks and drinks.  You can read more reviews on Tripadvisor, or click here to check the latest rates on Booking.com 
Mid-range: Molina Lario
Molina Lario is a modern hotel hosted inside a 19th century building. It has a lovely rooftop pool and a bar overlooking Calle Larios as well. This is an affordable four-star hotel, with spacious, clean rooms, starting at 100 euros a night. You can read more reviews on Tripadvisor, or click here to check the latest rates on Booking.com 
Luxury: AC Hotel Malaga Palace or Parador de Malaga Gibralfaro
If you want to treat yourself to a luxurious experience during your one day in Malaga, pick either the AC Hotel Malaga Palace or the Parador de Malaga Gibralfaro. 
AC Hotel Malaga Palace is a luxurious four-star hotel in the heart of the city, which offers rooms with views over the harbour or the cathedral, as well as one of the best rooftop terraces in town. There is also a pool on the rooftop. You can read more reviews on Tripadvisor, or click here to check the latest rates on Booking.com 
Parador de Malaga Gibralfaro is a proper treat, a five-star hotel with spectacular views over the entire city and coast. If you are travelling with your loved one, this is the place to stay for a romantic experience. Everything about this hotel is of the highest standards. You can read more reviews on Tripadvisor, or click here to check the latest rates on Booking.com 
Conclusion
Malaga is without a doubt one of the most beautiful cities in Andalucia. In this one day in Malaga itinerary I have tried to include a little bit of everything, a teaser to inspire you to return and explore more of the city and its surroundings.
If you have more time, I highly suggest you stay the night in Malaga and experience a little bit of the city's nightlife as well. Malaga never seems to sleep! For a longer trip, I recommend you read my two days in Malaga itinerary by clicking here. 
Liked it? Pin it!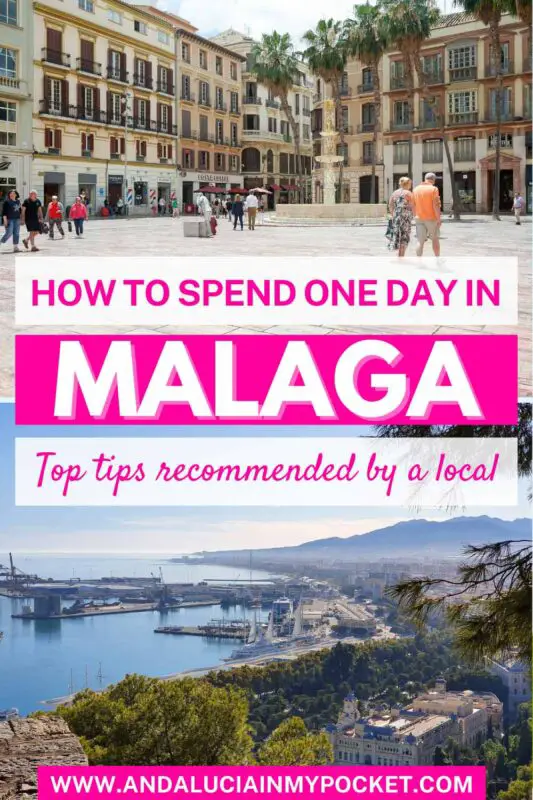 Disclaimer: Some of the links on this website are "affiliate links." This means that if you click on the link and do a purchase, I will receive an affiliate commission at no extra cost to you. This helps me keep my website running and continue to share my travelling knowledge with you. I thank you for booking your flights or hotels using the links on my website. Regardless, I only recommend products or services I use personally and believe will add value to my readers.