Malaga or Marbella? Which is the best destination for your summer holiday? In this article I will compare the two cities, touching on their atmosphere, attractions, beaches, transport, and accommodation, to help you decide which one suits your travel style best.
Both Malaga and Marbella offer an abundance of attractions, from historic landmarks to beautiful beaches, each promising an unforgettable experience. But which one is the best?
Malaga or Marbella?
Attractions
Both Malaga and Marbella offer a blend of history, culture, and natural beauty, but they also have unique attractions that set them apart.
Malaga:
Malaga is one of the most beautiful cities in Andalucia that offers plenty of attractions and great museums. The city has a wonderful mix of historical sites, museums, nature, and beaches, with plenty of tourist attractions to fill an entire holiday.
Some of the main attractions in Malaga are:
The Alcazaba: One of Malaga's most iconic landmarks, the Alcazaba is a historical fortress that dates back to the Moorish times. Visitors can wander through its lush gardens and marvel at the stunning panoramic views of the city and the Mediterranean Sea.
Picasso Museum: Malaga is the birthplace of the legendary artist, Pablo Picasso. The Picasso Museum showcases an extensive collection of his works, providing insight into the life and artistic journey of this renowned painter.
Malaga Cathedral: This Renaissance cathedral, also known as La Manquita (The One-Armed Lady), is a masterpiece of architecture. Its interior is decorated with exquisite religious art and sculptures.
Best tours in Malaga:
Marbella:
Marbella is a much smaller town than Malaga and doesn't have as many attractions. However, there are still plenty of things to do in Marbella to fill up the time when you're not relaxing on the beach.
Some of the main attractions in Marbella are:
Puerto Banus: Marbella's world-famous marina, Puerto Banus, is a glamorous playground for the rich and famous. The marina is dotted with luxury yachts and high-end boutiques, making it a perfect spot for celebrity spotting and upscale shopping.
Old Town: Marbella's Old Town has charm and character, with narrow streets, whitewashed buildings, and charming squares. Don't miss Plaza de los Naranjos, for a coffee under the orange trees.
Golden Mile: Stretching between Marbella and Puerto Banus, the Golden Mile is a glitzy boulevard lined with luxury villas, high-end hotels, and exclusive beach clubs.
Paseo Maritimo: This scenic promenade offers breathtaking views of the Mediterranean Sea and is ideal for leisurely strolls, jogging, or cycling. Enjoy the fresh sea breeze and relax in the shade of the palm trees.
Best tours in Marbella
Winner:
Malaga, because it's a city that offers a diverse collection of tourist attractions.  
Beaches
Malaga:
The beaches in Malaga are family-friendly, with amenities catering to all ages. Many beaches provide lifeguard services, playgrounds, and water sports facilities, ensuring an enjoyable experience for families with children.
Malaga has two large urban beaches where locals and tourists like to go for a break in the sun. Malagueta is the most famous and the most accessible beach in Malaga. The beach has beautiful golden sand, and warm, clear water. It has all the facilities you need, such as toilets, showers, sun loungers and umbrellas rentals, pedalo boats hire, chiringuitos, as well as a playground for children. There are a few shaded areas on the beach as well, under palm trees. During the summer season, the beach is overlooked by a lifeguard service.
The second beach in Malaga is Playa de la Misericordia, which is mostly frequented by locals due to its location, a bit further away from the city centre. The beach is narrow but long, has golden sand, and a cycle path along it.
Both beaches are accessible to people with reduced mobility.
Whilst there are plenty of wonderful beaches near Malaga, only Malagueta and Misericordia are accessible by foot.
Marbella:
Marbella is famous for its 27 kilometres of golden sand beaches, one of the reasons why so many people chose this Spanish resort for their summer holidays. There are 24 different beaches in Marbella, each catering to a different type of traveller.
Some of the most exclusive beaches in Marbella are in Puerto Banus, a very luxurious area just outside Marbella. Here you will find exclusive beach clubs where you can enjoy an upscale experience.
There are also plenty of beaches for families in Marbella. What makes the beaches in Marbella different from the ones in Malaga is the quality of the sand, the large selection of water sports, and the beach clubs.
Winner:
Marbella
Transport
Malaga:
When it comes to transport, Malaga wins in my opinion because of its wide network of public transport. Malaga Airport is located only 10 minutes away from the city centre, by train. Malaga has a large train station as well, connecting the city with the capital and other major cities around Spain. Malaga is also served by the fast AVE train, which reaches Madrid in just over two hours.
When it comes to buses, Malaga has its own bus station where companies like Avanza and Alsa run services to all over Spain and even Portugal. You can easily go on a day trip to Gibraltar from Malaga, by local bus.
Marbella:
Whilst Marbella is connected to Malaga by bus, the travel time can be slow, especially if you choose a service that stops everywhere. The bus station in Marbella is outside of the city centre, and, if you arrive by a long distance bus, you will have to take an extra taxi to reach your hotel. The bus station is also located on top of a hill, which makes it challenging to access by foot by people with disabilities, or on very hot summer days.
Marbella doesn't have an airport or a train station. The nearest airport to Marbella is Malaga.
Winner:
Malaga
Prices
Malaga:
Malaga is a very affordable city to travel to. There are options here for every budget, starting with staying in cheap hostels and eating tapas at inexpensive restaurants. Malaga also has a wonderful market from where you can buy fresh produce to cook at your accommodation, if you choose to rent an apartment. There are also plenty of free things to do in Malaga, and even the biggest museums in the city offer free entry on Sunday afternoon.
If your budget is higher, Malaga will spoil you. Staying at the Parador is just a dream, having those gorgeous views over the sea and the city itself. There are so many exquisite restaurants in town where the food is second to none, such as El Tapeo de Cervantes for example.
I have flown to and from Malaga often for less than 20 euros return. It is an extremely affordable destination, and even during the high summer season you can still find great deals.  
Marbella:
Marbella is more expensive than Malaga, and whilst you can still visit on a budget, you won't get the same services for the same money. Marbella is known as a high end destination, with luxury hotels, beach clubs, and golf clubs.
Nikki Beach, one of the most famous beach clubs in Marbella, is known as a playground for VIPs and it comes at a price. If you are on a budget, avoid it.
There are affordable places to stay in Marbella, especially if you book a packaged holiday. But, in general, you will pay more in Marbella than in Malaga.
Winner:
Malaga
Nightlife
Malaga:
I have always said that Malaga is a city that doesn't sleep. No matter what time you walk on the streets of the historical centre, you will stumble upon people partying.
Most of the clubs in Malaga are located in the city centre, around Calle Larios and Plaza de la Merced. I remember one of my friends who moved to Malaga for a month, telling me that she accidentally booked an apartment above a nightclub. She didn't get a lot of sleep during the weekends.
Marbella:
Marbella is known all over the world for the epic parties that happen here. People come from all over the world to enjoy the beach clubs, day and night. Nikki Beach throws its annual White Party, where VIPs and celebrities attend year after year. Ocean Club, the original classic beach club in Marbella, has exclusive events all summer long.  
Marbella has a reputation in Europe as one of the best party destinations. And I won't lie, there is something special about partying on the beach, by the pool, with some of the best DJs mixing the best tunes.
Winner:
Marbella, because the parties here are epic.  
Vibe
Malaga:
Malaga has a lively and vibrant atmosphere, with a bustling city centre that buzzes with energy day and night. The streets are alive with locals and tourists pretty much at all times. Malaga also has a rich history and a strong cultural heritage. The city's historic centre has ancient landmarks, museums, and art galleries, providing a range of different activities other than sunbathing.
Malaga effortlessly blends its historical past with modern urban elements. Chic cafes, trendy bars, and stylish boutiques line the streets, giving the city a contemporary edge.
Marbella:
Marbella's beach clubs and promenades epitomise a chic beach lifestyle, with elegant people, elegant yachts, and fashionable beachwear setting the scene. While Marbella is known for its glitzy image, it also offers a laid-back elegance. The city provides a perfect blend of upscale leisure and a relaxed Mediterranean vibe.
Marbella attracts visitors from all over the world, contributing to its cosmopolitan atmosphere. You'll encounter a diverse mix of nationalities, adding to the city's global appeal.
Winner:
It's a draw.
Food
When it comes to food, both Malaga and Marbella offer a great selection of restaurants that showcase the rich flavours of Andalusian cuisine. However, each city has its own unique culinary experiences that make them stand out. Malaga focuses on fresh seafood, tapas, and local wine, while Marbella shines with upscale dining, international influences, and beachfront indulgence.
Malaga:
Located right on the coast, Malaga is renowned for its fresh seafood offerings. Head to the vibrant Mercado Central Atarazanas to discover an incredible selection of fish, prawns, and other delights caught straight from the Mediterranean Sea.
A must-try specialty in Malaga, espetos de sardines are skewered sardines grilled over an open flame. These smoky and flavourful treats are a beloved local tradition and can be enjoyed at chiringuitos (beachside restaurants) along the beach.
Legend says that the tradition of tapas was born in Andalucia, and Malaga takes pride in its delicious and diverse tapas culture. So, don't miss having tapas at the great tapas bars around Malaga. Some of the best tapas in Malaga include the boquerones al limon, boquerones en vinagre, ajo blanco, and the delicious Fritura Malagueña.  
A great place to go for lunch in Malaga is Mercado Atarazanas, at one of the fish bars serving delicious dishes accompanied by glasses of wine or beer.
The region surrounding Malaga is known for its sweet wines, including the famous Malaga wine. These dessert wines pair perfectly with local sweets and pastries, creating a delightful combination of flavours.
Marbella:
Marbella offers a luxurious dining scene with high-end restaurants and Michelin-starred establishments. Indulge in gourmet experiences and savour innovative dishes crafted by talented chefs.
Marbella is a melting pot of cultures, and its culinary scene reflects this diversity. You can find a wide range of international cuisines, from Japanese sushi to Argentinian steaks, catering to all tastes and preferences. Marbella's dining scene often embraces fusion cuisine, blending traditional Spanish flavours with influences from around the world. This fusion approach adds a contemporary twist to classic dishes.
Marbella's beach clubs offer a lavish beachside dining experience, complete with refreshing cocktails, sumptuous seafood, and stunning sea views. These clubs are perfect for enjoying a laid-back meal by the water.
Winner:
Malaga, because it offers a more authentic selection of traditional Andalucian dishes.  
Accommodation
Both Malaga and Marbella offer a diverse range of accommodation options, each with its own distinct charm. Malaga's accommodations are more varied, catering to a wide range of budgets and preferences, with a focus on city centre convenience and some beachfront resorts. On the other hand, Marbella is renowned for its luxury offerings, featuring high-end beachfront resorts, upscale villas, and an air of exclusivity.
Malaga:
Malaga's city centre is packed with a variety of hotels catering to different budgets. From upscale establishments to mid-range options, you can find accommodations conveniently located near major attractions, shopping, and dining options.
Malaga is a popular destination for budget travellers, and you can find a good selection of hostels and budget hotels offering comfortable stays at affordable prices.
Marbella:
Marbella is synonymous with luxury, and the city offers a range of lavish beachfront resorts and chic boutique hotels. Enjoy world-class amenities, elegant accommodations, and impeccable service in some of the most exclusive areas along the Golden Mile.
Marbella is renowned for its luxury villas and apartments available for rent, particularly in Nueva Andalucia and Puerto Banus. These accommodations offer privacy, space, and often come with stunning private pools and gardens.
Marbella also caters to families with a variety of family-friendly hotels and resorts, providing kids' clubs, entertainment, and child-friendly facilities to ensure a happy stay for all ages.
For golf enthusiasts, Marbella offers a plethora of golf resorts and hotels set amidst beautiful golf courses, making it a golfer's paradise.
Winner:
Marbella, because the offer is much more varied than in Malaga, and the resorts are more luxurious.  
Day Trips
Both Malaga and Marbella offer great day trip options to explore the beauty and diversity of the Costa del Sol.
Malaga:
Because the city is so well connected to a lot of destinations in Spain, going on a day trip from Malaga is very easy, even if you don't want to hire a car. You can easily go to any of the other major cities in Andalucia by bus or train, from Malaga, for the day.
Granada and the Alhambra: Malaga serves as an ideal gateway to visit the magnificent city of Granada, home to the awe-inspiring Alhambra palace and the stunning Generalife Gardens. Regular and convenient train and bus connections make it easy to reach Granada from Malaga, in less than two hours.
Ronda: The charming town of Ronda, built at the top of the Tajo Canyon, is a picturesque gem worth exploring. Malaga offers direct train connections to Ronda, making it a hassle-free day trip option to experience its iconic Puente Nuevo and captivating landscapes.
Nerja and Frigiliana: Discover the coastal beauty of Nerja and the quaint village of Frigiliana. Malaga's excellent bus services connect you to these charming destinations, where you can explore the Balcony of Europe and the narrow streets of Frigiliana.
Cordoba: Marvel at the grandeur of Cordoba's Mezquita, a stunning mosque-cathedral, and stroll through its enchanting Jewish Quarter. If you visit in May, don't miss the Fiesta de los Patios in Cordoba. Malaga's efficient train and bus network provides an easy journey to Cordoba for a memorable day trip.
Marbella:
Whilst there are a few day trips from Marbella which you can go on by public transport, for most you would need to hire a car. This is because the buses are not at convenient times, or not enough to allow you to explore a new destination.
These are a few destinations you could go to by public transport, from Marbella:
Gibraltar: Not far from Marbella, visiting Gibraltar for a day trip is a great idea if you want to explore a different country. Explore the iconic Rock of Gibraltar, encounter Barbary macaques, and experience British and Spanish influences seamlessly blending together.
Mijas Pueblo: The picturesque village of Mijas Pueblo offers stunning views of the coast and traditional white-washed houses. It is very easy to travel to Mijas Pueblo, but you will have to change the bus once, in Fuengirola.
Tarifa: For those seeking a beach escape and windsurfing paradise, Tarifa and the nearby Bolonia beach are perfect day trip choices from Marbella.
Winner:
Malaga, because it is better connected by public transport to many more destinations than Marbella.
Conclusion
Both Malaga and Marbella are worth visiting, but are completely different when it comes to the holiday experience each provides. I hope that by the end of this article you have found the answer to the question: Malaga or Marbella?.
For more similar articles check out my recommendations below:
Liked it? Pin it!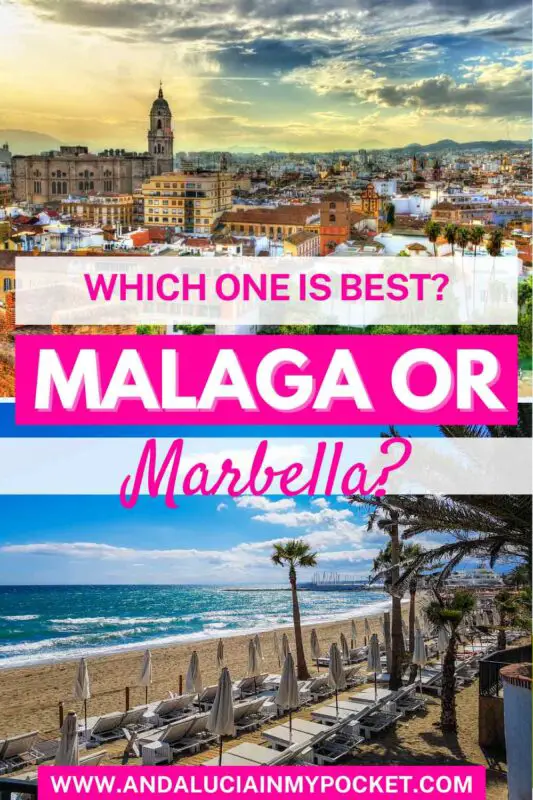 Disclaimer: Some of the links on this website are "affiliate links." This means that if you click on the link and do a purchase, I will receive an affiliate commission at no extra cost to you. This helps me keep my website running and continue to share my travelling knowledge with you. I thank you for booking your flights or hotels using the links on my website. Regardless, I only recommend products or services I use personally and believe will add value to my readers.