In this article I want to take you with me on a captivating day trip to Marbella, one of the most popular towns on Costa del Sol. Everyone has heard about Marbella, but what is there to do on a day trip? From its charming old town to golden sand beaches, from delightful Mediterranean cuisine to the most famous nightlife on Costa del Sol, Marbella is a destination sought for many. Let's see why!
How to Get to Marbella
Getting to Marbella is a breeze, and there are several convenient ways to reach this charming city from Malaga and the surrounding cities. If you are interested in a day trip to Marbella, you will most probably be arriving from a nearby city or town on Costa del Sol.
If you plan to arrive in Marbella by car, you should know that there are plenty of underground car parks in the centre of the city. I usually park a bit further out from the city centre, near the Palacio de Congresos, where there are a few free car parks.  
The best way to arrive in Marbella, if you choose public transport, is by bus. I wrote a guide on how to travel by bus from Malaga to Marbella, here. For other destinations, click here to check the Avanza website. You will find the timetable and the price for a journey from other towns around Costa del Sol to Marbella.
It is good to know that if you arrive by a fast bus, you will be going straight to the bus station in Marbella, which is half an hour walk away from the city centre. If you take a slow bus, it will usually stop downtown as well.
Day Trip to Marbella Itinerary
I've created this one day in Marbella itinerary by using my local knowledge, to maximise your time spent in the city. I decided the order of the activities and sites in this article based on how close they are to each other.
Coffee in Plaza de Los Naranjos
Start your day trip to Marbella with breakfast and a coffee at a café in the city's historic Plaza de los Naranjos. This charming square, with its orange trees and picturesque surroundings, sets the perfect ambiance for a leisurely trip to Marbella.
As you sip your coffee, take a moment to soak in the surroundings, the rustic architecture, the gentle breeze, and the friendly chatter of locals and fellow tourists. I recommend going for a traditional Spanish breakfast consisting of a café con leche and a tostada, which is a toasted slice of rustic bread served with grated tomatoes, olive oil and salt. My favourite add-on is Manchego cheese, but you can also pick Jamon Serrano.
Explore the Old Town of Marbella
The next item on this day trip to Marbella itinerary is exploring the historic old town of the city. With its whitewashed buildings decorated with blue flower pots and vibrant bougainvillaea climbing their walls, the old town is so pretty.
There is something to see everywhere here. You may stumble upon an old church with its doors open, inviting the curious in, small unique museums, or an old wall dating from the 10th century.
Check Out the Walls of the Alcazaba
Whilst there isn't much left from the original Alcazaba of the Medieval Medina of Marbella, you can still see a little bit of its heritage, in the east of the town. Back in the Moorish times, this fortress used to have 10 towers. Today only one remains, and the rest of the wall is integrated in the city's current architecture. So, compared with the Alcazaba of Malaga or the Alhambra in Granada, there isn't much to see here, but plenty to appreciate and imagine.
The materials used for the construction of the fortress were mostly recycled from the Roman times, like Ionic Capitals, which can be seen towards the top of the last standing tower, Torre de la Pólvora.
Visit Iglesia de Nuestra Señora de la Encarnación Church
Next in this day trip to Marbella, make sure to visit Iglesia de Nuestra Señora de la Encarnación, the largest church in town. Found in the heart of the old town, this historic church is worth exploring for its stunning architecture and cultural significance.
The church was built over an old mosque, and it is believed that for a while, after the Reconquista, the temple itself was used as a worshipping place. The current church of Our Lady of the Incarnation was built in the 16th century, being finished in 1767. Since its completion it has been the most important building in Marbella. And you will see why, once you step inside.
The church is very big, built with three naves separated by semicircular arches over pillars, with a semicircular apse. The large golden altarpiece is contemporary, with the statue of Saint Barnabas, the patron saint of Marbella, in the middle. The 1975 organ inside the church is also significant, as it is considered to be the most important organ built in Spain in the last century.
The façade of the building is also quite stunning, with a Rococo door made from ochre stone, and a tall tower with two belfries, each with a ceramic spire on top.
Check Out the Boutique Shops
The old town of Marbella has lots of boutique shops where you can buy special souvenirs or hand made products. If you like unique items that you can't find anywhere else, this is the place to go.
What's so great about these shops is that they sell things made by really talented people who put a lot of love and care into their work. You can find awesome jewellery, colourful ceramics that someone painted by hand, and soft, beautiful textiles. Each thing is special and tells a story about the place it comes from.
When you walk around the old town, it's like going on a treasure hunt. You never know what amazing produce you'll discover next. The shops are small and cosy, and the people who work there are friendly and excited to help you find something you'll love. It's not just about buying things; it's about having fun and finding something special.
Have a Break in the Park
After all this walking and exploring on this day trip to Marbella, it's time to take a break in one of the city's lovely parks.
Retiro Park is a tranquil green space with plenty of shady trees and benches, making it an ideal spot to sit and unwind. There is even a small lake here.
Alameda Park is another charming park that offers a serene setting for a break, right in the centre of the city. Find a bench and take in the sights and sounds of the park, or just relax in the shade, away from the city noises.
Fish Lunch on the Beach
After taking a relaxing break in one of Marbella's beautiful parks, it's time for lunch on the beach. One of the best ways to experience the local culinary scene is by visiting a chiringuito and trying the famous Andalucian espetos.
Now, you might be wondering, what is a chiringuito? Well, a chiringuito is a casual beachside restaurant with plastic tables and chairs, often directly on the sand. These laid-back establishments offer a relaxed atmosphere and are known for serving up delicious seafood dishes.
When it comes to ordering at a chiringuito, espetos are a must-try specialty. Espetos are skewered sardines (boquerones) that are cooked over an open flame, typically over a fire of olive tree wood on a grill inside an old fishing boat. This traditional cooking method imparts a unique smoky but nutty flavour to the fish.
Once the espetos are cooked to perfection, they are served piping hot, with wedges of lemon to enhance their natural flavours. The sardines are tender, flaky, and infused with a delectable smokiness that pairs wonderfully with the seaside ambiance.
Sunbathe
After a satisfying lunch at a beachside chiringuito, it's time to soak up the sun and relax on one of Marbella's beautiful beaches. You can't not include a little bit of sunbathing on your day trip to Marbella. With its golden sands and crystal clear waters, the beaches here offer the perfect setting for a leisurely afternoon.
Find a comfortable spot on the soft sand, lay out your beach towel or rent a sunbed, and let the warm rays of the sun embrace your body. Feel the gentle sea breeze caress your skin as you unwind and take in the breathtaking coastal scenery.
Marbella's beaches cater to all preferences. If you prefer a lively atmosphere, head to one of the popular beaches where you can engage in watersports, join beach games, or simply people-watch. If tranquillity is what you seek, venture towards the quieter stretches of sand, where you can bask in peaceful solitude.
Evening Stroll Along the Promenade
As the early evening sets in, take a leisurely stroll along the seafront promenade in Marbella. This enchanting walkway offers a delightful way to soak in the coastal ambiance and enjoy the scenic beauty of the city.
The promenade is alive with energy, with many people taking leisurely strolls, cycling, or enjoying outdoor exercise. It's a perfect opportunity to people-watch, observe street performers, and embrace the lively atmosphere that fills the air.
There are plenty of cafes, restaurants, hotels and clubs dotted along the seafront promenade.
Don't Miss Avenida del Mar
Before concluding your stroll along the seafront promenade in Marbella, make sure not to miss Avenida del Mar, an intriguing avenue that showcases an interesting collection of sculptures. Located just a stone's throw away, it's a sight that shouldn't be overlooked.
Avenida del Mar is a pedestrian walkway with a series of striking sculptures created by Salvador Dalí. These sculptures, made of bronze, capture the surrealist artist's imaginative and thought-provoking style.
Take the Ferry to Puerto Banus for an Evening Party
To cap off your day trip in Marbella, head to Puerto Banus and experience its vibrant nightlife. One scenic way to reach Puerto Banus is by taking a ferry ride, which adds an extra touch of adventure to your evening.
Board the ferry and enjoy a leisurely ride along the coast, taking in the breathtaking views of the sparkling sea at sunset.
Once you arrive at Puerto Banus, you'll find yourself immersed in a buzzing hub of entertainment. This renowned marina is renowned for its glamorous atmosphere and vibrant nightlife.
The nightlife in Puerto Banus is legendary, with energetic beats, lively crowds, live DJs, and an electric atmosphere that fills the air. You can sip on creative cocktails, mingle with fellow partygoers, and dance the night away to the pulsating rhythms.
Conclusion
In conclusion, a day trip to Marbella offers a delightful escape filled with great experiences. From strolling through the charming old town and exploring historic sites, to enjoying the beautiful beaches and savouring the local cuisine, Marbella has something for everyone.
For more similar articles, check out my recommendations below:
Liked it? Pin it!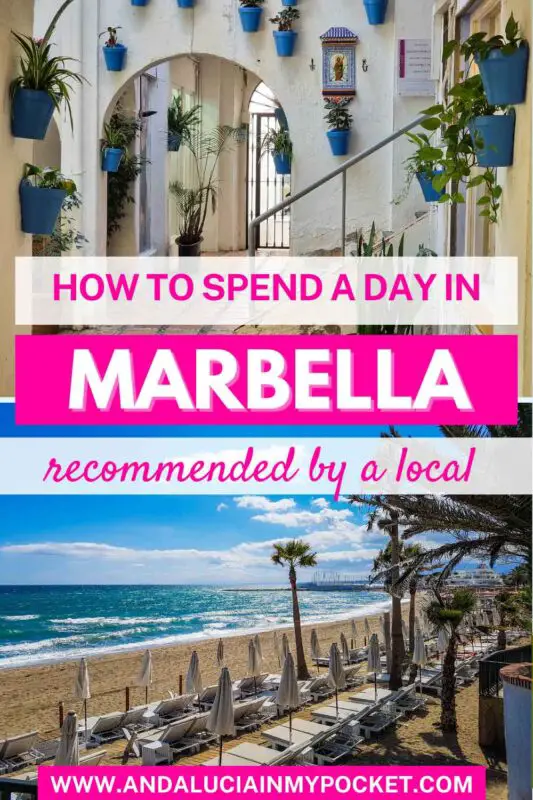 Disclaimer: Some of the links on this website are "affiliate links." This means that if you click on the link and do a purchase, I will receive an affiliate commission at no extra cost to you. This helps me keep my website running and continue to share my travelling knowledge with you. I thank you for booking your flights or hotels using the links on my website. Regardless, I only recommend products or services I use personally and believe will add value to my readers.