Marbella is one of the most popular destinations on Costa del Sol. However, the city doesn't have its own airport, so in order to travel here, you will need to fly to a nearby airport. But which is the nearest airport to Marbella?
There are two airports within one hour drive from Marbella: Malaga Airport and Gibraltar Airport. But which one is best to fly into? 
The Nearest Airport to Marbella: Malaga Airport
The nearest airport to Marbella is Malaga Picasso Airport, 50 kilometres away. This is the main airport on Costa del Sol, and is very well connected to all Europe and other international destinations from the States, Canada or North Africa. The airport is busy year-round, and flying here is usually cheaper than to any other airport in Andalucia.
Malaga is a relatively small but very busy airport, with two terminals and two runaways: one for take off and one for landing.
How to Get From Malaga Airport to Marbella:
Getting from Malaga Airport to Marbella is quite straightforward. There are local buses that connect the two destinations, some faster than others. The local bus arrives at the Marbella bus station, which is located outside of the town centre, up a hill, so keep this in mind if you are travelling with luggage. You may need to take a taxi to your hotel if you arrive by bus.
There are also plenty of shuttle buses and private transfers which you can book in advance, to take you from Malaga airport to your hotel in Marbella. The total travel time between Malaga Airport and Marbella should be around one hour, depending on the traffic.
Click here to book a private transfer.
Click here to book a shared transfer.
Other Airports Close to Marbella:
Gibraltar Airport
The second closest airport to Marbella is in Gibraltar. While it may not be as large as other international airports, it offers a decent selection of flights from various European destinations and has very good connections to London City Airport.
Gibraltar Airport is located 77 kilometres away from Marbella. The only disadvantage of flying into Gibraltar rather than Malaga is the border crossing into Spain, which sometimes might be busy.
How to Get from Gibraltar Airport to Marbella:
The local bus connecting Gibraltar to Marbella actually leaves from La Linea. The bus stop is about a 10 minute walk from the border crossing, so keep that in mind if you have luggage. Other ways to travel between Gibraltar Airport and Marbella include a private transfer where the driver will wait for you in the arrival hall, or a shared shuttle, which is more economical. The total journey time is about an hour and a half, depending which service you choose.
Click here to book a private transfer.
Click here to book a shared transfer.
Jerez Airport
Another airport close to Marbella is Jerez. This is a very small airport, served mostly by domestic flights. You may consider Jerez if you find an affordable flight and want to see a little bit of the city as well, which is very beautiful and less touristy than other places.
Jerez is located 180 kilometres away from Marbella.
How to Get From Jerez Airport to Marbella
The easiest way to travel between Jerez Airport and Marbella is by private transfer. There is no direct bus that connects the airport with Marbella. A bus journey, with a change, would be more than 5 hours, whilst the drive is less than 2 hours.
Click here to book a private transfer.
Click here to book a shared transfer.
Seville Airport
Seville has the furthest away airport from Marbella, located 200 kilometres away. The airport is quite small and easy to navigate, and it's a great option to fly into if you want to visit Seville as well on your trip to Marbella.
How to Get From Seville Airport to Marbella
There is no direct bus that connects Seville Airport to Marbella. However, you can take a train from the nearby Santa Justa station straight to Malaga, and then change to the local fast bus. You can always opt for a private transfer though.
Click here to book a private transfer.
Click here to book a shared transfer.
Conclusion
Even though Marbella doesn't have its own airport, there are plenty of nearby airports very well connected to the city by both public transport and private transfers at affordable prices. Whilst Malaga is the best airport to fly into because it is the closest to Marbella, if you are spending more time in Andalucia and are visiting more than one location, flying to Sevilla or Jerez are also very good options, especially if you find flights that better fit your budget.   
For more similar articles check the following recommendation:
Liked it? Pin it!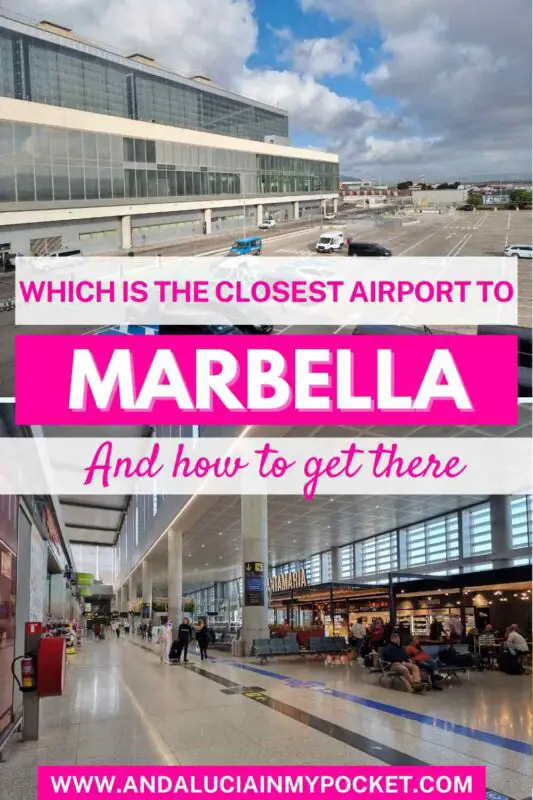 Disclaimer: Some of the links on this website are "affiliate links." This means that if you click on the link and do a purchase, I will receive an affiliate commission at no extra cost to you. This helps me keep my website running and continue to share my travelling knowledge with you. I thank you for booking your flights or hotels using the links on my website. Regardless, I only recommend products or services I use personally and believe will add value to my readers.