Are you thinking about taking a Marbella to Tangier day trip? Then you have landed in the right place. In this article I want to tell you all about the crossing from the sun kissed beaches of Marbella to the vibrant and exotic Tangier, over the sea.
I will show you all the options to cross the straits of Gibraltar, and give you my opinion on which are the best routes. I will also show you all the great things you can do in Tangier during a day trip.
So, Without further ado, let's get to it: how to go on a day trip to Tangier, from Marbella.
Is Taking a Marbella to Tangier Day Trip Worth It?
Is a day trip to Tangier from Marbella worth it? Absolutely! Tangier offers a taste of Morocco's charm, blending European influences with its own rich Berber history. The city has a vibrant and modern atmosphere, yet it preserves a sense of exotic allure, especially evident in its historic Kasbah. The Medina is compact, perfect for exploring in a day.
Now, let's dive right in to the logistics and costs associated with taking a day trip from Marbella to Tangier. On average, a day trip to Tangier from Marbella will set you back around 150 euros per person, regardless of whether you choose to go on your own or with the assistance of a guide.
Opting for a guide can be a wise decision, as it allows you to delve deeper into Tangier's history and cultural nuances. For a better experience, consider hiring a private guide who can tailor the trip to your preferences, ensuring you visit the places that intrigue you most. This personalised approach ensures you won't be led solely to commercial ventures and shopping spots but rather to the city's historical landmarks, museums, and points of genuine interest. The problem with going on a group tour is that it will mostly be focused on shopping rather than the culture of the city.
With a private guide at your side, you'll learn about Tangier's past as well as it's present. I was lucky to have a guide who was born and bred in the Kasbah, he was an encyclopaedia of stories and knowledge. Unfortunately I have lost touch with my guide as I lost his card, but you can find a similar experience by clicking here. Make sure to discuss ahead of time what you are looking for from this trip, and what places in Tangier you want to explore.  
The Ferry from Spain to Tangier
When deciding on a day trip from Marbella to Tangier, the ferry serves as a vital link between Spain and Morocco. There are two main ferry options available, crossing the strait of Gibraltar: one departing from Algeciras, and the other from Tarifa.
The ferry departing from Algeciras arrives at Tanger Med port in Morocco, located approximately 45 kilometres north of the city of Tangier. While this route offers a great connection to Tangier, it might not be the most convenient choice for a day trip, as it requires additional travel time to reach the city itself.
The more favourable option for a day trip is the ferry from Tarifa to Tangier. This route docks at the Port de Tanger Ville, situated right in the heart of the city, allowing for easy access to Tangier's Kasbah.
Given the popularity of this ferry route, it's advisable to book tickets in advance.
It's always a good idea to bring along some snacks and water for the ferry. Onboard food options can be on the expensive side, and having your refreshments ensures a more comfortable and cost-effective trip.
When it's time for your return journey, plan to be at the harbour at least one hour before the scheduled departure time. Border control procedures, particularly on the Moroccan side, can be time-consuming, as passport checks might take longer than expected. Additionally, keep in mind that ferry departures may not always adhere strictly to the timetable due to possible delays caused by the windy conditions prevalent in this region of Spain.
To make the most of your day trip from Marbella to Tangier, consider booking an early morning ferry for your departure and opting for a late one for your return. This way, you'll have plenty of time to explore Tangier without feeling rushed. However, it's essential not to select the last ferry of the day, as it may be subject to cancellation due to high winds.
Taking a Marella to Tangier Day Trip: Public Transport or Guided Tour?
There are several transport options for taking a Marbella to Tangier day trip.
The easiest and most economical way to journey from Marbella to Tangier is by taking a direct bus to the charming coastal town of Tarifa, and then catching a ferry to Tangier. The ferry ride, which takes one hour, operates with departures every two hours, providing you with flexible timing options. Keep in mind that ferry ticket prices typically start at around 40 euros for each leg of the journey.
Keep in mind though that there are only three daily buses that connect Marbella to Tarifa. The fastest among them will get you to Tarifa in approximately 1 hour and 45 minutes. The second option is to take a direct bus to Algeciras, where you can change for Tarifa.
For those seeking a quicker and more streamlined travel experience, booking an organised tour might be the perfect solution. These tours include door-to-door transport from your Marbella hotel directly to Tangier, eliminating the hassle of navigating multiple modes of transport. However, it's worth noting that opting for an organised tour means you'll be accompanied by a guide throughout the day, which might limit your ability to explore at your own pace. You can check such an option by clicking here.
Alternatively, if you prefer the freedom to set your own schedule and explore Tangier independently, consider renting a car for the day. Driving to Tarifa will grant you the flexibility to enjoy the scenic route at your leisure. Once you arrive in Tarifa, you can conveniently leave the car in one of the many car parks available around the town, catering specifically to ferry passengers.
What to Do in Tangier on a Day Trip?
Have a Coffee In the Petit Socco  
The best place to start your day trip to Tangier is the vibrant Petit Socco. Once the bustling hub of bankers and diplomats' offices in the 1950s, Petit Socco has evolved into a charming meeting point where the alleys of the Medina converge and the locals gather for social events. Here, you'll find a small square dotted with inviting cafes, restaurants, and buildings with beautiful stucco facades and elegant iron balconies.
Petit Socco is the perfect place to sit down at and observe the buss of the city, before venturing on one of the narrow alleys going up through the Kasbah.
Explore the Kasbah
One of the highlights of your Tangier day trip is undoubtedly the historic Kasbah, a captivating neighbourhood characterised by narrow alleyways winding up the hill in a maze-like pattern. It's a sight to behold, and if it was larger, it could be quite easy to lose oneself amidst this intricate labyrinth. However, this is part of the charm of the Kasbah – its compact size invites exploration without feeling overwhelmed.
As you navigate through the Kasbah's charming alleys, you'll notice a striking resemblance to the historical Moorish whitewashed villages found in Spain. This architectural connection serves as a reminder of the shared heritage and influences that have shaped both coastal regions across the straits of Gibraltar.
A fascinating aspect of the Kasbah is its close-knit community, with most of its residents being born and raised within its walls. Generation after generation, families have chosen not to leave this captivating area, fostering a deep-rooted sense of belonging and pride in preserving the neighbourhood's identity. My guide was born and bred in the Kasbah, and because of that, I was privileged to hear many fascinating stories about the locals and their strong bonds with each other.
The Kasbah is fortified with protective walls, offering not only a sense of historical grandeur but also providing panoramic views of the ocean from the Bab Al Bahr gate.
Find the Tomb of Ibn Battuta
Within the labyrinthine alleys of the Kasbah lies the final resting place of Ibn Battuta, Morocco's most renowned traveller. This humble tomb holds the remains of one of the greatest globetrotters of his era, whose remarkable journey spanned an astonishing 30 years.
Ibn Battuta's voyages took him far and wide, as he embarked on a series of adventures unrivalled in his time. His travel writings offer a captivating insight into the world as it existed during the 14th century.
Shop for Spices In the Souk
The Medina of Tangier is a working Medina, meaning that you will find a lot of shops, souks, and different ateliers dotted along the narrow alleyways. It can get quite busy, so be careful.
A visit to Morocco shouldn't end without a souvenir, some spices such as ras-el-hanout or harissa, and maybe even a new bag or scarf. You will find all of them in the souks in Tangier. Whilst it is quite small compared with the souks in Marrakech or Fez, it's a good insight on how a market in Morocco looks like. Don't forget to haggle!
Visit the Tangier American Legation Museum
A visit to Tangier wouldn't be complete without exploring the American Legion Museum, steeped in a fascinating historical connection between Morocco and the United States. Morocco was the first country to recognise the independence of the United States, which created a strong bond between the two nations.
The American Legion Museum building holds a unique place in history, as it was gifted to the US government by the Sultan of Morocco to serve as their inaugural diplomatic post abroad. This rendered the building the very first property owned by the US outside its borders, and today, it stands as the sole American National Historic Landmark located outside of the States. The building served as the United States Legation and Consulate for 140 years.
Enjoy the Traditional Moroccan Food
Of course, a visit to Morocco, even if it's just for a day, wouldn't be complete without trying the local food. As Tangier is a coastal city, I highly recommend trying the fish or seafood tagine. If you want to go for a traditional Moroccan dish, go for the lamb tagine. I also really liked and I can recommend the pastilla, which is a sweet but savoury pie filled with chicken and sprinkled with cinnamon.
If you are looking to delve in the street food, you must try the kalinte, a Moroccan chickpea and egg tart which is served warm with cumin sprinkled on top and sometimes harissa smeared over. It is a very popular street food in the North of Morocco and you won't find it anywhere else in the country.
Stroll by the Sea
Before ending your day in Tangier and heading back to the port for the ferry to Tarifa, enjoy a relaxing stroll along the beach and the modern part of the city. From here you will have a different perspective of the Kasbah, stretching over the hill, looking impenetrable from a distance.
For more similar articles, check out my recommendations below:
Liked it? Pin it!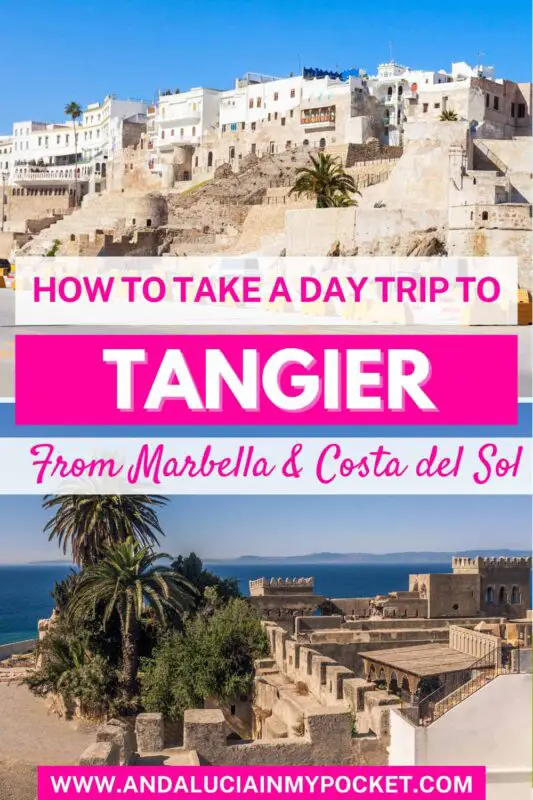 Disclaimer: Some of the links on this website are "affiliate links." This means that if you click on the link and do a purchase, I will receive an affiliate commission at no extra cost to you. This helps me keep my website running and continue to share my travelling knowledge with you. I thank you for booking your flights or hotels using the links on my website. Regardless, I only recommend products or services I use personally and believe will add value to my readers.