Many tourists who come to spend their holiday on Costa del Sol are interested in taking a day trip to Gibraltar. It's the fascination of exploring a new country, and the ease of travelling here from mainland Spain. If you are thinking of taking a Marbella to Gibraltar day trip, I have gathered in this article all the information you need to know to decide.
Is Taking a Marbella to Gibraltar Day Trip Worth It?
There are only so many things to do in Marbella, and in my opinion, taking day trips is always a good idea. In this article I will explore the Marbella to Gibraltar day trip, which I've personally taken. You may wonder, is it worth it? Let's see:
Pros of taking a day trip to Gibraltar:
Unique Cultural Blend: Gibraltar's strategic location at the crossroads of Europe and Africa has shaped its cultural heritage. You can experience here a blend of British and Spanish influences, evident in its architecture, language, and cuisine.
The Rock of Gibraltar: One of the major highlights is the iconic Rock of Gibraltar, a natural limestone monolith with beautiful views from the top. The opportunity to see Gibraltar's famous Barbary macaques, Europe's only wild monkey population, adds to the appeal.
Shopping and Tax-Free Goods: Gibraltar is a popular shopping destination due to its status as a tax-free zone, making it an attractive option for those seeking duty-free deals on various goods.
Historical Sites: Explore the history of the region at sites like St. Michael's Cave, the Great Siege Tunnels, and the Moorish Castle, offering insights into Gibraltar's past.
Cons of taking a day trip to Gibraltar:
Border Crossing Delays: Gibraltar's border crossing with Spain can experience long queues and delays, which could impact the time available for exploration.
Limited Time: Even if Gibraltar is a relatively small territory, a day trip might not be enough to fully see everything. Some visitors may feel rushed, should they try to cover all the attractions.
Weather Variability: The weather in Gibraltar can be unpredictable, and on some days, visibility may be limited due to dense fog, potentially impacting sightseeing opportunities. Gibraltar is also known for its high winds, which may affect the access to some of the touristic attractions
Currency Change: Gibraltar has its own currency, the Gibraltar Pound, which requires currency exchange for purchases.
How to Travel Between Marbella and Gibraltar?
Getting to Gibraltar from Marbella is easy and straightforward, no matter if you are using the public transport, driving a hire car or going on an organised tour.
By Bus:
There are several daily buses run by Avanza which connect Marbella bus station with La Linea – the Spanish city at the border with Gibraltar. It's good to note that you won't be able to enter Gibraltar by public transport, you will have to cross the border by foot. The bus takes approximately one hour and 15 minutes between Marbella and La Linea. The prices start at 8 euros, and you can book them online by clicking here. The first bus starts at 7:30 in the morning, and arrives in La Linea at 8:45.
By Car:
If you are hiring your car during your trip to Marbella, then getting to Gibraltar is very easy. The drive from Marbella to Gibraltar is approximately 75 kilometres and takes just over one hour, depending on the traffic and the route you choose. The fastest route is on AP-7, which is a toll road. The A7 motorway is free, but there are a lot of roundabouts and the speed limit varies, so the travel time will be longer.
I highly recommend leaving the car in La Linea, just before the border crossing. Gibraltar is very small and the parking spaces are limited and expensive. The closest car park to the border crossing is Santa Barbara, which is the most expensive as well, at 18 euros/day. Just a bit further away, behind the McDonalds, you will find La Línea – Centro car park which charges only 3 euros per day. This car park is a 15 minutes walk away from the border crossing.
By Tour:
For a hassle-free and guided experience, consider joining an organised tour. Many tour operators offer day trips from Marbella to Gibraltar, providing transportation, a guide, and sometimes even additional activities. This is an excellent choice if you want to make the most of your time and learn more about the region's history and culture. However, keep in mind that if you opt for a tour you most likely won't have much free time in Gibraltar to explore by yourself, as the schedule will be set by the organisers. You can see such a tour here.
Some Tips:
Regardless of the mode of transport you choose, it's a good idea to check the current travel restrictions and requirements, especially if you're crossing borders.
Plan your trip in advance, especially during peak tourist seasons, to ensure availability and avoid any last-minute stress.
Don't forget to carry essentials like your passport, which is required to cross the border into Gibraltar.
Taking a Marella to Gibraltar Day Trip: Public Transport or Guided Tour?
When it comes to exploring Gibraltar from Marbella, you have two primary options: going independently or joining an organised tour. Each choice comes with its own set of advantages and disadvantages, catering to different preferences and travel styles. Let's delve into the details of both options to help you make the best decision.
Independent Travel:
Advantages:
Flexibility in Itinerary: Travelling independently allows you to create a personalised itinerary based on your interests and pace. You can spend more time at attractions that intrigue you and skip those that don't appeal to you.
Freedom of Time: You're not bound by a strict schedule, giving you the freedom to start your day at your convenience and explore Gibraltar at your own pace.
Customised Experiences: With independent travel, you can explore the off-the-beaten-path spots, start conversations with locals, and explore the hole in the wall restaurants, making your experience more authentic and unique.
Cost-Effectiveness: While this depends on your choices, independent travel can be more cost-effective if you opt for budget-friendly transport and dining options.
Disadvantages:
Transport Arrangements: Planning transport, especially if you don't have a car, can be time-consuming and may require navigating public transport schedules which may not always be convenient.
Navigational Challenges: Finding your way around a new place can be daunting, leading to potential navigation challenges.
Missed Insights: Without a knowledgeable guide, you might miss out on historical and cultural insights that a local expert could provide.
Organised Tour:
Advantages:
Transport Convenience: With an organised tour, you can enjoy the ease of door-to-door pick-up from your accommodation in Marbella, eliminating the need to worry about transportation logistics.
Guided Expertise: A professional guide will accompany you, providing valuable insights, historical context, and engaging stories about the attractions you visit.
Tight Schedule: Organised tours often have a well-planned itinerary, ensuring you get to see the highlights of Gibraltar in a day, making it an excellent option for those with limited time.
Group Atmosphere: If you enjoy meeting fellow travellers, an organised tour offers a social aspect, giving you the opportunity to share experiences with like-minded people.
Disadvantages:
Lack of Flexibility: The fixed schedule of an organised tour means you have less freedom to linger at places you find captivating or explore hidden gems not included in the itinerary.
Less Privacy: Being part of a group means sharing your day with other tourists, which might not appeal to those seeking a more private and intimate experience.
Cost Considerations: Organised tours can be more expensive than travelling independently, as you're paying for the convenience and expertise provided by the tour operator.
Choosing between independent travel and an organised day tour from Marbella to Gibraltar depends on your preferences and priorities. If you value the freedom to explore at your own pace and enjoy crafting your own itinerary, independent travel is likely the better choice. On the other hand, if you prefer convenience, guided expertise, and a pre-planned schedule, an organised tour will cater to your needs.
Click here to book a tour that includes transport and plenty of free time in Gibraltar.
What to Do in Gibraltar During A Day Trip From Marbella?
Below I will give you a sample itinerary on how to spend your time in Gibraltar, on a day trip from Marbella. The Rock and the attractions on it will take approximately three hours to complete.
Cross the Runway
The first attraction on the day trip from Marbella to Gibraltar comes right after the border crossing. The Gibraltar International Airport is one of the few airports in the world with a runway that intersects a main road. As you exit the passport control, you'll find yourself in front of the runway.
When a plane is about to land or take off, a safety protocol is put into action, and the barriers are automatically closed to stop any movement across the runway. As you wait for the barriers to open, you'll have a front-row seat to witness planes descend or ascend just metres away from you.
Learn About the History of the Rock
The Rock of Gibraltar has a rich and complicated history, dating back to ancient times when it was inhabited by primitive humans and Neanderthals. However, it was the Moors of Tariq ibn Ziyad who first settled the Rock in 711 AD. Over the centuries, its strategic position guarding the entrance to the Mediterranean made it a coveted prize, leading to numerous battles for possession between Spain, France, and Britain.
One of the most defining periods in Gibraltar's history was the Great Siege of 1779-1783. Under the Treaty of Utrecht in 1713, Gibraltar was officially ceded to Britain, and subsequent treaties, such as the Treaty of Paris in 1763 and the Treaty of Versailles in 1783, reaffirmed Britain's control over the Rock. However, the Spanish planned a fierce attack from both sea and land, preceded by heavy bombardment. The Gibraltarians endured great suffering due to food shortages, but they were led by the valiant General Eliott, who exemplified resilience and leadership.
During the Great Siege, Lieutenant Koehler found a solution to fire cannons from the high cliffs of the Rock onto the besieging forces. Another lieutenant, Shrapnel, developed the ammunition that still bears his name today. The numerous tunnels that riddle the Rock are a testament to the ingenuity and engineering prowess of the time. Sergeant-Major Ince was responsible for constructing these tunnels, which allowed the guns to bear down onto the Mediterranean shore, proving invaluable during the Great Siege. These same tunnels were later utilised during World War II, serving as gun emplacements for the Allied Forces.
Despite being outnumbered and outgunned, the British forces held steadfast during the Great Siege, and hostilities finally ceased in February 1783.
Go to the Top of the Rock
When exploring the Rock of Gibraltar, you have two main options to reach the top: taking a guided tour by minibus or embarking on a journey via the iconic cable car.  
Guided Tour by Minibus:
Opting for a guided tour by minibus is an excellent choice if you are seeking a hassle-free and informative journey. The tours usually include entrance to key attractions such as St. Michael's Cave and the Great Siege Tunnels, as well as panoramic stops to enjoy the breathtaking views towards Africa. The maximum number of tourists in a minibus is six. You can book the tour in advance by clicking here.
Independent Trip via the Cable Car:
If you want to go up by yourself, choose the cable car, for a thrilling journey. The cable car ride itself is a highlight, providing pretty views of the Rock, the Mediterranean Sea, and the surrounding landscape.
However, it's essential to be aware that the cable car's operation can be subject to occasional interruptions due to maintenance or high winds. During these times, the cable car service might be temporarily suspended for safety reasons. You should know that the cable car is quite old.
In case the cable car is not running, you can choose between two other options: taking a minibus tour (usually available for a fee of around £25-£30) or embracing a more adventurous spirit and hiking up the Rock. The hiking trail takes approximately 2.5 hours and includes some steep parts.
Visit St Michael's Cave
Located within the Rock of Gibraltar, St. Michael's Cave holds significant historical importance and captivates visitors with its intriguing legends.
According to local beliefs, the cave is said to be bottomless, and the Rock monkeys seen nearby are thought to have arrived through ancient tunnels that once crossed the Straits. In ancient Greek times, it was considered one of the Gates of Hades, linked to the underworld.
During World War II, the cave was prepared as an emergency hospital but never used for that purpose. Today, it serves as a venue for events such as concerts, ballet, and drama due to its capacity to seat 600 people and its excellent acoustics.
You can see a fallen stalagmite at the cave's far end, which likely collapsed thousands of years ago and has since been cemented to the cave floor by natural processes.
See the Monkeys
Gibraltar's famous residents, the Barbary macaques, are one of the most famous attractions here.
These playful creatures, originally hailing from the Atlas Mountains and the Rif Mountains of Morocco, form the only wild monkey population on the entire European continent.
A legend states that the fate of Gibraltar is intertwined with that of the macaques. The tale goes that if the Apes were ever to leave the Rock, the British would follow suit. Not wanting to take the risk, Winston Churchill took special measures during World War II to ensure their preservation. To maintain their numbers, Churchill went to the extent of bringing some Barbary macaques from Africa to Gibraltar, safeguarding their presence on the Rock.
The macaques have become accustomed to human interaction and may even approach and climb onto people. However, it's essential to remember that despite their familiarity with humans, these are still wild animals. If frightened or annoyed, they may resort to biting as a form of defence. For the safety of both visitors and the monkeys, deliberately feeding the macaques in Gibraltar is strictly prohibited by law.
Dare to Walk the Skywalk
The Skywalk is Gibraltar's newest tourist attraction. It sits at 340 metres height, expanding above the edge of the cliff. The floor is made out of laminated glass panels, so stepping over it is pure adrenaline inducing. Even though it's supposed to withstand speeds of 150 km/hour, when I visited the Rock, the Skywalk was closed due to the wind.
The views from the platform are supposed to be incredible, stretching over three countries, a sea and an ocean and two continents. Nearby you will also find the thrilling Windsor Suspended Bridge, if you're in for more heart stopping attractions.
Explore the Great Siege Tunnels
The Great Siege Tunnels are a testament to the events during the 1779-1783 Great Siege. This network of tunnels showcases the Gibraltarian people's ingenuity and resilience during this trying time.
Facing overwhelming odds, the British forces, led by General Eliott, defended the Rock against 40,000 Spanish and French troops. The tunnels, ingeniously designed by Lieutenant Koehler, allowed cannons to fire from steep angles, countering the siege. Sergeant-Major Ince's construction enabled guns to target the Mediterranean shore. The tunnels later served the Allied Forces in World War II.
Today, visitors explore the tunnels' dark passages, gaining insight into the historical significance of this period. Exhibits provide a comprehensive understanding of Gibraltar's enduring spirit and unwavering dedication to its sovereignty.
Have Lunch With A View
A day trip from Marbella to Gibraltar is not all about sightseeing, but also about relaxing. Sit down at a restaurant with a view and enjoy some typical Gibraltarian cuisine, or some fresh fish dishes.
Whilst Gibraltar is famous for a good fish and chip or Sunday roast, there are some typical dishes that you will only find here. They include the Rosto, a tomato based pasta dish, the Calentita, a chickpea and olive oil flat pie, Rolitos, which are beef rolls stuffed with bacon, vegetables, eggs and olives, as well as the Japonesa, a fried donut filled with custard cream.
Shop For Duty Free
Main Street in Gibraltar is not just a shopping destination; it's a retail haven that offers a unique and enticing experience for visitors. What sets this shopping district apart is the absence of tax, making it a paradise for bargain hunters.
The lack of tax in Gibraltar means that expensive products from top brands as well as alcohol and tobacco are significantly cheaper here. It's essential, however, to be mindful of the limits when crossing the border into Spain after your shopping spree. Spanish customs regulations allow travellers to bring a certain amount of goods from Gibraltar without incurring taxes or duties.
For more similar articles, check out my recommendations below:
Liked it? Pin it!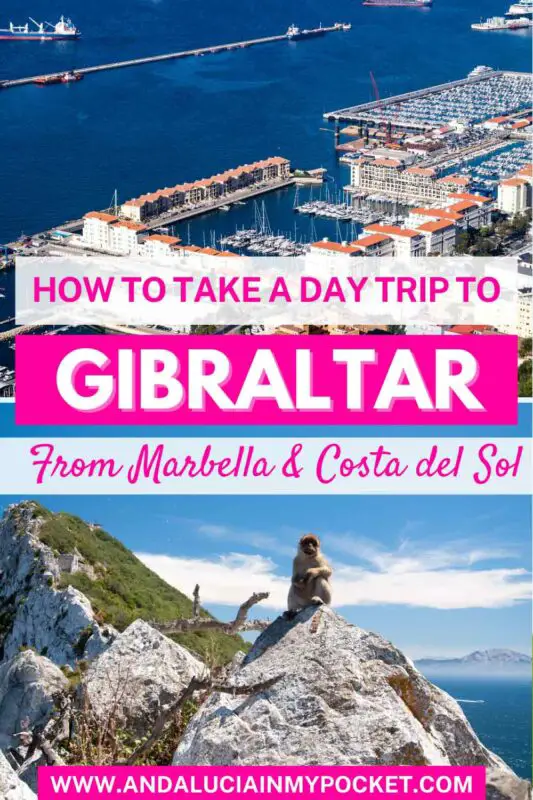 Disclaimer: Some of the links on this website are "affiliate links." This means that if you click on the link and do a purchase, I will receive an affiliate commission at no extra cost to you. This helps me keep my website running and continue to share my travelling knowledge with you. I thank you for booking your flights or hotels using the links on my website. Regardless, I only recommend products or services I use personally and believe will add value to my readers.