In this article I want to take you on a journey around the most beautiful towns in Malaga that you must visit when you explore the region, on your next holiday here.
From ancient Moorish castles to the most stunning beaches, from hill-top fortresses to unique natural caves and mountains, these towns located in the Malaga province offer experiences that you won't find anywhere else. As a foodie, I have also included recommendations on what typical dish to try in each of these intriguing towns.
The Most Beautiful Towns in Malaga:
Almuñécar
Situated along the picturesque coast of Malaga, Almuñécar is one of my favourite towns on Costa Tropical. Just one hour drive away from Malaga you will find this gorgeous town with a castle and beaches with crystal clear water that will make you want to leave everything and just jump in.
Almuñécar remains a relatively quiet town in Malaga year-round, even during the peak summer months. Most tourists you will find here are Spanish, who know where the best are places to relax, along the coast.
Notable Sites:
Almuñécar Castle: Overlooking the Mediterranean, the castle holds a legacy dating back to Phoenician times.
El Majuelo Botanical Park: This beautiful park is home to ancient Roman fish-salting pools, which, and even though they haven't been used for centuries, still bear a specific fishy smell.
San Miguel Castle Archaeological Museum: Housed within the walls of the mediaeval castle, the museum showcases artefacts and objects found during archaeological research in Almuñécar.
Bonsai Garden Museum: A unique attraction, this museum features a collection of bonsai trees.
Traditional Dish:
Almuñécar's typical dish is the "Migas Almuñequeras," a plate made from breadcrumbs, olive oil, garlic, and local sausage.
Read More: The best things to do in Almuñécar
Antequera
If you are looking for a unique town in Malaga that offers a complete travel experience, Antequera is the perfect choice. This charming town is somehow still a hidden gem in Andalucia, with not many foreign visitors knowing about it or travelling here. From ancient dolmens and Moorish architecture to picturesque natural wonders like the Torcal de Antequera, there are plenty of things to do in Antequera.
Notable Sites:
Alcazaba of Antequera: An ancient fortress offering panoramic views, showcasing the town's importance during the Moorish times.
Dolmens of Antequera: These UNESCO-recognized megalithic tombs provide insights into prehistoric societies and their burial practices.
Real Colegiata de Santa María: A Renaissance church, the first one of its kind built in Andalucia, that dominates the skyline of the town.  
El Torcal Natural Park: A unique karst landscape displays geological formations shaped over millions of years, contributing to Antequera's natural history.
Traditional Dish:
Antequera's culinary identity shines through "Porra Antequerana," a hearty dish made from vine tomatoes, bread, and peppers, topped with boiled eggs and jamon, which is very refreshing in summer.
Read More: The best things to do in Antequera
Benalmádena
Benalmádena is one of the most popular towns in Malaga, a seaside resort sought by many for the beautiful beaches and the many touristic attractions. Benalmadena has a lovely harbour, plenty of great restaurants and tapas bars, is home to a giant aquarium, the unique Colomares Castle, and has a butterfly park.
The town is divided between the beach resort, on the seafront, and the old pueblo, up the hill.
Notable Sites:
Benalmádena Pueblo: This charming old town retains its Andalusian charm, featuring white-washed houses, narrow streets, and panoramic views of the Mediterranean.
Puerto Marina: A vibrant marina with shops, restaurants, and nightlife options, showcasing the town's vibrant atmosphere.
Stupa of Enlightenment: This towering Buddhist monument offers an interesting spiritual experience and has the most incredible views over the Med and the mountains across the sea, in Morocco.
Butterfly Park (Mariposario de Benalmádena): A tropical oasis housing thousands of exotic butterflies.
Traditional Dish:
Whilst Benalmádena doesn't really have its own traditional dish, you can't miss "Pescaíto Frito," a platter of fish and seafood fried in olive oil and served with lemon wedges and aioli sauce.
Estepona
Estepona is a quiet town in Malaga, close to Marbella. It has a beautiful and quiet old town, with charming whitewashed buildings decorated with red flowers in blue pots, or pink climbing bougainvillaea. The heart of Estepona lies within Plaza de las Flores, a pretty square decorated with red, pink and white flowers.
Estepona is known as a family destination on Costa del Sol but also a hub for art, with the Poets' Alley and the Sculptures' Alley.
Notable Sites:
Old Town (Casco Antiguo): Estepona's heart reveals its authentic Andalusian soul through charming streets, colourful flower pots, and historic squares.
Selwo Aventura: An expansive wildlife park with exotic animals in a semi-natural environment.
Nuestra Señora de Los Remedios Church: A historic church at the heart of the town, echoing Estepona's religious heritage and architectural elegance.
Orchid House (Orquidario de Estepona): A beautiful garden housing a diverse collection of orchids.
Traditional Dish:
Estepona doesn't have its own traditional dish, but you can't miss having espetos at a chiringuito, on the beach. This traditional Malaguena dish consists of grilled sardines over an open fire, in a grill inside an old fishing boat.
Frigiliana
Frigiliana is one of the prettiest whitewashed towns in Malaga, with charming narrow alleys which open up in tiny squares with viewpoints to die for. Frigiliana is located only 10 minutes away from Nerja, so if you're visiting the famous Nerja Caves you must have a stop here as well.  
I explored Frigiliana as a day trip from Nerja, where I went for a few days away on a sunny winter day. I was lucky to find an empty town – though I know this is not the case during the summer months.
Notable Sites:
Historic Centre: Cobblestone streets and whitewashed houses define Frigiliana's core and romantic atmosphere.
Church of San Antonio: A historic church with a unique Spanish-Muslim architecture, dating from the times of the Reconquista.
El Ingenio: A former 16th century Renaissance Palace that today is the only molasses factory in Europe.
The Royal Granaries: You might not even know that you are passing by the old granaries, which are now residences. You can spot the original shape and the arches in the façade.
Traditional food:
In Frigiliana you can try the choto, which is a dish made from goat kid cooked in almond sauce.
Fuengirola
Fuengirola has been my home for a few years now, and it's the town near Malaga which I know best. There are so many things to do here, from exploring the Sohail Castle to learning about endangered species at the Bioparc. The water park is an attraction for locals all around Costa del Sol and Malaga itself.
The town has plenty of dining options, as well as pretty beaches with all the facilities. Festivals at Mare Nostrum, which faces the sea, are always special, so don't miss them if you are in town during the Medieval Festival or the Fiesta de los Pueblos.
Notable Sites:
Sohail Castle: Overlooking the sea, the castle is free to visit and has beautiful vistas.
Bioparc Fuengirola: An innovative zoo showcasing animals in recreated natural habitats, focusing on conserving endangered species.
Paseo Marítimo: A picturesque promenade lined with shops, restaurants, and pretty sea views.
Roman Ruins of Finca del Secretario: The archaeological site showcases remains of a villa and thermal baths, highlighting the town's Roman heritage.
Traditional food:
Fuengirola doesn't have its own typical dish, but I highly recommend you try the rosada alla plancha. The fish is grilled on a hot plate to perfection, until it's flaky and melts in your mouth. It's a mystery what type of fish rosada is, as it doesn't have an equivalent translation in English.
Read More: The best things to do in Fuengirola
Marbella
Marbella is one of the most popular towns on Costa del Sol, famous for its exclusive nightlife and luxurious beach experience.
Marbella exudes a sophisticated blend of beachfront allure and upscale charm. It has a blend of opulent lifestyle and scenic beauty, which attracts visitors from all over the world.
As one of the most vibrant towns in Malaga, everyone wants to come here for their summer holidays.
Notable Sites:
Old Town: Marbella's historic core unveils its soul through cobbled streets, charming squares, and remnants of its Moorish past.
Puerto Banús: An iconic marina renowned for luxury yachts and high-end boutiques, showing Marbella's upscale and cosmopolitan character.
Alameda Park: A small park decorated with sculptures and exotic plants, a great place to hide from the scorching midday sun.
Museo Ralli: Explore Marbella's art scene at Museo Ralli, a contemporary art museum showcasing an impressive collection of Latin American and European works
Traditional Dish:
When in Marbella, try the "Ajoblanco," a refreshing almond and garlic soup, very refreshing in summer.  
Read More: The best things to do in Marbella
Mijas
Mijas is actually composed of not one, but three towns near Malaga: Mijas Pueblo, Mijas Costa, and La Cala de Mijas. It's a wonderful area which I personally love so much. Mijas Pueblo is my happy place, where I go to every time I've had a bad day, whilst La Cala de Mijas is where I go to sunbathe. It is my favourite beach near Malaga.
Mijas itself is a great destination for a holiday, as there are so many things to do here.
Notable Sites:
Mijas Pueblo: The heart of Mijas, with beautiful white houses, narrow cobblestone alleys, and plenty of attractions such as a chocolate workshop, flamenco shows in the main square, or the most incredible sunsets from the Muralla Gardens.
Ermita de la Virgen de la Peña: A hermitage built into the cliffs that pays homage to Mijas' patron saint. The legend says two siblings were guided to the statue of Virgin Mary in the rocks by the saint itself, and that's where the chapel was built.
Mijas Wine Museum: Discover Mijas' viticulture heritage at the Wine Museum, where you can not just learn about wine making but also taste the exhibits.
La Cala Beach: Relax on the golden sands of La Cala Beach, an inviting beach that is perfect for sunbathing, swimming, and leisurely strolls by the sea.
Traditional Dish:
You must try the Buñuelos, which are sold on the streets of Mijas all throughout the summer. They are small donuts made by hand, deep fried in olive oil and sprinkled with sugar on top.
Read More: The best things to do in Mijas Pueblo
Nerja
Nerja is another one of those towns in Malaga that you simply must visit. It is said that Nerja has some of the most beautiful beaches in the entire province of Malaga. And after seeing them, I agree!
Nerja is a small but cute town, with a healthy mix of private residences and hotels. The centre of the town is populated with plenty of cafes, tapas bars and restaurants, which are very vibrant in the evenings. I had some of the most amazing food in Nerja at Bakus restaurant.
Notable Sites:
Balcón de Europa: An iconic viewpoint which stretches from the main promenade over the cliffs, over the sea.  
Nerja Cave: Venture into the Nerja Cave to witness impressive stalactite formations and prehistoric artwork.
Burriana Beach: One of the most beautiful beaches in Nerja, famous all over the world for its soft golden sand and crystal clear waters, as well as the mountain backdrop.
Nerja Donkey Sanctuary: Visit the Nerja Donkey Sanctuary, where rescued donkeys find refuge and care.
Traditional Dish:
The typical dish in Nerja which you must try is the "Ajobacalao," a flavorful spread made with salted cod and garlic.
Read More: The best things to do in Nerja
Ronda
Ronda is one of the most spectacular towns in Malaga. It has dramatic scenery, incredible architecture, and a particular type of charm. The main attraction in Ronda is the Puente Nuevo bridge, which attracts thousands of daily visitors to this town. But there are so many other amazing things to do in Ronda, besides the bridge.
Ronda is an old Moorish town, and it still has plenty of historical and cultural landmarks, such as the Arab Baths or the old city walls. The quaint streets and alleys of Ronda's Old Town have a captivating charm, perfect for leisurely strolls and discovering the town's authentic atmosphere.
Notable Sites:
Puente Nuevo: The Puente Nuevo bridge, an architectural marvel, divides the old town to the new Ronda over El Tajo Gorge, offering breathtaking vistas of the surrounding landscape.
Old Town: Wander through Ronda's Old Town, where charming cobblestone streets, historic buildings, and the town's rich cultural heritage intertwine.
Arab Baths: Discover the Arab Baths, remnants of the town's Moorish past. They are extremely well preserved.
Palacio Mondragón: A Moorish palace with  lovely gardens, courtyards, and different exhibitions.
Traditional Dish:
When in Ronda, don't miss the Menestra a la Rondeña, an artichoke and beans based stew, with black pudding and fried tomatoes.
Read More: How to spend a day in Ronda
Salobreña
Salobreña is another hidden gem that I love to go to when Costa del Sol becomes overcrowded with tourists. Located on Costa Tropical, Salobreña offers both a historical experience through its old town and castle, as well as a wonderful beach experience.
Notable Sites:
Salobreña Castle: Dominating the landscape, Salobreña Castle stands on the highest rock in town. Whilst it's quite the trek up, it is very well worth it.
La Caleta Beach: Relax on the shores of La Caleta Beach, where golden sands and crystal-clear waters offer a tranquil retreat.
Traditional Dish:
Not a traditional dish, but a local fruit, the "Chirimoya", also known as custard apple. This fruit is simply extraordinary, with a sweet taste and creamy flesh, it tastes just like taking a bite from custard.
Read More: How to spend one day in Salobreña
Conclusion:
One thing is clear: there are plenty of towns in Malaga that can make your trip here unique. If you are based in Malaga, why not check out my day trips from Malaga suggestions, to see how easy it is to travel to all these places.
Liked it? Pin it!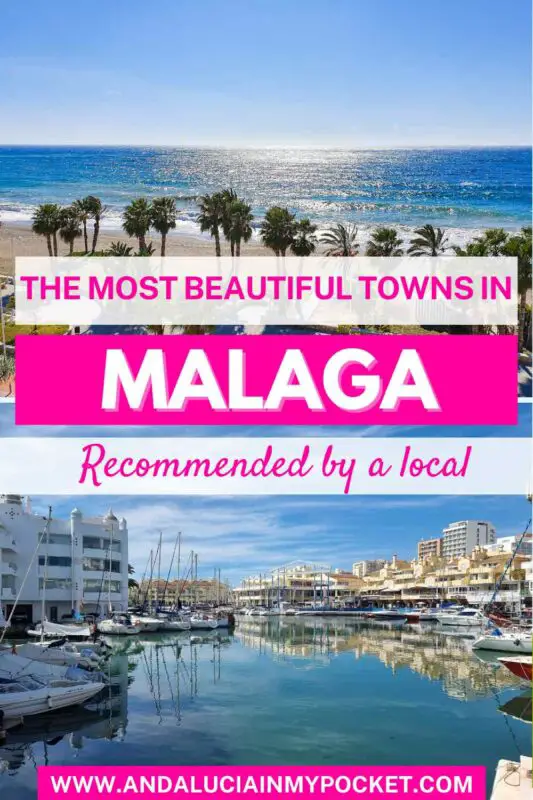 Disclaimer: Some of the links on this website are "affiliate links." This means that if you click on the link and do a purchase, I will receive an affiliate commission at no extra cost to you. This helps me keep my website running and continue to share my travelling knowledge with you. I thank you for booking your flights or hotels using the links on my website. Regardless, I only recommend products or services I use personally and believe will add value to my readers.