When you think of how small it is, you couldn't imagine that there are so many exciting things to do in Antequera.  Whether you are a culture lover or an outdoors person, Antequera has something that you will enjoy.  Some of the best things to do in Antequera are outdoors so, if you love nature and spectacular scenery, you must visit this beautiful Andalucian town.
How to Get to Antequera
Antequera is very well connected to all the nearby major cities, such as Malaga, Granada or Sevilla, by both fast roads and public transport.
From Malaga, it takes around 45 minutes to drive to Antequera. There are also several buses each day connecting the two cities, with tickets starting at 4.50 euros each way, and a travel time of one hour. 
From Granada, it takes around one hour and ten minutes to drive to Antequera. There are a few direct buses each day that connect Granada to Algeciras, stopping at Antequera. Tickets start at 10 euros each way and the travel time is around one hour and ten minutes.
From Sevilla there is currently only one direct bus to Antequera, which takes two hours and 45 minutes. Driving, it takes around one hour and forty minutes to reach Antequera. I wouldn't recommend visiting Antequera on a day trip by public transport from Sevilla, but rather as a stop in your Andalucia itinerary.
Where to Park in Antequera
Parking in Antequera might be tricky, especially if you get lost on the narrow streets of the town. It's better to park outside the historical centre and just walk from there (10 or 15 minutes). I parked at Parking Público Plaza Castilla (click here for the Google Maps directions), an underground secure garage which charges 4.95 euros/8 hours.
Where to Stay in Antequera
Whilst you could explore Antequera on a day trip from Malaga, I highly recommend staying here overnight if you want to do any of the hikes nearby. There are many charming hotels in town, where you will experience the Andalucian hospitality.
Budget: Coso Viejo is a budget hotel located in the beautiful 18th century Andalucian House, featuring a lovely patio where they often have events such as small concerts and art exhibitions. The rooms are spacious, some with balconies. A double room at Coso Viejo will cost around 30 euros a night.  You can check the reviews of Coso Viejo on Tripadvisor or book directly on Booking.com by clicking here. 
Mid-range:  Alojamiento Mazari is a traditional decorated apartment, located in the pedestrian area of Antequera. The apartment is in a very quiet area and can host four people, so it's perfect is you are travelling with a group of friends or as a family. A night here costs around 80 euros and includes breakfast made with local produce.  You can check the reviews of Alojamiento Mazari and book directly on Booking.com by clicking here. 
Luxury: Parador de Antequera is a luxury hotel, just a 10 minute walk from the city centre. Featuring a large outdoor pool and dining area in the garden, this hotel is a perfect choice if you are coming to Antequera to relax. Even if it's a five star hotel, a room with breakfast included here will usually cost around 80 – 90 euros. You can check the reviews of Parador on Tripadvisor or book directly on Booking.com by clicking here.
Unique: One of my favourite hotels near Antequera is Convento la Magdalena. This is such a special hotel because it is an old converted monastery. The rooms and the main areas of the hotel maintain the original wooden architecture of the monastery, and are decorated with vintage furniture. The feeling of having a glass of wine in the lobby, in front of the massive fireplace over an open fire is quite unique. The hotel also has a spa with floor to ceiling windows overlooking the Torcal, and an upscale restaurant with dreamy views over the surrounding landscape, especially at sunset. I have made a review of my stay at Convento la Magdalena, which you can read by clicking here. You can check the reviews of Convento la Magdalena on TripAdvisor, or click here to book directly on Booking.com
The Best Things to Do in Antequera
What I love about Antequera is that there aren't many tourists around. I would dare to say that Antequera is an off the beaten path place in Andalucia because most of the tourists prefer to do a day trip to the Torcal, rather than spend a night here. But trust me, this beautiful town with its white buildings, privileged to be surrounded by such a beautiful landscape, is worth a visit. There are quite a few things to do in Antequera, starting with its Alcazaba, the remains of the Moorish citadel which once protected the town from the Kingdom of Castille.
Visit the Moorish Alcazaba 
As were many of the fortresses in Andalucia, the Acazaba of Antequera was built during the Moorish occupation, over old Roman ruins. Whilst not as impressive as Malaga's Alcazaba or Granada's Alhambra, the fortress is still worth visiting because of its keep, which is among the largest of its kind in Andalucia. 
The access to the Alcazaba is through the Arcos de los Gigantes – an impressive archway that in the past used to be decorated with giant statues of Hercules. Today, only the Romans' inscriptions on the stones remain.
For the best views of the city, climb the 50 steps up to the Homenaje Tower. There are 12 different stops along the walk around the citadel, which take around one hour to complete.
The ticket to the Alcazaba of Antequera costs 6 euros for adults and 5 euros for children. For under 6-year olds, the entrance is free of charge. The ticket includes an audio guide in different languages.
Visit the Royal Collegiate of Santa Maria
Just outside the Alcazaba you will find the Royal Collegiate of Santa Maria, an imposing building known as the first Renaissance church to be built in Andalusia. Its façade, built entirely from ashlar stone, stands out as one of the most prominent buildings in Antequera and makes it one of the best things to see in Antequera. Did you know that there are over 30 different churches in Antequera?
A ticket to visit the church costs 3 euros, but it's cheaper if you buy a combined one, together with the Alcazaba.
On the left-hand side of the church, as you stand in front facing it, you can find the remains of the old roman baths which were discovered in 1988.
Walk Around the Old Town
One of the best things to do in Antequera is to walk around the old town and discover its hidden corners. Antequera has a history of over 5,000 years, dating back the Bronze Age. The city got its name from the Romans, which called it Antikaria.
Antequera is a town with white buildings and narrow cobblestone roads, some which have been transformed into pedestrian areas. The town goes uphill, so make sure you are wearing adequate shoes. I have to admit, the climb up to the Alcazaba did make me a little breathless.
Climb El Tocal de Antequera
El Torcal makes a fantastic half a day trip from Antequera and shouldn't be missed on a road trip through Andalucia. The best way to reach El Torcal is by rental car or taxi, as there is no public transport from Antequera that will go to the national park. Don't let this put you off however, as in Spain you can rent cars very cheap, sometimes for less than a tenner a day.
The Torcal is so different from the area around it, which means that the weather on top can change unexpectedly. So be prepared and bring a jacket. Hiking shoes with a good grip are essential because if it has recently rained, there will be a lot of mud and slippery rocks. There are three routes that you can follow to explore the Torcal of Antequera, two of them being easily accessible for any type of fitness levels. There is a little bit of up and down the rocks, but nothing that requires too much effort. The touristic office of the national park organises a 5 hours long guided tour which does require a minimum level of fitness. You can check the guided visits and the events on their website by clicking here.
The landscape inside the Torcal is unique, with limestone formations that were firstly created by the sea and the then by the wind, millions of years ago. Yes, you have read correctly, the Torcal de Antequera, which stands at 1,200 meters high, used to be covered by the Mediterranean Sea during the Mesozoic age. 
Search for the "Lovers Rock"
La Peña de los Enamorados is an 800 meters high limestone formation, visible from the highest points in Antequera, resembling the profile of a giant man's face. There are a few local legends which explain why this rock is known as "The Lovers Rock" or the "Leap Rock".
The most common legend says that the daughter of the Muslim ruler Ibrahim of Archidona fell in love with a Christian soldier from Antequera. As love between different religions was not acceptable during those times, the two lovers run away together, but were caught by the Moorish soldiers of king Ibrahim after reaching the top of the rock. Rather than give up their love and live without each other, the two lovers jumped from the rock, holding hands so they could be together for eternity.
The town of Antequera remembers the two lovers through a statue in Plaza Castilla. 
Some of the places from where you can see the "Lovers Rock" are Mirador Almenillas, Plaza de Santa Maria, Jardines del Corazon de Jesus and Ermita de Veracruz.
Near the rock, in Matacabras Cave, archaeologists have found the remains of an old shire dating from sometimes around year 3,000 BC. 
Check out the Antequera Dolmens
The Antequera Dolmens is a Unesco cultural site comprising three megalithic monuments dating from the Neolithic and the Bronze ages: Menga and Viera dolmens, and Tholos of Romeral. El Torcal of Antequera and La Peña de los Enamorados, are also part of the Unesco.
Menga and Viera dolmens are different to the Tholos of Romeral, however, all three were used for funeral rituals. They are considered to be one of the best examples of European megalithic structures, and are very well preserved. It is believed that the megalithic monuments were built in a very close relationship with the surrounding  landscape facing the mountains, which are thought to have been sacred. The dolmen of Menga faces La Peña de los Enamorados, the Tholos of El Romeral faces El Torcal, whilst the dolmen of Viera is oriented towards the equinoxes.
The structures were built with rudimentary technology, and it is fascinating to look at them and wonder how those huge stones were lifted and put on top of each other. For reference, the overhead slab of the Tholos of El Romeral weights 180 tons and measures 6 meters in length and 7 meters wide. 
The dolmens and the tholos illustrate a very important phase of humanity, when our ancestors started to build large ceremonial monuments in Western Europe.
Access to the dolmens of Antequera is free. The touristic office also organises free guided tours around the Dolmens from Tuesday to Saturday, both during the day and during the night. You can check the schedule by clicking here, and book a visit by emailing visitasdolmenesdeantequera.ccul@juntadeandalucia.es . I don't know if the guided visits are in English as well, but you can download the official guide in English by clicking here. Also, there is a video in English inside the visitors centre which I highly recommend you watch before you venture into the site, in order to get an in-depth insight about the dolmens and their history. The site is closed on Mondays.
Visit the Antequera Museum
Not a lot of day visitors to Antequera venture to the municipal museum, and that is a shame because it hosts such an interesting collection of artefacts. The museum of Antequera, hosted by the charming Palacio de Nájera, is set out to be a walk through the history of the area, starting from the Neolithic times and ending at present day. The exhibitions spread on 5,000 square meters and include megalithic artefacts, roman relics, medieval silverware, baroque paintings, and, an immersive virtual experience of the Antequera Holy Week's "Correr las Vegas" festival.
The entrance fee to the Municipal Museum of Antequera is 3 euros. Click here for the timetable and keep in mind that on Mondays the museum is closed.
Peek into the Plaza de Toros and Have Dinner in the Corrida
Whilst the Plaza de Toros in Antequera is still an active bullring, I do not recommend supporting animal cruelty and attending a corrida. I do suggest though to take a peek at it, because it is a prime example of a classic bullring architecture.
Underneath the bullring there is a Michelin Guide restaurant which serves traditional local food, such as rabo de toro or solomillo. What makes this restaurant special is that you can have dinner in the corrida itself if you book a table outdoors.
Taste the Local Cuisine
Antequera is not as touristy as other places in Andalucia, which means that you will find plenty of restaurants where you can try authentic local food.  The traditional local dish in Antequera is the porra antequerana, a very thick cold tomato soup served mostly as tapas, not as an actual soup. A great hearty but vegetarian dish is the olla de la era, a casserole made with white beans, chickpeas, cabbage, eggplant and pumpkin. Meat lovers would be interested in trying out the arroz con liebre, which is a simple but delicious dish of rice with hare meat. For dessert you must try bienmesabe, an almond cake prepared mostly in monasteries rather than pastry shops.  
Check Out the Pink Flamingos from the Nearby Fuente de Piedra
If you dedicate more than one day to Antequera, or if you are driving around Andalucia, you must stop at the nearby Fuente de Piedra. Between the end of February and May tens of thousands of pink flamingos gather here for the breeding season.
Fuente de Piedra is the largest lagoon in Spain, one of the best places to come if you like bird watching. There are over 170 different bird species living here.
Liked it? Pin it!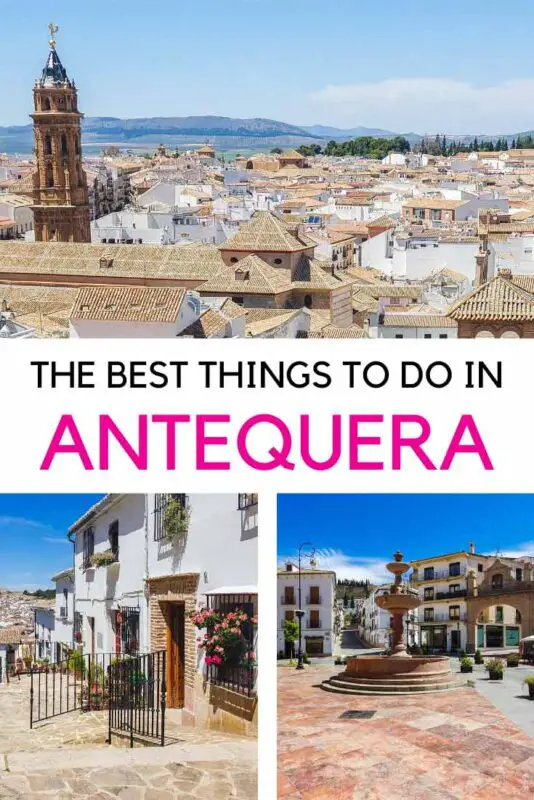 Disclaimer: Some of the links on this website are "affiliate links." This means that if you click on the link and do a purchase, I will receive an affiliate commission at no extra cost to you. This helps me keep my website running and continue to share my travelling knowledge with you. I thank you for booking your flights or hotels using the links on my website. Regardless, I only recommend products or services I use personally and believe will add value to my readers.