Cadiz is one of the most beautiful cities in Andalucia, often overlooked by tourists who prefer to spend their time between Malaga, Granada, and Seville. If you are looking for a perfect holiday combining sightseeing with spending time at the beach, then Cadiz is the perfect destination for you. There are some amazing beaches near Cadiz, which offer miles and miles of untouched, golden sand, as well as crystal clear waters that you won't resist taking a dip in.
About Costa de la Luz
Costa de la Luz, where Cadiz is located, has some of the most beautiful beaches in Andalucia. The area, which is located between the Cadiz and Huelva provinces, offers long, remote beaches, with sand dunes and the most beautiful waters you have ever seen. Costa de la Luz is a popular destination for the Spaniards who live in the "oven of Spain", as the area around Sevilla and Cordoba is known as, to escape the 40 degrees Celsius temperature of July and August. However, Costa de la Luz is pretty unknown to the foreign tourists who come to Andalucia.  
Costa de la Luz is also a popular destination for surfers, windsurfers and kitesurfers. Because of its location at the Atlantic Ocean, the area receives the most amount of wind in the entire country.
How to Reach the Best Beaches Near Cadiz
The best way to reach most of the beaches near Cadiz is by hiring a car. This is because some of these amazing beaches are quite remote, and public transport doesn't reach them. Hiring a car in Andalucia is very easy. Most probably, if you are visiting Cadiz, you will be landing at Malaga airport – which is the main hub to access Costa del Sol and Costa de la Luz. Most of the low cost flights come here as well. Hiring a car at Malaga airport is very easy. You can click here to read my article about how to hire a car in Malaga and save money at the same time.
If you don't want to hire a car or you don't drive, then you can always explore the beaches in the city of Cadiz, which are stunning as well.  
The Best Beaches in Cadiz:
La Caleta
La Caleta is one of the most accessible beaches in Cadiz. Located in the heart of the historic centre of Cadiz, between the San Sebastian and Santa Catalina castles, La Caleta is one of the most popular beaches in the city. The natural bay offers soft sand, shallow and calm waters, and plenty of bars and restaurants. In summer it is recommended to come early if you want to get a good spot next to the water. Because the beach is quite small, it does get filled up quickly.  
La Caleta is a great family-friendly beach.
Facilities:
Beach club
Lifeguard in season
Toilets and showers
Bars and restaurants
Playa la Victoria
Victoria is one of the most beautiful beaches in Cadiz, and this is because it has the perfect backdrop: the cathedral and the old town. This beach is a favourite among the locals who live nearby. Playa Victoria is 3 kilometres long and almost 200 meters wide at low tide, with beautiful, fine, golden sand and plenty of facilities. The beach has a blue flag, and it is considered to be one of the best beaches in Europe, not just in Spain.
There are plenty of chiringuitors, bars and restaurants along the seafront, where you can enjoy a great fish lunch or a drink when the sun is too strong to sunbathe.
Facilities:
Lifeguards in season
Toilets and showers
Parking
Public transport
Bars and restaurants
Beach bars with sun loungers and umbrellas
Accessible
Playa de Santa Maria del Mar
Santa María del Mar Beach is located between Playa Victoria and the old town of Cadiz. It is a beautiful sandy beach, with a Blue Flag award for the quality of the water. This is a very small beach, but extremely beautiful, especially because of the views of the old town.
Facilities:
Lifeguards in season
Sun loungers and parasols for hire
Toilets and showers
Cafes
Parking
The Best Beaches near Cadiz in the South
Playa de Bolonia (Bolonia Beach) 
This beautiful beach is part of El Estrecho Natural Park and lies 95 kilometres from Cadiz. The beach is worth the journey and makes a wonderful day trip from Cadiz.
Playa Bolonia is an unspoilt, fine white sand beach with crystal clear water and is backed by a huge 30 metre high sand dune (Gran Duna). The climb to the top of the sand dune is arduous but the spectacular view of the beach from the top of the dune is worth the effort.
The southern end of the beach is a popular spot for naturists and you can also visit Roman ruins and a small museum (Baelo Claudia). Playa de Bolonia gets very busy in summer but the beach is so big it is easy to find a quiet spot. 
Facilities:
Chiringuitos
Good selection of restaurants nearby
Historical site
Not accessible by public transport
Toilets and showers
Playa de los Alemanes
On the other side of Camarinal point from Bolonia Beach is Playa de los Alemanes.  This idyllic white sand beach lies in a quiet, upmarket residential area. Walk south along the beach to the historic Faro de Camarinal lighthouse. There are no facilities here which means the beach is quiet even in peak season. 
Facilities:
Limited parking available
No facilities
Lighthouse
Caños de Meca
Caños de Meca is a notoriously windy beach near Cadiz with big waves that are ideal for surfers. It is not a beach for inexperienced swimmers. The beach lies on the Straits of Gibraltar with views of North Africa and is part of the Parque Natural del Acantilado. The most popular beach here is Playa del Pirata.
Facilities:
Parking available 
Restaurants and cafes nearby
Beach bars on Playa del Pirata
Playa del Puerco 
Near Cadiz, the highly rated Playa del Puerco is a 2 kilometre long, well-maintained beach which rarely feels busy, even in the peak of summer. There are lots of facilities so this is one of the best beaches near Cadiz for families. There is ramp access to the beach (in addition to steps) so Playa del Puerco is a good option for wheelchair users or prams. 
Facilities:
Showers
Good accessibility
Lifeguards
Toilets
Playa de Los Lances (Tarifa)
This windy 3 kilometre long beach is a 15 minute drive from Tarifa. It is a popular location for kite surfers. The beach is wide and clean with soft, powdery sand. 
Part of Los Lances is a designated bird sanctuary and there are hides for beach goers to watch nesting birds. It is a fantastic location to see migratory birds in Spring and Autumn.
Facilities:
Playa Zahora 
One of the quieter beaches near Cadiz, west facing Zahora is known for its breathtaking sunsets. It is a long, wide sandy beach and has rock pools that you can explore at high tide. However, these same rocks can be treacherous for swimming on an incoming tide. If you want to swim here, swim at high tide. 
Facilities:
Parking nearby
Rock pools
Chiringuitos
Playa El Palmar
El Palmar beach has a laid back, bohemian vibe but like many of the beaches near Cadiz, it can be windy. The 7 kilometre long sandy beach is lined with independent bars and boutique shops. There are several surf schools which offer surfing lessons and equipment rentals. Other activities include yoga and windsurfing. 
Facilities:
Lots of parking available 
Equipment rental
Good food options
Accessible by bus
Lifeguards
Showers
Toilets
Faro de Trafalgar Beach
Nestled between Zahora and Caños de Meca is the 2 kilometre long Faro de Trafalgar beach. It is a quiet sandy beach lying at the entrance to the Straits of Gibraltar. Take a break from sunbathing to walk along the beach to Trafalgar lighthouse. Be aware that there are strong undercurrents (known as riza de Trafalgar) so swimming here is not advisable. 
Facilities:
Limited parking available
Lighthouse
Cafe nearby
La Fontanilla Beach (Conil de la Frontera)
This expansive beach is formed from coarse, golden sand and lies in front of the pretties seaside white villages of Andalucia. On a windy day, less sand is whipped up compared to finer sandy beaches nearby.
If you enjoy space and privacy, this is the beach for you plus the shallow waters makes this beach a great option for families. La Fontanilla restaurant on the beach is known for its fantastic seafood. 
Facilities:
Sunbed and umbrella rental available 
Popular with naturists
Good option in windy weather
Parking available
Las Calas de Roche
Las Calas de Roche is a series of coves with small, pristine beaches. The coves offer some protection from the wind so the beaches get busy in peak season. It is an unspoilt area so there are no facilities; you will need to bring everything you need with you. 
The staircase down to the beach from the cliff top is steep so unfortunately, Las Calas de Roche is not a good option for anyone with reduced mobility. 
Facilities:
Limited parking near beach access points
Stair access only
Partially sheltered
No facilities
Cala Del Pato
A short distance along the coast from Calas de Roches is Cala del Pato. There are several small coves which can be accessed on foot and the surrounding cliffs offer some shelter from the wind. However, beware of tide times as you could get cut off from the main beach. 
Facilities:
Limited parking on the cliff tops
Partially sheltered
Access is by steep steps
Playa del Cañuelo
Playa del Cañuelo is approximately 30 minutes on foot from the nearest parking area. The walk can feel a lot longer on a hot day when you are weighed down by beach bags! However, your first glimpse of this incredible, pristine beach with its azure water will make you forget the trek. There are no facilities (or shade) at this secluded beach so bring plenty of food and drink with you.
Facilities:
Not suitable for anyone with mobility issues
No facilities
Beaches near Cadiz in the North 
Playa de La Ballena
Playa de la Ballena is a long, wide beach near the town of Rota. It is an easy 44 kilometre drive from Cadiz or you can catch a bus or ferry from Cadiz. This urban beach has excellent access and facilities. 
Facilities:
Ramp access
Bars and restaurants nearby
Large public car park
Accessible by public transport
Showers
Toilets
Playa de Regla
A family friendly, urban beach, Playa de Regla has a gentle incline into the sea making it ideal for young children. This beach near Cadiz is fully accessible and is backed by a promenade and road lined with small cafes and bars. 
Public toilets
Showers
Sunbed and umbrella rentals
Range of food options
Lifeguards
Liked it? Pin it!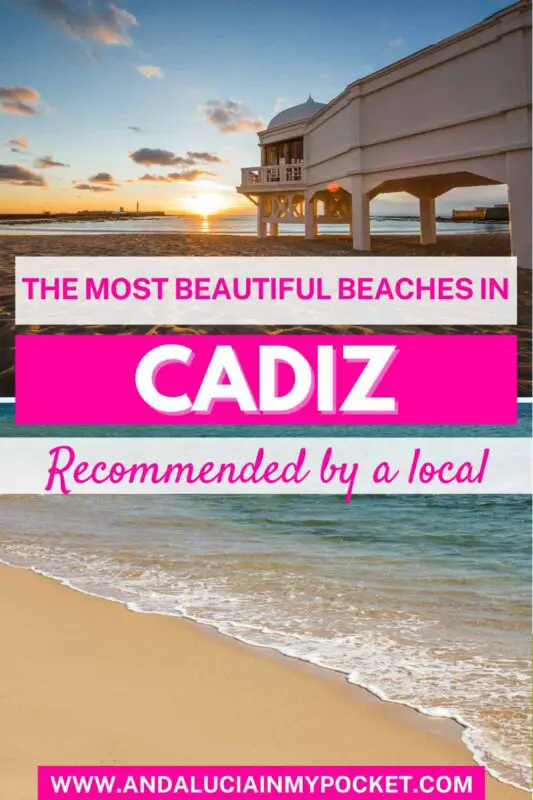 Disclaimer: Some of the links on this website are "affiliate links." This means that if you click on the link and do a purchase, I will receive an affiliate commission at no extra cost to you. This helps me keep my website running and continue to share my travelling knowledge with you. I thank you for booking your flights or hotels using the links on my website. Regardless, I only recommend products or services I use personally and believe will add value to my readers.