I have called Fuengirola my home for the past few years. It's a lovely Spanish town, quite popular with tourists during the summer. Many people choose Fuengirola as their summer base on Costa del Sol. There are many great things to do in Fuengirola, for each type of traveller. Families with children will enjoy the water park and the Bioparc animal park, couples will love the beach and the nightlife, and solo travellers will love exploring the old town and chill with a drink on the promenade.
How to Get to Fuengirola
Getting to Fuengirola from the Malaga airport or from the city is extremely easy. If you are on a budget and don't have luggage, take the C1 train which connects the centre of Malaga to Fuengirola. It is a beautiful journey along the coast, with pretty views over the sea and the mountains. If you have luggage, consider a door-to-door transfer. You can see prices by clicking here.
If you plan to rent a car and drive around Andalucia, check out Holiday Extras. A lot of companies will advertise car rentals for 2-3 euros a day, without telling you all the hidden costs. On Holiday Extras you will see all these hidden costs and the real price of a rental car at Malaga airport.
Where to Park in Fuengirola
Parking in Fuengirola can be very tricky, as most of the spaces in the centre and around the train station have a time limit of 2 hours. If you are lucky, you might find a space on the side streets, but it's not guaranteed. Fuengirola is an extremely car-busy town.
If you are visiting Fuengirola on a non-market day (Tuesday and Saturday), the best place to park is the Feria Ground (click here for location), which is about a 10-minute walk from the beach. Another great place to park, on the other side of the town, is at Miramar Mall. In both places the parking is free of charge.
Where to Stay in Fuengirola
There are plenty of accommodation options in Fuengirola, to suit all budgets and tastes. You can rent a villa on the outskirts or a beach front apartment for very competitive prices, compared to other places on Costa del Sol, such as Torremolinos or Benalmadena.
Budget: Aparthotel Myramar Fuengirola
If you are travelling with family or friends, this aparthotel makes an excellent budget choice for you. The hotel offers different types of accommodation, from studios to two-bedroom apartments with terraces which can host up to six guests. The hotel is a 5-minute walk from the beach, and has a gorgeous swimming pool and a spa centre which guests can use at an additional cost.  You can check the reviews on Tripadvisor by clicking here and the latest rates on Booking.com by clicking on this link.
Mid-range: Hotel IPV Palace & Spa
This hotel is located very close to the Sohail Castle, on the beachfront in a quiet area of the town. All the rooms at this hotel have a sea view. The hotel has several outdoor pools and a great spa centre.  You can check the reviews on Tripadvisor by clicking here, and the latest rates on Booking.com by clicking on this link.
Luxury: Holiday World Village Hotel
For a one of a kind experience, check out the Holiday World Village Hotel. This massive all-inclusive resort has its own water park, beach club and spa centre. Staying here its an experience in itself. You can check the reviews on Tripadvisor by clicking here and the latest rates on Booking.com by clicking on this link.
For more choices, check out the suggestions from my trusted partner, booking.com:
Hit the Beaches
The beaches in Fuengirola are the reason why so many people prefer to come here for their summer holiday. Fuengirola has 7 kilometres of beaches, some more popular than others, some more busier than others.
Playa de Santa Amalia
This is the main beach in Fuengirola, just off Paseo Maritimo. It is a pretty beach, even though it's not that wide. There is a floating aqua park on the water, which children love.
Playa de los Boliches
Just after the Marina you will find Playa de los Boliches, where you can rent pedalo boats and enjoy paddling next to the shore.
Playa Carvajal
Personally, this is my favourite beach in Fuengirola. Because it is out of the town, it is never busy. It's wide, sandy, and offers the most beautiful sunrise views.
Playa de Torreblanca
Torreblanca is another local beach, more popular with locals rather than tourists. Just like on the other beaches, here you can rent beach chairs and umbrellas and enjoy a lovely day in the sun.
Playa para Perros
If you are travelling with your furry friends, there is a dog friendly beach in Fuengirola. You will find it just after the Sohail Castle.
Visit the Sohail Castle 
Sohail Castle was first built by the Phoenicians as a fortification on top of a hill on the mouth of Fuengirola river, to protect the town from invaders coming from the sea. It was later rebuilt by Romans, then later by the Moors.
The Castle can be visited from Wednesday to Sunday, between 10am-2pm, free of charge. There are many events that take place at the castle, from festivals to concerts. One of the best times to visit the castle is during the Medieval festival, which takes place every year either in August or September. This is when people dress up in historical costumes, play medieval music and cook delicious hog roasts and meat on massive grills. There are fortune tellers, craft makers and weapons demonstrations.
Check Out the Ciudad Romana de Suel
Ciudad Romana de Suel are the ruins of an old Roman city dating from the 7th century BC. The city used to be extremely prosperous because of the garum (fish paste) exports. It was first built on top of the hill as a walled city, just outside of the Sohail Castle, then it was extended towards the foothills.
Close to the beach you can see the ruins of an old fish factory, supposedly where salted fish was produced.
Zip Line Over the Fuengirola River
Just outside the castle you will find the zip line that crosses over the Fuengirola river. It's a fun ride at 18 meters high and 140 meters long. It's fast and once you reach the end, you can step directly onto the beach.
Visit the Roman Ruins at Parque Yacimiento Romano/Finca del Secretario
Fina del Secretario is an archaeological site of a fish factory and a Roman villa dating from the 1st century AD. The factory was used until the 5th century AD, and it produced salted fish. The site has well preserved ruins of tanks, warehouse and ovens.  Also attached to the factory is a thermal bath, with flower decorated walls and floors which are quite well preserved too.
Explore the Fuengirola Old Town
The Old Town of Fuengirola is charming, with narrow streets and white small buildings with colourful flower borders around the doors and windows. The town's not big at all, which makes it very easy to explore on foot, and most of the streets in the old town are pedestrian only.
Stroll Around Plaza de la Constitution
Plaza de la Constitution is the main square in the old town of Fuengirola. It is the heart of the town, surrounded by independent shops and local cafes and restaurants. On one side of the square you will find the 19th century Iglesia del Rosario, whilst on the other side there is a monument dedicated to the three generations within a usual Spanish family.
Sometimes here you will stumble upon local markets where resident artists are selling their crafts.
Have Fun at AquaMijas
If you are travelling with little ones, you must dedicate a day of your holiday to AquaMijas. This fantastic waterpark is known all over the coast for its fun slides, wave pool, wild river and giant jacuzzi. There are so many slides here that you will spend the entire day trying them all. You don't have to worry about lunch or snacks, as the park has its own restaurant, with menus at affordable prices. It is best to book your ticket online, especially if you travel during the high season.
Explore the Town by Train
That's not just any train, it's the mini red hop-on hop-off train. The 7 euro ticket is valid for an entire day, and you can jump on and off as many times as you want. Moreover, the train offers commentary in seven languages, so it makes a great start to knowing Fuengirola and its history. You can buy a ticket online by clicking here.
Visit the Bioparc
The Bioparc is a must visit for families with children. This eco park is recreating the natural environment of animals from Asia, Africa, and the islands from the Indi-Pacific Ocean. They have transformed the old Fuengirola Zoo in an immersive exotic space, home to rare species such as the Sri Lankan leopard, the Komodo dragon and the Sumatran tiger.
The Bioparc also focuses on a breeding program for endangered species. It is best to book your tickets to the Bioparc online, especially if you are visiting during high season or during a weekend, as it is a very popular destination. You can reserve your tickets by clicking here.
Take a Boat Trip to See Dolphins
One of the best things to do in Fuengirola is to take a boat trip to see the dolphins. There are so many dolphins in the Alboran Sea that the local boat companies guarantee that you will see some, but if you don't you will receive your another trip free of charge. Sometimes you can even see them from the beaches in La Cala. The passenger boats leave from the Marina at regular hours.  If you want to sail on your own, you can always rent a boat, that doesn't need a license, from the harbour. Click here to see the latest prices for a self driven boat and click here for a private boat with a skipper.
If you are travelling with a group of friends, you can rent a luxury boat with drinks included.
Rent a Jetski
If you are feeling adventurous, you can rent a jet ski and raise your adrenaline levels by taking on the waves. Renting a jet ski in Fuengirola is not as expensive as in other places. Half an hour on a jet ski costs approximately 30 euros per person. You can check more options by clicking here.
Walk Along Paseo Maritimo
The Paseo Maritimo is the promenade that runs along the beach for 7 kilometres. It offers great sea views on one side and has plenty of delicious local restaurants on the other. This is a perfect place to enjoy espetos at a chiringuito on the beach, or just stop for a snack break at one of the local tapas bars.
In the evening, the Paseo Maritimo comes alive, with locals and tourists alike enjoying drinks and good food on terraces and at cocktail bars.  
Take in the Views from Espigon
The Espigon is a small pier that offers beautiful panoramic views over the Marina and the town of Fuengirola. It's an easy walk from the Paseo Maritimo, as it's connected by a paved path which is also suitable for buggies and wheelchairs.
Play Golf
Costa del Sol is blessed with over 70 fantastic golf courses. Many visitors come to Fuengirola to play golf, as some of the best courses are minutes away from the town. Fuengirola also has a large golfing community, so there is always a friendly competition going on.
The closest golf course to Fuengirola is Mijas Golf, just a 5-minute drive from the train station.
Play Mini Golf
If you are not that into golf, or you just want to have some fun in town, check out the Fuengirola Adventure Mini Golf course. Located in the Miramar Park, this fun course takes around one hour to complete and it's a lot of fun for both adults and children. Moreover, the establishment has its own terrace from where you can order cold drinks delivered directly to your current hole.
The mini golf course is shaded, so it's an enjoyable thing to do in Fuengirola even on the hot days of July and August.
Go Shopping
Fuengirola is one of the best places on Costa del Sol to go shopping. There are two massive shopping malls, one at each end of the town.
El Corte Ingles
El Corte Ingles is Spain's only remaining department store chain in the country that has 11 shopping centres. The mall in Fuengirola is large and sells a wide range of mostly luxury products, from fashion to home appliances and beach gear.
The ground floor is dedicated to Hipercor, a high-end supermarket which sells a fantastic selection of local cheeses and cured meats, including entire legs of jamon. At Hipercor you will also find a large selection of international food.
Miramar
Miramar is a classic shopping mall with over 140 shops, a food court and a large multiplex cinema. Inside you will find some of the biggest Spanish fashion brands such as Desigual, Mango, Zara or Massimo Dutti, as well as popular shops such as Primark, Bershka or Pull&Bear.
On the ground floor there is a massive Carrefour supermarket, with its own butcher and cheesemonger.
If you are travelling with children, don't miss the Miramar rooftop, which has a large playground and a kart circuit. Whilst children play, parents can relax at the rooftop café which serves light snacks, coffee and cocktails.
Visit the Local Market
The local market in Fuengirola is small, but if you want to taste some of the local produce, this is the place to go. The market is located opposite the train station and includes butchers, fishmongers and local fruit and vegetables producers.
Check out the Feria Ground
There is one thing that you can be certain of when you visit Fuengirola, the locals know how to party! There are so many ferias (parties) dedicated to all sorts of occasions, including diversity. Each May the Feria International de Los Pueblos celebrate the expat communities around Costa del Sol through a fantastic parade, during a long weekend full of entertainment and great regional food.
The Carnival, which takes place in February, is another reason to party for a week. And, if you visit in October, you can't miss the Feria de Fuengirola, one of the best fun fairs on Costa del Sol. This is when local people dress up in traditional Spanish costumes and bring along their beautiful horses to be judged in a beauty contest.
Attend a Concert at Marenostrum
Marenostrum is a large concert space just next to Sohail Castle. What makes it special is the view, as the stage is usually set with its back to the sea. Usually, festivals take place both at Marenostrum and inside the castle, which transforms the entire area into a massive fun park, with good music, great food and plenty of cold drinks.
Explore Sierra de Mijas by Buggy
Living at the edge of Fuengirola, I have seen these buggies passing by so many times. They usually pass by the river, towards the Sierra de Mijas Mountain range, and all I can hear are sounds of joy and laughter. I have always wanted to try this experience, but I haven't had the chance. So, if you book it, let me know how it goes. Click here for more info.
Get a Tattoo
I had to include getting a tattoo on this list of the best things to do in Fuengirola simply because I want to recommend Nina from Fido Tattoo. She is an amazing artist who designed a perfect tattoo for me, to commemorate the memory of my grandma. She speaks perfect English and understands exactly what you need. The tattoo she did for me is so delicate but vibrant, with so many small details. She is the best tattoo artist I have met so far.
Liked it? Pin it!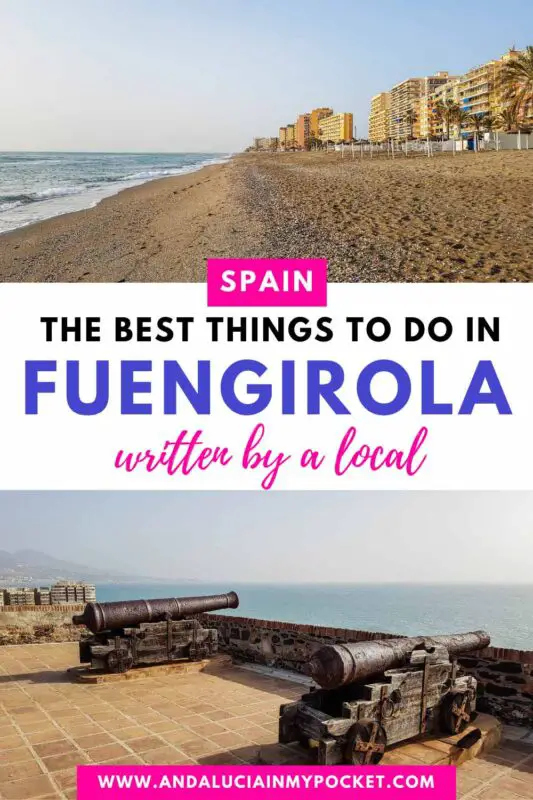 Disclaimer: Some of the links on this website are "affiliate links." This means that if you click on the link and do a purchase, I will receive an affiliate commission at no extra cost to you. This helps me keep my website running and continue to share my travelling knowledge with you. I thank you for booking your flights or hotels using the links on my website. Regardless, I only recommend products or services I use personally and believe will add value to my readers.