Visiting Seville in winter is a great idea, especially if you don't like crowds and you like to explore the city without too many other people around. Plus, Seville in winter is relatively warm and has plenty of sunny days. It makes a fantastic winter sun escape from the rainy, snowy, and cold central and northern Europe.
There are also plenty of events that happen in Seville in winter, from the wonderful Christmas celebrations, the arrival of the Three Kings, to the vibrant carnival which takes over the streets of the city in February.
Why Should You Visit Seville in Winter?
There are many reasons on why you should visit Seville in winter. There is something to do in each month of the cold season, but also the accommodation prices are cheaper than in summer. You can book rooms at the most beautiful hotels in Sevilla for as low as 50 euros a night.
The weather in Sevilla during the winter months is mild, with plenty of sunny days and very little rain. The winter months see as little as 5-6 rainy days, and temperatures between 16-18 degrees Celsius.
Visiting Sevilla in winter means that you will also avoid the suffocating crowds of tourists that make navigating through the city quite difficult in summer. In winter, you can take all those gorgeous photos of the city without people in them.
Another advantage of coming to Sevilla in winter is that flights are usually much cheaper than in summer. Sevilla has its own airport which served by airlines such as Ryanair, Iberia, Vueling or British Airways.   
Temperatures in Seville in Winter
The average temperature in winter in Seville is 17 degrees Celsius during the day and 6 degrees Celsius during the night. This is much higher than what the rest of Europe sees during the cold months.
The average temperatures in Sevilla, for each month, are:
December: High: 17.2C Low: 7.2C
January: High: 16.6C Low: 5.8C
February: High: 18.6C Low: 6.8C
Things to do in Seville in Winter:
Check Out the Festive Atmosphere
Experience the Belén Tradition
The Belén is a central part of Christmas for Spanish families. Belén (meaning Bethlehem) is recreated, detailed nativity scenes and can be small or large displays.
You can see Belén in homes, shop windows, churches or in public squares throughout Spain. In Seville, one of the biggest displays is at the city's town hall on Plaza de San Francisco.
There is also a popular market, the Feria del Belén, which sells items specifically for Belén displays.
See Seville's Christmas Lights
Seville is known for its extensive festive light displays. Over 100 city streets are illuminated with Christmas trees, draping lights and pictorial images.
For the best displays head to Avenue de la Constitucion, Alameda de Hercules and Plaza de San Francisco.
Seville's shops are increasingly getting into the festive spirit with light and window displays. Don't miss the displays at El Corte Inglés department store.
Visit a Christmas Market
Christmas in Seville wouldn't be complete without picking up a festive souvenir at a Christmas market.
Visit Feria de Artesanía in Plaza Nueva,  Mercado Navideño de San Pablo next to Los Arcos mall or the Nervión Christmas Market in front of the Nervión shopping centre.
El Gordo 
El Gordo is a nationwide lottery that only takes place at Christmastime, on December 22nd. It is the world's largest lottery and the draw is televised live attracting huge viewing figures.
You do not have to be a Spanish resident to enter El Gordo but you must pay tax on any winnings you receive. It is worth bearing in mind that Seville has had some of the highest numbers of winning tickets!
Experience the New Year's Eve in Seville
Eat the 12 grapes at midnight
It is a tradition at midnight on New Year's Eve to eat a grape for every chime of the midnight bell. It is said to bring good luck for the upcoming year.
For the best party atmosphere and fireworks, head to Plaza Nueva.
Join the Locals for the Los Reyes Parade
The Los Reyes Magos – or Three Kings – parade celebrates the Christian feast of the Epiphany on January 6th though festivities often start on January 5th.
Colourful floats, musicians and costumed dancers parade through Seville's city streets in a tradition dating back to 1918. The parade has a party atmosphere and lasts around 6 hours.
Dance on the Streets during the Carnival
Los Carnivales takes place in the week before Lent. This usually occurs in February though dates vary year to year.
Festivities include a parade, live music and dance events throughout the city and fancy dress competitions.
Visit One of Seville's Many Museums
If you catch a rainy day in Seville in winter, visit one of the city's excellent museums.
Check out the Museum of Fine Arts, Las Duenas Palace, the Archaeological Museum of Sevilla or the highly regarded Museo Palacio de la Condesa de Lebrija. Some of them are free to enter on certain days. You can find out which and when by reading my article about free things to do in Seville.
Enjoy the Sights Without the Crowds
Fewer tourists visit Seville in winter than in summer resulting in quieter, less crowded attractions. 
The Alcázar of Seville, a UNESCO World Heritage Site, is the oldest royal palace in Europe that is still in use. It is a popular attraction and is much quieter to visit in winter. For more, see my article about top things to do in Sevilla.
Indulge in the Local Holiday Food
Christmas in Seville means tasty Christmas food. Tuck into chicken, seafood or cured ham with roasted vegetables. Indulge in a roscón de reyes (a sweet, crown shaped pastry that is commonly sold in bakeries in the run up to Christmas) accompanied by a creamy hot chocolate.
Relax at the Aire de Sevilla Baths
Recharge with a relaxation day at Aire de Sevilla (locally known as 'Aire').
This historic spa is just metres from Seville cathedral and offers 90 minute thermal tours.
During the tour, visitors move between different bath experiences (such as hot, cold, warm and frost), a jet bath, aromatherapy steam room and a rejuvenating salt water bath. Massages are available (and recommended) to complete your experience.
As the emphasis at Aire de Sevilla is on relaxation of the mind as well as the body, silence is encouraged inside the baths. Swimsuits are mandatory but the spa will provide you with a swimsuit if you forget to pack one. You can book a ticket to Aire de Sevilla by clicking here.
Experience a Flamenco Performance
Seville is one of the best places in Spain to see a flamenco performance.
See flamenco at the popular Museo del Baile Flamenco or in a bar such as the first come first seated El Patio Sevillano or the larger El Palacio Andaluz. 
You can book ahead of time a ticket for a flamenco show at the famous Casa de la Memoria by clicking here.
Take a Local Class
Immerse yourself in Seville culture and take a Flamenco or a cooking class.
Flamenco lessons are available for all abilities. Classes cover basic arm movements (braceo), footwork (taconeo) as well as the rhythmic hand clapping (palmas) that is synonymous with Flamenco. You can book a flamenco class by clicking here.
A cooking class is a fun experience but also a skill that you can use and develop once you return home. Choose between a demonstration class or a hands-on class.
Classes last around 3 – 4 hours; some longer classes include shopping for ingredients in a local market.
Expect to make a traditional Sevillan tapas dish such as spinach and chickpeas or Spanish tortilla as well as local favourite paella (typically Paella Valenciana). Classes usually conclude with a dessert such as lemon sorbet and sangria tastings. You can book a cooking class in Seville by clicking here.
Go Shopping
Across the world, January means January sales and Seville is no exception. 
The largest shopping malls in Seville are Nervion Plaza which has over 60 shops and a cinema and Lagoh which offers restaurants, a children's play area and free all day parking. Pick up a designer bargain at Sevilla Fashion Outlet.
Alternatively, Seville's pedestrianised shopping streets such as Calle Sierpes and Calle Tetuan are an ideal location to pick up a January bargain from an independently owned, boutique shop. 
If you prefer shopping in markets, don't miss Feria Street flea market, the oldest market in Seville.
Visit the White Villages Around Seville
The weather in Seville in winter is pleasant so day tripping is an excellent option.
The white villages (pueblo blancos) make a perfect day trip from Seville. A 'white village' is usually situated on a hilltop and consists of white stone houses tightly packed together on narrow lanes.
Visit El Coronil or mountainous Grazalema with beautiful views of the Sierra de Grazalema. Both villages are under a two hour drive from Seville.
Extend your day trip to visit famous Ronda, best known for its dramatic New Bridge (Puente Nuevo) straddling the imposing El Tajo gorge.
If you want to read more about the white villages near Seville, click here.
Take a Day Trip to Jerez de la Frontera
Jerez de la Frontera (known as Jerez for short) is a one hour drive from Seville. It can also be easily reached by public transport.
Jerez is known for its sherry which can be enjoyed at various tabancos or at Tio Pepe cellars (bodegas in Spanish).
Take a tour of Jerez's 11th century Alcazar or its ornate cathedral. Make time to attend an Andalucian dance show; the one hour show at Tablao Flamenco Puro Arte is a must see.
FAQ
Is Seville worth visiting for Christmas?
Yes, definitely, you should visiting Seville for Christmas. The city dresses up in beautiful lights and there are plenty of events going on. For more information, check out my dedicated article about what to do in Seville during Christmas time.
Is Seville worth visiting in winter?
Yes, Seville is worth visiting in winter. There are plenty of things happening in the city over the cold months, which you can read about in this article.
Does it snow in Seville in winter?
It is very rare to snow in Seville in winter. The last time it snowed in Seville was in 2010, but the snow didn't last and it melted fast.
How cold does Seville get in winter?
It doesn't get very cold in Seville in winter. The average day temperature is around 16-17 degrees Celsius.
For more articles about Sevilla check out the following:
How to spend two days in Seville
The most beautiful cities in Andalucia
Liked it? Pin it!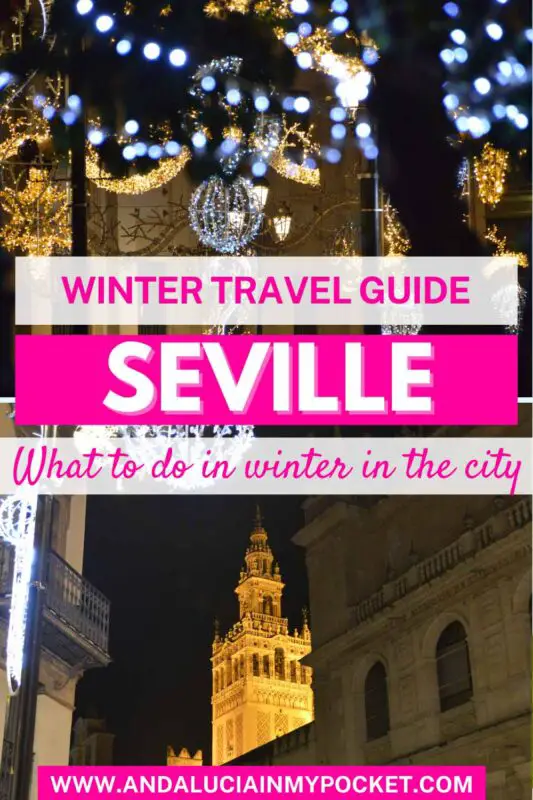 Disclaimer: Some of the links on this website are "affiliate links." This means that if you click on the link and do a purchase, I will receive an affiliate commission at no extra cost to you. This helps me keep my website running and continue to share my travelling knowledge with you. I thank you for booking your flights or hotels using the links on my website. Regardless, I only recommend products or services I use personally and believe will add value to my readers.