Cadiz is one of my favourite cities in Andalucia. It's vibrant, with a wonderful blend of old architecture, urban beaches and amazing food. If you are wondering, is Cadiz worth visiting, the answer is a very big yes. Below, I am going to give you some of my favourite reasons on why you should visit Cadiz.
It took me two years after I moved to Andalucia to visit Cadiz. And once I did, I really wished I did it sooner. Living close to Malaga, I am used to crowds of tourists over summer, high prices and a more touristy vibe. Cadiz is so different! Here you will discover crowds – but of locals, who go out at the fish market or the tapas bars around town to enjoy quality time with friends. The prices in Cadiz are so much lower than in Malaga as well.
If you are thinking if you should add Cadiz to your Andalucia itinerary, do it!  
Amazing Reasons to Visit Cadiz:
It is One of the Oldest Cities in Europe
Cadiz is the oldest city in Spain and one of the oldest cities in Europe. 
The city was founded by the Phoenicians in the 8th Century B.C who named it 'Gadir' and Cadiz has been continuously inhabited ever since. A succession of settlers such as Greeks and Romans have all left their mark on the city.
Visitors can learn about the rich historical and cultural heritage of the city at Cadiz Museum which features exhibits and artefacts from Phoenician times to present day. 
It has Gorgeous Architecture
Due to the range of influences over the years, the city boasts diverse and interesting architecture. 
View Baroque architecture at the 17th century Casa del Almirante, the 18th century La Palma church or the 17th century church of Nuestra Señora de la Merced. You can see Moorish influences in the plazas and cobblestone streets of Cadiz.
Wander the old streets of the El Pópulo district and see its 13th century Arches or relax with a drink and watch the world go by in Plaza Candeleria. 
It Has a Unique Cathedral: Catedral de las Americas
The yellow domed Cathedral of the Americas took 116 years to build so it is a unique blend of architectural styles from different periods. Construction started in the Baroque style but the cathedral was finished in the Neoclassical style. 
Interior highlights include the ornate wood choir stalls and the high altar. The locally born composer Manual de Falla and writer Jose María Pemán are buried in the crypt. The crypt feels humid to visitors because it lies below sea level. 
One of the best things to do in Cadiz is to climb the Torre del Reloj, the cathedrals' eastern tower. It is a steep climb to the top but the view of the city and surrounding sea is worth the effort. 
Alternatively, for a fantastic view of the cathedral (and the city), climb Torre Tavira, an 18th century watchtower nearby. Tours are available in different languages and the Camera Obscura at the top is a fun experience. 
It Has Amazing Urban Beaches 
Cadiz is fortunate to have amazing beaches right on its doorstep. 
Playa La Caleta is an accessible, Blue Flag sandy beach lying between the two forts of San Sebastian and Santa Catalina in the historic old town. The beach has calm, clear, shallow water so it is perfect for swimming. 
Playa de la Victoria is a 3 kilometre long sandy beach near the newer part of Cadiz. It has a lively nightlife and the promenade is a popular walking spot. 
Cortadura is a more tranquil, Blue Flag sandy beach that is accessed on boardwalks through sand dunes. 
It is Home to Some of the Most Beautiful Beaches in Andalucia
Cadiz beaches are some of the best beaches in Spain. 
Visitors are spoilt for choice between the white sand beach of Playa de los Alemanes, the 2 kilometre long family friendly Playa del Puerco or the laidback El Palmar.
At Playa Bolonia, visitors can climb Gran Duna, a 30 metre high sand dune for fantastic sea views. 
It Has the Freshest Fish
Cadiz is known for its fresh, diverse seafood. One of the lesser known things to do in Cadiz is to visit the bustling fish market (Mercado Central de Abastos de Cadiz).  
You will see fish of all shapes and sizes including tuna, oysters and salmon as well as more unusual fish such as cuttlefish and eel. Don't miss the excellent food court inside the market; the fish served here is as fresh as it gets. 
The Seafood Tapas are to Die For
There are so many delicious seafood tapas to try in Cadiz. Bar hopping for tapas is a popular way for Gaditanos (Cadiz residents) to spend an evening. 
Enjoy tuna tartare, tortillas de camarones (shrimp) or ortiguillas which are sea anemones fried in olive oil. Perfectly seasoned and deep fried dog fish (cazon en adobo) is a Cadiz speciality. 
Alternatively keep it simple with tasty fried fish (pescaíto frito) served with tangy lemon. 
It Hosts the Largest Carnival in Spain
Cadiz Carnival is known throughout Spain for its lively entertainment and fun atmosphere. It is a riot of colour and noise and locals don't attend the carnival to watch it – they attend carnival to join in! 
Gaditanos pour onto the streets in fancy dress to watch parades, music and dance performances, competitions, fireworks and the crowning of the Carnival Queen. 
Roaming entertainers wander the streets including the popular 'chirigota' groups who perform humorous, satirical songs. 
Cadiz Carnival is held annually in the days running up to Lent so dates vary year to year. 
It Has a Very Vibrant Atmosphere 
center>
Cadiz is a lively city whose inhabitants are known for their sense of humour. It has a buzzing nightlife and a year round festival calendar.
In addition to Carnival, other lively festivals include Todos Santos (All Saints Day), Christmas, the jazz festival in July and the Spanish Music Festival in November.  
It Has Over 325 Sunny Days a Year
If you are still wondering 'is Cadiz worth visiting', then almost guaranteed year round sun should persuade you! 
Summer months bring long, dry, sunny days averaging 26 degrees Celsius (though it is often much hotter). Even the coldest month, January, averages a pleasant 15 degrees Celsius. 
It Has Affordable Luxury Hotels
Cadiz has a range of luxury hotels which are surprisingly affordable, especially out of peak season. 
Check out the Parador de Cadiz, a seafront hotel with outstanding facilities in the Old Town, the elegant beachfront Monte Puertatierra or the modern Hotel Playa Victoria.
If you prefer to self-cater in luxury, stay at the adults only Plaza Mina Aparthotel. 
It Has Excellent Transport Links
Getting to and from Cadiz is easy. Airports near Cadiz include Jerez Airport (32 kilometres away) or Sevilla airport, a 1 ½ hour drive from Cadiz. You can also reach Cadiz by ferry, train or bus. 
Once in Cadiz, the easiest way to get around the old town is on foot. The new part of Cadiz has a comprehensive bus network and taxis. 
If you want to read more about Cadiz, check out my articles below:
Liked it? Pin it!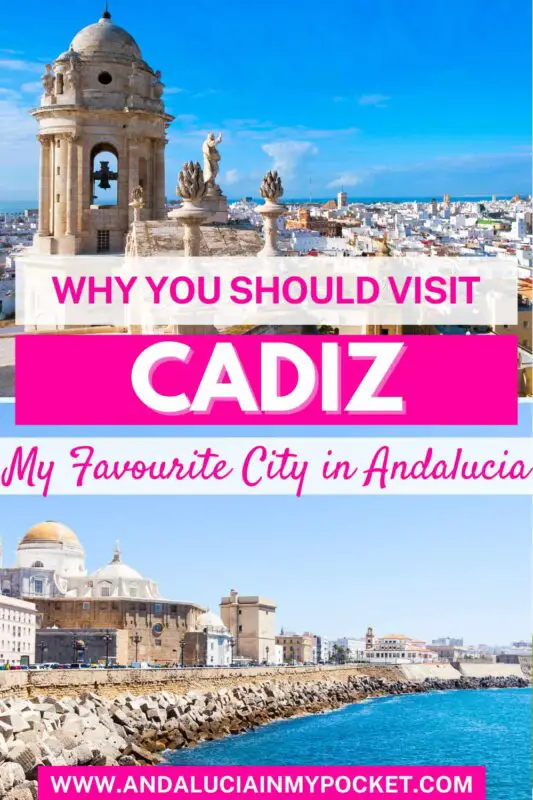 Disclaimer: Some of the links on this website are "affiliate links." This means that if you click on the link and do a purchase, I will receive an affiliate commission at no extra cost to you. This helps me keep my website running and continue to share my travelling knowledge with you. I thank you for booking your flights or hotels using the links on my website. Regardless, I only recommend products or services I use personally and believe will add value to my readers.