Marbella is one of the most popular summer destinations on Costa del Sol. But is Marbella worth visiting?
If you are asking yourself whether this coastal city is worth your time and attention, look no further! In this article, we'll explore the various aspects that make Marbella a destination worth visiting. From its stunning beaches and vibrant nightlife to its rich cultural heritage, Marbella offers a diverse range of experiences for every traveller. We'll delve into the beauty of its patios, the allure of its old town, and the thrill of dolphin spotting. We'll also discover why Marbella is a haven for foodies, golf enthusiasts, nature lovers, as well as adventure seekers.
I hope this article will show you that Marbella is indeed worth visiting. I have avoided it for many years, because of its reputation of being too touristy and too expensive. But this year, I decided to give it a chance and see for myself why so many people are choosing Marbella for their summer holidays. And let's just say that the city surprised me.
13 Reasons That Make Marbella Worth Visiting
Marbella Has Beautiful Beaches and Beach Clubs
Let's start with a great reason for which Marbella is worth visiting, sunbathing. The beaches in Marbella are known for their golden soft sand, the crystal-clear waters and the vibrant atmosphere. Marbella has a variety of beaches to suit every preference. No matter if you are bringing your own towel or prefer a beach club, Marbella has them all.
There are many great beach clubs in Marbella. These establishments add a touch of luxury and comfort to your beach experience. With their stylish loungers, umbrellas, and attentive service, the beach clubs provide a great option to enjoy the coastal lifestyle. Most of them have their own kitchen as well as bartenders who can create refreshing cocktails.  
The beach clubs in Marbella also host a vibrant social scene, attracting both locals and visitors. One of the most popular beach clubs in Marbella is Nikki Beach, a luxurious concept that combines the beach atmosphere with live concerts, dining, and plenty of entertainment. But don't worry if you can't afford Nikki Beach (it is really expensive), there are other great beach clubs that offer part of that experience at a fraction of the price.
Marbella Has a Pretty Old Town
Marbella is worth visiting for its pretty old town. Its narrow streets wind through the heart of the city, meeting in the centre, at the Plaza de los Naranjos. The square is shaded by old orange trees and surrounded by cafes, restaurants and small shops. The best time to explore Marbella is between the end of February and mid March. This is when the orange trees blossom, and the air all over the old town of Marbella has a floral, sweet, but fresh scent.
Most of the old town of Marbella is a wash of white, where houses are decorated with beautiful flowers such as pink bougainvillaea climbing above doors, or red carnations in blue pots hanging on the walls.
Marbella Has a Moorish Heritage
Whilst at a first glance you won't think that Marbella has any Moorish legacy, there are still some imprints that show the mighty history of this city. Firstly, the walls of the old Alcazaba are still present in the old town, even if some of them were integrated in the modern architecture. There's only one tower remaining, of the once impenetrable 10th century defence fortress.
Another sign of Marbella's Moorish heritage is the layout of the city centre, with winding and narrow alleys.
The third legacy the Moors have left Marbella, which might not be so easy to observe, are the hidden courtyards. Hidden behind unassuming walls, these tranquil spaces offer respite from the outside world. The Moorish influence is seen in the presence of water elements, such as fountains and wells, which have the role of cooling down the houses during summer, but also represent the source of life.
Marbella is an Affordable City
Marbella is worth visiting because it is an affordable city, making it an appealing destination for travellers seeking a budget-friendly experience. There are several reasons why Marbella earns this reputation, making it an accessible and welcoming place for all.
First and foremost, Marbella offers a range of affordable accommodations that cater to different budgets. From cosy guest houses and apartments to budget-friendly hotels, you'll find a variety of options to suit your needs. These accommodations provide comfortable and convenient stays without breaking the bank, allowing you to save your money for other experiences.
Additionally, Marbella presents numerous affordable dining options that won't strain your wallet. Throughout the city, you'll discover cosy local eateries, charming cafes, and casual restaurants serving delicious and reasonably priced meals. Sampling traditional Spanish dishes or savouring international cuisine doesn't have to be expensive in Marbella.
Transportation within Marbella is also affordable and convenient. The city offers a well-connected public transportation system, including buses and taxis, which allow you to explore the area without incurring high costs. Walking around Marbella is also a viable and enjoyable option, as the city is pedestrian-friendly with dedicated paths and bike lanes.
Furthermore, Marbella is home to numerous free or low-cost attractions and activities. The city's beautiful beaches are open to all, offering sun-soaked relaxation and the opportunity to enjoy the Mediterranean waters without spending a dime. Exploring the charming streets of the old town, admiring its architecture, and immersing yourself in the local culture comes at no cost.
Marbella is an Accessible City
Marbella prides itself on being an accessible city, welcoming visitors of all abilities. The city has taken steps to ensure that everyone can enjoy its attractions, facilities, and services, making it a destination that prioritises inclusivity. This is a great reason for why Marbella is worth visiting.
One of the key reasons why Marbella is accessible is its infrastructure. The city features well-maintained sidewalks and ramps, providing smooth and easy mobility for pedestrians and wheelchair users. Public spaces, including parks and plazas, are designed with accessibility in mind, allowing everyone to navigate and enjoy their surroundings comfortably.
Public transportation in Marbella is also designed to accommodate individuals with diverse mobility needs. Buses are equipped with accessible features, such as ramps and designated spaces for wheelchair users. This ensures that getting around the city is convenient and hassle-free for everyone.
Marbella has made efforts to ensure that its attractions and facilities are accessible to all. Many of the city's popular landmarks, such as the old town and its historical sites, have been modified to provide accessibility. Accessible entrances, elevators, and adapted facilities allow people with disabilities to fully experience the rich history and culture of Marbella.
The city's commitment to accessibility extends to its beaches as well. Marbella offers accessible beach facilities, including ramps that provide easy access to the sand and specially designed beach chairs that allow individuals with mobility challenges to enjoy the beach and the sea. This ensures that everyone can soak up the sun and delight in the coastal beauty that Marbella has to offer.
Furthermore, the city organises events and initiatives that celebrate accessibility and encourage equal participation for all. This fosters a welcoming and supportive environment where individuals with disabilities can feel included and appreciated.
Marbella Throws the Best Parties On Costa del Sol
Marbella has gained a well-deserved reputation for throwing the best parties on the Costa del Sol. From beachfront clubs to trendy bars and pulsating nightclubs, the city offers something for everyone's taste. The city's beach clubs and open-air venues provide views of the Mediterranean Sea, making partying in Marbella a unique and immersive experience. Dancing under the stars, feeling the cool sea breeze, and enjoying the enchanting coastal ambiance elevate the party atmosphere to new heights.
One of the reasons why Marbella is renowned for its parties is its ability to attract top-notch DJs and performers. Internationally acclaimed artists and renowned DJs frequent the city's clubs, adding their talent to the vibrant nightlife. The pulsating beats and lively performances keep the dance floors packed and the partygoers enthralled until the early hours of the morning.
Marbella's parties are also known for their inclusive and welcoming nature. The city embraces a cosmopolitan spirit that attracts a diverse crowd of people from various backgrounds and cultures. Whether you're a local resident or a visitor, Marbella's parties offer a sense of unity and celebration that transcends borders and creates a vibrant melting pot of fun and excitement.
Marbella Has Great Food
With so many restaurants competing with each other, it's hard to have a bad meal in Marbella. Marbella's cuisine reflects the vibrant Mediterranean culture, where fresh ingredients take centre stage. Being on the coast, the city has an abundance of seafood, and you'll find a variety of fish dishes that highlight it. From succulent grilled sardines to mouthwatering seafood platters, Marbella serves up delicious flavours that you will crave for long after you've returned back home.
One of the typical dishes you'll find in Marbella is "pescaíto frito" (fried fish). This local specialty consists of a delightful assortment of small fish, such as anchovies, mullets, or baby squid, lightly battered and fried to crispy perfection. Served with a squeeze of lemon, it's a simple yet incredibly flavourful dish.
You can't miss the "espetos", which are grilled sardines typical to the chiringuitos. They are usually cooked on a grill inside an old fishing boat, over olive branches fire. They are served alongside wedges of lemon and are the best choice you can have on a hot summer day.
Another local favourite is "gazpacho," a refreshing cold soup made with ripe tomatoes, cucumbers, peppers, garlic, and olive oil. This chilled delight is perfect for hot summer days, offering a burst of fresh flavours that rejuvenate the palate. It's a true taste of Andalusia.
In addition to these typical dishes, Marbella offers a wide range of international cuisines, ensuring that there is something to please every palate. From traditional Spanish tapas to Italian pizzas, Asian fusion, and more, the city's culinary scene embraces global flavours offering something for everyone.
You Can Go Dolphin Spotting from Marbella
Marbella is worth visiting also for its marina wildlife. Marbella offers a wonderful opportunity to embark on a dolphin spotting adventure, where you can witness these playful mammals in their natural habitat.
Several tour operators offer boat trips in Marbella that take you out into the sparkling waters of the Mediterranean Sea, where dolphins thrive. These excursions are led by knowledgeable guides who have a deep understanding and respect for the marine environment.
Once aboard the boat, you'll set sail along the coastline, keeping your eyes peeled for any signs of dolphin activity. The guides are skilled at spotting dolphins and know the best areas to find them.
The Old Town is Filled with Boutique Shops
The old town of Marbella is a paradise for shoppers, brimming with charming boutique shops. If you're a fan of unique finds and one-of-a-kind items, this is the place to be.
What makes shopping in the old town special is the emphasis on artisanal craftsmanship and local products. Many of the shops showcase the work of talented artisans, who create unique pieces with passion and skill. You'll find beautifully crafted jewellery, hand-painted ceramics, intricate textiles, and much more, each telling its own story and reflecting the heritage and creativity of the region.
Browsing through the boutique shops of the old town is like embarking on a treasure hunt. You never know what hidden gem you might uncover. The small-scale nature of these shops allows for personalised service, with friendly shopkeepers who are eager to share their knowledge and assist you in finding the perfect item. It's a shopping experience that goes beyond transactions.
You Can Play Top Golf in Marbella
Marbella has rightfully earned its reputation as a fantastic destination for golf enthusiasts. With its picturesque landscapes, pleasant climate, and an abundance of world-class golf courses, the city offers a dreamlike setting for golfers. If you are a keen golfer, then Marbella is worth visiting for this reason alone.
The main reason golfers flock to Marbella is the sheer number and quality of golf courses available. The city has an impressive selection of courses designed by renowned architects, offering a diverse range of playing experiences. From challenging championship courses to more relaxed resort-style layouts, Marbella has something to suit golfers of all levels.
Marbella's climate is another major draw for golfers. With over 300 days of sunshine per year, the city enjoys a mild Mediterranean climate that allows for year-round golfing. The pleasant temperatures and clear skies create ideal conditions for a day on the greens, ensuring that golfers can indulge in their favourite sport whenever they visit.
Beyond the courses themselves, Marbella offers excellent infrastructure and services for golfers. The city is home to top-notch golf academies and training facilities, providing opportunities for players to improve their skills or receive professional coaching. Golf shops and equipment rentals are also readily available, making it convenient for visitors to access the gear they need.
Marbella's location adds an extra allure for golfers. Located between the mountains and the sparkling Mediterranean Sea, the city's golf courses offer breathtaking views. Playing amidst such stunning natural surroundings enhances the overall golfing experience.
Additionally, Marbella is renowned for its vibrant golfing community and social scene. The city hosts various tournaments, events, and social gatherings, creating opportunities for golfers to connect with fellow enthusiasts and forge new friendships. The camaraderie and shared passion for the sport make Marbella an inviting and engaging destination for golfers from around the world.
Marbella Has Beautiful Parks
Marbella has plenty of parks and green spaces, where you can relax once you've had enough beach time, or just want to hide away from the sun.
One of the notable parks in Marbella is the Alameda Park, located in the heart of the city. This park is a popular gathering spot, with its shady trees, well-maintained pathways, and inviting benches. Alameda Park offers a peaceful oasis where you can take a leisurely stroll, find a quiet corner to read a book, or simply sit and soak up the ambiance and people watch.
L Represa is another gem in Marbella's park collection. This spacious park features expansive lawns, walkways, and colourful flower beds. It's an ideal spot for picnics, outdoor activities, or a leisurely afternoon with family and friends. The park also offers play areas for children, providing a safe and enjoyable space for little ones to run, play, and explore.
Marbella Has Some Interesting Museums
Marbella is home to several interesting museums that offer a glimpse into the city's rich history, art, and cultural heritage.
The Contemporary Engravings Museum, located in the old town, showcases a remarkable collection of engravings and prints. This museum offers a fascinating insight into the art of engraving, with works by renowned artists from both Spain and abroad. Through the intricate details and expressive techniques, you can appreciate the skill and creativity of the artists, as well as gain a deeper understanding of this unique art form.
For mature enthusiasts, the Bonsai Museum is a must-visit. This museum houses a remarkable collection of bonsai trees, meticulously cared for and displayed in an enchanting setting. As you wander through the exhibition, you'll learn about the history and techniques of bonsai cultivation, appreciating the artistry and patience involved in creating these miniature masterpieces.
Marbella also boasts the Ralli Museum, which focuses on contemporary Latin American art. This museum showcases a diverse range of paintings, sculptures, and other artistic creations. The collection highlights the cultural richness and artistic expressions of Latin America, offering a window into the region's vibrant heritage.
If you have an interest in prehistoric times, the Paleolithic Art Museum is a must-see. This museum presents a fascinating display of prehistoric artefacts and art, including cave paintings and tools. It provides a captivating glimpse into the lives and artistic expressions of our ancient ancestors, showcasing their ingenuity and creativity.
Marbella Has Hiking Trails for Adventure Lovers
The Sierra Blanca mountain range, which overlooks Marbella, offers plenty of hiking opportunities. These trails take you through forests of pine and oak, along meandering streams, and up to stunning viewpoints that offer breathtaking panoramic views of the coastline and surrounding landscapes.
Marbella's proximity to the Sierra de las Nieves Natural Park also makes it an excellent base for hiking adventures. This UNESCO Biosphere Reserve is home to diverse flora and fauna, including the rare Pinsapo fir trees. Hiking trails in this park lead you through dense forests, past enchanting waterfalls, and up to magnificent peaks, rewarding you with unforgettable vistas and a true sense of wilderness.
What makes hiking in Marbella even more appealing is the favourable climate. The region enjoys mild winters and pleasant temperatures throughout the year, making it possible to hike in any season. The temperate climate, coupled with the region's natural beauty, creates an ideal environment for outdoor exploration.
Marbella's hiking trails are well-maintained and offer clear signage, ensuring that hikers can navigate with ease. Many trails are also accompanied by informational boards that provide insight into the local flora, fauna, and geological features, enhancing your hiking experience with educational elements.
Conclusion: Is Marbella Worth Visiting? 
In conclusion, Marbella proves itself as a captivating destination that has something for everyone. Whether you seek relaxation on its gorgeous beaches, immersion in its rich history and culture, or thrilling adventures in its natural landscapes, Marbella delivers. So, without a doubt, Marbella is worth visiting.
For more similar articles, check out my recommendations below:
Liked it? Pin it!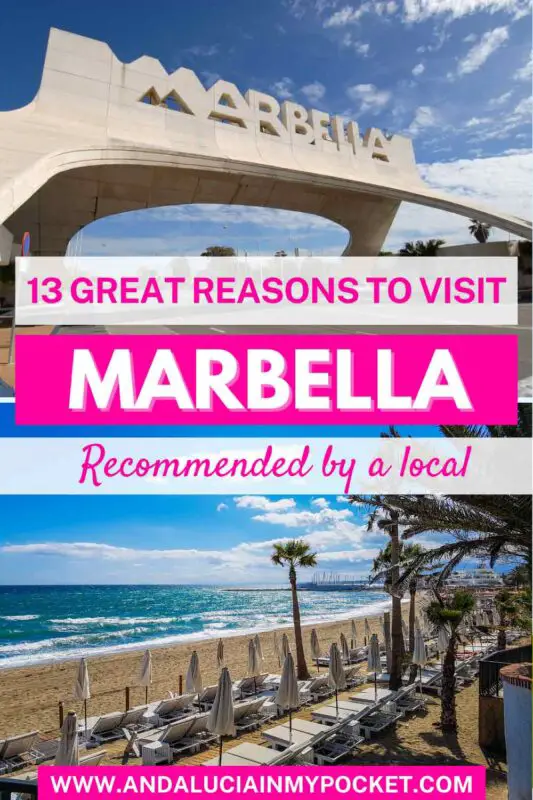 Disclaimer: Some of the links on this website are "affiliate links." This means that if you click on the link and do a purchase, I will receive an affiliate commission at no extra cost to you. This helps me keep my website running and continue to share my travelling knowledge with you. I thank you for booking your flights or hotels using the links on my website. Regardless, I only recommend products or services I use personally and believe will add value to my readers.