Planning a Marbella to Ronda day trip? You're landed in the right place! In this article, I'll guide you on how to make the most of your day trip from the vibrant coastal city of Marbella to the charming mountain town of Ronda. I'll walk you through various travel options, the must-see attractions, and a hidden gem you won't want to miss.
Is Taking a Marbella to Ronda Day Trip Worth It?
There are only so many things to do in Marbella, and in my opinion, taking day trips is always a good idea. In this article I will explore the Marbella to Ronda day trip, which I've personally taken. You may wonder, is it worth it? Let's see:
Pros of taking a day trip to Ronda:
Stunning Scenic Views: Ronda is renowned for its dramatic landscapes, including the incredible El Tajo Gorge and the famous Puente Nuevo bridge, offering picturesque vistas that will definitely make an impression.
History: Ronda is an old Moorish city, and it still has plenty of historical and cultural landmarks, such as the Arab Baths or the old city walls, providing a fascinating glimpse into its past and architectural splendour.
Charming Old Town: The quaint streets and alleys of Ronda's Old Town have a captivating charm, perfect for leisurely strolls and discovering the town's authentic atmosphere.
Wine Tasting: Ronda is part of the renowned Andalusian wine region, offering the opportunity to taste locally produced wines and savour the flavours of the region.
Cons of taking a day trip to Ronda:
Travel Time: Ronda is situated in the mountainous region of Andalusia, so the journey from Marbella can be quite long, taking over one hour and a half if there is heavy traffic.
Limited Time: With only a day to explore Ronda, you may feel rushed to see all the attractions and may not have enough time to fully experience everything the town has to offer.
Crowds: Ronda is a popular tourist destination, especially during peak seasons, which may result in larger crowds that sometimes ruin the travel experience.
How to Travel Between Marbella and Ronda?
By Bus:
Public transport is a convenient and cost-effective way to make the journey. The bus service connecting Marbella and Ronda runs regularly, offering a comfortable ride with views of the Andalusian countryside. You can catch a bus from the central bus station in Marbella and arrive at Ronda's central bus station, located near the historic town centre.
The bus runs four times a day: two services in the morning, one in the afternoon, and one late in the evening. The travel time is just over one hour, and the price of a ticket starts at 6 euros each way. You can click here to check the current bus schedule.
By Car:
If you are hiring a car during your trip to Marbella, then getting to Ronda is very easy, in just one hour. The drive from Marbella to Ronda is very pretty, through the Sierra de las Nieves Natural Park.
The best place to park in Ronda is at the underground car park, just outside the city centre. I don't recommend entering the old town with the car, because the streets are very narrow, some are pedestrian only, and driving in requires a bit of skill. Leaving the car in the underground car park is safe and affordable. Click here for the car park directions.
By Organised Tour:
If you are looking for a hassle free experience, then you might want to go to Ronda through an organised tour. There are several tour options that include door to door pick up and drop off, transportation, as well as a guide that accompanies the group. Additionally, some tours may include visits to nearby attractions such as Setenil de las Bodegas or Olvera. You can click here to see such a tour.
Taking a Marella to Ronda Day Trip: Public Transport or Guided Tour?
When it comes to exploring Ronda from Marbella, you have two options: going independently or joining an organised tour. Each choice comes with its own set of advantages and disadvantages, catering to different preferences and travel styles. Let's go into more detail on both options which will help you make the best decision.
Independent Travel:
Advantages:
Flexibility: Travelling independently gives you the freedom to create your own itinerary for your day trip to Ronda. You can explore at your own pace, make impromptu stops, and linger at places that catch your interest.
Personalisation: With independent travel, you can tailor your trip to your preferences. Whether you want to immerse yourself in history, enjoy scenic routes, or indulge in local cuisine, you have the flexibility to do so.
Cost Control: Independent travel allows you to manage your budget more effectively. You can choose economical options for transport, and dining according to your preferences.
Local Interactions: Travelling independently often leads to more interactions with locals, giving you a chance to experience the authentic atmosphere of Ronda.
Disadvantages:
Logistics: Planning an independent trip requires more research and organisation, especially when it comes to transport and timings.
Language Barrier: If you don't speak Spanish, communicating with locals may be challenging at times.
Navigation: Navigating unfamiliar roads and public transport systems might be daunting, especially for first-time visitors. Driving in Spain can be a bit chaotic. And when it comes to buses, I even had issues when I boarded the bus only to find someone else sitting on my assigned seat, who refused to move.
Organised Tour:
Advantages:
Convenience: Joining an organised tour means you don't have to worry about logistics. Transport, pick-up, and drop-off are taken care of, offering a stress-free experience.
Expert Guide: Tours often come with knowledgeable guides who provide insights into the region's history, culture, and landmarks.
Tight Schedule: The pre-planned itinerary ensures that you can cover key attractions in a short time. This can be beneficial if you have limited time or want to see the highlights efficiently.
Social Interaction: Travelling with a group provides opportunities to meet like-minded travellers and share experiences with other people.
Disadvantages:
Lack of Flexibility: Organised tours have fixed schedules, leaving limited room for personal exploration or spontaneous detours.
Rushed Experience: The tight schedule might feel rushed, and you might not get enough time to see everything you want to in Ronda, such as hiking down the gorge for example.
Group Dynamics: Travelling with a group means compromising on individual preferences, and the experience may vary depending on the group's dynamics.
Cost: Organised tours can be more expensive than independent travel, as you pay for the convenience and services provided.
Choosing between independent travel and an organised day trip from Marbella to Ronda depends on your preferences and priorities. If you want the freedom to explore at your own pace and enjoy building your own itinerary, independent travel is likely the better choice. On the other hand, if you prefer convenience, a local guide, and a pre-planned schedule, an organised tour will be the better choice. You can also opt for a private tour by clicking here.
What to Do in Ronda During A Day Trip From Marbella?
Below I will give you a sample itinerary on how to spend your time in Ronda, on a day trip from Marbella. Besides the main attractions, make sure to leave plenty of time to walk around and get lost on the pretty alleyways of Ronda. Also, don't miss a local lunch, with the typical Berza Rondeña (a stew made with chorizo and beans) or Menestra a la Rondeña (an artichoke and beans based stew, with black pudding and fried tomatoes).
See And Cross Puente Nuevo
When visiting Ronda on a day trip from Marbella, there's one iconic landmark that steals the spotlight – the Puente Nuevo, a magnificent bridge that is undoubtedly the most popular tourist attraction in town. You'd be hard-pressed to find a photo of Ronda that doesn't showcase this breathtaking structure.
The bridge, soaring to a height of 98 metres, took 34 years to be built, finally reaching completion in 1793. With its three spans, the Puente Nuevo connects two parts of the town, La Ciudad and El Mercadillo.
There are several places from where you can admire the bridge – and crossing it is not one of them. The best viewpoint, in my opinion, is from down below, from the bottom of the gorge. There is a well maintained path (very steep though) that leads down to the gorge. Another great viewpoint is from the Jardines de Cuenca, behind it.
One interesting feature of the Puente Nuevo is the chamber located above the central arch. Inside this chamber lies a small museum which highlights the construction of the bridge. For a nominal fee of 2.5 euros, you can explore this hidden gem and understand why it was so important for this bridge to be built – and how other attempts failed.
Despite its age, the Puente Nuevo stands sturdy and continues to serve as a crucial link between different parts of Ronda. It has become the primary draw for tourists, and it's a must see.
Enjoy the Panoramic View of the Tajo Gorge
Make sure to also stop by the Mirador de Ronda, an open terrace with a large balcony perched atop the cliffs. From here, you'll enjoy some of the best views over the Tajo gorge, and observe how deep it actually is.
One of the charms of the Mirador de Ronda is the vibrant atmosphere it offers. You'll often come across artists serenading you with their songs or capturing the scenery on their canvas. This bohemian ambiance adds to the allure of the place.
However, to catch a glimpse of the famous Puente Nuevo, you'll need to head towards the small walkway that follows the cliff edges leading you closer to the bridge. That's where you'll find one of the best views of this iconic landmark in Ronda.  
Check Out the Old City Walls
It took me a few trips to Ronda to find the old city walls, tucked away on the other side of town. So I'm telling you about them, so you don't miss them like I did on my first few trips to this beautiful town.
The walls are free to visit, and include a tower where you can climb in. The view from up there over the surrounding area is very pretty.
Visit the Banos Arabe
Before you end your day in Ronda, make sure you don't miss the opportunity to see the old Arab Baths. These ancient baths date back to sometime between the 13th and 14th centuries, and they used to be situated just outside the city walls, close to the Puente Viejo.
In the past, locals would come to these baths to cleanse and purify their bodies using water and steam before entering the Mosque. Today, these baths are remarkably well-preserved, offering a fascinating glimpse into Ronda's historical past.
You'll find the entrance fee to be affordable at only 3.5 euros, and it grants you access to an interactive visit that includes informative videos.
Cross Puente Viejo
Before heading back to the centre of Ronda, cross Ponte Viejo. Built in the 16th century, it was the first bridge to connect the two parts of Ronda divided by the Guadalevín River. It used to lead to Arco de Felipe V, one of the mediaeval gates of the city, which still stands today.  The whole area is pedestrians only. 
Puente Viejo was the predecessor of the now famous Puente Nuevo, which is much higher and longer.
For more similar articles, check out my recommendations below:
Liked it? Pin it!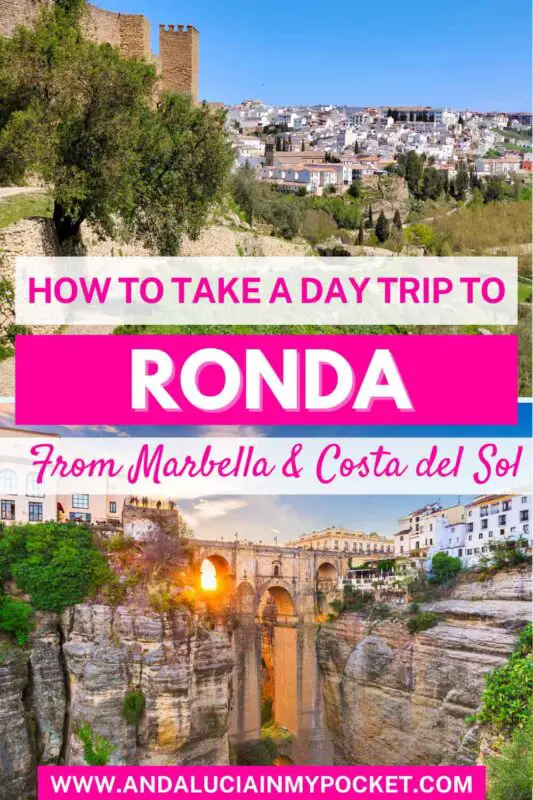 Disclaimer: Some of the links on this website are "affiliate links." This means that if you click on the link and do a purchase, I will receive an affiliate commission at no extra cost to you. This helps me keep my website running and continue to share my travelling knowledge with you. I thank you for booking your flights or hotels using the links on my website. Regardless, I only recommend products or services I use personally and believe will add value to my readers.