Boquerones al limon is a traditional tapa in Malaga, enjoyed all over the province in restaurants and beach bars. The boqueron is a large blue fish, between 9 and 12 centimetres long, fleshy, found in the Alboran Sea. Practically a bigger anchovy – there are over 140 different species of anchovies in the world, did you know that?
This fish is part of Malaga's culture, it is a sumbol of the province and also a nickname that the locals are proud to call themselves: Boqueron.
The boqueron is prepared in many different ways around Malaga, always cooked from fresh. In today's recipe I am going to show you how to make boquerones al limon, a variation of the fried anchovies, in which the fish is marinated first and then fried.
How to Clean the Anchovies
Usually, when you buy fresh anchovies, they will have their heads and guts removed. For this recipe however, you will need to remove the spine as well. It might seem an impossible job at the beginning, but I promise you that once you get a bit of practice, it will go very fast.
To remove the spine of an anchovy you need to pinch it in the middle and pull it out, with a gentle but firm movement. The spine will come out dividing the fish in two parts. Now, you can keep the tail if you want, for the presentation of the dish, in which case you will need to cut the spine with a scissors as close to the tail as possible. If you are not bothered about the presentation, pull the spine completely – it will come out with the tail in one single movement. If you have been careful, you will have a beautiful butterflied fillet of fish, if not, you will end up with two separated fillets. Don't worry, both are perfectly acceptable.
Once you finished cleaning all the fish, give it a good wash under the running water, to remove any remains of blood.
How to Marinate the Anchovies
Marinating the anchovies is what makes boquerones al limon so delicious and elevates the recipe's flavour.
For the marinade you will need lemon, garlic, parsley and salt. I highly recommend fresh parsley rather than dried one because it adds significantly more flavour. Growing your own aromatic plants is a great way of having fresh herbs handy whenever you are cooking a new recipe.
Instead of chopping the parsley, I recommend mixing it with the garlic and salt in a mortar, with a pestle. This will release a more intense flavour of the herb, which is important for the marinade. Once the parsley and garlic have been crushed into a paste, mix in the lemon juice.
Put the anchovies in a glass container (do not use metal because it will give the fish a metallic taste), pour the marinade over, cover with cling film and leave them in the fridge for the next couple of hours. For a milder taste, leave the anchovies to marinate for half an hour, whilst for a more intense flavour, leave them for two hours. Do not exceed the two hours though, as the fish will get too acidic.    
How to Make Boquerones al Limon
After the two hours have passed, take the fish out of the fridge and move it on a different plate. Pat in down with paper towels, making sure you dry the fish as much as possible. Put the chickpea flour on a different plate and gently toss each fillet of anchovy through it, giving it a light shake to remove the excess. You can use normal flour as well. Chickpea flour is a great alternative for people suffering with celiac disease or gluten intolerances. It makes no difference on the final taste of this fish dish what type of flour you choose to use.
Once all the anchovies are covered in a light layer of flour, it is time for frying! I used a deep pan which I quarterly filled with vegetable oil. Set the heat on a medium temperature – setting 6 on my electric stove – and wait for the oil to get hot. 1 minute it's enough for the fish to fry. You don't want to over fry it so, don't put more than 4-5 fish at a time in the pan. As soon as the fish gets a beautiful golden color, it's time to take it out of the pan. Put it on a plate covered with paper towels which will abord the excess oil.
Serve the boquerones al limon with slices of lemon and aioli sauce to dip in. Boquerones al limon make a perfect snack, appetiser or tapas, and go very well with a pint of beer. Enjoy!   
How to Make Traditional Andalucian Boquerones al Limon (Fried Anchovies Marinated in Lemon)
Course: Appetiser, Snacks
Cuisine: Spanish
Difficulty: Easy
This is the traditional recipe for boquerones al limon, a delicious dish from the South of Spain.
Ingredients
350 grams anchovies

1 lemon

1 clove of garlic

1 bunch of parsley

chickpea flour

salt
Directions
Clean the anchovies and dry them.
Put the garlic, parsley and salt into a mortar and crush them into a paste with the pestle. Mix the resulted paste with the juice from one lemon.
Arrange the fish fillets into a glass tray and pour the marinade mixture on top. Cover the tray with cling film and put it in the fridge to marinate for up to two hours.
Once the anchovies marinated, take them out and pat them dry with a paper towel. Pass them through the chickpea flour and shake the excess off.
Heat some oil in a deep pan on a medium flame. Fry 4-5 at a time for around 1 minute, until they turn a beautiful golden color. Rest the fried fish on a plate covered with paper towels, to absorb the extra oil.
Serve with slices of lemon, aioli sauce and/or patatas bravas.
Liked it? Pin it!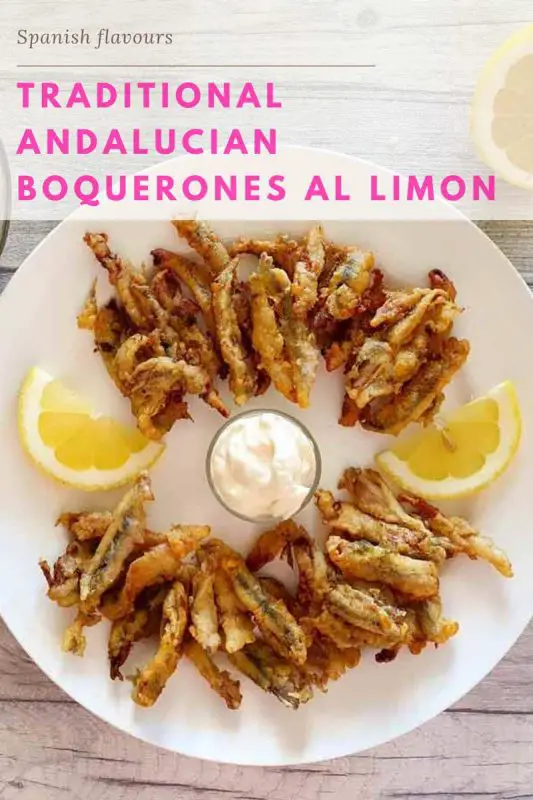 Disclaimer: Some of the links on this website are "affiliate links." This means that if you click on the link and do a purchase, I will receive an affiliate commission at no extra cost to you. This helps me keep my website running and continue to share my travelling knowledge with you. I thank you for booking your flights or hotels using the links on my website. Regardless, I only recommend products or services I use personally and believe will add value to my readers.