I love going to the beach on Costa Tropical, even if I live on Costa del Sol.  Although it's around the same distance from Malaga, I enjoy the empty beaches of Granada's Coast more. I feel they are less crowded and offer a more authentic Spanish experience.
Almuñécar is one of the prettiest towns on Costa Tropical, with a charming old town and lovely beaches. Last time I visited Almuñécar was in February, and I chose to stay at Hotel Helios Costa Tropical because it was a luxury that I could afford out of season.
This is what I thought about my stay at Hotel Helios in Almuñécar.
Location:
Hotel Helios is located on the seafront of Almuñécar, around a 10 minute walk from the old historic centre of the town. Is it easily reachable by car from the A7 motorway, without having to drive on any narrow roads – so typical of small towns in Andalucia. If you arrive by public transport, hotel Helios is located 1 kilometres away from the bus station.
Just across the street from Helios Hotel there is San Cristobal Beach, one of the liveliest areas of the city, with many concerts and dance shows in the evenings, during the summer. In the vicinity of the hotel there are plenty of great restaurants and chiringuitos on the beach, which serve amazing salads (you must try salads on Costa Tropical!) and fish dishes.
Parking:
The hotel has its own private parking, in a outdoor area at the end of the street. It costs 10 euros extra per day but it's a good option if you travel to Almuñécar in a rental car.
If you come to Almuñécar out of season, you will find plenty of free street parking across from the hotel.
The Room:
As I was travelling out of season for a little spa break after a stressful period, the prices were quite affordable, I booked the best room in the hotel: the jacuzzi suite. It cost me 120 euros a night, which was well worth it, watching the sunset from the jacuzzi was priceless.
But let's go back to the room, which was modern and beautifully decorated, in blue and grey, giving it a proper Mediterranean vibe. On the table was waiting a bottle of cava and a cake, a small gesture that put a smile on my face.
The room was very spacious, with an extremely comfortable large bed. It also had two terraces, both facing the sea. The view was to die for, a panorama of the entire seafront.
As it was quite warm during the night, I left the terrace door open. It was so nice to wake up in the morning to the sound of the waves crashing into the shore and the seagulls squealing.
The Bathroom:
There is only one thing I can say that will describe the bathroom: a private spa! Besides the massive jacuzzi positioned perfectly in front of the window, the large bathroom also had a walk-in monsoon shower. It was tastefully decorated with orchids – just like a proper spa.
Of course, the robe and slippers didn't go amiss either, nor did the luxury Ocean relaxation toiletries.
The jacuzzi made the bathroom special and I took full advantage of it. I even bought an extra bottle of bubble foam, to be able to relax properly.  Watching the sun go down below the horizon, and the sky turn all shades of red and orange, from the jacuzzi with a glass of bubbly, was pretty special.
Breakfast at Hotel Helios:
=
The breakfast at Hotel Helios was absolutely fabulous, with a buffet, as well as a chef cooking eggs to order. There was such a big selection of produce to choose from the buffet, from traditional Spanish tostada, cheese and hams, to cured salmon and cream cheese, from hot sausages and bacon to grilled vegetables, from classic pastries such as pan au chocolat and croissants, to local ensaimadas and palmitos.
The drinks selection was also generous, with coffee, tea, freshly squeezed orange juice and even chilled cava.  Whilst on vacation you should treat yourself, so there is nothing wrong with a glass of cava with breakfast.
The hotel's restaurant also offers buffet dinners, but I ate out every night and I didn't get a chance to try it, so I can't tell you how the food was. It did look good though.
Facilities:
As I travelled to Almuñécar out of season, some of the facilities of the hotel were not available, such as the rooftop bar. However, I could still go up to check out the panorama. Even in winter, it is a great place to just chill, read a book and just enjoy the view.
The Helios Hotel has an outdoor pool which is heated in winter, making it a perfect choice for a beachside vacation, even when the weather is colder. In February it was still warm enough during the day for sunbathing. The pool has power showers which are great for a relaxing water shoulder massage. There is also a children's pool, very shallow.
Near the pool, there is a sun terrace and a bar from where you can order drinks and snacks.
The spa centre features a therapy and massage room, a sauna, a hammam and a jacuzzi. As I already had a mini spa in my room, I did not book additional services at the spa.
In the evenings, the hotel provides its own entertainment, with thematic music performances and live concerts. 
You can check out other reviews of Hotel Helios Almuñécar on Tripadvisor, or see the latest prices on Booking.com
Liked it? Pin it!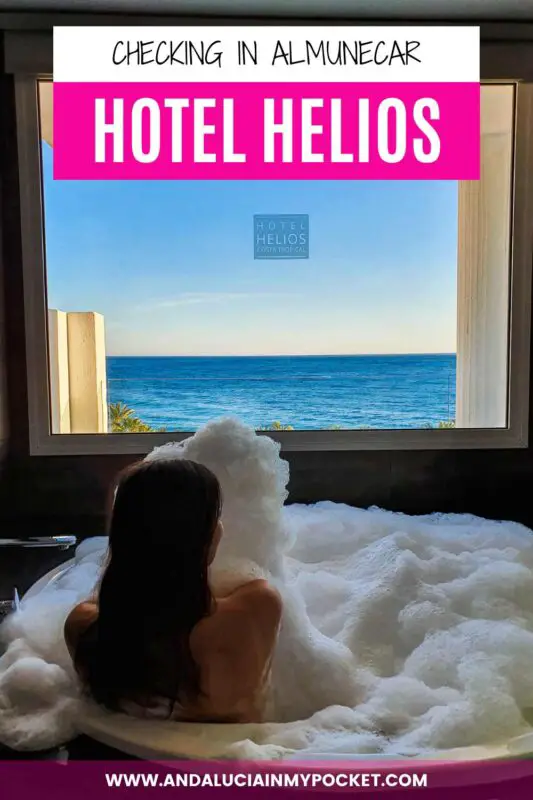 Disclaimer: Some of the links on this website are "affiliate links." This means that if you click on the link and do a purchase, I will receive an affiliate commission at no extra cost to you. This helps me keep my website running and continue to share my travelling knowledge with you. I thank you for booking your flights or hotels using the links on my website. Regardless, I only recommend products or services I use personally and believe will add value to my readers.